Jump to Recipe
Hello, fellow potato fanatics! After trying many air fryer potato wedges recipe, we created this one. It's delicious, easy (you don't have to soak the potatoes), reliable, and completely customizable. You'll be making it for years to come!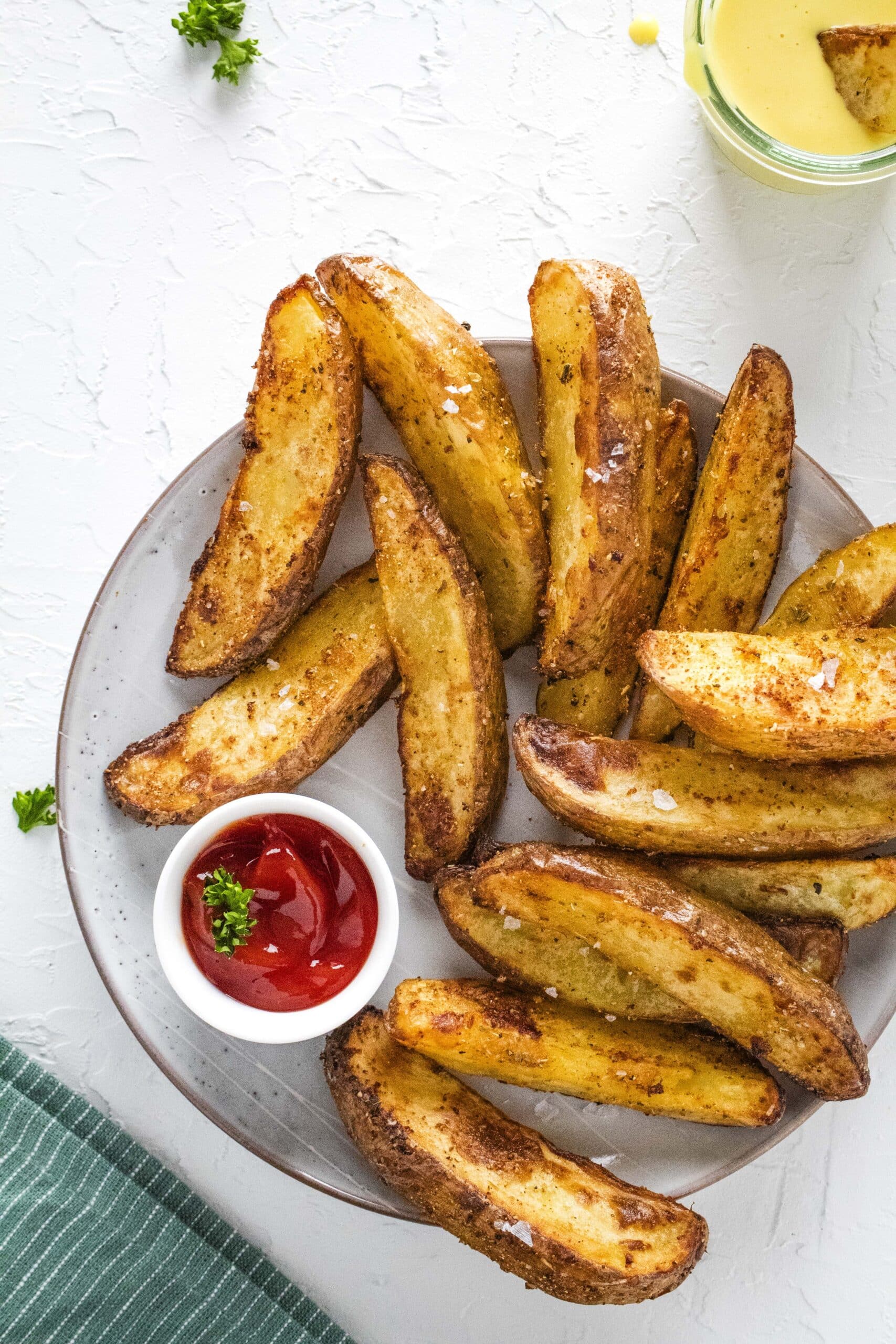 Outside, they are crispy, standing up to dipping in ketchup and other unique sauces. But on the inside, surprise! They are light, fluffy, and meltingly creamy.
So aren't you excited to try them for yourself?
Good, because we're going to show you exactly how. You'll learn which potatoes work the best and how to slice, season, and cook them all with the convenience of your air fryer.
But one cannot survive on potatoes alone. So why not check out this air fryer chicken sandwich and this juicy chicken breast for a delicious main?
Jump to:
Ingredients
With just a few ingredients (including salt), you'll finish your grocery list in no time. But the particulars are essential so we'll go over them in more detail below.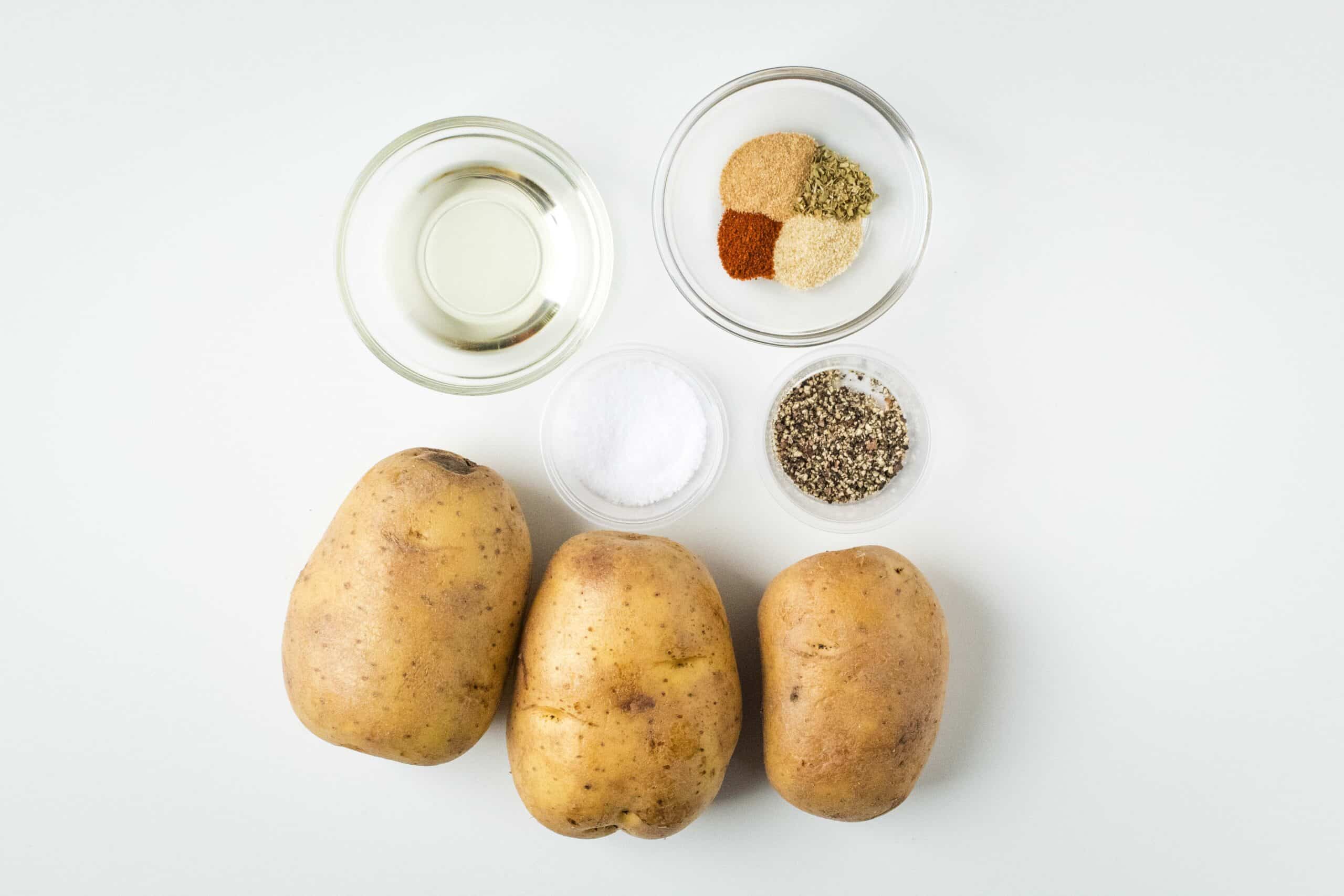 Yukon Gold Potatoes – It's more than just a personal choice. After many tests, we've found them to be a tremendously versatile potato. However, when it comes to wedges, they are both firm with a creamy center. Yum!
Oil – Use a neutral oil like vegetable, canola, or peanut oil. However, beef tallow would taste divine as well.
Seasonings – We love our all-purpose seasoning blend of paprika, onion powder, garlic powder, oregano, and pepper. But you can use your favorite seasoning blend instead.
Salt – Say no to table salt. Use kosher instead.
Pepper – Fresh ground black pepper is much better than the pre-ground stuff.
See recipe card for quantities.
Why Use Yukon Gold Potatoes?
We get it. Regarding fries and wedges, Russet, also called Idaho potatoes (although not all potatoes grown in Idaho are Russet), is a natural choice. They are starchy, firm, and elongated. Plus, they can stand up to high temps without turning to mush.
But Yukon Gold taters are magical. They are firm, have some starch, and have a more rounded shape. They stand up to high heat cooking and become creamy with a slightly buttery flavor while crispy on the outside.
And unlike the Russet, you don't have to soak Yukon Gold potatoes to remove excess starch. They'll still crisp up in the air fryer.
How to Make Air Fryer Potato Wedges
Okay, so now you have everything you need to make these delicious air fryer potato wedges. Let's talk about transforming those spuds into one of the tastiest and most reliable side dishes you've ever had. First, you'll want to preheat your air fryer to 350 degrees.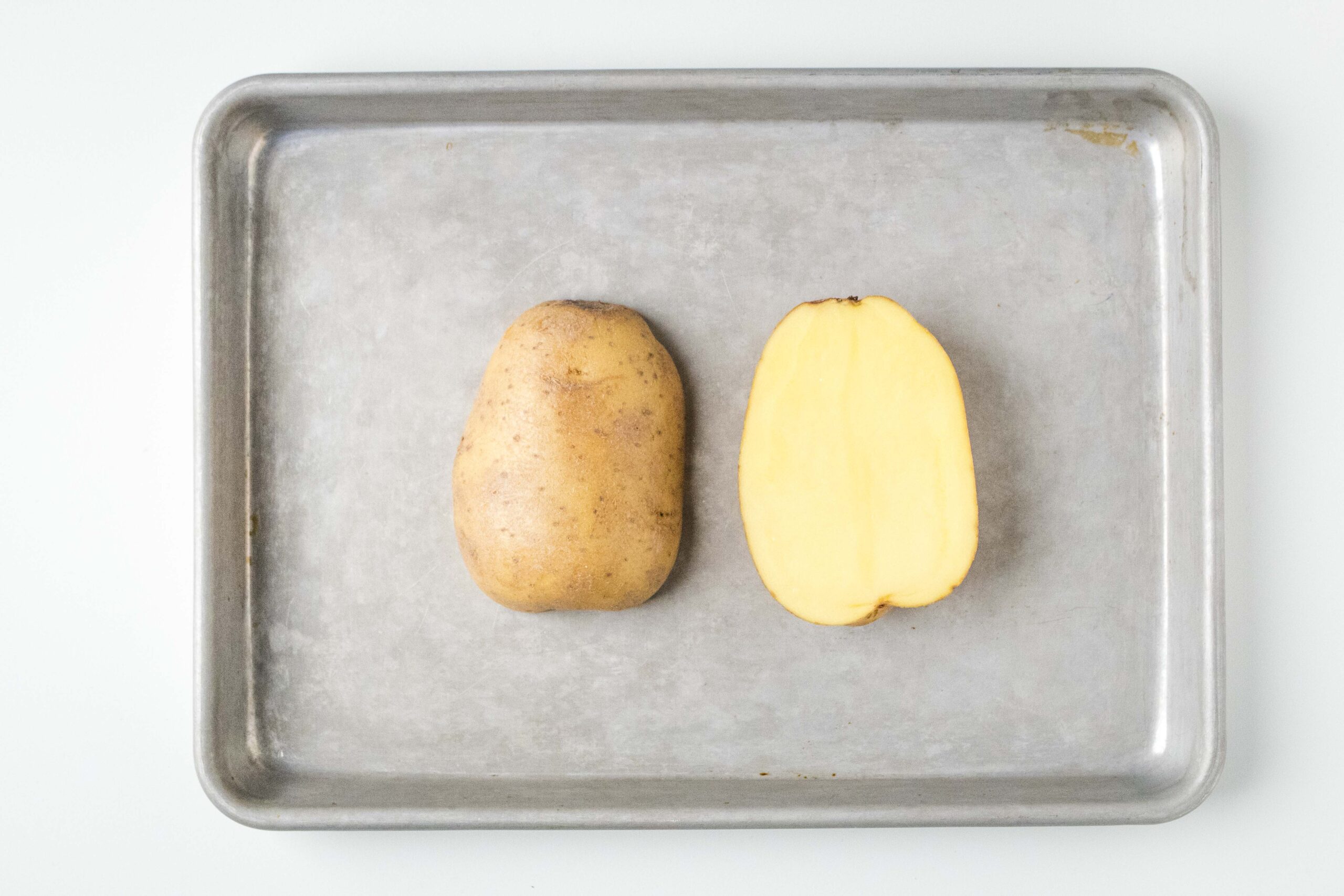 After gathering all your ingredients, the first step is to rinse and cut the potatoes in half lengthwise, as shown in the image above.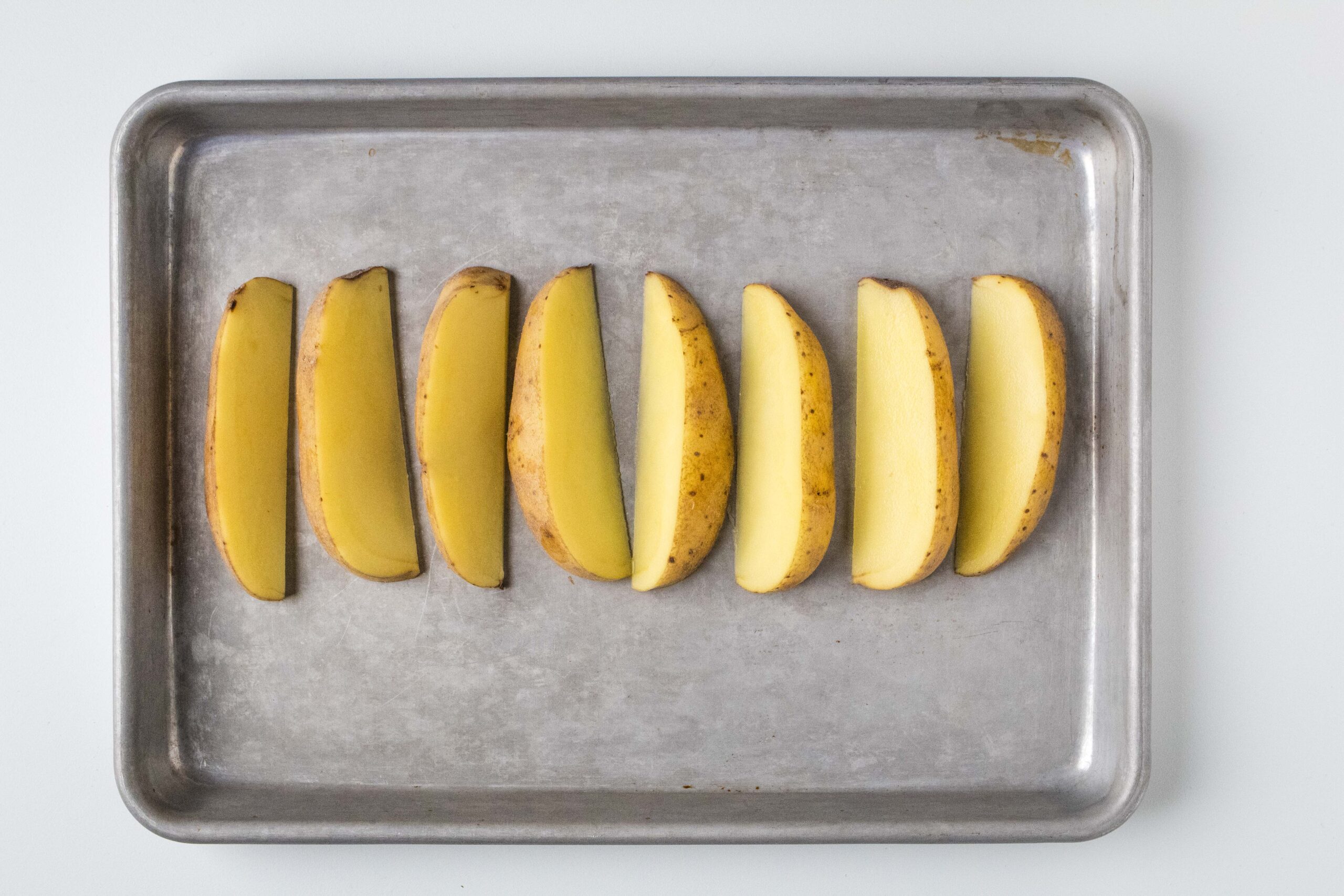 Then cut the potatoes in half again, lengthwise, then again as shown. Doing so will yield eight pieces per potato. Cut all of your potatoes in this manner.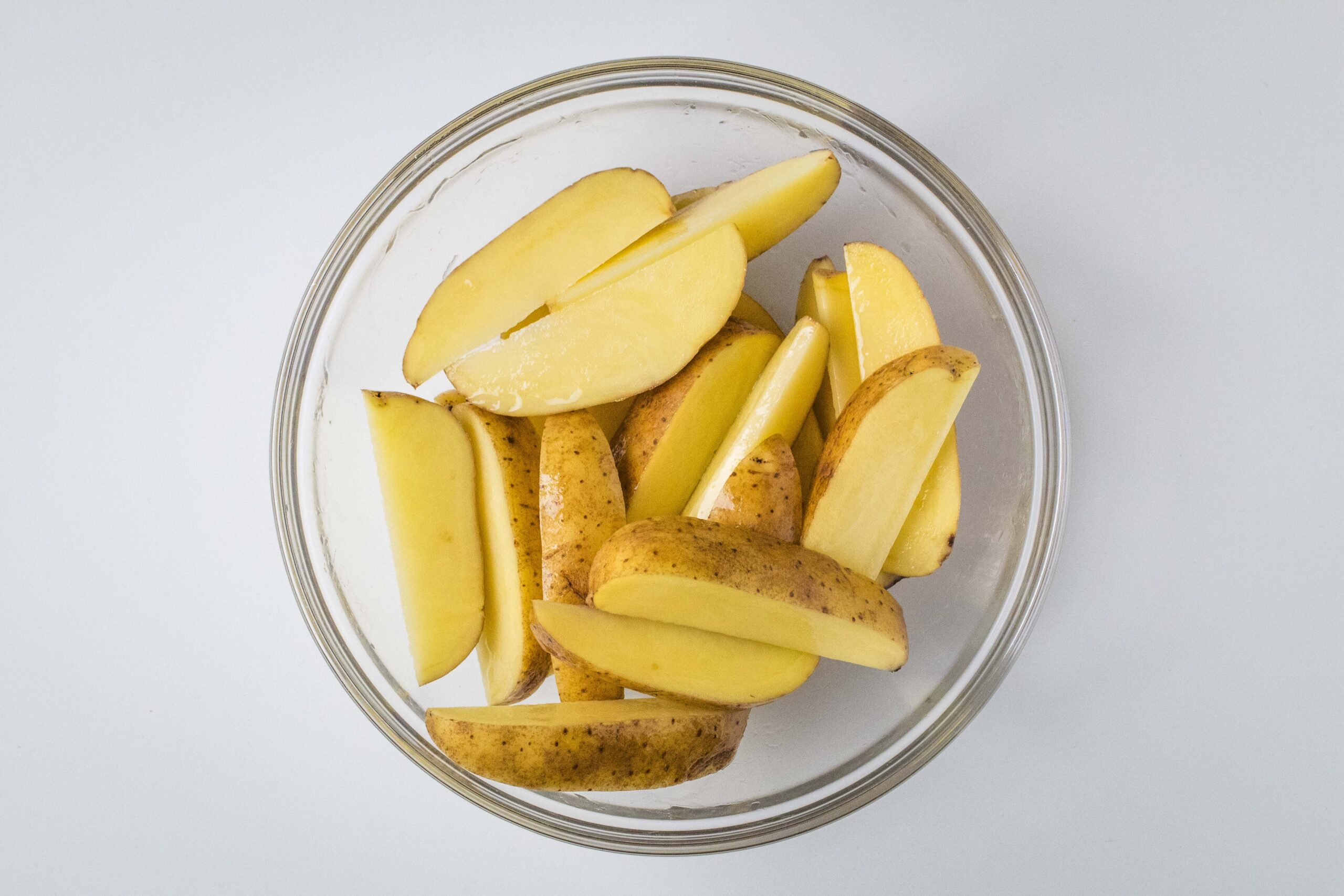 Next, place those lovely spuds in a bowl and rinse them in cold water until the water runs clean. Then, place them on a plate or baking tray or plate and pat them dry with paper towel. Next, add them to a bowl and toss with oil.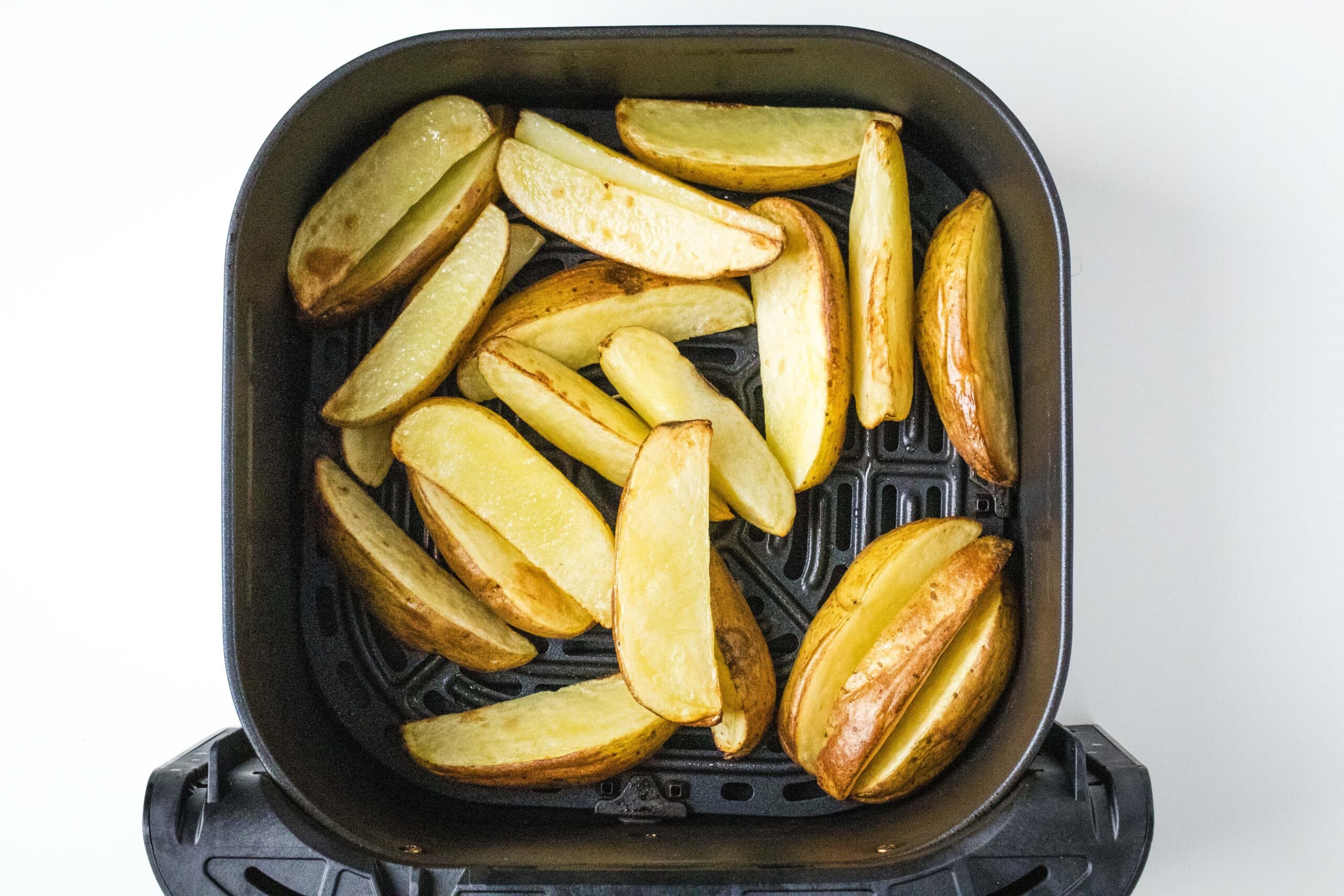 Add the potato slices to the air fryer basket and cook for 12 minutes or until fork tender.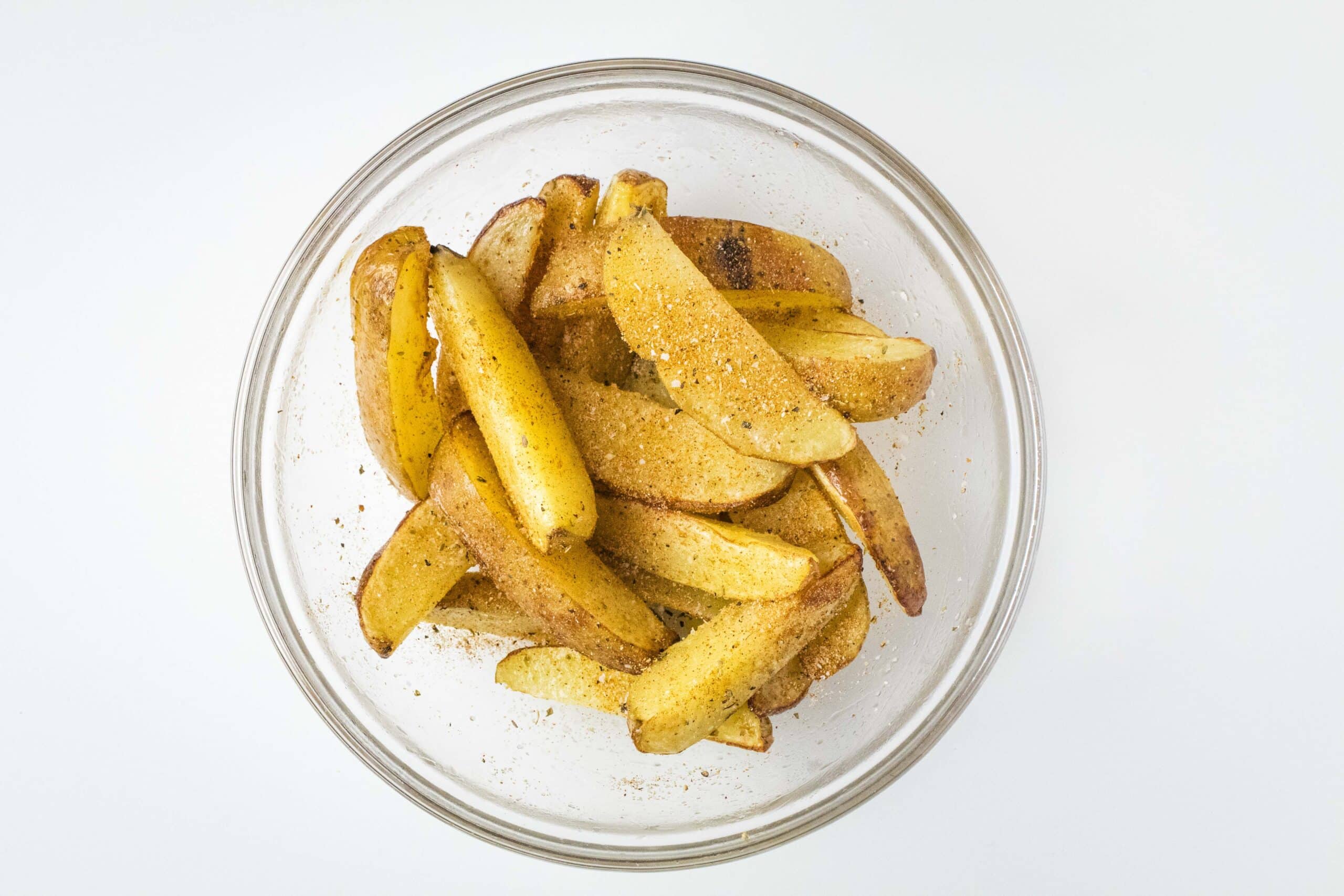 Next, add them back to the bowl and toss them with the salt, seasonings, and remaining oil. Then, increase the temperature to 400 degrees. Add them back to the air fryer for another 12 to 15 minutes.
Variations
Looking for a change up to your wedges that goes beyond what we've presented here? Sure, we'll help you come up with some ideas to get the ball rolling. There are all sorts of things you could do, but we're going to focus on the flavors.
Parmesan-Herb – After air frying, toss with parmesan and dried parsley, oregano, and/or basil.
Cajun – For a spicy kick, before the second round of air frying, toss your spuds with a Cajun spice blend that includes cayenne pepper, onion powder, thyme, and red pepper flakes.
Sweet & Smoky – Follow the steps, then when it's time to season the wedges, coat them with a mix of brown sugar, smoked paprika, a hint of cinnamon, and a dash of salt.
Taco Flavor – This one is so simple. Before the second round in the air fryer, toss your wedges in taco seasoning.
Equipment
You'll need a quality air fryer to make this recipe. We like the Instant Pot Vortex. We've had one for years now, and it performs just as good as the day we bought it. If you do buy one, take some time to read through the manual for proper use instructions and maintenance.
How to Store & Reheat Air Fryer Potato Wedges
Before storing, allow them to cool down completely to avoid condensation which can make them soggy. Then, place them in an airtight container for up to four days. When you are ready to have them again, reheat by placing them in the air fryer at 400 degrees for about five minutes until they are hot and crispy.
Top tip
Every few minutes, remove the air fryer basket and gently shake it. Emphasis on gently, as you don't want to break them. This will help them to brown more evenly.
FAQ
Is there a preferred type of oil to use for air frying potato wedges?
We used a neutral, high smoke point oil for this recipe. An example of this is vegetable, canola, or peanut oil. But, we can't wait to try this recipe with other high smoke point oils like beef tallow.
Should I peel the potatoes before cutting them into wedges?
Nope. Whether you prefer Russet or Yukon Gold, there is no need to peel your potatoes before cooking them in the air fryer. Especially with Yukon Gold as the skin is very thin.
How do I know when the potato wedges are done cooking?
To be sure if the potatoes are done, do the fork test. Poke one of the wedges with a fork. It should slide in with very little resistance.
Make It A Meal
Looking for other recipes like this? Try these: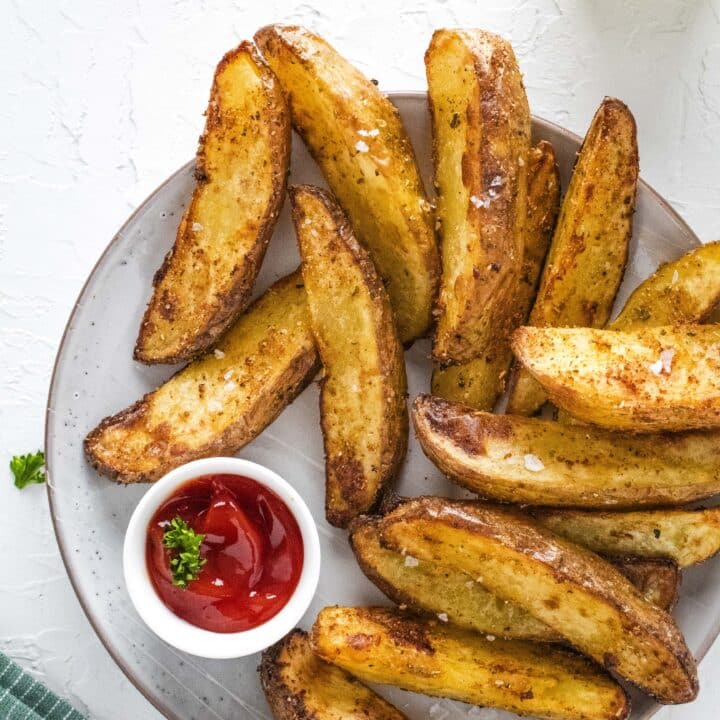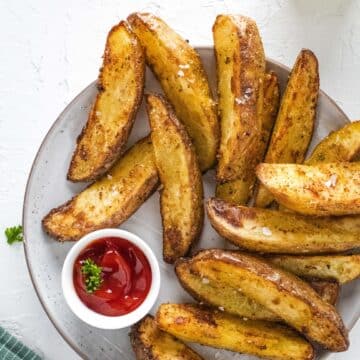 Air Fryer Potato Wedges Recipe
Are you ready for the best air fryer potato wedges? They are crispy on the outside and creamy on the inside.
Ingredients
1 1/2

Pds

Yellow Potatoes

2

Tbsps

Vegetable Oil
Seasoning Blend
1/2

Tsp

Garlic Powder

1/2

Tsp

Onion Powder

1/4

Tsp

Paprika

1/4

Tsp

Kosher Salt

1/4

Tsp

Oregano

1/8

Tsp

Black Pepper
Instructions
Preheat the air fryer to 350 degrees.

Using a sharp knife, cut each potato in half lengthwise. Put the cut side on the cutting board and cut in half lengthwise. Now, cut each quarter in half again. You will have 8 total wedges.

Rinse the wedges until the water runs clean.

Add the wedges to a cookie sheet lined with paper towel. Pat dry each wedge and place it in a medium bowl.

Drizzle 1 tablespoon of the oil and place the wedges in the air fryer. Cook for 12 minutes or until fork tender. Make sure to shake the basket a few times during this time.

After cooking, add the wedges back to the medium bowl. Pour the remaining oil and seasoning over the potatoes and toss together to coat evenly.

Raise the temperature to 400 degrees and cook the wedges for another 12-15 minutes or until crispy.

Serve with your favorite dipping sauce and enjoy!
Notes
Refrigerate any leftovers in an air tight container for up to 3 days. 
Reheat at 400 degrees for 4-6 minutes. 
Nutrition
Calories:
63
kcal
Carbohydrates:
1
g
Protein:
0.1
g
Fat:
7
g
Saturated Fat:
1
g
Polyunsaturated Fat:
4
g
Monounsaturated Fat:
2
g
Trans Fat:
0.04
g
Sodium:
146
mg
Potassium:
12
mg
Fiber:
0.2
g
Sugar:
0.05
g
Vitamin A:
12
IU
Vitamin C:
1
mg
Calcium:
4
mg
Iron:
0.1
mg