There is nothing particularly original about this fried macaroni cheese ball recipe with barbecue aioli (mayo based sauce also known as a remoulade). Even still, this is really tasty food! These bites are fatty and carb-loaded, and cheesy, and most importantly, fried – so, basically, not good for you. But, it's a party so who cares! Hit the gym harder tomorrow, you only live once, right?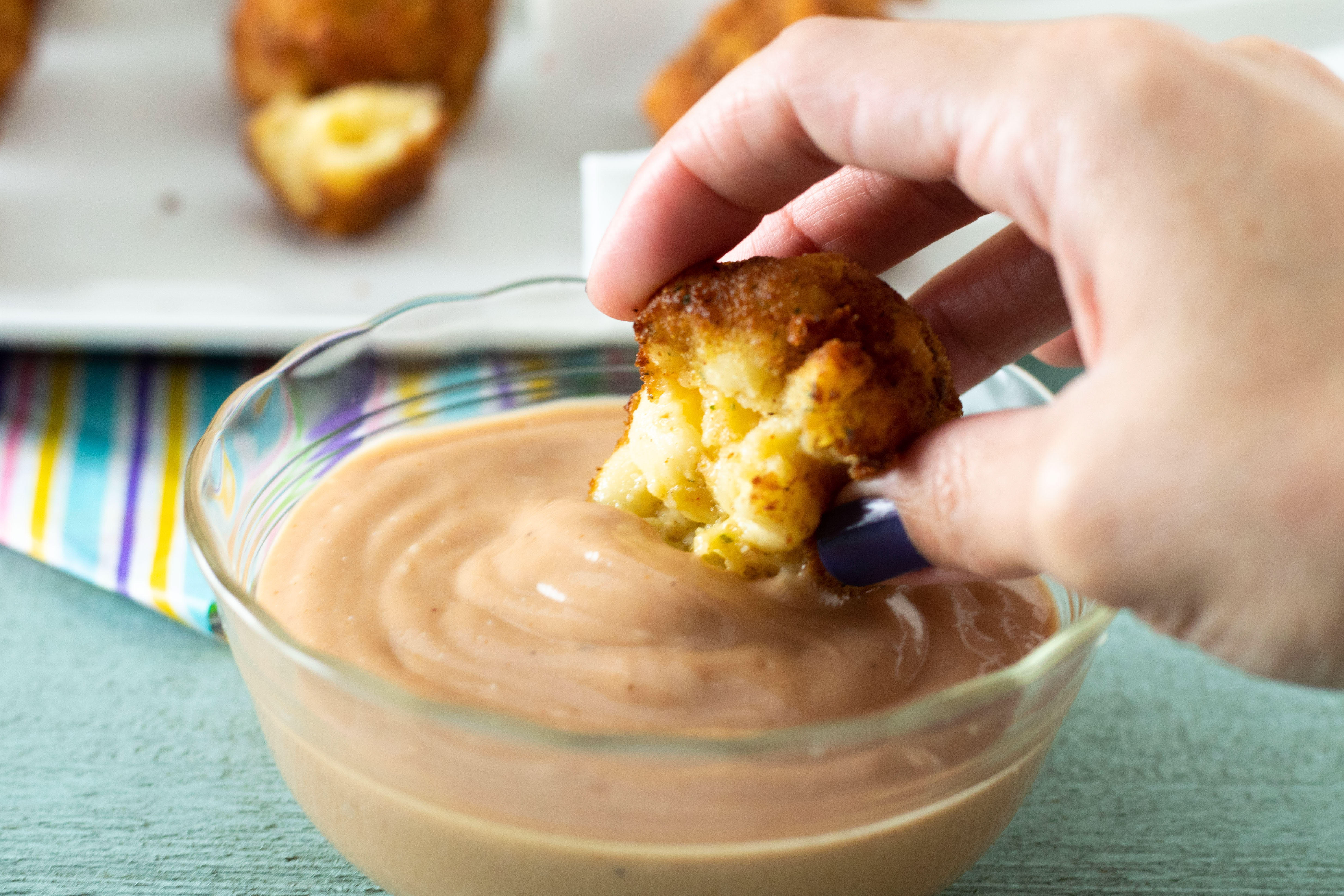 What we do here with this recipe is go into more detail about how to make these bites easier. We provide you with a few little tidbits that can give you more confidence when making the macaroni balls.
First, you want to make sure that you don't undercook the macaroni. While you might usually go with a more al dente noodle, you are better off with softer noodles with this recipe.. The box says 8-10 minutes to cook the noodles, we went closer to 11 minutes.
Another thing to consider is the top crust. When making a pan of macaroni, we might add breadcrumbs to top it, or at least brown the top. For these fried balls you actually don't want a hard crust. That hard crust or any little hard pieces of macaroni will make it more difficult to form the balls. Before you start forming the mac balls remove any hard pieces.
Note: Bake the mac and cheese at the center rack or lower.
We recommend setting up an assembly so there is a logical flow. We set up with our macaroni, then the egg, breadcrumbs, and a plate. We like to form all of the balls prior to frying. Everything works smoother if you set up like this. You don't want to be going back and forth with messy hands.
We used an ice cream scoop to gather a consistent amount of macaroni in our hands. As we started forming the macaroni balls we found out that they don't form as easily as we thought. You have to use a little muscle. As you work with the macaroni, the heat from your hands will make the macaroni more workable. Even still, you might find that the macaroni doesn't want to stay as a ball as well as you want it to. You might feel like they are going to just fall apart.
Don't worry, things get better the further you get into the process. When you dip the mac balls into the egg, gently continue to form the ball. Don't work it too much though, you don't want it to fall apart.
Next, you will want to coat the mac & cheese balls with some bread crumbs. We chose Italian bread crumbs because they are already seasoned. When we got to this stage initially, we had some fall apart. This is because we were initially rolling them in the bread crumbs. Instead, you are better off using your hands or a spoon to sprinkle on the breadcrumbs.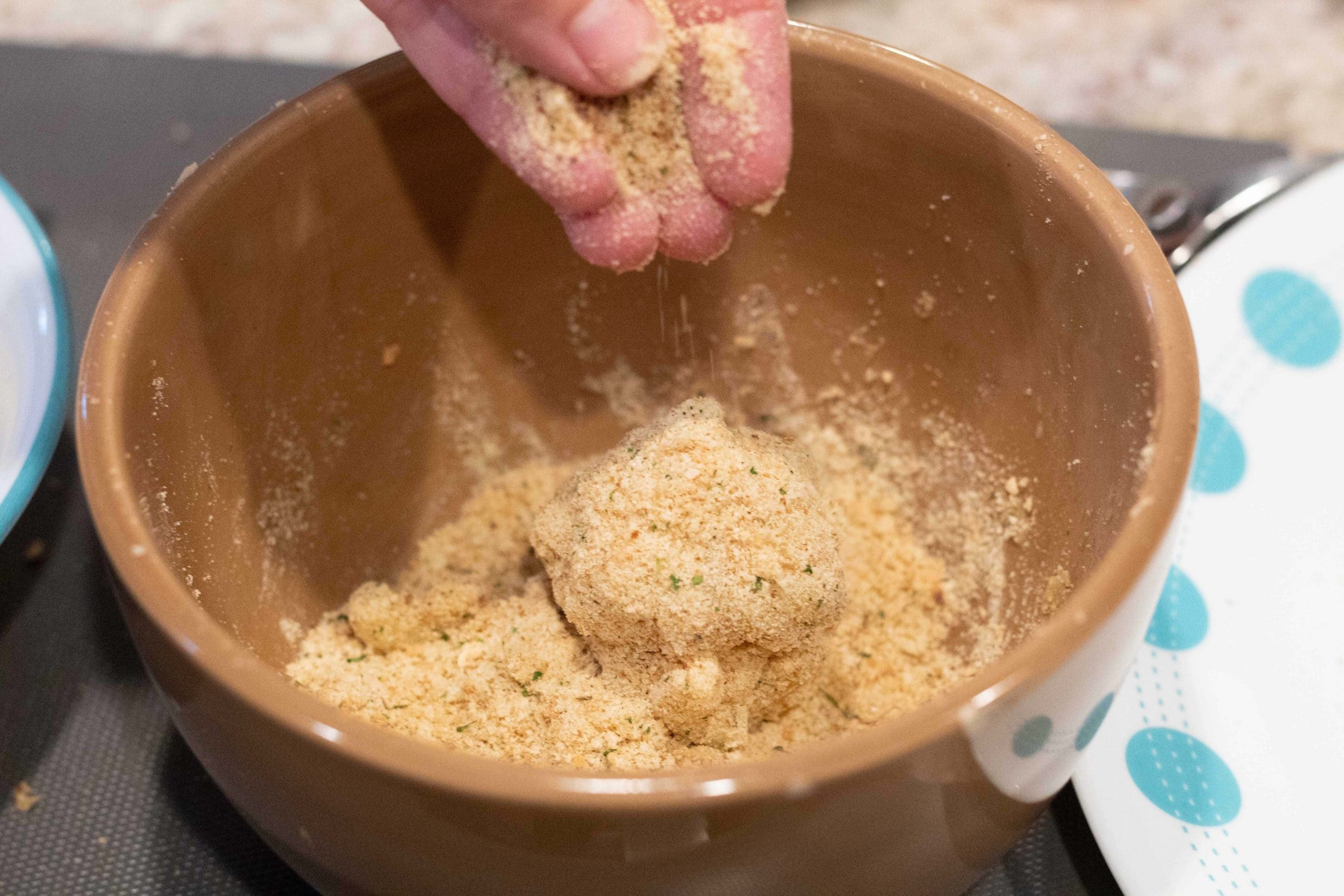 At this point, you've got your fragile little mac and cheese balls ready for frying. Awesome!
Get that oil up to about 360 degrees (use a candy thermometer). Use your hands, larger spoon, or mesh strainer to gently place 2 to 3 balls in the fryer at a time. Do not overcrowd the pot! They will be ready in about a minute. In the end you will have beautiful golden brown mac and cheese balls that taste as good as they look. They taste best hot but still very good at room temperature.
As for the barbecue aioli, just take a quarter cup of mayo and add two tablespoons of your favorite barbecue (we used Sweet Baby Ray's Original). You can adjust the proportions to your taste.
This recipe is so easy and so tasty! After we finished taking our pictures we dug right in!
Note: This is definitely a "make in advance" party food candidate. We will update when we do more testing.
Macaroni and Cheese Bites
Knock em' dead at your next party with these mac and cheese bites. We also made a nice barbecue aioli (fancy talk for mayo based sauce).
Ingredients
8

Ounces

Macaroni Noodles

1 ½

Cups

of Milk

Room temperature or warmed

2

Tablespoons

Unsalted Butter

2

Tablespoons

Flour

½

Teaspoon

Ground Mustard

¼

Teaspoon

Onion Powder

¼

Teaspoon

Garlic Powder

¼

Teaspoon

Paprika

½

Teaspoon

Salt

2

Cups

of Shredded Cheddar

2

Large Eggs

¼

Cup

Milk

½

Cup

Italian Seasoning Bread Crumbs

½

Cup

Mayo

¼

Cup

BBQ Sauce

We used Sweet Baby Rays
Instructions
In a small bowl mix the mayo and bbq sauce. Put the sauce in the fridge until ready to serve.

Take a large pot of salted water and bring it to a boil. Cook the macaroni noodles for 10 minutes or until tender. Drain and set aside.

While the noodles are cooking make the cheese sauce. In a medium pot on medium high heat add the butter and flour. Cook for about 1 minute.

Then add the room temperature or warmed milk. (See note) Add the ground mustard, onion powder, garlic powder, paprika and salt. Mix sauce occasionally until sauce thickens. About 5 minutes.

Add the shredded cheese and mix until the cheese is completely melted.

In a baking pan add the cooked noodles and pour the cheese sauce on top. Mix until combined. Cover with foil and refrigerate overnight.

When ready to cook preheat a large pot with oil to 360 degrees.

In a small bowl whisk the eggs and milk. In another small bowl add the bread crumbs. Set aside.

Take the macaroni and cheese out of the fridge and scoop about ¼ cup out. Using your hands compress the macaroni and cheese to form a ball. (See note)

Dip the ball into the egg mixture. Then dip it into the bread crumbs.

Fry each bite for about 1-3 minutes. These will fry fast. (See note)

Lay the cooked macaroni and cheese bites on a plate lined with paper towel. Serve with the sauce. Enjoy!
Notes
To get a smooth cheese sauce you want to make sure the milk is not cold or straight from the fridge. You can microwave the milk in a bowl for about 1 minute or until the milk is about room temperature.
My husband helped form the balls and according to him the balls became easier to make since he had extra breading on his hands. When you first start you might think these won't work. With the extra breading it helps the macaroni and cheese stick together.
Don't over crowd the pot. You don't want the temperature to drop too much. No one likes mushy oily foods.
These bites were good at room temperature.
Store the bites in an airtight container for 3-5 days.