On this list of 22 fresh peach recipes, you will discover many delicious desserts, dinners, appetizers and drinks all made with everyone's favorite rock fruit. They're refreshing, flavorful, and easy to make. And best of all, they pack a peachy punch!
Just wait until you see what's in store!
Sure, we've listed a peach cobbler, but the one we've included was made in an air fryer. But you also have recipes you'd never think of, like peach panzanella salad and brie grilled cheese with peaches and blackberries. So are you ready to discover the tasty?
Let's dive in!
And if you like this list, you'll love this list of fresh strawberry recipes!
Peach Panzanella Salad
If you're looking for a way to impress at summer potlucks and picnics, look no further than this peach panzanella salad from Nisha of the Rainbow Plant Life blog. Here's why you'll want to dig in. It's a 7-ingredient tasty spin on Tuscan bread salad with juicy sweet peaches, heirloom tomatoes, and fresh basil.
Iced Peach Green Tea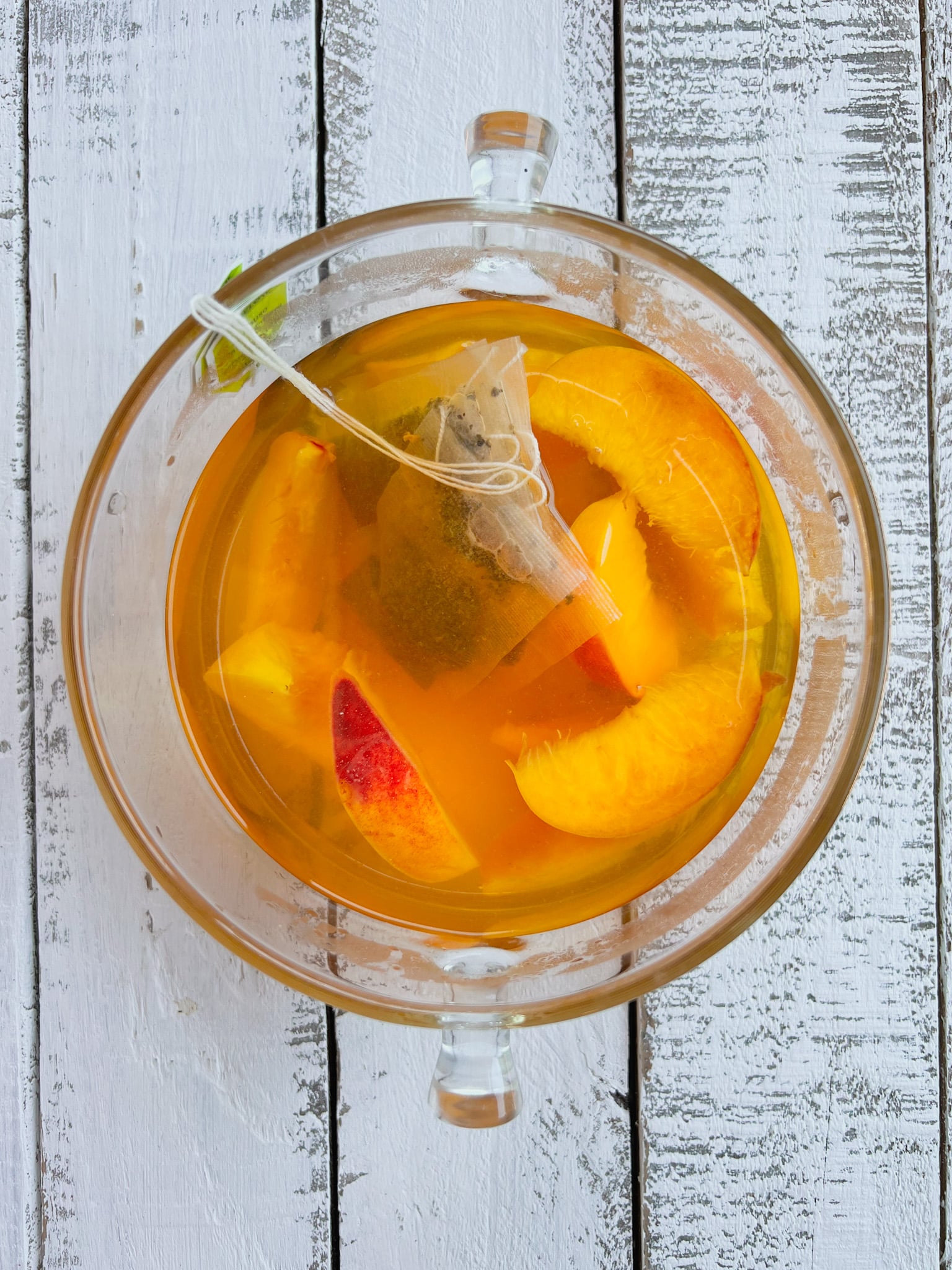 Dina and Bruce show the Perks Of Being Us with this refreshing iced peach and green tea. It's a great way to beat the heat with just four simple ingredients, including freestone peaches with easy-to-remove pits. It's simple and, best of all, healthier as you control all the ingredients.
Brie Grilled Cheese
Take your grilled cheese game to the next level with this brie grilled cheese recipe complete with peaches and blackberries by Jessica of The Forked Spoon. Learn why Jessica says, "all fruit belongs with all cheese."
Homemade Peach Syrup
You'll want to put this homemade peach syrup from The Sage Apron team on everything from biscuits to ice cream. With just three ingredients, including fresh peaches, sugar, and water, it's a "sweet summer time treat" you'll want to keep around all season.
Fresh Peach Upside Down Cake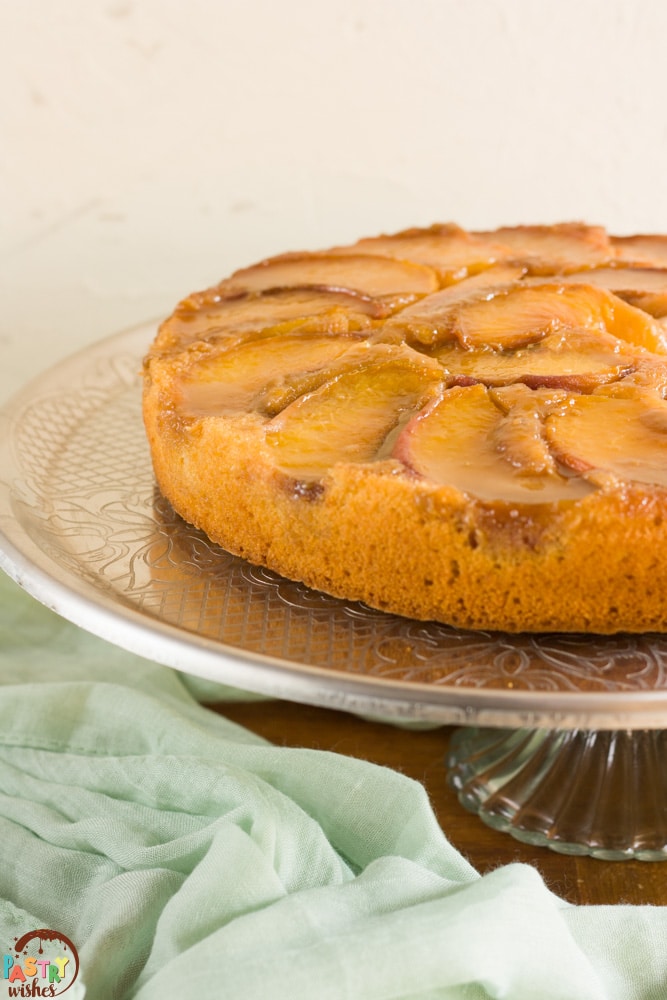 Irresistibly moist, mouthwatering, rich, and buttery, with just the right amount of spice, this fresh peach upside cake by Voula of Pastry Wishes is just what your summer needs. Just serve it with a luscious bourbon caramel sauce and ice cream, and you've got a dessert they'll always remember.
Fresh Peach Ice Cream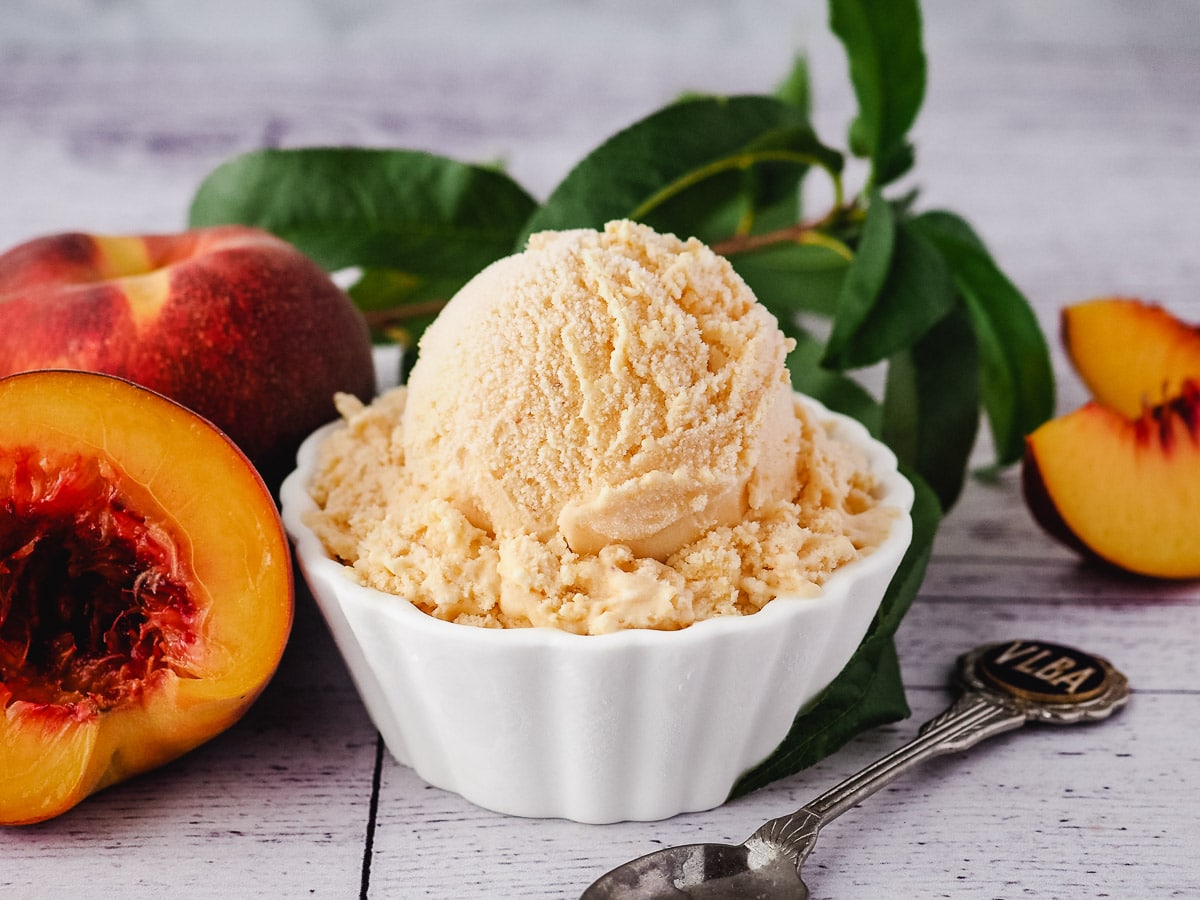 If you find a steal of a deal on fresh peaches, what better way to use them than with this refreshing peaches and cream ice cream by Keep Calm And Eat Ice Cream? So are you ready to put your ice cream machine to good use?
Air Fryer Peach Cobbler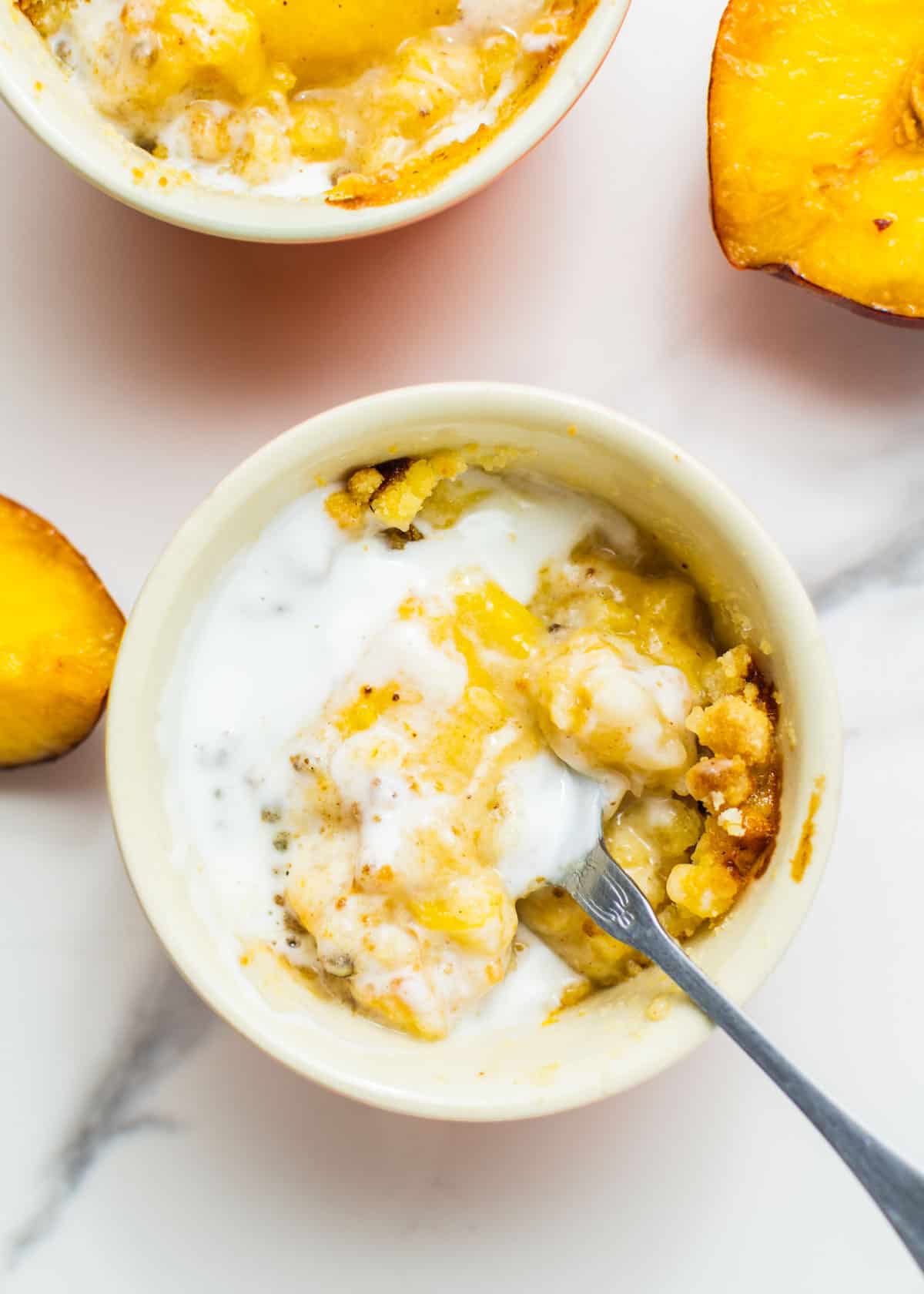 Air fryer peach cobbler by Ambitious Foodie is a classic summertime dessert made simpler with modern equipment. Without heating up your house, you can make a delectable sweet treat using summer's best produce in just 30 minutes.
Peaches and Cream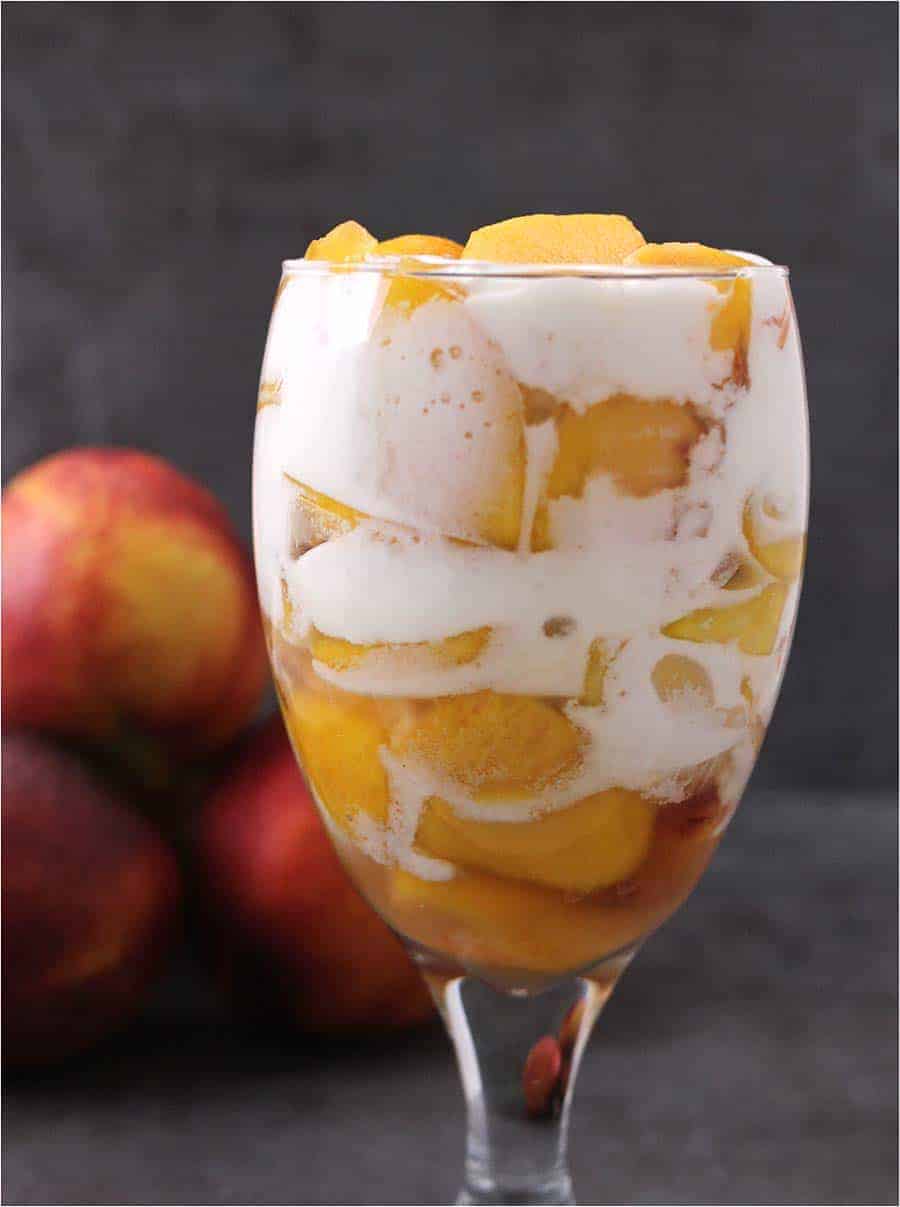 Need a last-minute summer dessert? Well, this simple peaches and cream concoction is right on time. All you need are fresh peaches, heavy cream, sugar, and water. Prep and cooking time are only five minutes each.
The BEST Creamy Peach Banana Smoothie Recipe
But peaches aren't just for desserts. There are plenty of ways to use the rock fruit. And that includes healthy recipes like the best cream peach banana smoothie recipe from Delectable Food Life. It's a breakfast special with fresh peaches, bananas, yogurt, and vanilla, amongst other healthful ingredients.
Peach Burrata Salad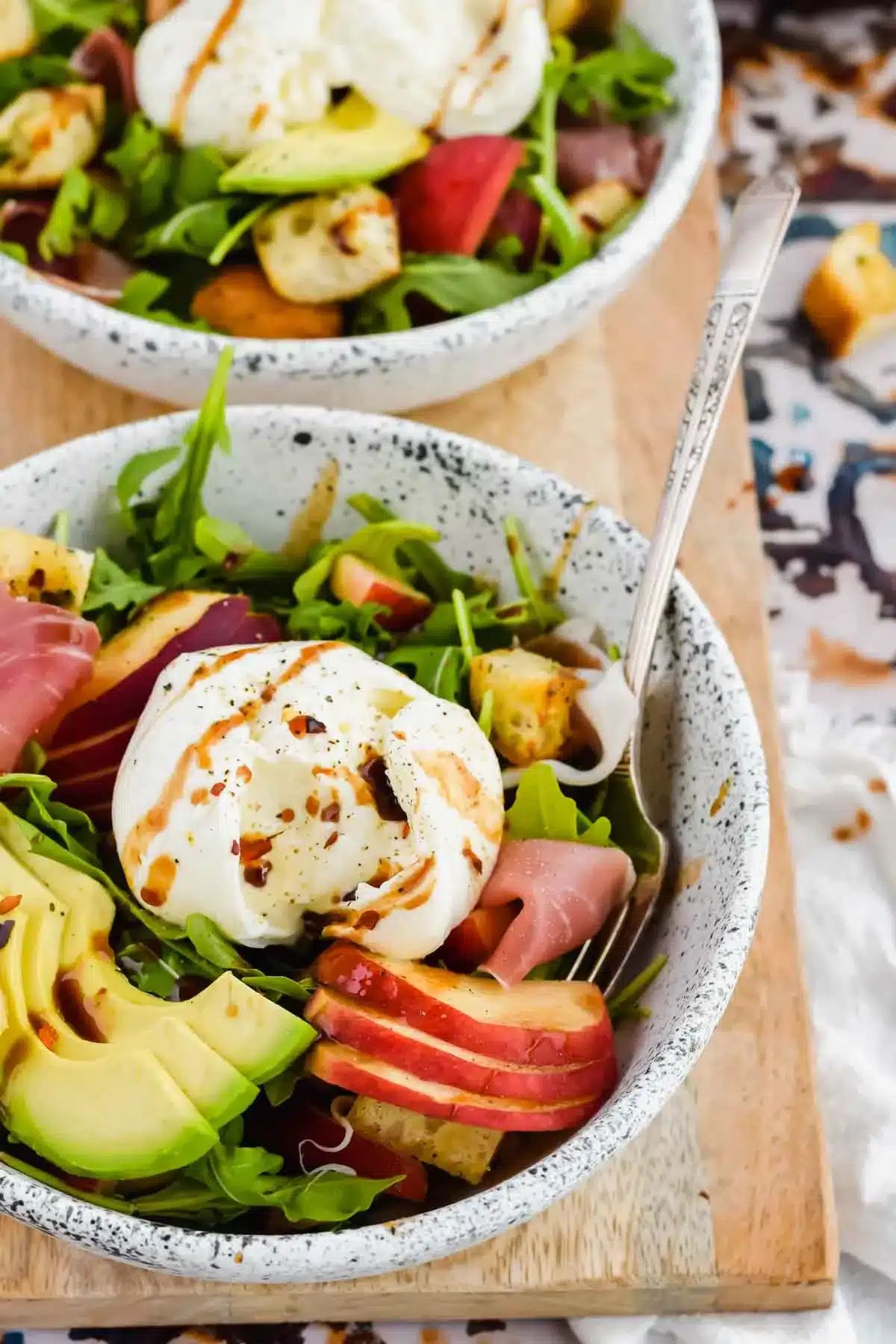 Exceptional as it appears, this fresh peach burrata salad by A Paige Of Positivity is easier to make than it looks. You have the summery flavors of fresh juicy peaches, salty prosciutto, peppery arugula, and intense balsamic glaze. Will it make your brunch menu?
Chipotle Pinto Beans with Peaches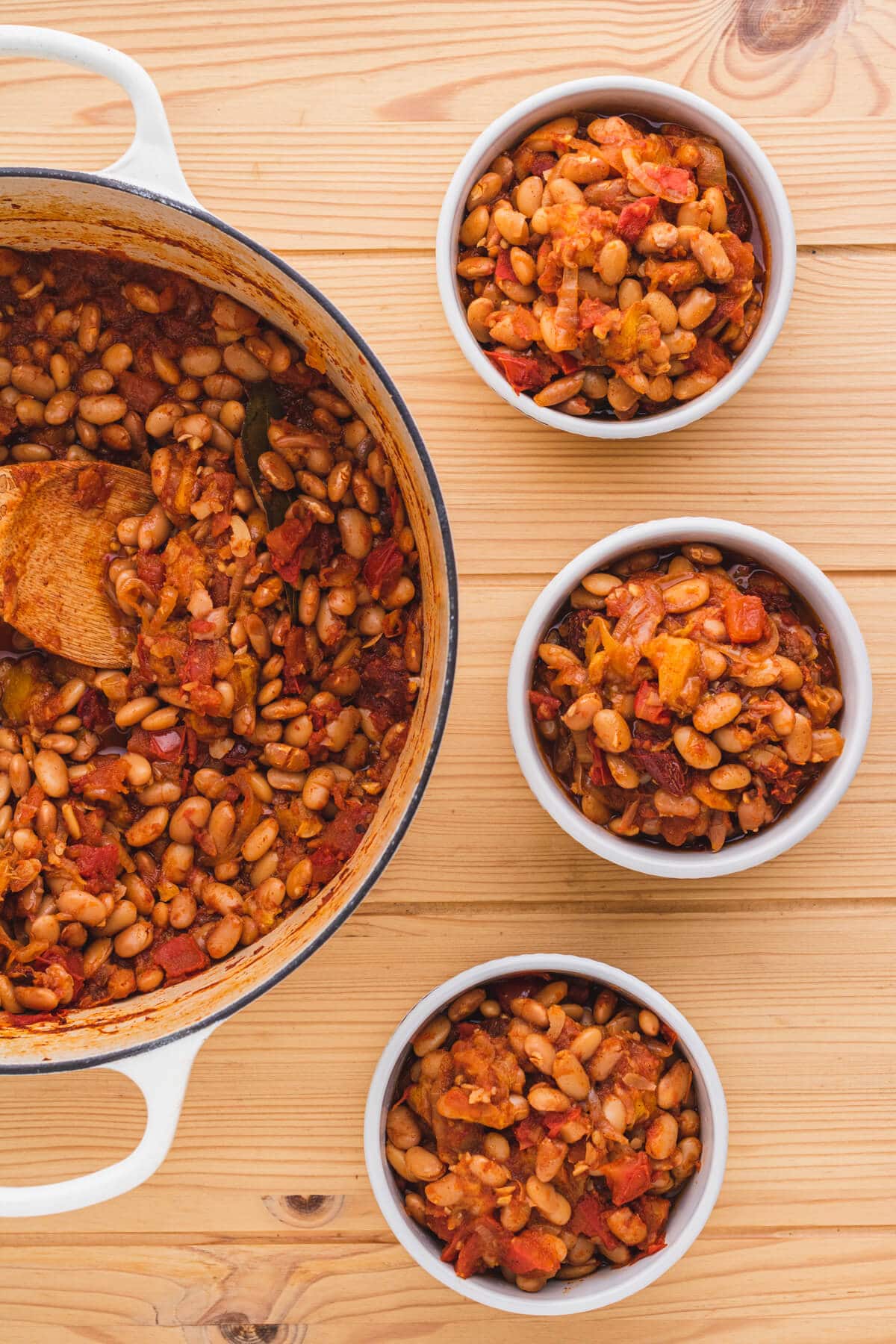 Summer barbecues can't be all about meat! You need tasty and even unique sides like these chipotle pinto beans with peaches from Dish N The Kitchen. And because the recipe calls for dried beans, they soak up all those sweet and savory flavors from the peppers, peaches, garlic, and more.
Peach Bread
Consider this peach bread recipe from Simply Stacie, a beacon to all peach lovers. It's a quick bread (read: cake) recipe you make with simple ingredients, including fresh peaches. Once you bake and cool it, top it with a brown sugar glaze so good you'll want to lick the bowl.
Best Peach Sorbet Without Ice Cream Maker
Who knew you could whip up peach sorbet without an ice cream maker? Well, Lee-Ann of Chef Not Required did, and now she shares her refreshing, foolproof, three-ingredient recipe with the rest of us. All you need are fresh peaches, sugar (a special kind), water, and a blender.
Easy Peach Whiskey Chili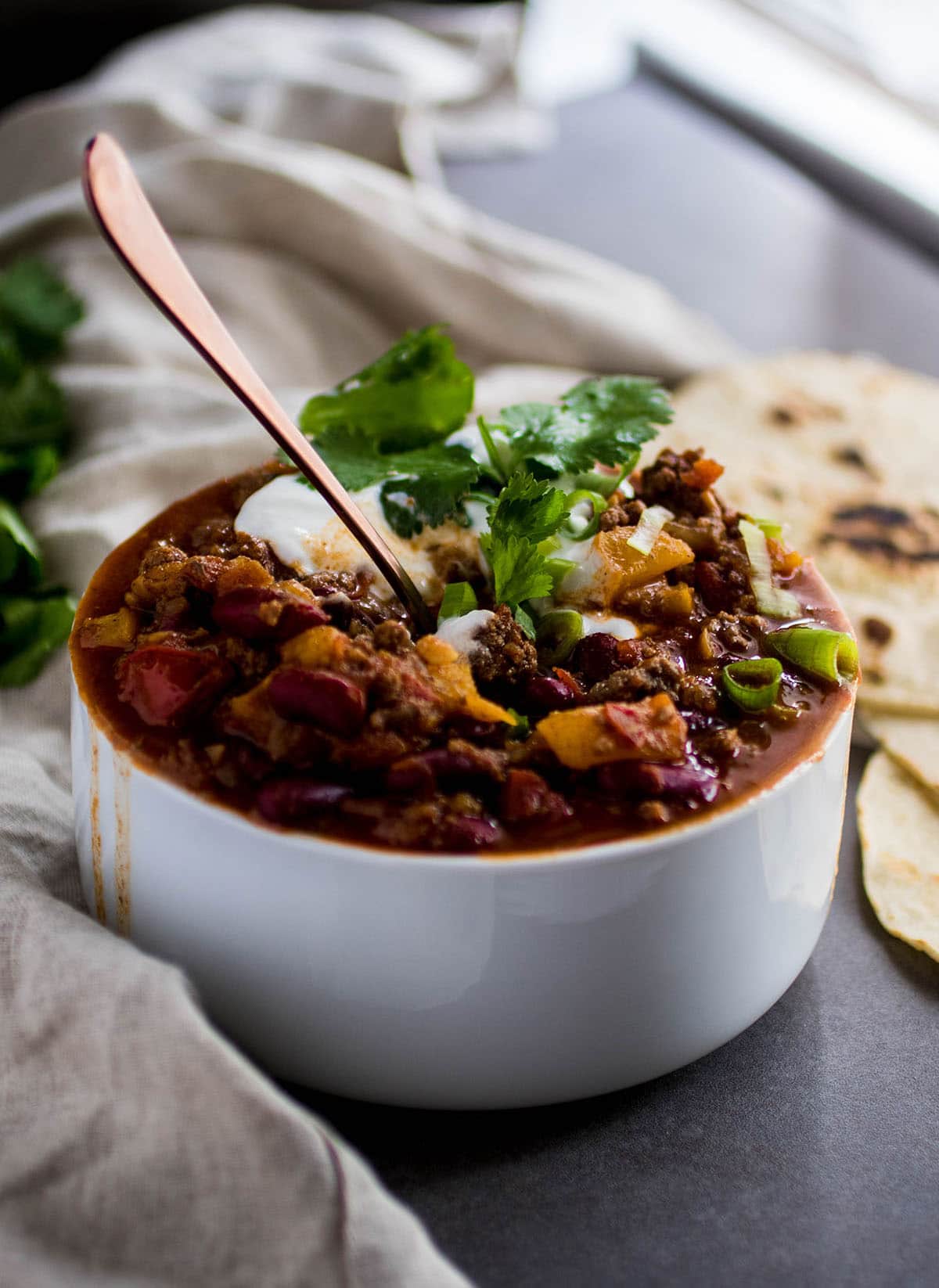 Do you want a chili like no other you've ever had? How about this easy peach whiskey chili by Life As A Strawberry? The award-winning recipe is hearty with ground beef (or your favorite minced meat), fresh peaches, molasses, and a splash of whiskey.
Grilled Prosciutto Wrapped Peaches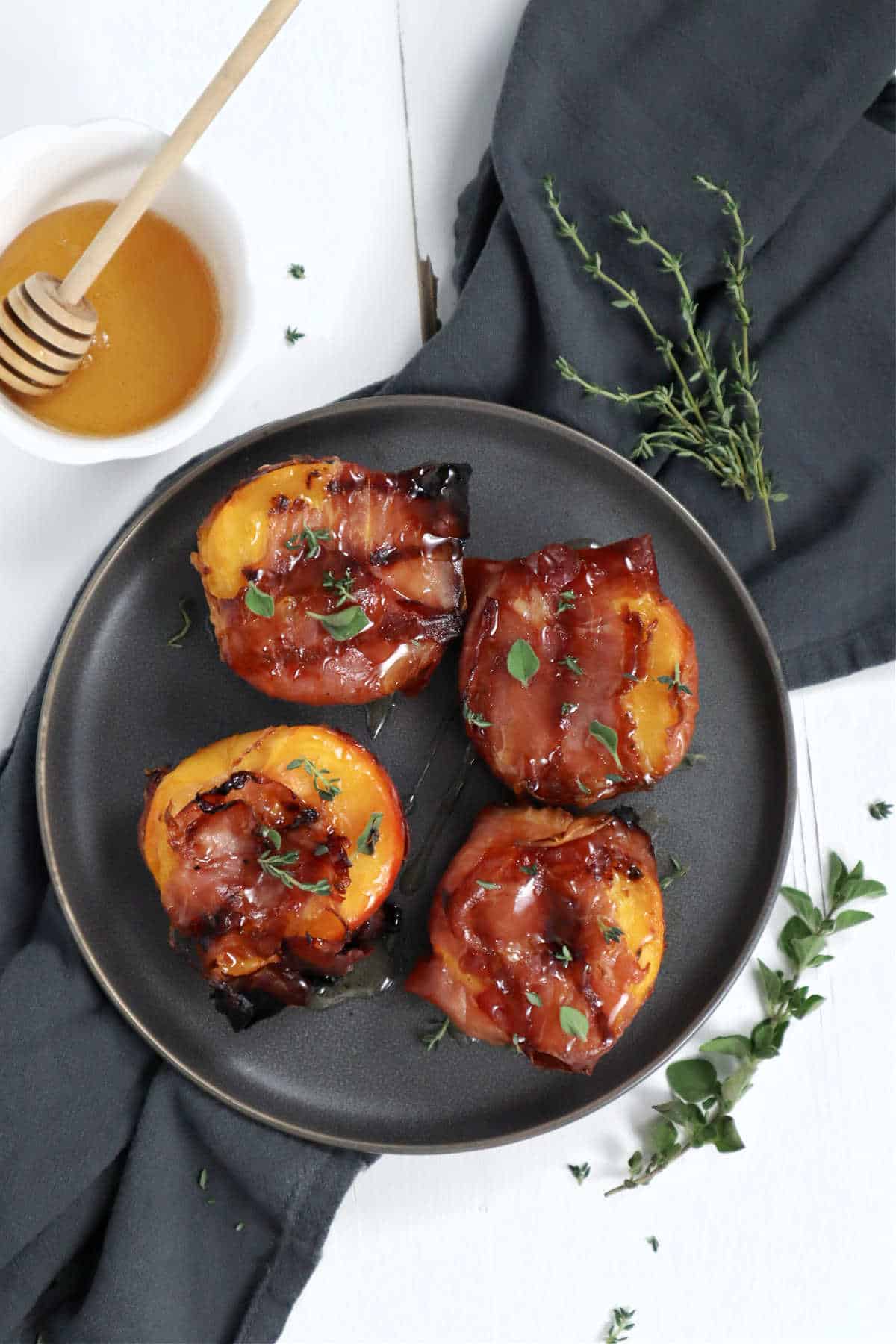 Move over bacon-wrapped dates because we've found our new favorite bacon recipe of the summer. It's grilled prosciutto-wrapped peaches by The Healthier Bite. With a hint of smokiness, grilling them brings the peach's natural sweetness, and the saltiness of the prosciutto combines for a flavor you can't beat.
Spicy Peach Salsa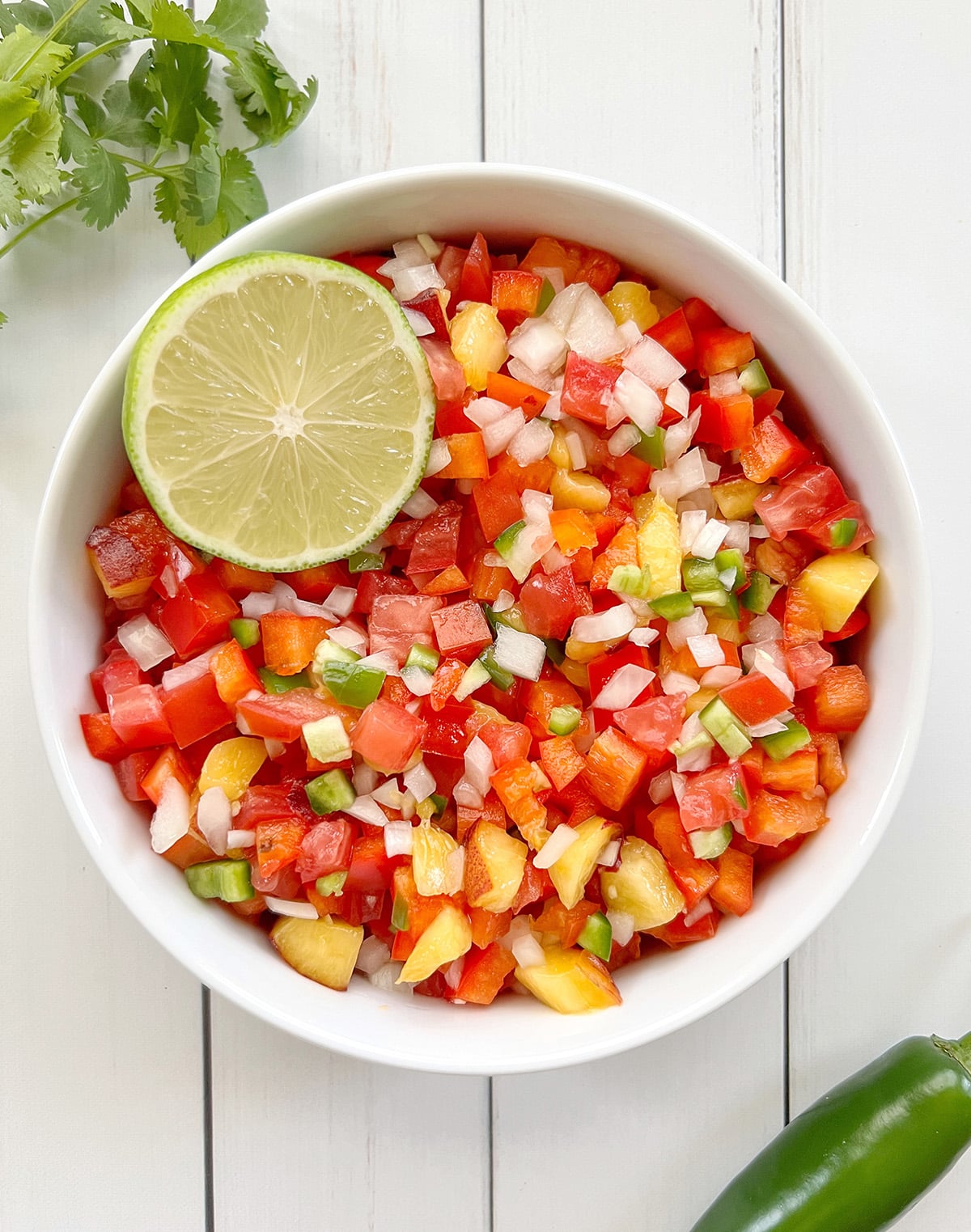 When the summer's heat is unbearable, turn to this refreshing yet slightly spicy peach salsa recipe by The Urben Life. It has everything you need to beat the heat with fresh peaches, jalapenos, juicy tomatoes, lime juice, and more. Add it to tacos, or enjoy it with tortilla chips.
Fresh Peach Pie Recipe with Cinnamon Sugar Crust
If you can't reach Amber, don't worry, she's busy creating memories like this fresh peach pie recipe with cinnamon sugar crust. It boasts a succulent peach filling surrounded by a cinnamon-spiced crust. Has summer ever been sweeter?
Fresh Peach Juice Recipe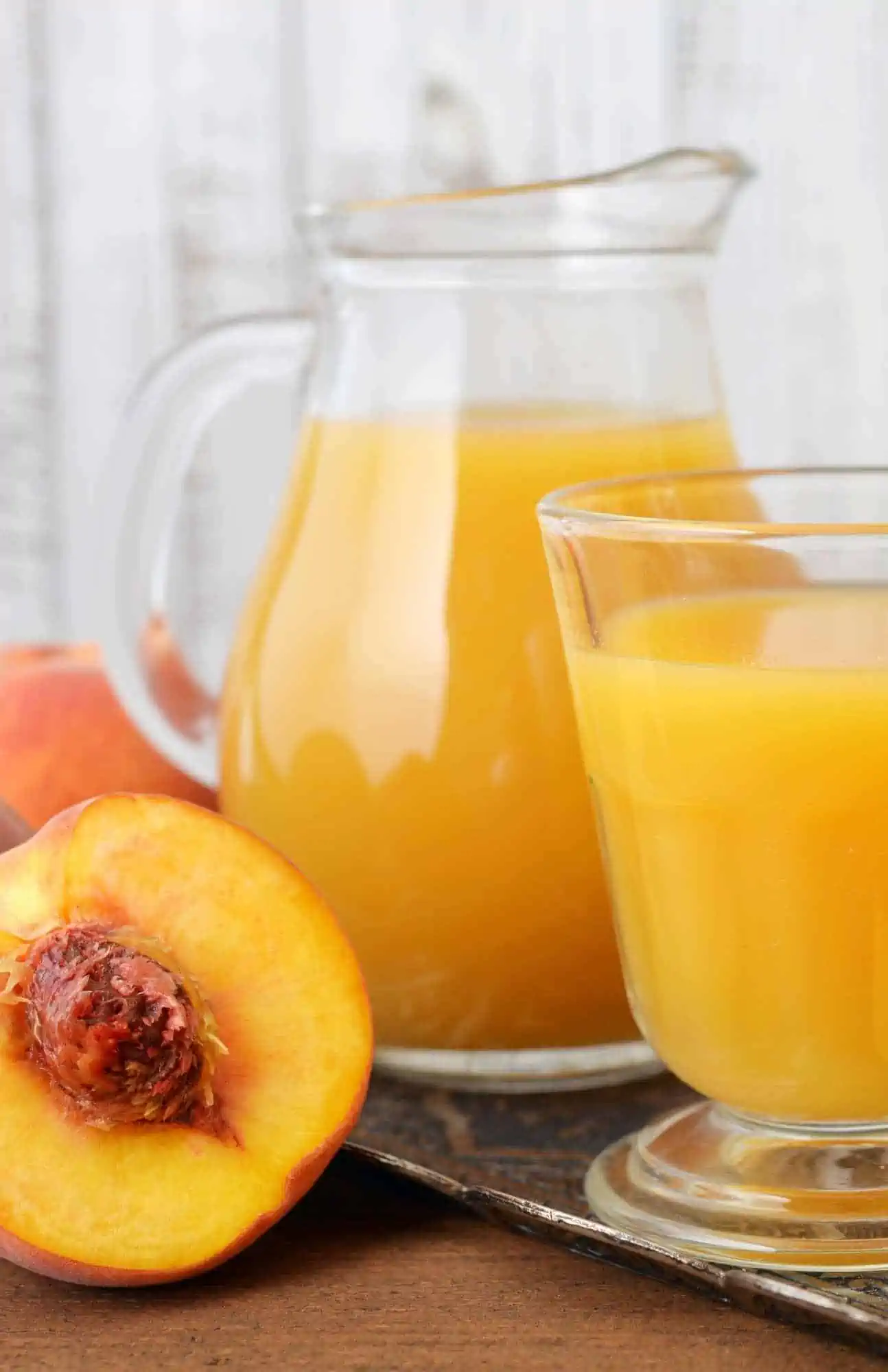 This quick fresh peach juice recipe by World Of Vegan may soon become a regular part of your morning. Here's why. The four-ingredient, five-minute drink is sweet but well-balanced with a bit of tartness. Plus, it's full of nutrients like antioxidants.
Peach Cobbler Cinnamon Rolls
I can see it now! The whole family will run straight to the kitchen when they smell these peach cobbler cinnamon rolls courtesy of Cambrea Bakes. But that's not all. Serve them with a scoop of vanilla ice cream, and you'll have them wrapped around your finger.
Peach Bellini Recipe
Cynthia of What A Girl Eats brings Venice to your kitchen with this peach bellini recipe. This tasty cocktail consists of just two ingredients, including fresh peaches and prosecco, and takes 10 minutes to prepare. Just be sure to make enough for a 2nd and 3rd round.
Balsamic Glazed Peach Chicken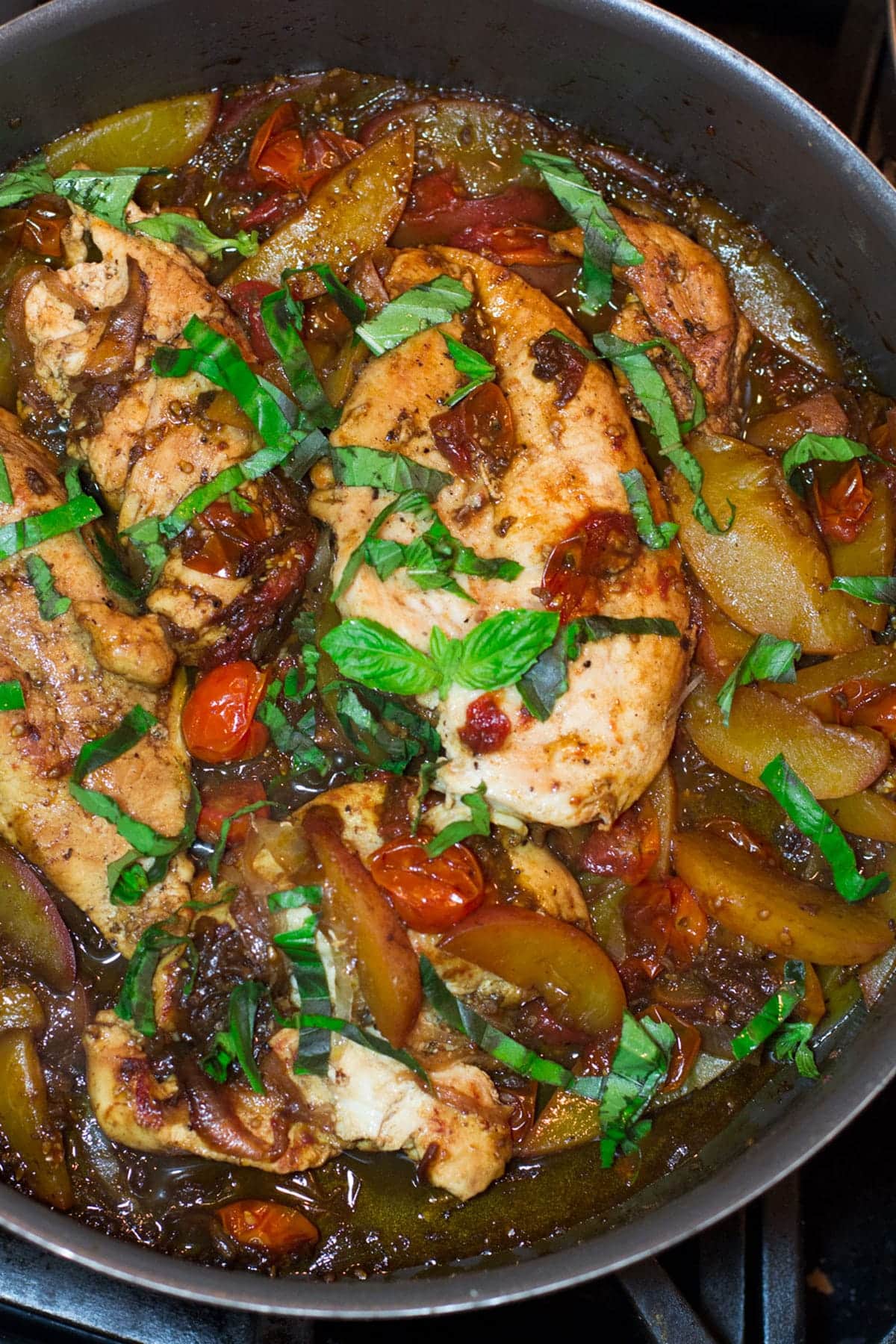 This sweet and savory balsamic glazed peach chicken from Recipes Worth Repeating is an easy skillet dinner that takes just 30 minutes from start to finish. It has sweet and savory flavors from ingredients like peaches, honey, ginger, and fresh basil.
Peach Fritters
Amanda's peach fritter recipe starts with her brioche. So already, we're off to a great start. Next, add cinnamon, juicy chopped peaches, fry, and top with maple glaze. There's a bit more to it than that, but with a blog called Cookie Named Desire, you're in good hands.
Which Fresh Peach Recipes Will You Try First?
So by now, you've come across a bunch of fresh peach recipes to savor the bounty of summer. From refreshing salads to mouthwatering desserts and everything in between, these juicy gems add a burst of natural sweetness to any dish. So the only thing left to decide is which peach recipe to try first. We'd love to know!
Before you go, don't forget to check out our electrifying list of lemon dessert recipes.