Welcome, soup enthusiast and crockpot lovers! This list of easy crockpot soup recipes will soon become your go-to solution if you're looking for straightforward, hearty meals.
So, get ready to transform raw ingredients into warm comforting bowls of goodness while carrying on with your day.
Below, you'll discover a variety of tasty of ideas like the intensely flavorful Hungarian goulash, creamy buffalo chicken chili, and you certainly don't want to miss the Thai chicken soup. So are you ready to discover the tasty?
Let's dive in!
If you like this list, you'll love these easy soup recipes too.
Hungarian Goulash Recipe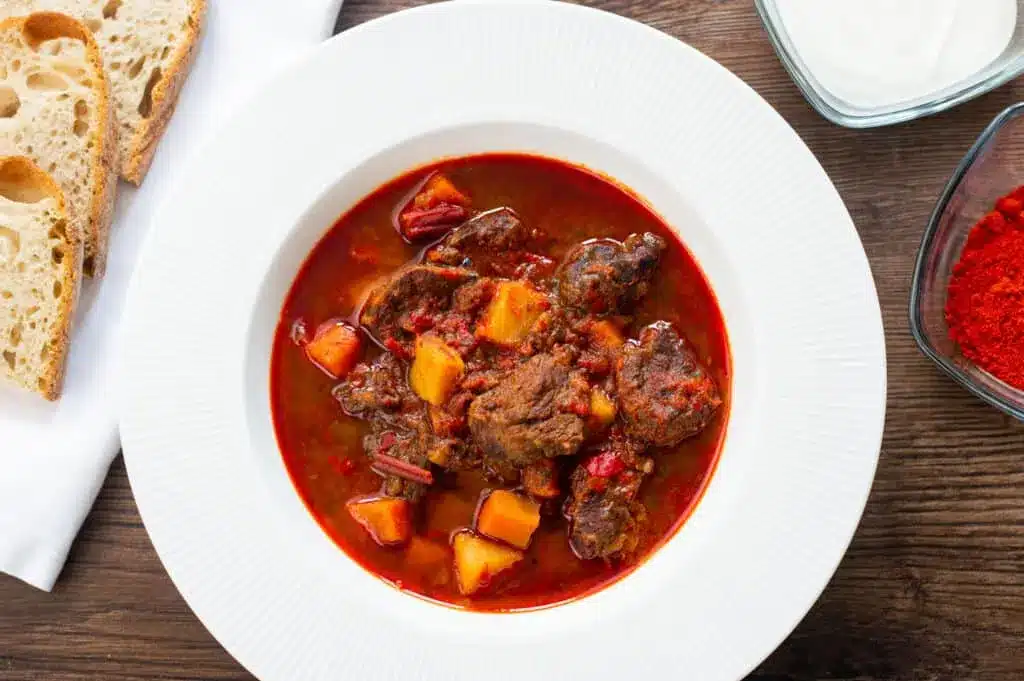 This Hungarian goulash recipe by Jack Slobodian uses traditional ingredients that are slowed cooked in the slower cooker until the meat becomes tender and the stock has developed deep flavor. It takes a long time to break down collagen in tough cuts of beef used in goulash, which is why the slow cooker is ideal for this recipe.
Instant Pot Navy Bean Soup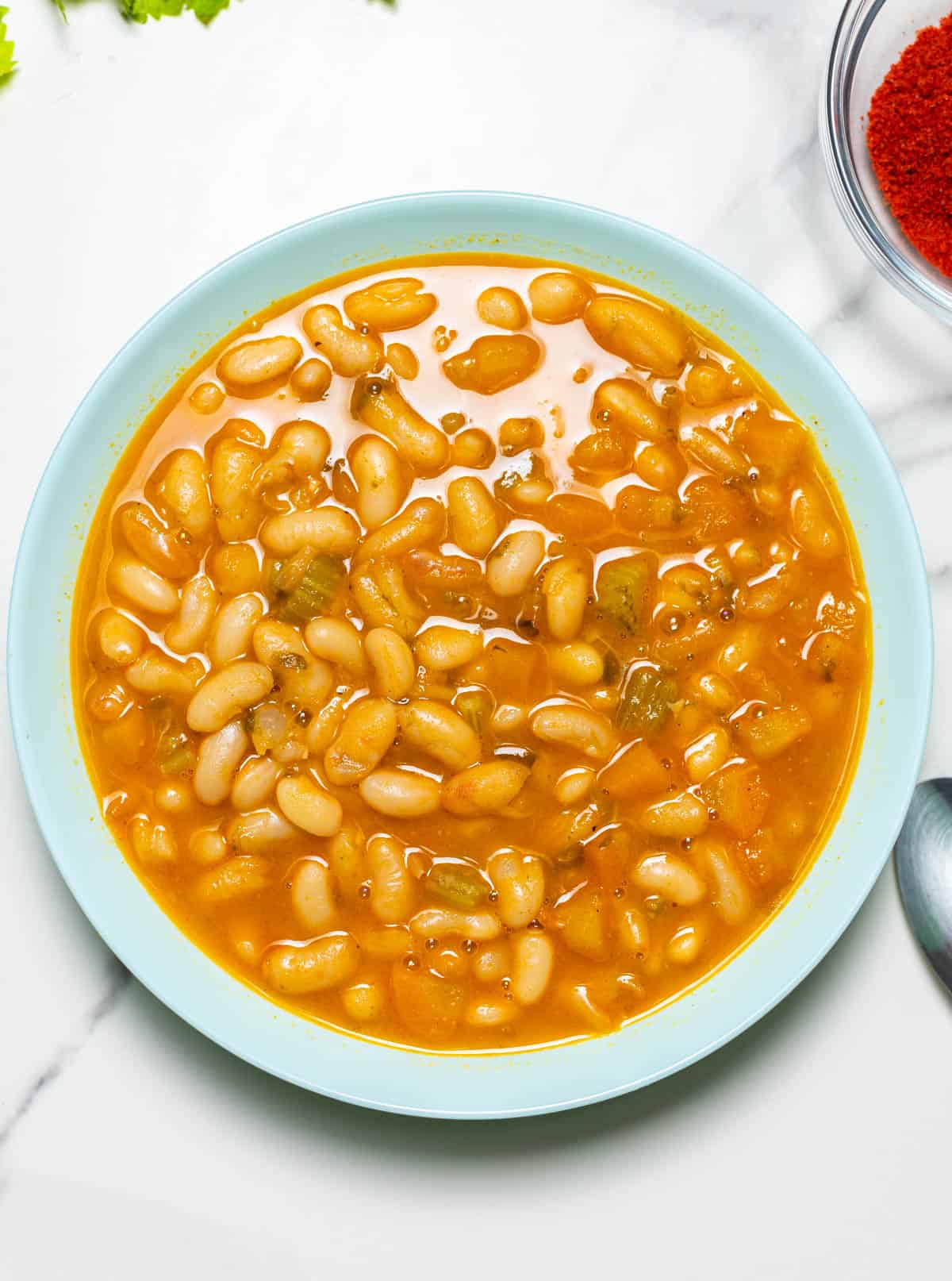 This Instant Pot navy bean soup recipe by Ambitious Foodie is a wonderful comfort food. Use your Instant Pot to make the soup instead of letting it simmer all day. Because there are extra vegetables in every bite of this hearty soup recipe, families will love it! It's a simple weekday meal when you combine it with the fiber in the beans.
Chicken Posole Recipe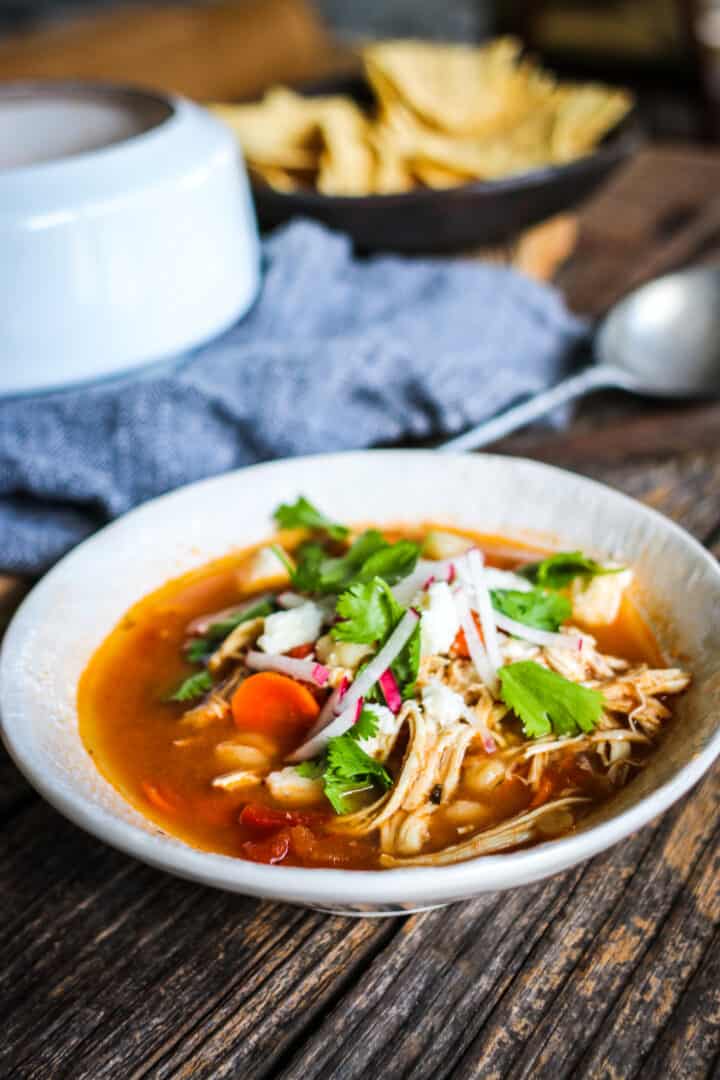 No matter if you spell it Pozole or Posole, this chicken stew will steal hearts for being extra delicious and incredibly easy. This Chicken Posole Stew by GFree Foodie is the perfect solution to mealtime.
Cabbage Roll Soup Recipe
This delicious and easy slow cooker cabbage roll soup recipe by Simply Stacie is loaded with tender cabbage, ground beef, oregano, garlic, and tomatoes. Everything you love about a cabbage roll, but 100 times easier to make.
Slow Cooker Lentil Soup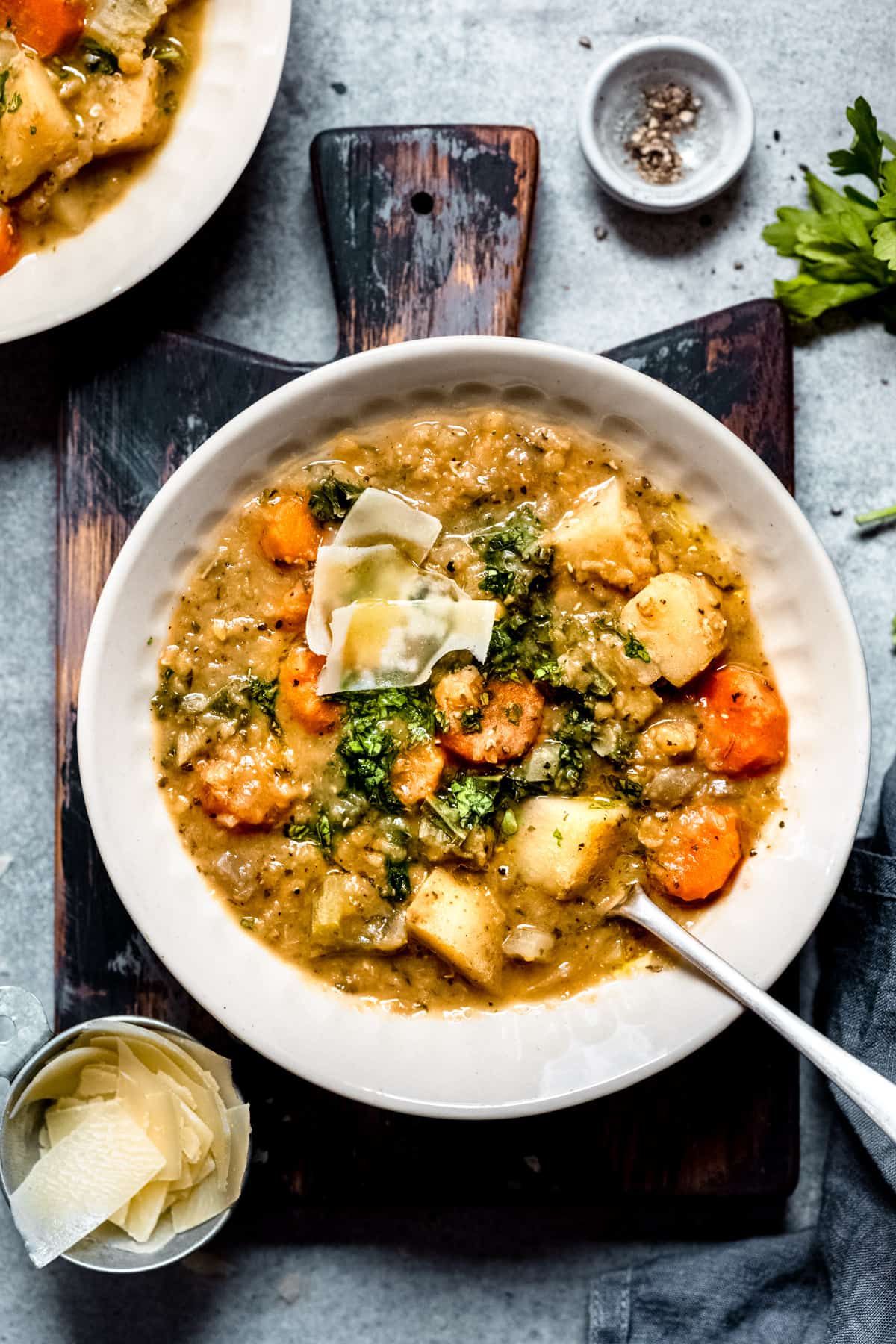 This simple slow cooker lentil soup from Savvy Bites with herbs, veggies and a drizzle of peppery olive oil and shavings of parmesan cheese will become a new favorite. Thick and hearty, packed with flavor and nutrition, it's so easy to make.
Slow Cooker Creamy Buffalo Chicken Chili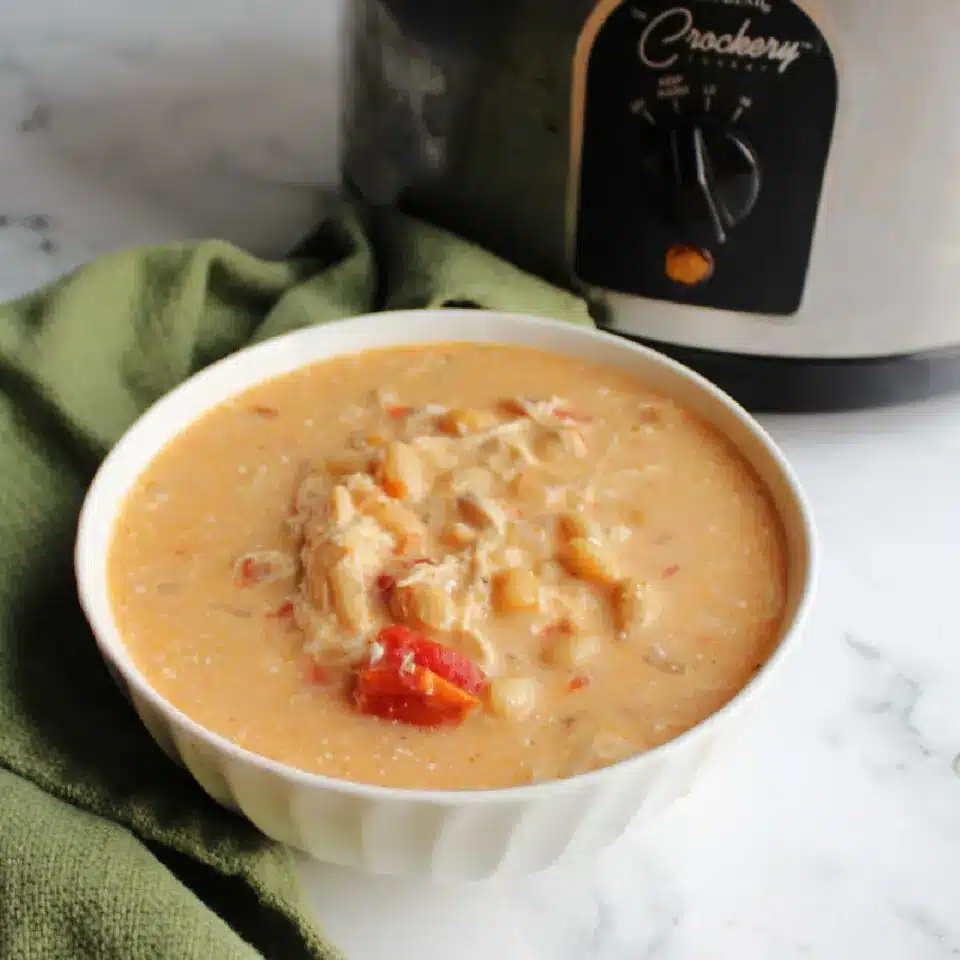 Slow cooker creamy buffalo chicken chili from Cooking With Carlee is super simple to make with the help of your slow cooker. It has just the right amount of buffalo chicken spice making it perfect for a weeknight dinner or a game day tailgating staple.
Easy Slow Cooker Minestrone Soup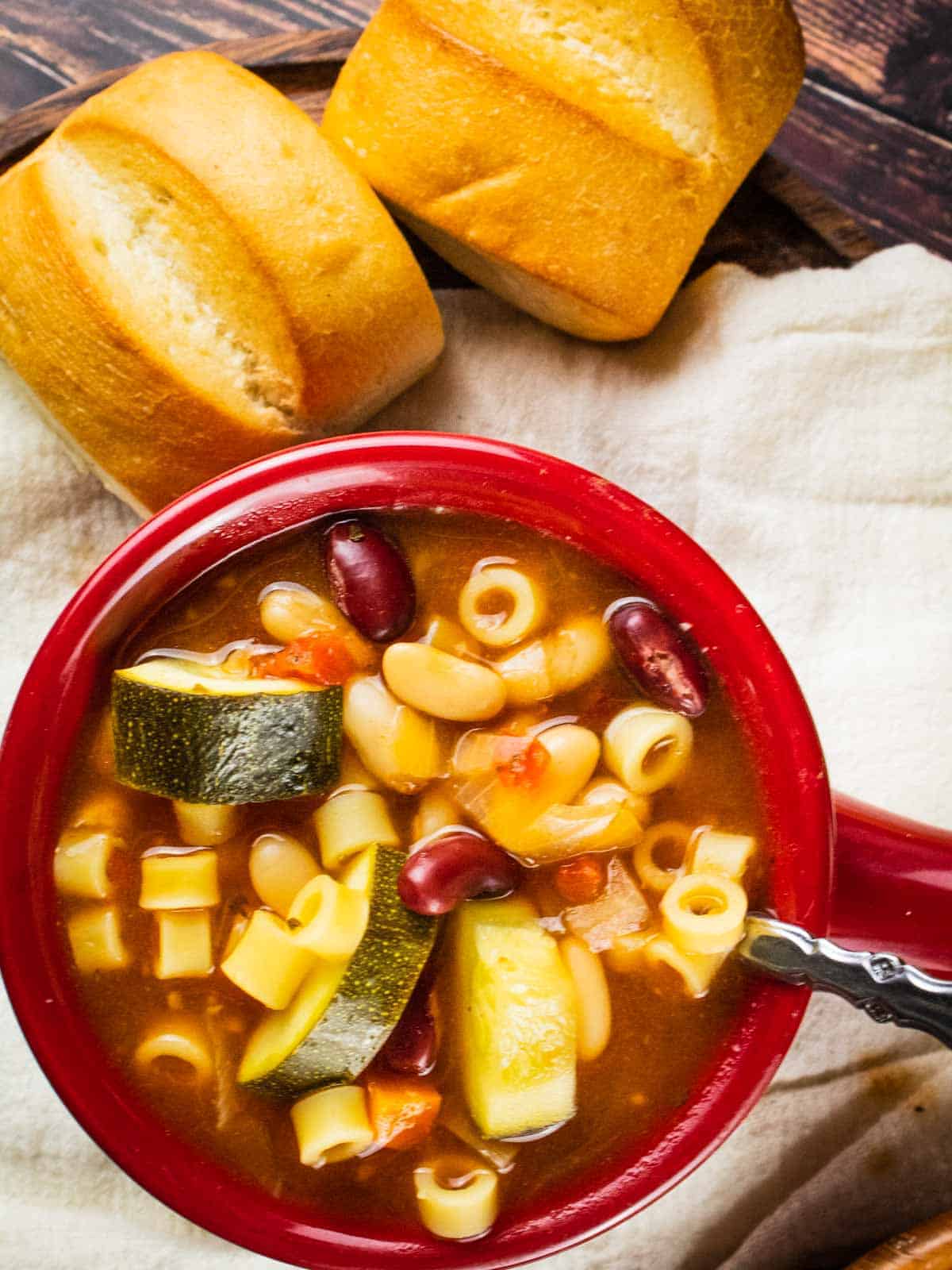 This easy slow cooker minestrone soup by Scarlati Family Kitchen is a hearty vegetarian dinner chalked full of pasta, beans and zucchini. This easy and delicious weeknight dinner is one the whole family will love.
Slow Cooker Thai Chicken Soup
This slow cooker Thai chicken soup from Food Meandering is a healthy and easy dump and go recipe with no precooking required! It's packed with wholesome and flavorful ingredients like coconut milk, chicken breast, fresh cilantro, lemongrass, ginger, and lime. It's also dairy-free.
Slow Cooker Turkey Noodle Soup
This easy slow cooker turkey noodle soup from Jar Of Lemons is SO easy to make and great for a crowd! With perfectly cooked carrots, celery, leftover turkey, soft noodles, and hint of sage, this recipe is simple and flavorful.
Butternut Squash Soup Recipe
Experience the comfort of this slow cooker butternut squash soup recipe by The Forked Spoon – beautifully creamy, nutritious, and effortlessly prepared! Crafted with simple and wholesome ingredients, this naturally vegetarian and gluten-free delight offers a warming, scrumptious taste of fall that everyone adores.
Colorado Pork Green Chili Recipe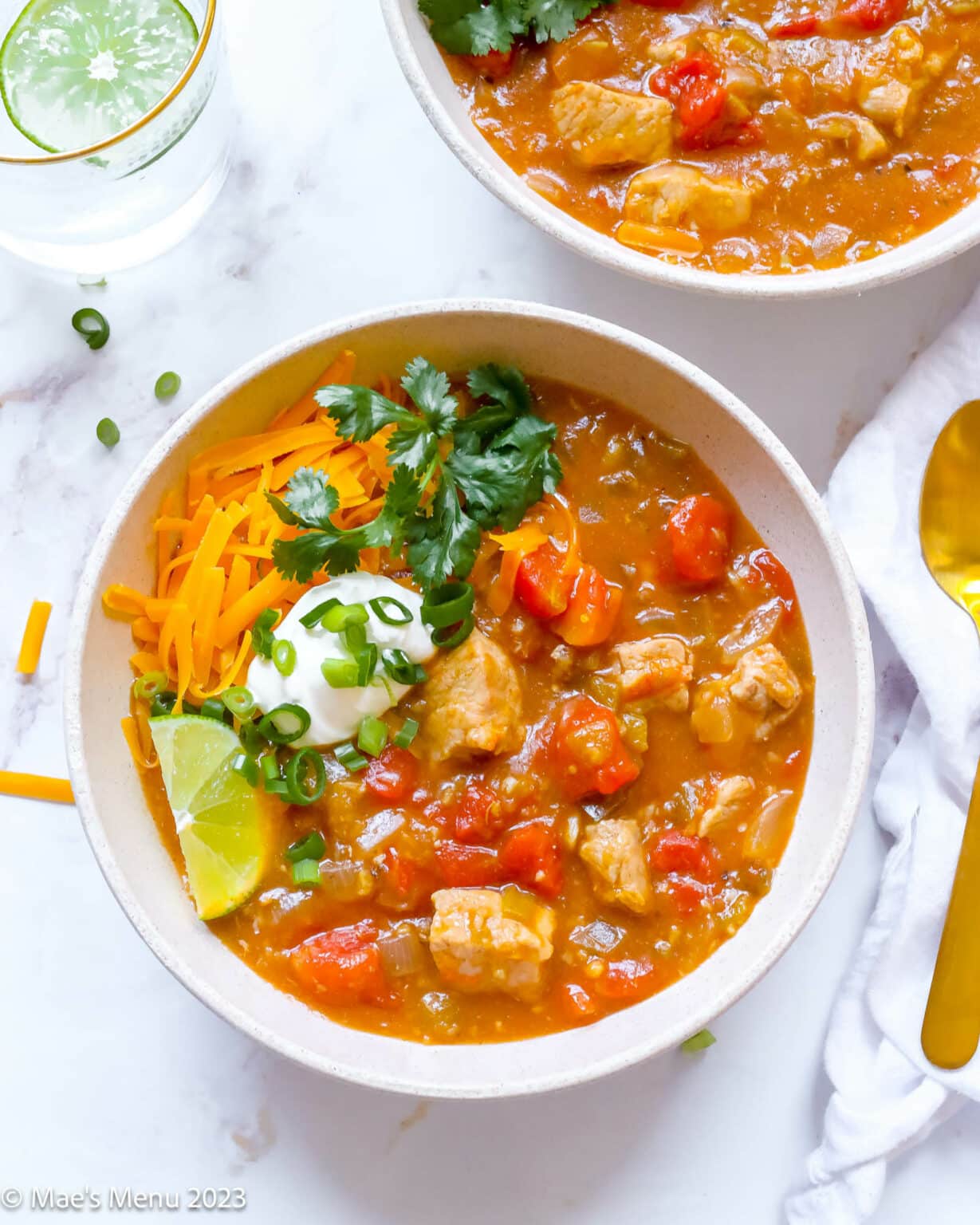 Colorado-style pork green chili by Mae's Menu is an easy-to-make and flavorful green pork chili recipe that doesn't require husking tomatillos or seeding jalapenos!
Crockpot Turnip Green Soup
A recipe that comes together super fast and is a southern favorite. This easy Crockpot Turnip Green Soup by Home At Cedar Green Farms is loaded with greens, beans, and smoked sausage. Perfect for busy weeknight meals and cold winter nights.
Easy Slow Cooker French Onion Soup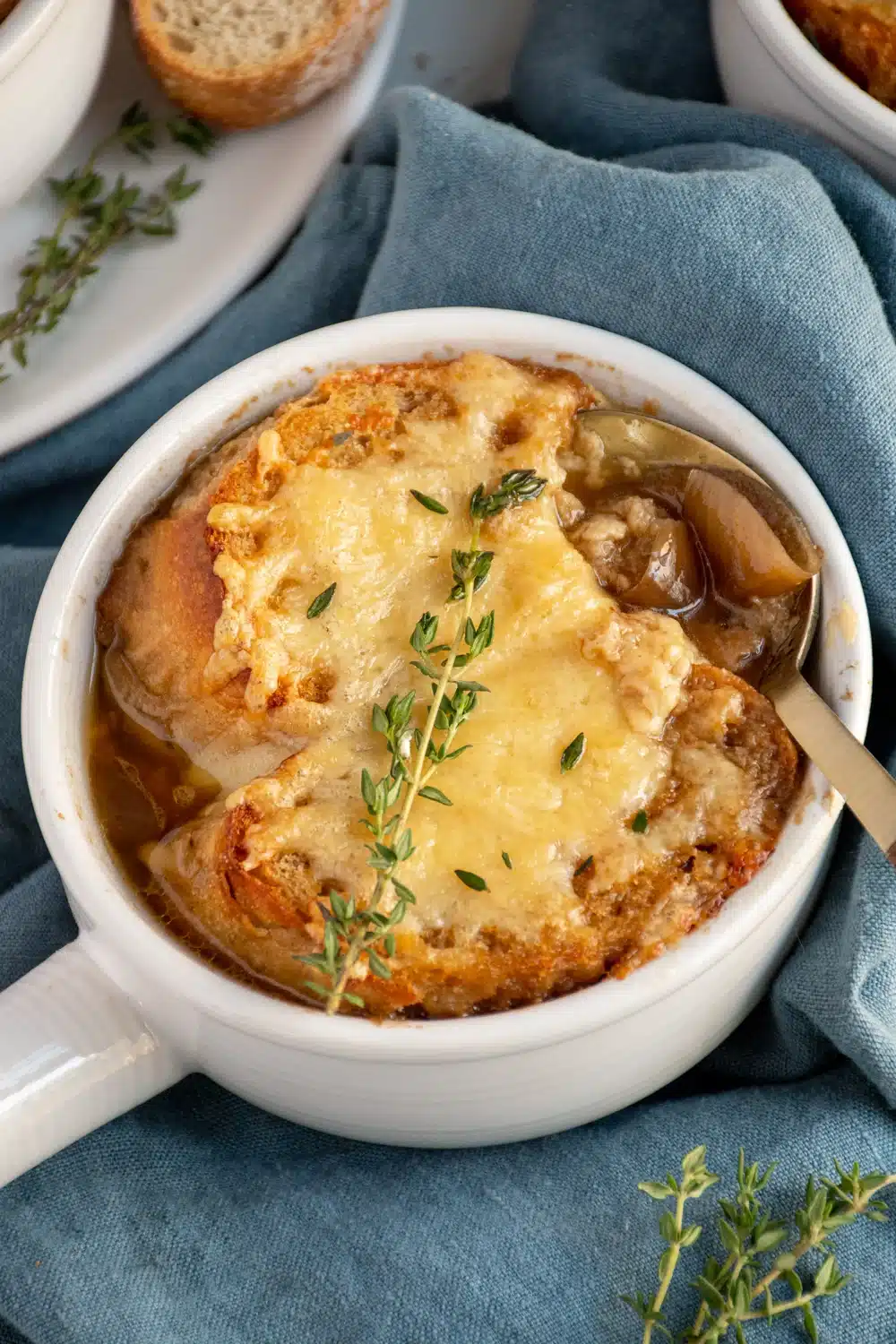 No more standing over the stove, make French Onion Soup in the Slow Cooker with this recipe by The Schmidty Wife. Let the crockpot do all the hard work, with minimal prep work you can now have this classic French soup at home with ease!
Slow Cooker New England Style Clam Chowder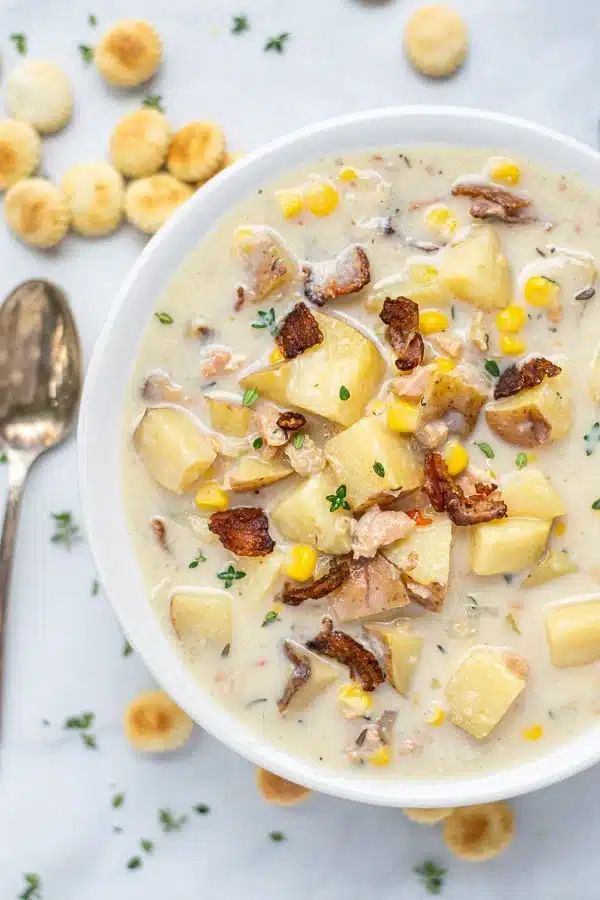 Warm up with a bowl of healthy New England style Slow Cooker Clam Chowder by The Schmidty Wife! Easy to make make in the morning, this crockpot clam chowder is packed with flavor but is made light so you can enjoy it without all the guilt plus packed with veggies, you will be making this chowder regularly!
Slow Cooker Potato Leek Soup
The classic combination of creamy potatoes & savory leeks is so easy with this CrockPot recipe from The Short Order Cook. Slow Cooker Potato Leek Soup only takes 20 minutes to prep & let the magic happen as you about your day.
Slow Cooker Italian Hamburger Soup
Imagine this: a tiring day ends with the comforting scent of Italian Hamburger Soup, slow-cooked to perfection by Platter Talk, greeting you at the door. Every ingredient adds to the magic, transforming your day instantly. Truly, there's nothing like this soup to uplift even the best of days.
Vegetarian Three Bean Chili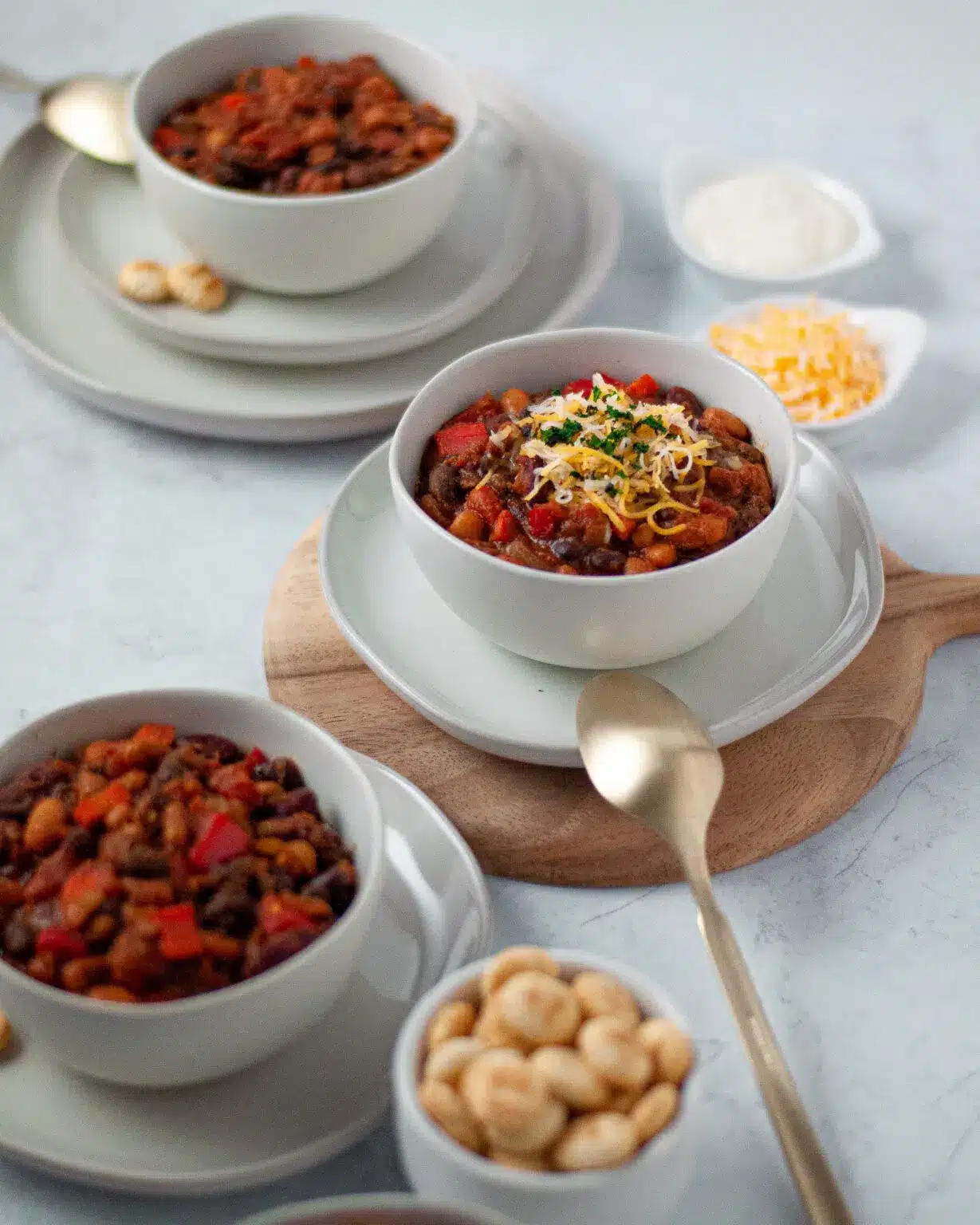 This super easy three bean vegetarian chili from Our Love Language Is Food is all of that AND healthy. Packed with plant-based protein, fiber, and veggies, this is a great everyday chili recipe.
Easy Crockpot Lasagna Soup
This easy crockpot lasagna soup from I Heart Naptime is a meaty, saucy recipe that has all the delicious flavors we love in a traditionally baked classic lasagna but in the form of a comforting, hearty, soup!
Slow Cooker Ham and Potato Soup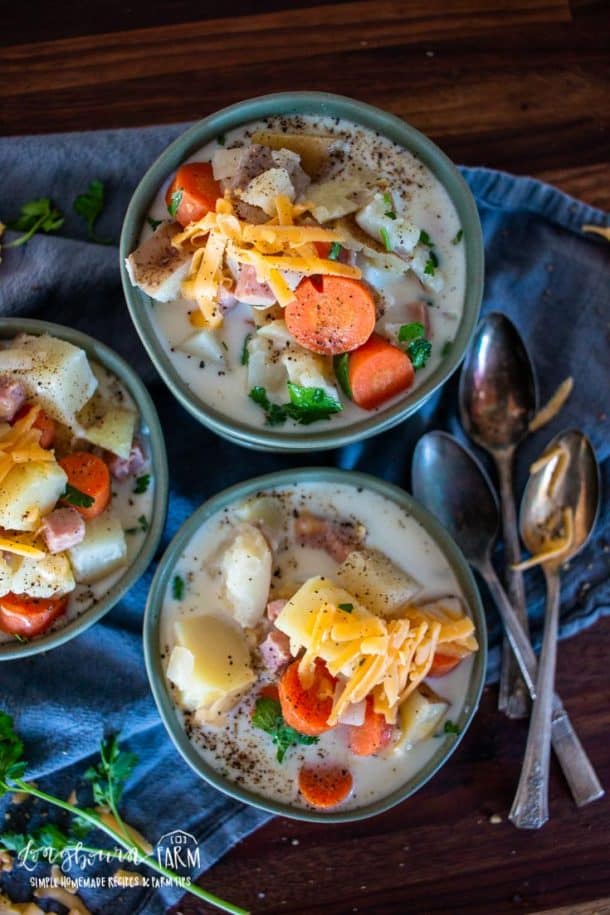 Cheesy ham and potato soup by way of Longbourn Farm is delicious, warm, comforting, and full of flavor. It's easy to make in the slow cooker!
Crockpot Split Pea Soup
Crockpot split pea soup with ham from Fit Mama Real Food is undoubtedly one of the easiest meals to make! Let your crockpot do the work and start this protein-packed and filling soup in the morning so that dinner is ready and waiting for you when you need it!
Slow Cooker Parsnip and Carrot Soup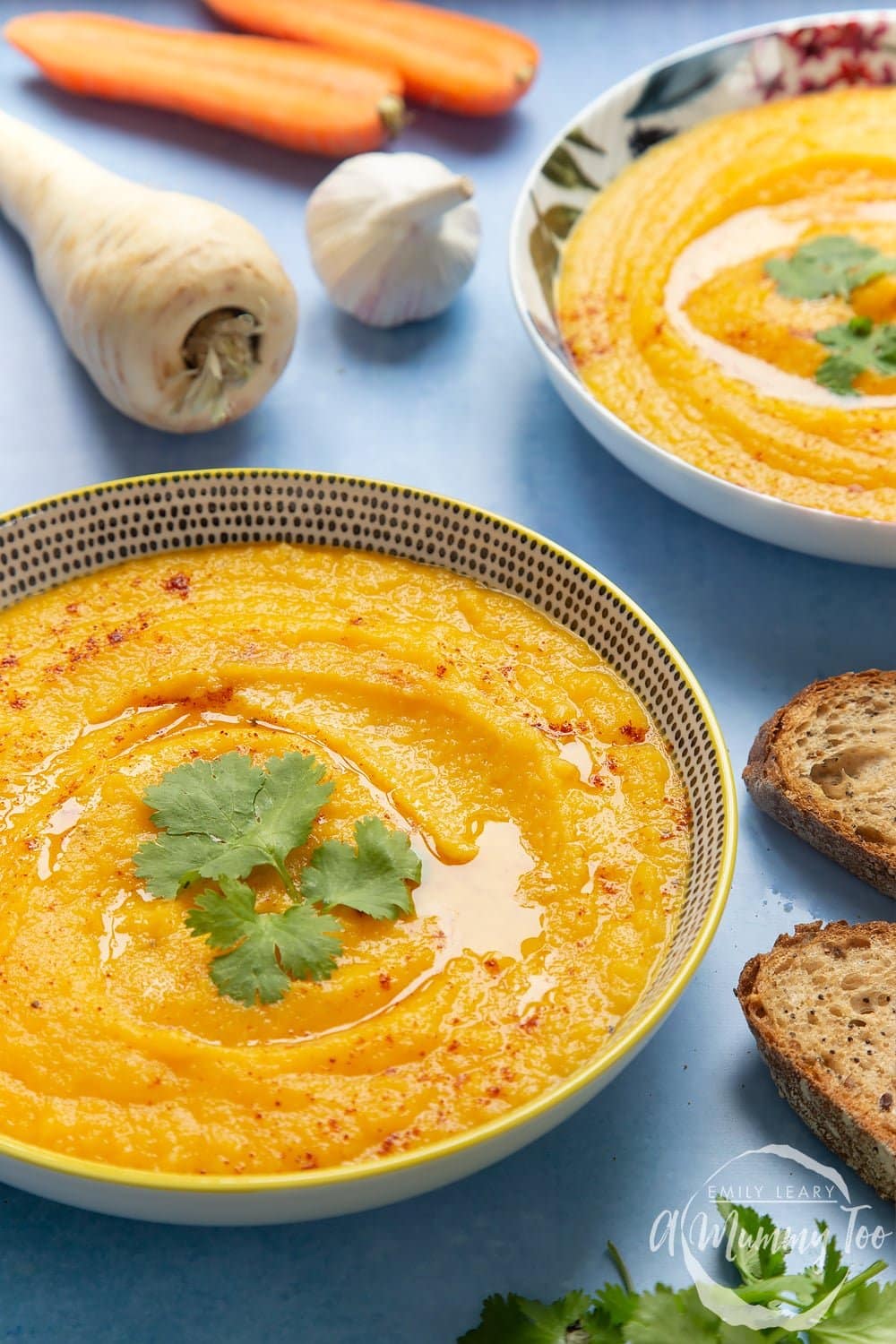 This slow cooker parsnip and carrot soup by A Mummy Too is deliciously satisfying and wonderfully healthy. It's a perfect combination of earthy parsnips, sweet carrots and a kick of garlic.
Which Easy Crockpot Recipes Will You Try First?
So there you have it, folks – a handy collection of easy crockpot recipes that won't stress you out. Whether you're juggling work, school, or family responsibilities, these delicious and fuss-free meals can help lighten the load. Just set your crockpot, carry on with your day, and come home to a home-cooked feast. Remember, tasty meals don't always require hours slaving away in the kitchen. Sometimes, they just need a little slow-cooked love.
By the way, don't forget to check out these dynamic crockpot recipes.