Hello, early birds and brunch enthusiasts! Ever found yourself stuck in a breakfast rut, resorting to the same old cereal or toast? Well, it's time to shake things up with this list of 23 easy breakfast ideas!
Don't believe me? Get a taste of what's to come!
For example, there's a delicious Southwest breakfast casserole, a nutritious strawberry banana smoothie, breakfast sliders, and many more. So are you ready to discover?
Let's dive in!
And if you like this list, you're going to love these delicious make-ahead breakfast sandwiches!
Southwest Breakfast Casserole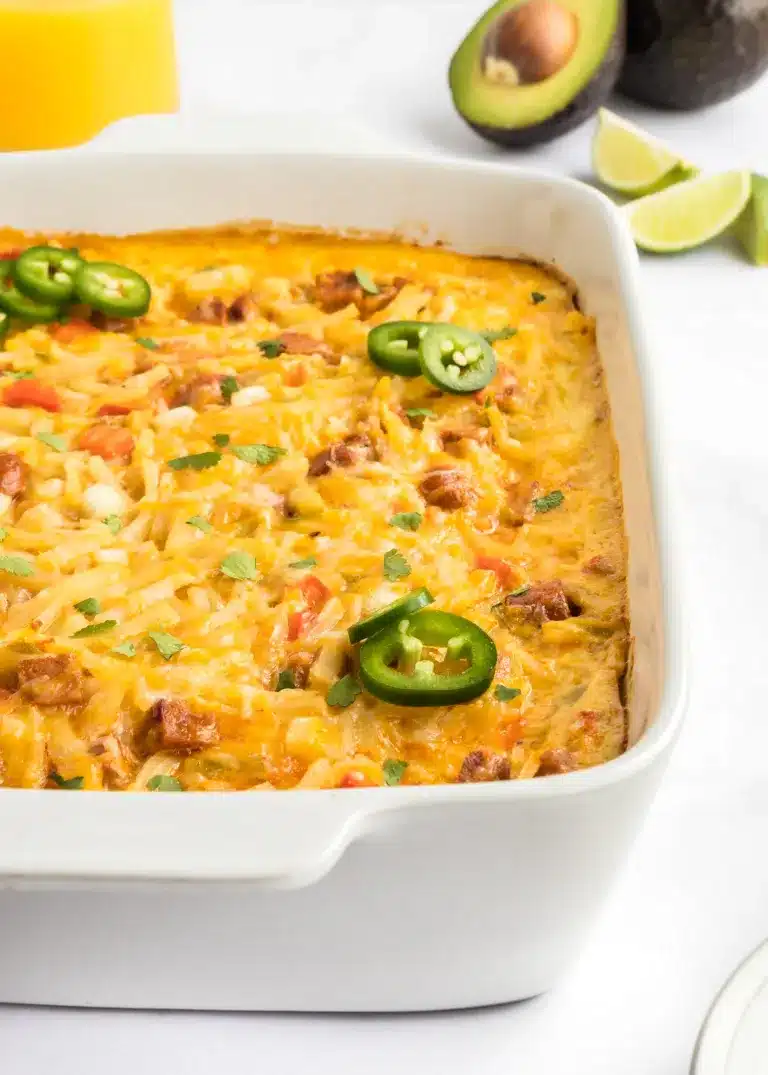 Are you searching for a satisfying, effortless, tasty breakfast to kickstart your day? Your search ends here with this Southwest Breakfast Casserole from Cinnamon & Sage Co filled with shredded hash browns, green chiles, chorizo, and more. You can prepare it beforehand or make it fresh in the morning- a guaranteed delicious meal!
Sheet Pan French Toast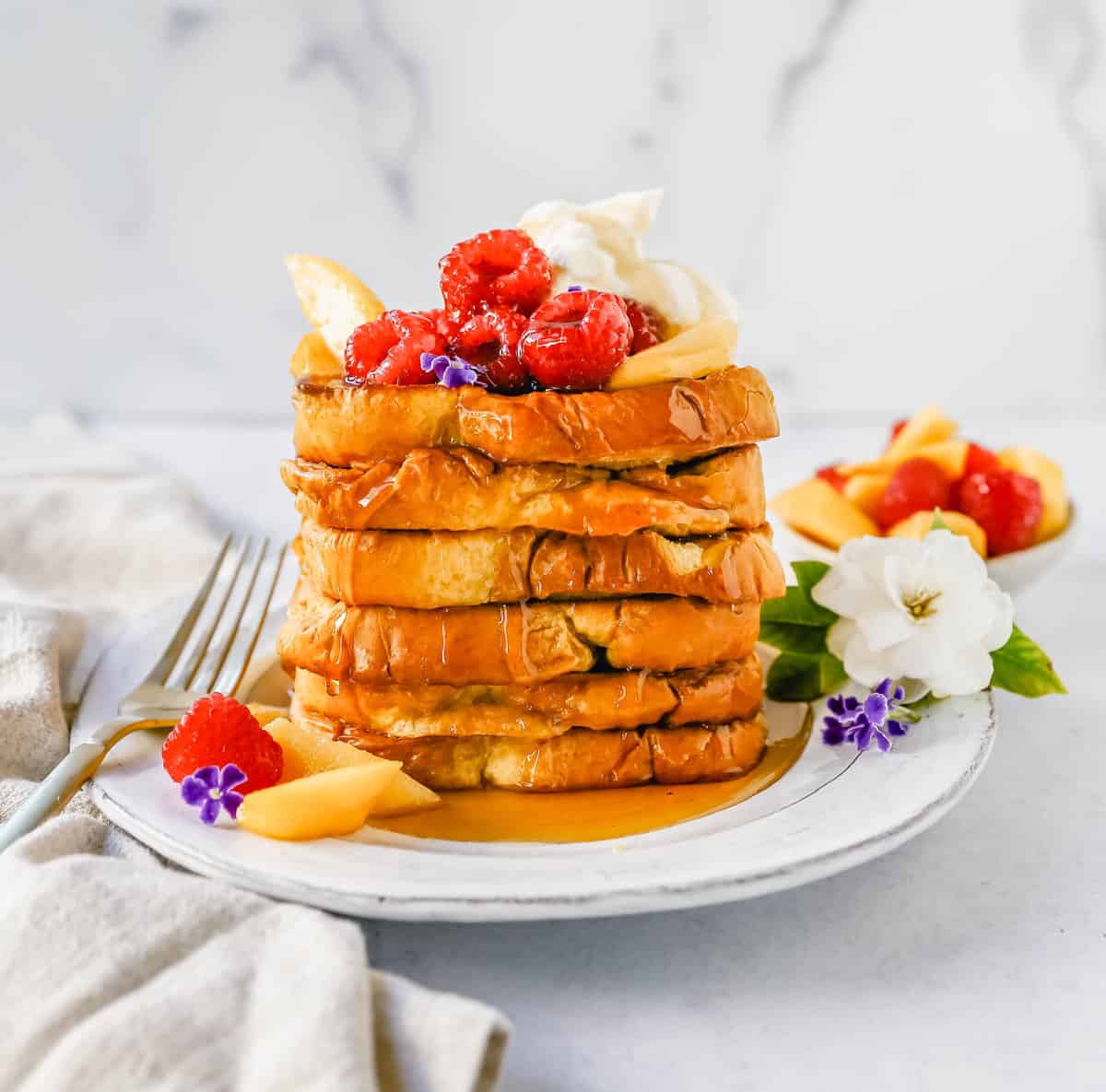 Brioche sheet pan French toast from Modern Honey is a surprisingly easy yet delectable breakfast option. Soak slices of brioche bread in a custard made from eggs, cinnamon, and milk, before baking it on a sheet pan in the oven. This simple yet satisfying method makes it effortless to whip up homemade French toast. Add a dollop of sweet Mascarpone Cream and Sweetened Fresh Fruit on top for a delightful finishing touch.
Air Fryer Potato Rosti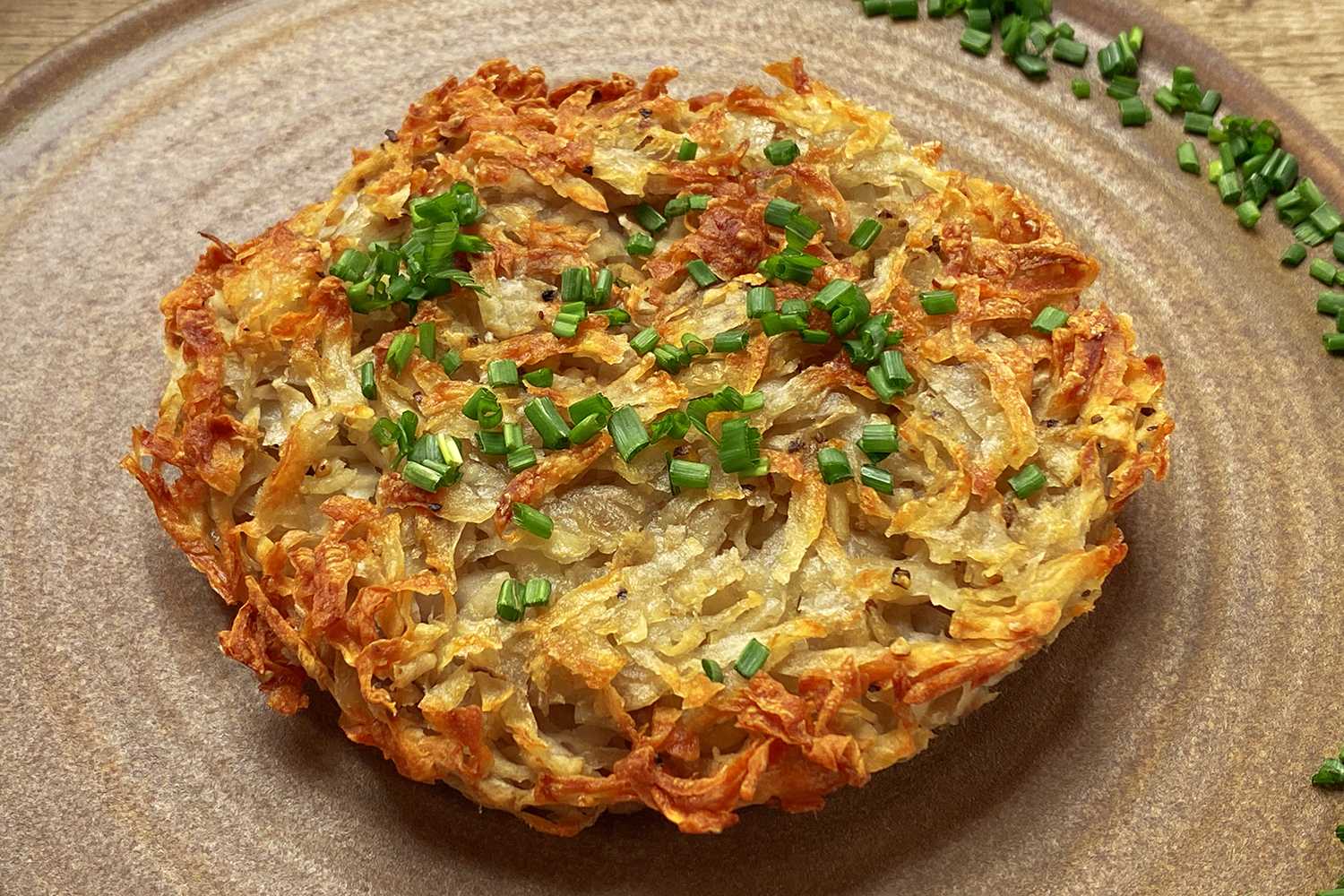 Savor the flavors of russet potatoes, chives, and garlic powder with this scrumptious air fryer potato rosti recipe by Corrie Cooks. With only five ingredients and 20 minutes of your time, you can quickly whip up this versatile and delightful dish that's perfect for any time of the day. Serve it up for breakfast, lunch, or dinner, and enjoy the savory goodness in every bite.
Spinach Feta Quiche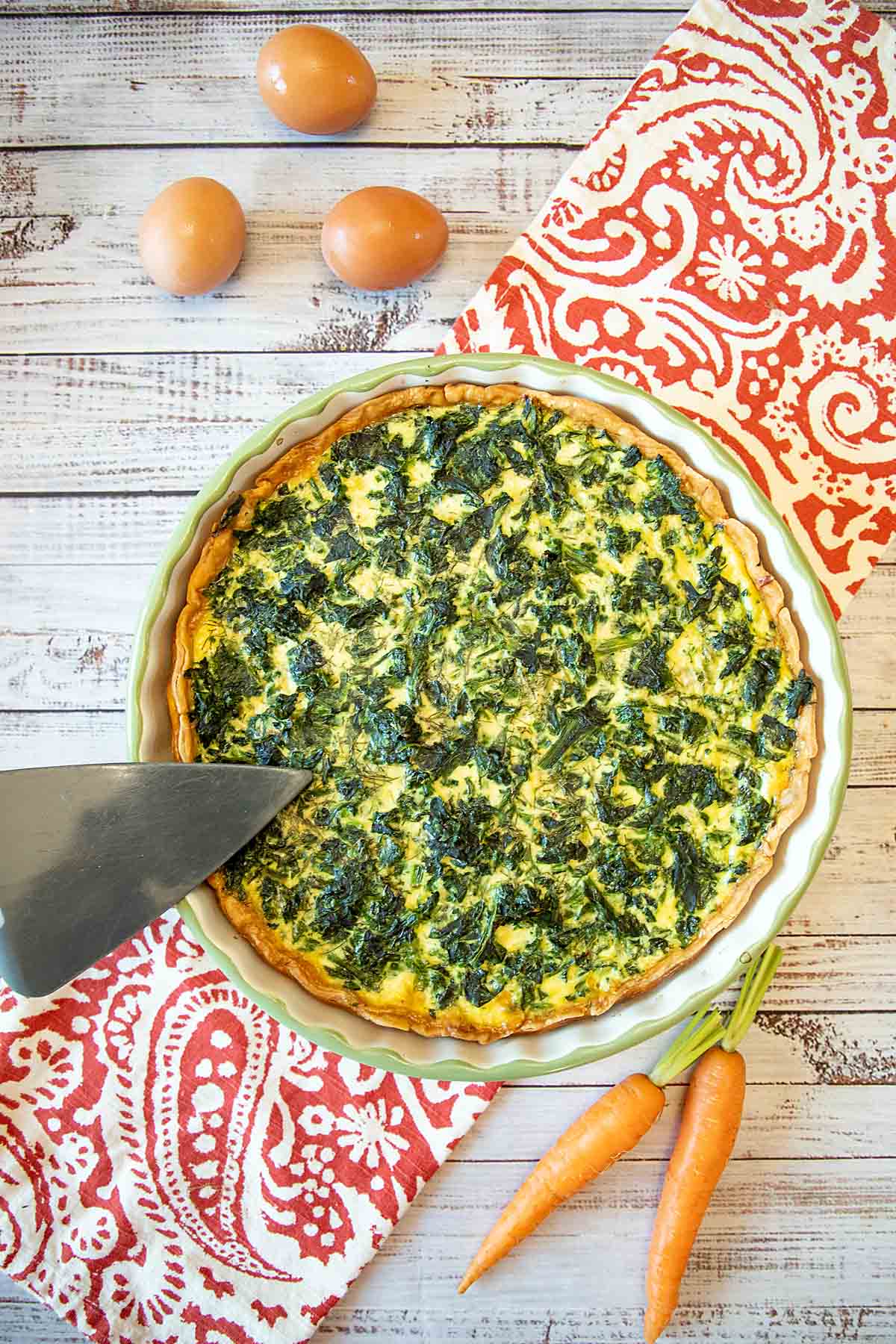 Tangy feta, savory shallots, and creamy spinach combine for this mouthwatering Spinach Feta Quiche. This tasty and versatile dish can be enjoyed as an entrée any time of the day. And for an added burst of flavor, top it off with some delicious Tzatziki sauce!
Strawberry Banana Smoothie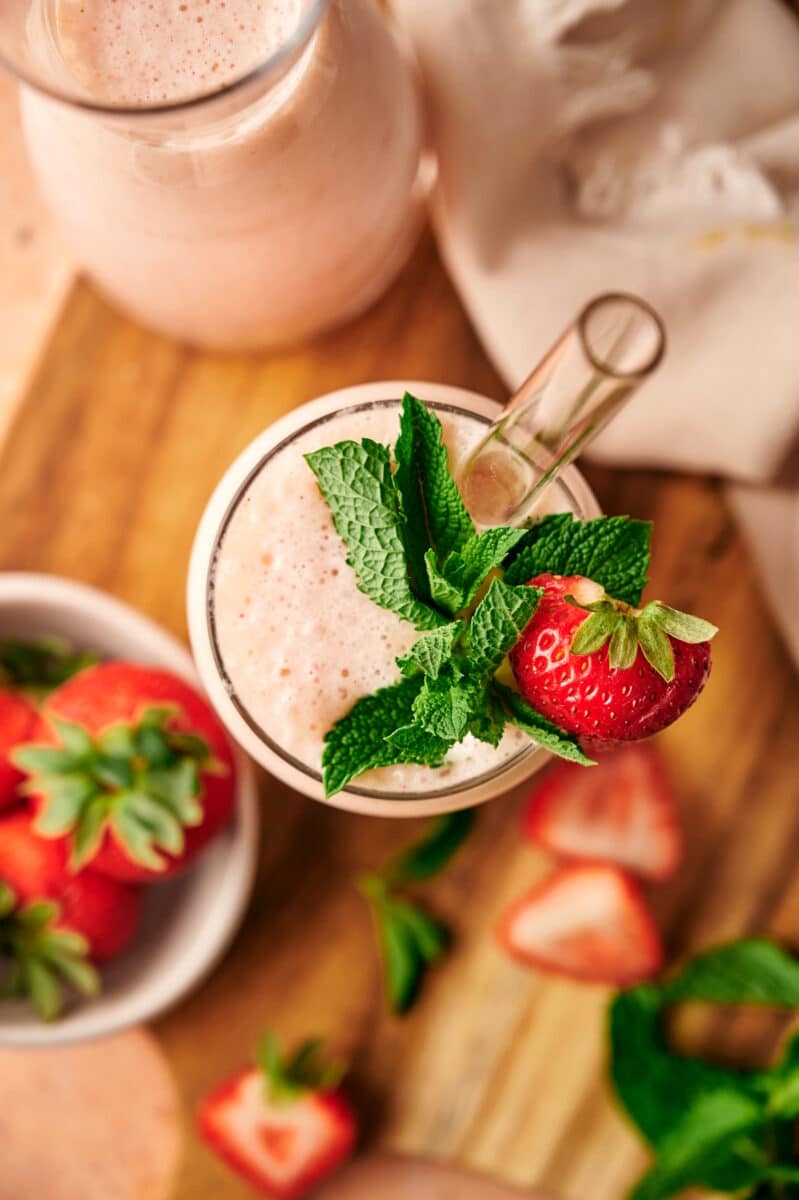 Try this classic strawberry banana smoothie from So Smoothie Recipes for a quick and healthy breakfast option! With just a few simple ingredients, including fruit and Greek yogurt, you can enjoy a deliciously thick, creamy, and refreshing treat to start your day on a cool note.
Overnight Oats with Protein Powder
Start your day off strong with this healthy protein-rich breakfast option known as overnight oats with protein powder! It's full of filling gluten-free oats, chia seeds, and flavorings. So, whip up some overnight oats with added protein powder for a tasty and nutritious meal that energizes you throughout the morning.
Yogurt Parfaits
Make yogurt parfaits from Lisa of Delicious Table with your favorite yogurt, granola, and fruit. Drizzle with honey for sweetness. Store in the fridge and enjoy as a quick and healthy breakfast or snack.
Breakfast Egg Muffins
Are you looking for a fast and easy breakfast option? Give Breakfast Egg Muffins by Delicious Table a try! These savory treats can be customized to your liking using a muffin pan and your favorite breakfast meats, such as smoked ham, bacon, or crumbled sausage. Alternatively, you can add a variety of diced veggies and top them with fresh herbs and cheeses for a tasty twist.
Blueberry Baked Oatmeal
Blueberry baked oatmeal from Crinkled Cookbook is a delicious and comforting meal! It's a great alternative to overnight oats or traditional stovetop oatmeal. You'll savor the delicious combination of fresh berries and lightly sweetened oats with every bite.
Sweet Potato Hash Skillet with Sausage
Get ready for a delicious breakfast with a mouthwatering sweet potato hash skillet recipe with sausage! This hearty dish is packed with wholesome ingredients like sausage, veggies, and seasonings and is quick to make, making it the perfect choice for a satisfying morning meal.
Breakfast Sliders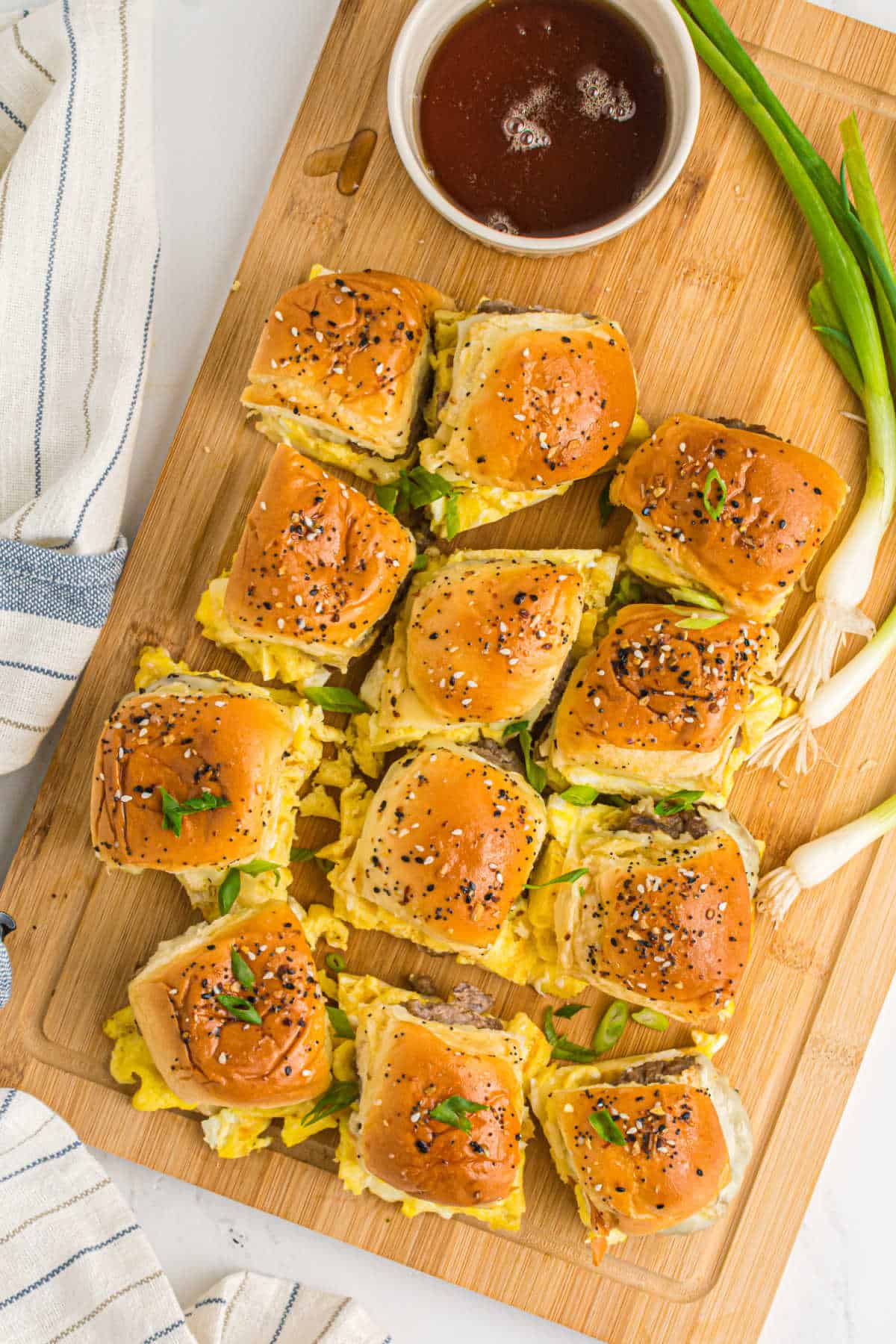 With layers of cheese, sausage, and fluffy scrambled eggs sandwiched between a buttery and portable slider roll, this breakfast slider recipe is a hassle-free and scrumptious breakfast option. Further, your family will love them; they're perfect for every occasion.
Peanut Butter Oatmeal Porridge
Here's how you can make this creamy peanut butter oatmeal porridge even better! Add some fresh fruit on top, like sliced bananas or strawberries, for a pop of color and extra nutrients. You can also sprinkle some chopped nuts or seeds on top for added crunch and protein.
Easy Crescent Roll Danish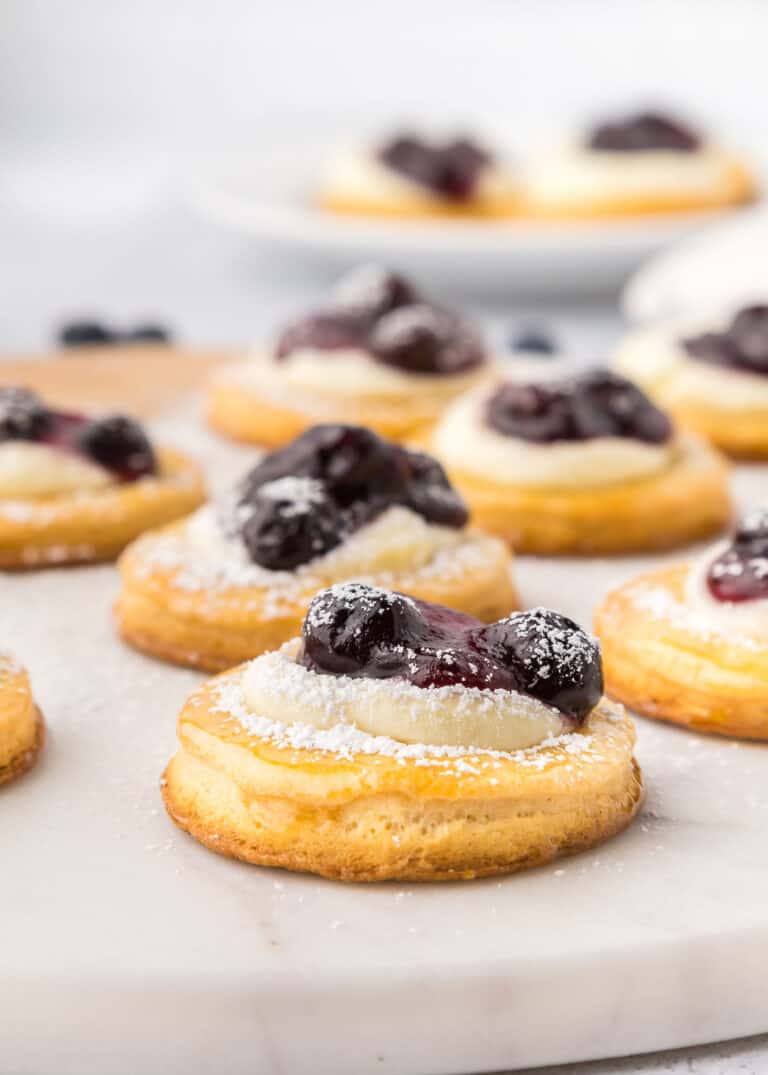 Experience genius with this Pillsbury Crescent Roll Danish recipe from Aleka's Get Together – easy, quick, and with minimal effort. Filled with irresistible sweet cream cheese and canned blueberry filling, it's a delectable treat reminiscent of blueberry cheesecake!
Classic Scrambled Egg & Cheese Recipe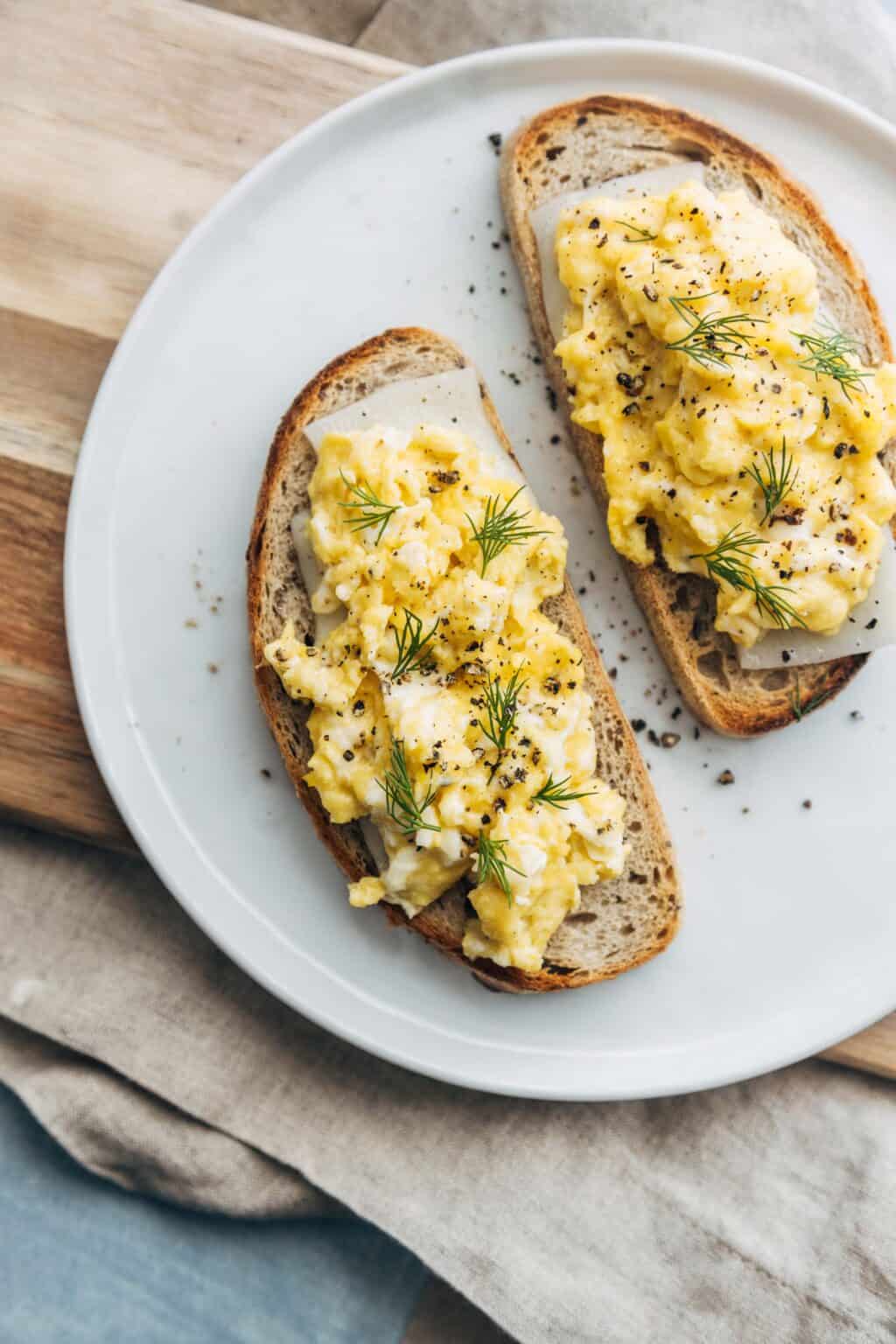 Classic scrambled egg & cheese will become your favorite go-to breakfast. It starts with a base of delectable olive bread topped with a velvety soft scramble eggs, a mouthwatering slice of manchego, a sprinkle of cracked pepper, and a touch of refreshing dill. It's sheer culinary perfection!
Breakfast Burrito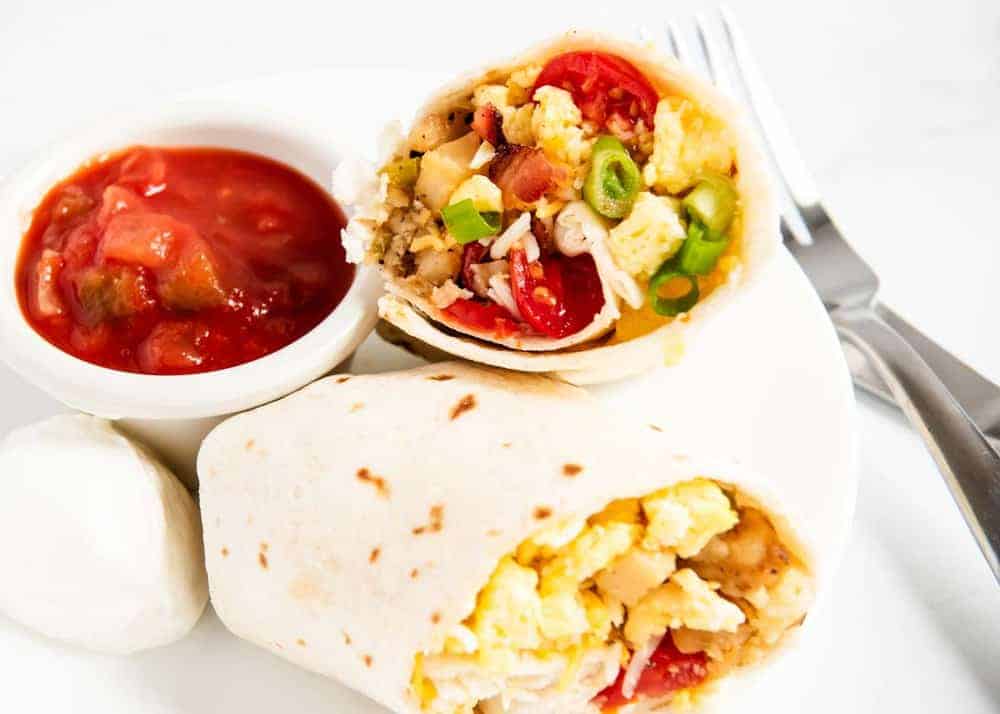 Delight in these tasty and effortless breakfast burritos from I Heart Naptime! Ideal for make-ahead mornings, they're a delicious grab-and-go choice. Quickly assemble with scrambled eggs, frozen potatoes, and bacon for a perfect blend of convenience and flavor awaits!
Pancake Muffins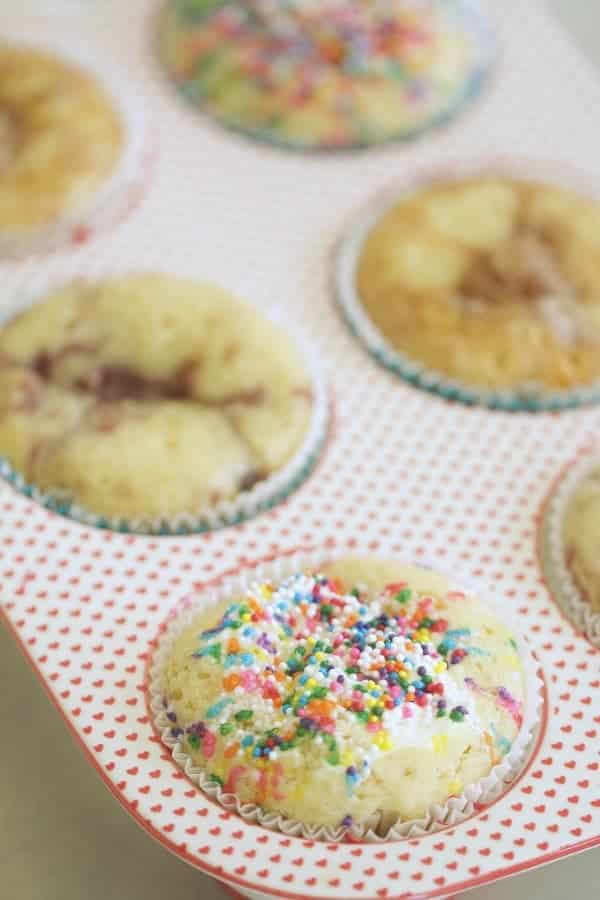 Savor these delightful pancake muffins from Retro Housewife Goes Green, a perfect fuss-free breakfast! Prepare in advance and conveniently grab one when morning beckons. Enjoy the goodness on the go!
Ricotta Honey Toast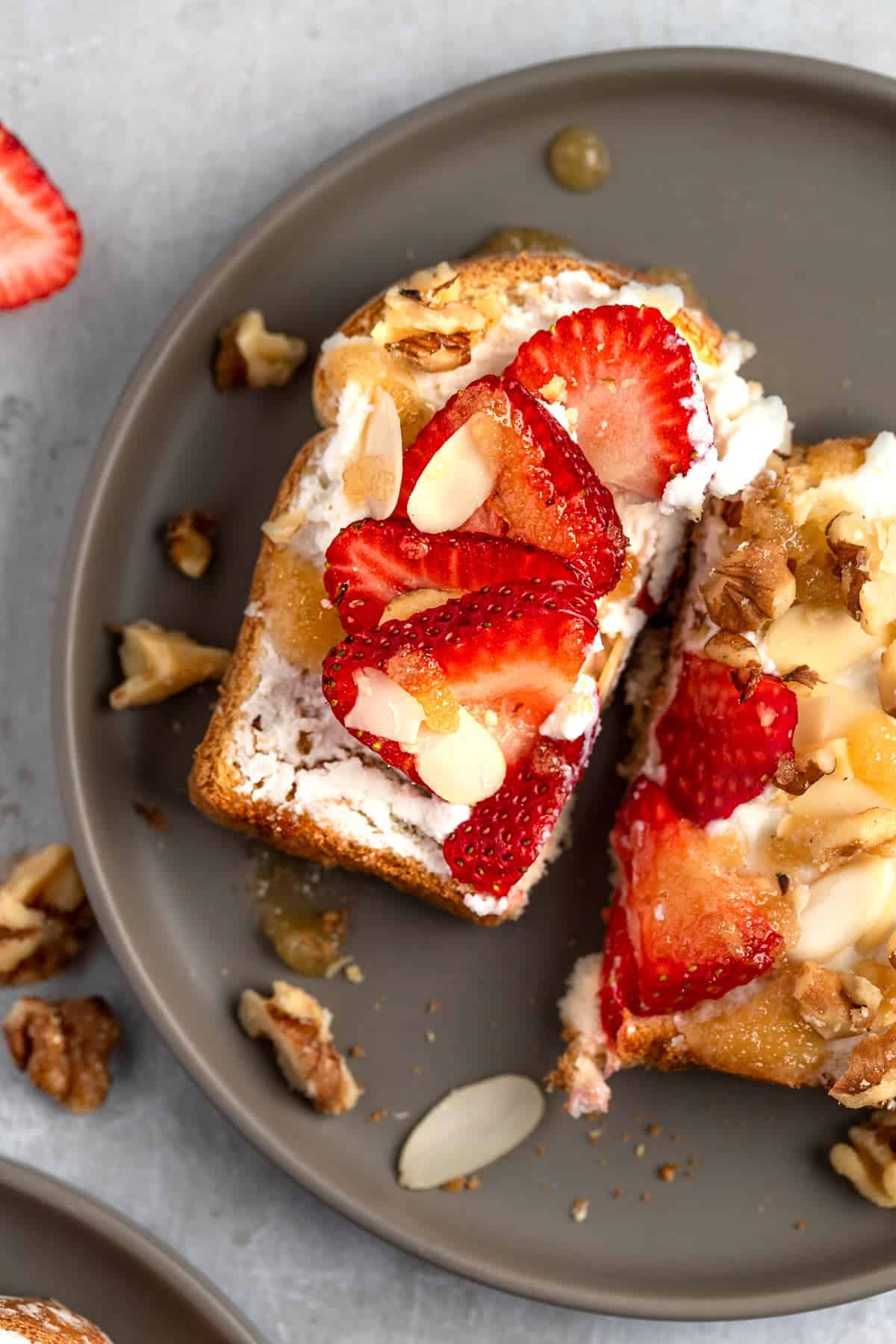 Indulge in a quick, gourmet breakfast delight: ricotta honey toast by The Littlest Crumb. In just 5 minutes, savor the crispy toast adorned with creamy ricotta, walnuts, almonds, fresh strawberries, and a luscious drizzle of warm honey. Perfect for breakfast or appetizers.
Fläskpannkaka (Swedish Oven-Baked Bacon Pancake)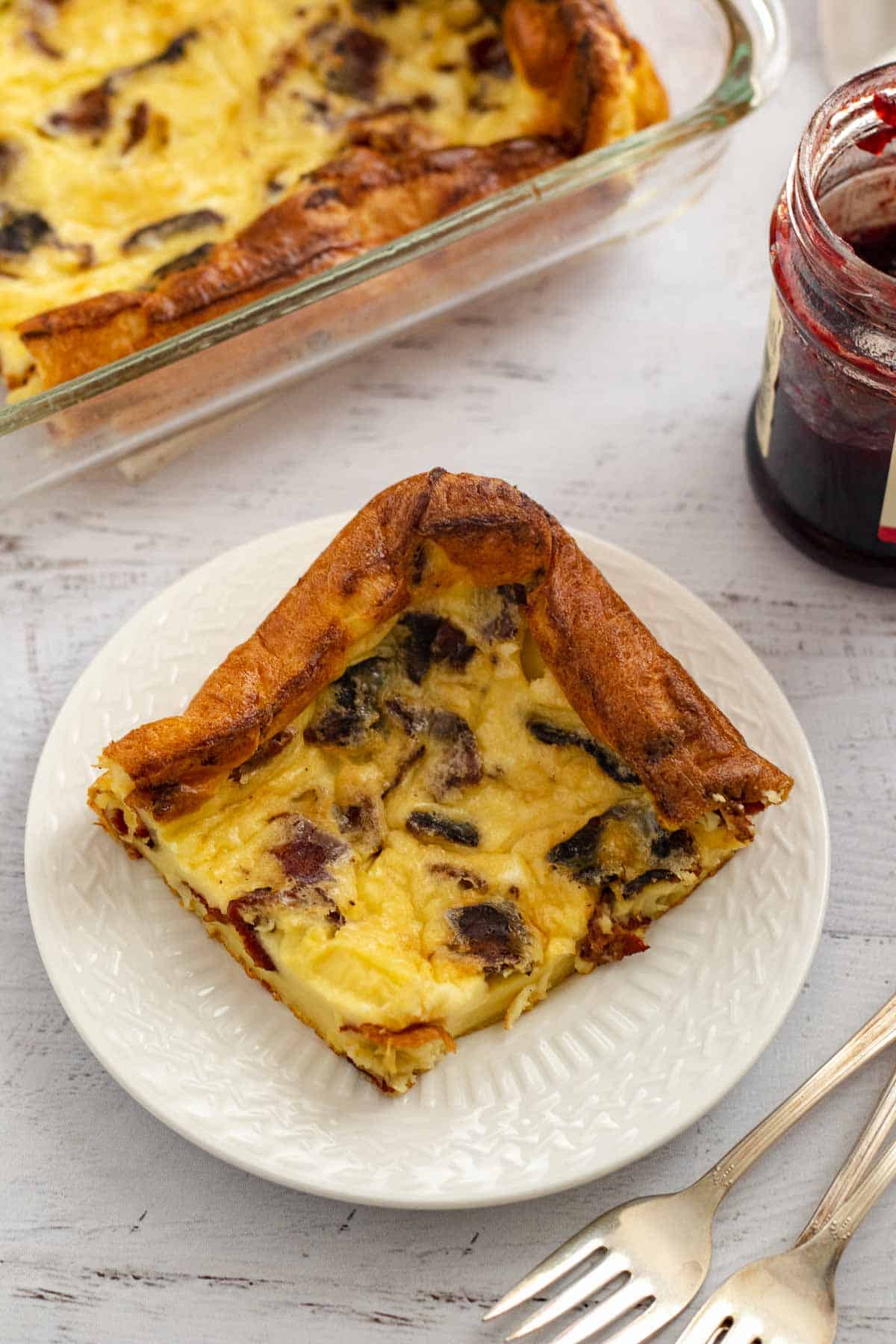 Discover the delectable Swedish Fläskpannkaka by way of Kristy's Kitchen. It's a savory mix of two breakfast favorites, bacon, and pancakes. Savor the tasty blend of crispy, crunchy bacon with a fluffy, comforting pancake—a pure culinary delight!
Healthy Chewy No Bake Granola Bars Recipe
Try the ultimate Healthy Chewy No Bake Granola Bars Recipe—your go-to! Enjoy an easy, customizable, nutrient-packed snack or breakfast treat bursting with delectable flavors. You'll find a bar with rolled oats, walnuts, pumpkin seeds, and berries. Satisfy your cravings on the move!
Blackberry Buttermilk Muffins
Kickstart your day with the delightful Blackberry Buttermilk Muffins by Live To Sweet—a treat for your taste buds! Experience the bakery-style, soft, moist goodness infused with luscious fresh blackberries, ensuring a fantastic morning indulgence.
Instant Pot No Peel Hard Boiled Eggs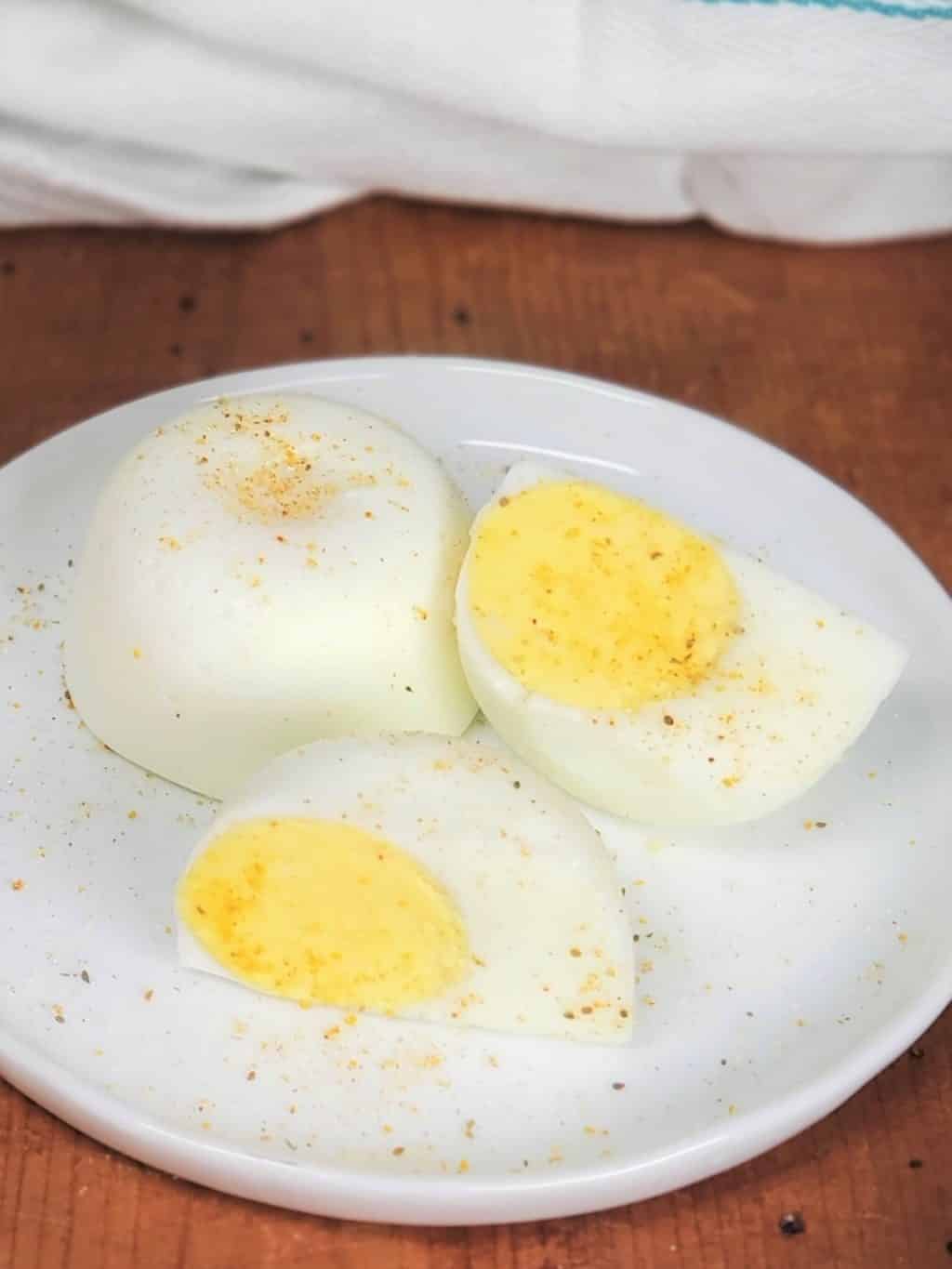 Enjoy Instant Pot No Peel Hard Boiled Eggs from Jill of This Old Gal. They have creamy yolks and firm whites for a perfect breakfast, snack, or lunchbox addition. Relish the convenience and deliciousness in every bite, whether for a quick treat or a school lunchbox favorite.
Biscuits And Gravy Breakfast Casserole
Try the mostly hands-off Biscuits and Gravy Breakfast Casserole by The Cookin Chicks, made with only seven ingredients and 45 minutes! You'll savor the delightful combo of biscuits, breakfast sausage, eggs, white peppered gravy, and cheese—an irresistible and hearty must-try meal.
Cheesy Tater Tot Breakfast Bake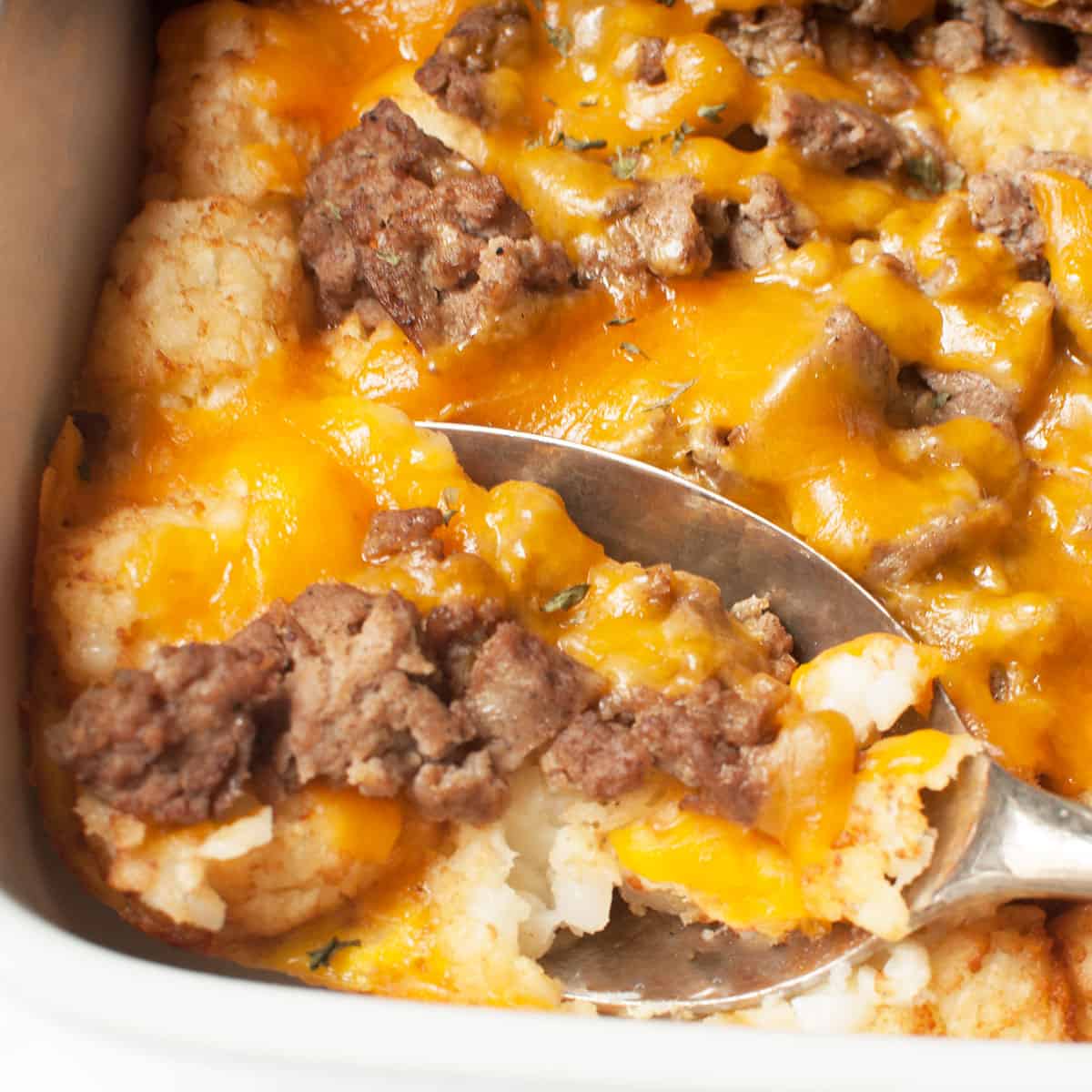 This beloved cheesy tater tot breakfast bake from Two Pink Peonies is a top breakfast pick. Inspired by a friend's creation at a baby shower, Audrey had to craft her own version. It's packed with cheesy goodness. Plus, it's irresistibly delicious and effortlessly easy to whip up.
Which Easy Breakfast Ideas Will You Try First?
With this list of easy breakfast ideas, starting your day with a delicious and nutritious doesn't have to be complicated. So, whether you prefer quick on-the-go bites like blackberry buttermilk muffins or leisurely homemade meals like biscuits and gravy breakfast bakes, these options are a great way to kickstart your day. So, the only thing to decide is which you will try first. We'd love to know!
By the way, don't miss this delicious list of breakfast for dinner ideas.