You have to baste the turkey, make the stuffing, and keep impatient guests from trying to nibble at the main course. So, how do you stay focused on your task while satisfying rumbling bellies? Well, you make one or more of these delicious easy appetizers for Thanksgiving, of course.
There are so many different options to choose from, and all of them look finger-lickin' good!
There's an olive and cheese pinwheel, cranberry and gruyere puff pastry, the best charcuterie board, and even some dishes that will surprise you.
Let's dive in!
Enjoy!
Pecan Jalapeño and Gouda Cheese Ball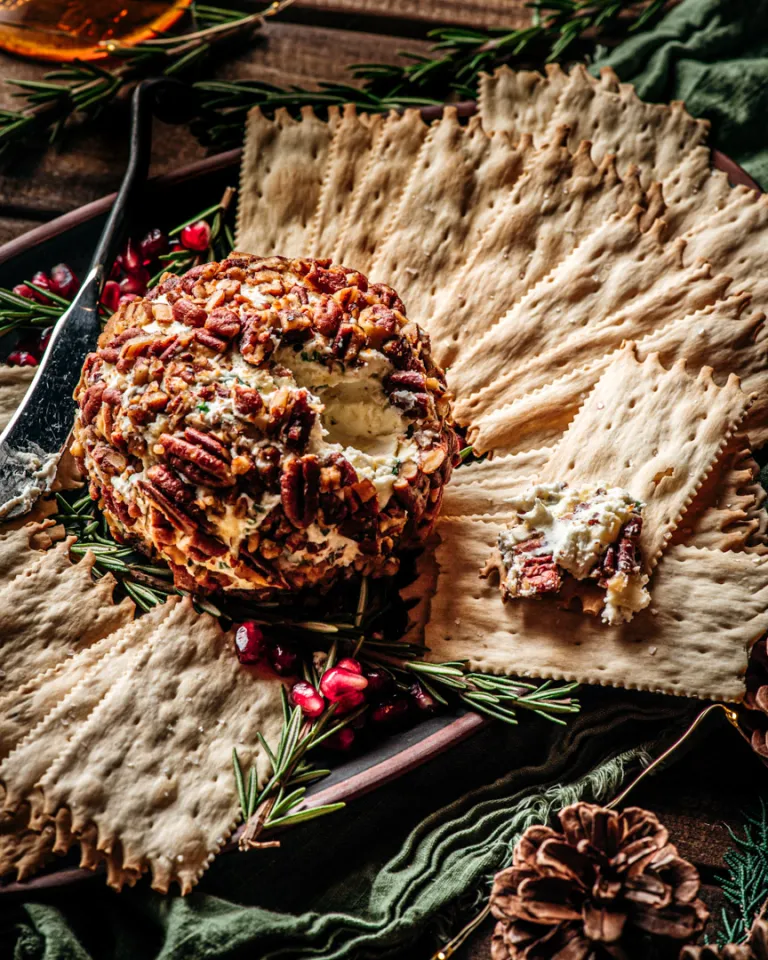 Angela of Cooking With Wine produces impeccably styled images so captivating you get lost in them. Look at that picture and imagine the people, the conversation, the wine, perhaps?
But it's Mark, the professionally trained foodie, who does the cooking. And with his gouda, cream cheese, and mascarpone cheese ball with pecans and jalapeno, you have something special that's balanced in flavor and texture to bring to the party.
It's sure to steal the spotlight at the appetizer table.
Visit Cooking With Wine for the recipe.
Olive And Cheese Pinwheels
You'll love this olive and cheese pinwheel recipe from Dahn of Savor The Best. It's a ridiculously simple appetizer to satisfy your friends and family before you carve up the turkey.
Keep the recipe super easy by using store-bought pie dough. Then you spread it on the olive tapenade and sprinkle it with the cheese of your choice. Finally, slice and bake. Yum!
Visit Savor The Best for the recipe.
Soppressata And Radish Provolone Cones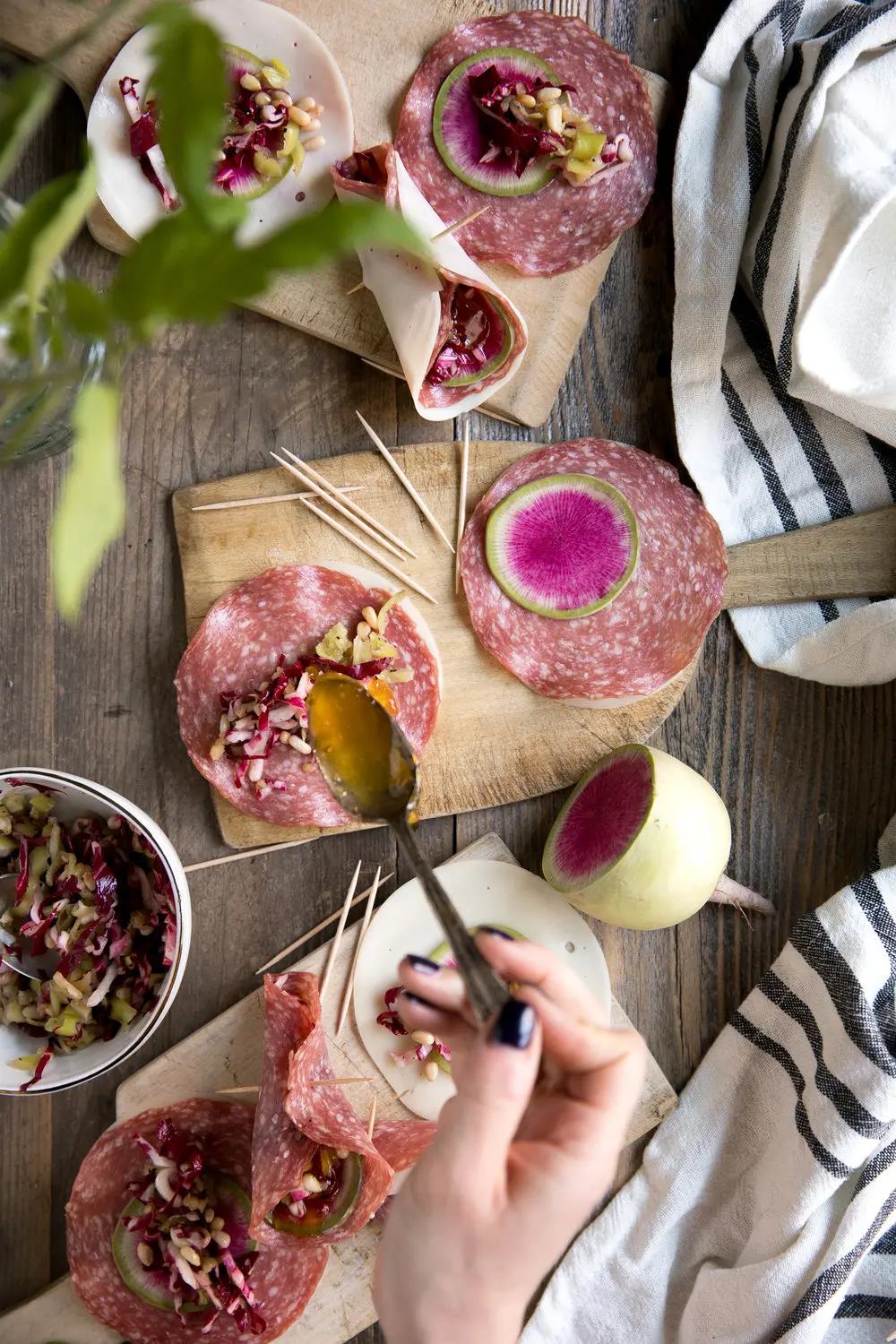 This easy appetizer from Jessica of The Forked Spoon is what you need for your Thanksgiving celebration. You'll find Soprasseta, provolone, watermelon radish, pine nuts, radicchio, chutney, etc., rolled into a delicious bite.
But it's more of a fun concept than an exacting recipe.
For example, you can swap Sopprasseta with your favorite deli meat, and the watermelon radish, which is cute and festive, can be exchanged for a more common one. So, follow Jessica's recipe, or have fun making your very own creation.
Visit The Forked Spoon for the recipe.
Sweet Rosemary Walnuts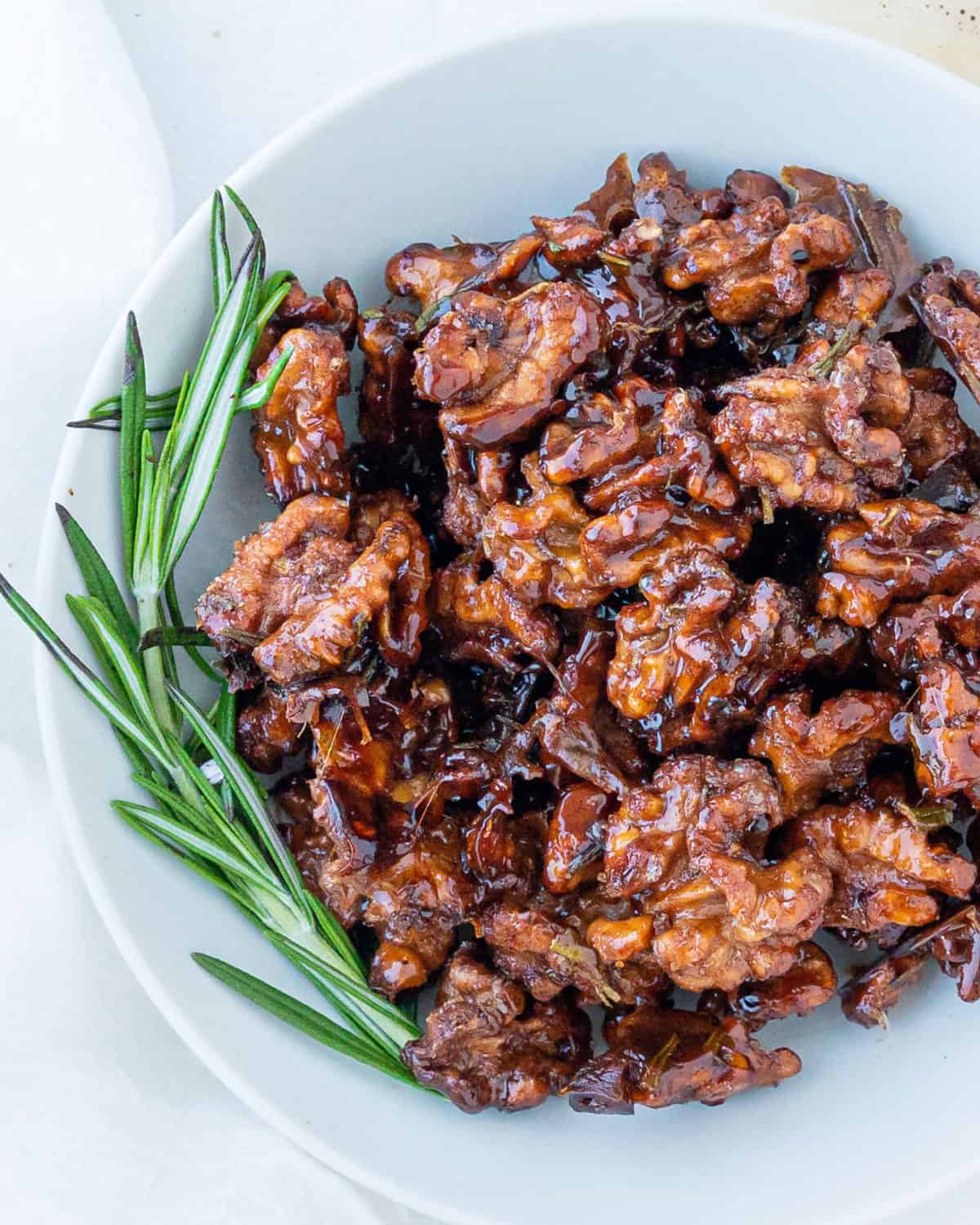 These candied walnuts from Toni of Plant Based On A Budget are great for holiday grazing. Plus, they're vegan, so this covers you for inclusive options at the appetizer table. But they'll be a hit with everyone, diet notwithstanding.
You'll love how easy these candied nuts are to make. First, you add all the ingredients to a saucepan. Then you'll need to cook, stir, wait, and let the snacking commence. Our prediction: you'll need to double the batch.
Visit Plant Based On A Budget for the recipe.
Cranberry Puff Pastry Tarts With Gruyere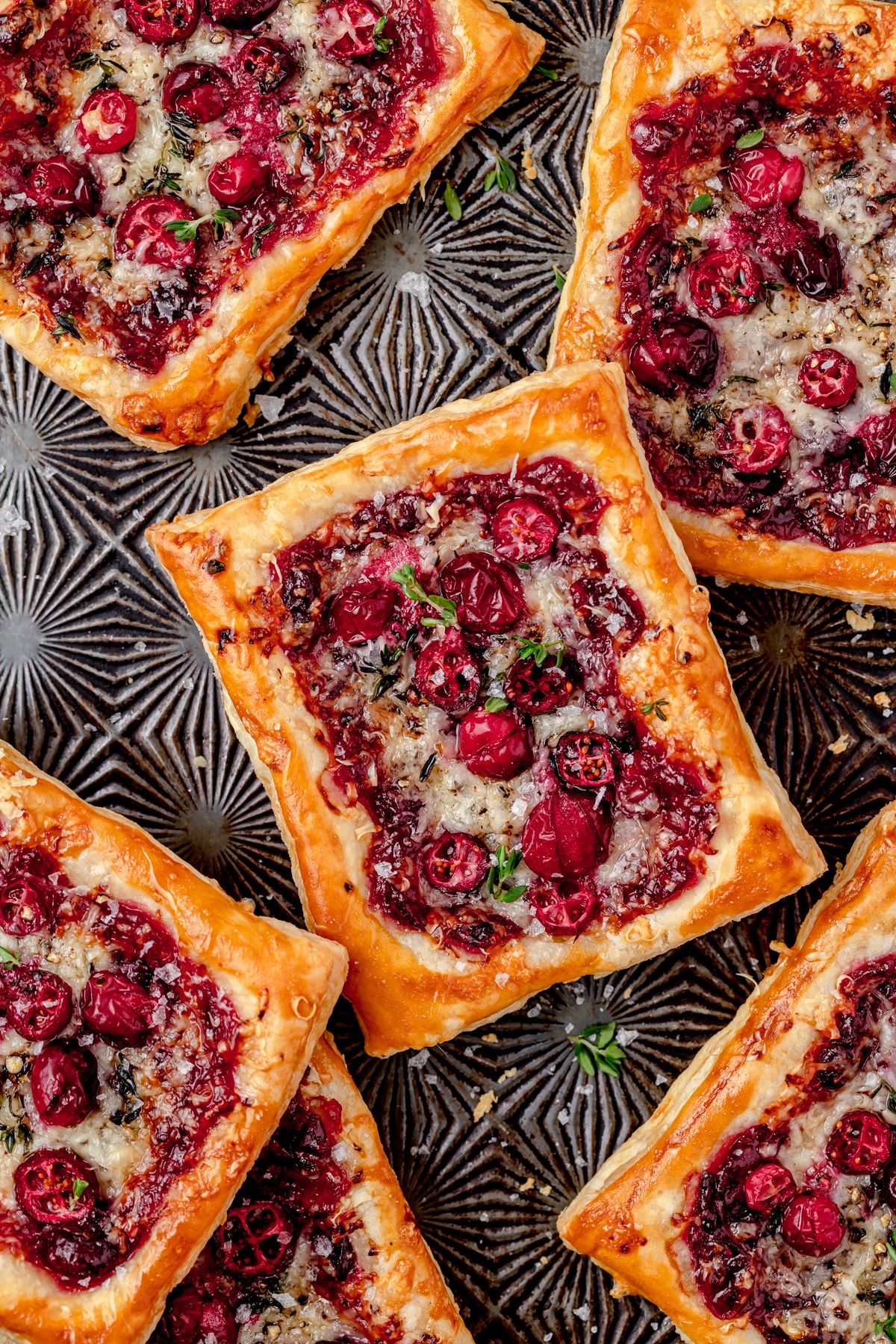 Most often, and quite unfortunately, leftover cranberry sauce goes to the kitchen trash bin—what a waste. But Kyleigh of Barley And Sage has other ideas. So this year, make these beautiful, winter-inspired pastries.
Step by step, you'll learn how to make these simple treats, including properly defrosting the dough, cutting the dough, and substituting other fruits and jams.
Visit Barley And Sage for the recipe.
Baby Octopus Recipe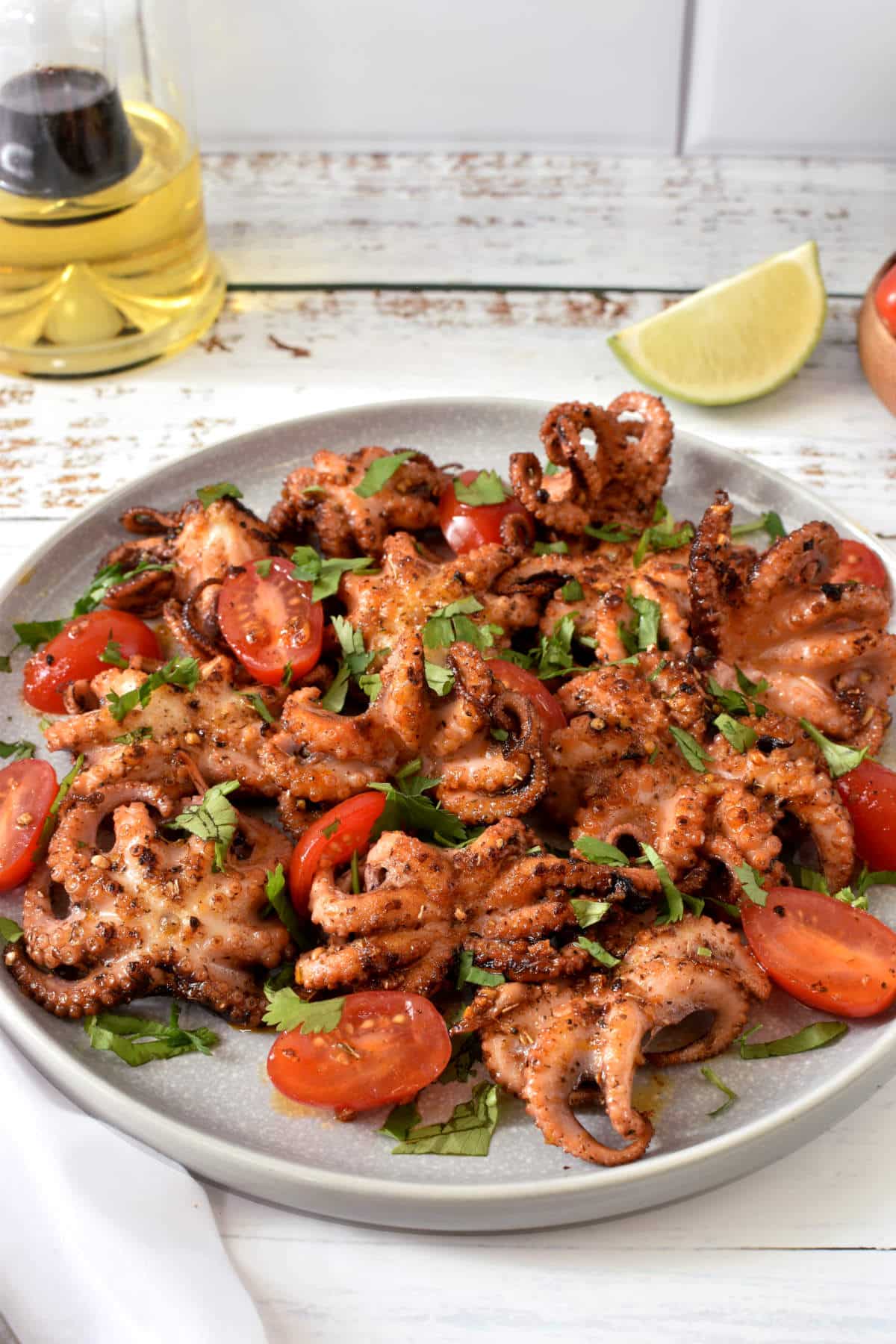 Seafood lovers will rejoice at the sight of this baby octopus recipe from Lillian of Simple Living Recipes. It's certainly an unexpected dish for Thanksgiving but super flavorful with olive oil, butter, oregano, smoked paprika, cilantro, and lime juice.
On the page, Lillian tells you where to find the octopus, then how to pressure cook it, pan fry it, and serve it. Some of your dinner guests might find it strange, but chances are there won't be any leftovers.
Visit Simple Living Recipes for the recipe.
Air Fryer Stuffed Mushrooms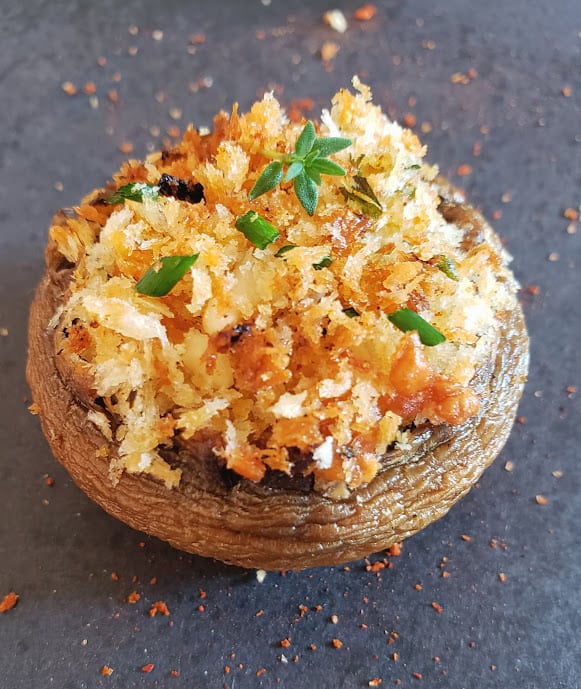 Stuffed mushroom caps are always a guaranteed winner of an appetizer, and you'll often find that they are the first thing that disappears when you host a gathering for a book club, game day, or television marathon.
And while you can stuff nearly anything inside them, Prajakta of Profusion Curry likes to keep things simple. So naturally, stuffing contains only five ingredients, including grated parmesan and Italian bread crumbs, and takes just 20 minutes in the air fryer.
Visit Profusion Curry for the recipe.
Baked Brie With Fig Jam
This baked brie with fig jam from Courtney of Best Appetizers isn't just a great holiday appetizer. It's so good that Courtney sometimes makes a meal of it. And we wouldn't be surprised if you did as well. Who can resist just salty enough gooey brie and delightfully sweet fig jam?
We love that this quick appetizer is elegant but suitable for various occasions. So while it makes a lovely addition to your holiday boards, no one will turn it down at a football party.
But here's the best part, there are only two required ingredients (chopped nuts and figs are optional), and it's ready in just 20 minutes.
Visit Best Appetizers for the recipe.
Turkey Veggie Tray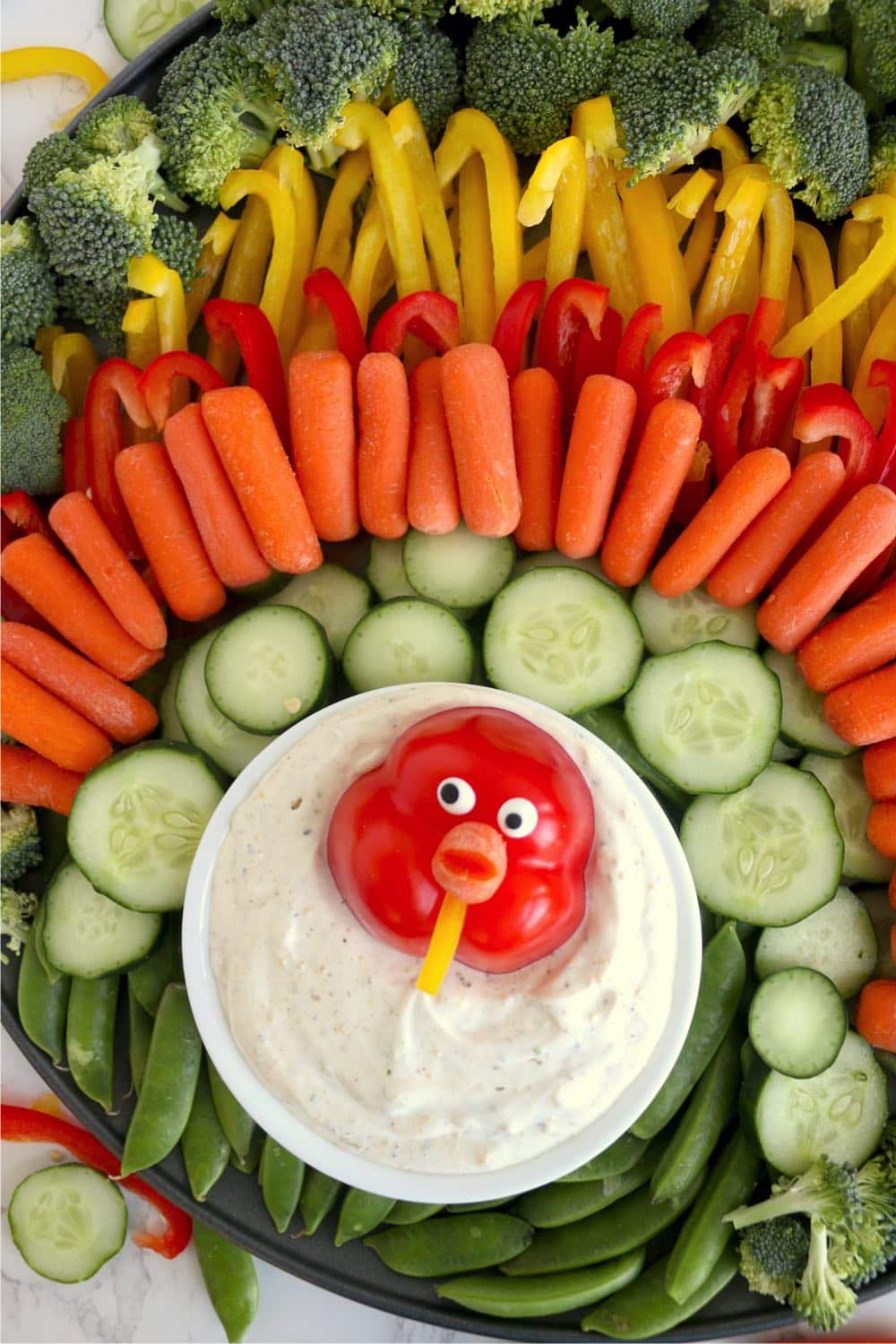 For holiday snacking without guilt, turn to this adorable veggie tray from Sara of Bitz N Giggles. This arrangement has every kind of vegetable that's perfect for a vegetable dip, like carrots, snap peas, bell peppers, and broccoli florets.
It doesn't get any easier than this. Anyone can do it, making it perfect for a last-minute Thanksgiving appetizer.
Visit Bitz N Giggles for the recipe.
The Best Charcuterie Board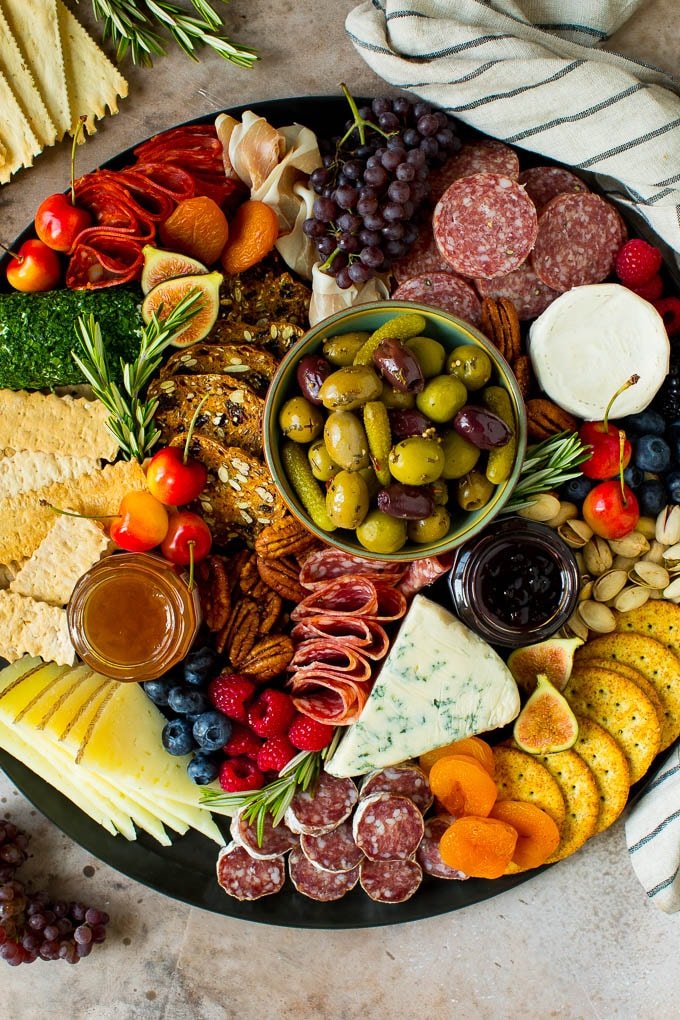 You'll fall in love with this charcuterie board guide from Sara of Dinner At The Zoo. It's so much fun to put together grazing trays like this, as there aren't any hard and fast rules. Instead, you can mix and match whatever comes to mind.
With that said, Sara does share her tips, like which food categories to choose. For example, most meat, cheese, dips, bread, and fruit. You'll also find answers to FAQs like how long the board can sit out and make ahead guidance.
Visit Dinner At The Zoo for the recipe.
Thanksgiving Deviled Eggs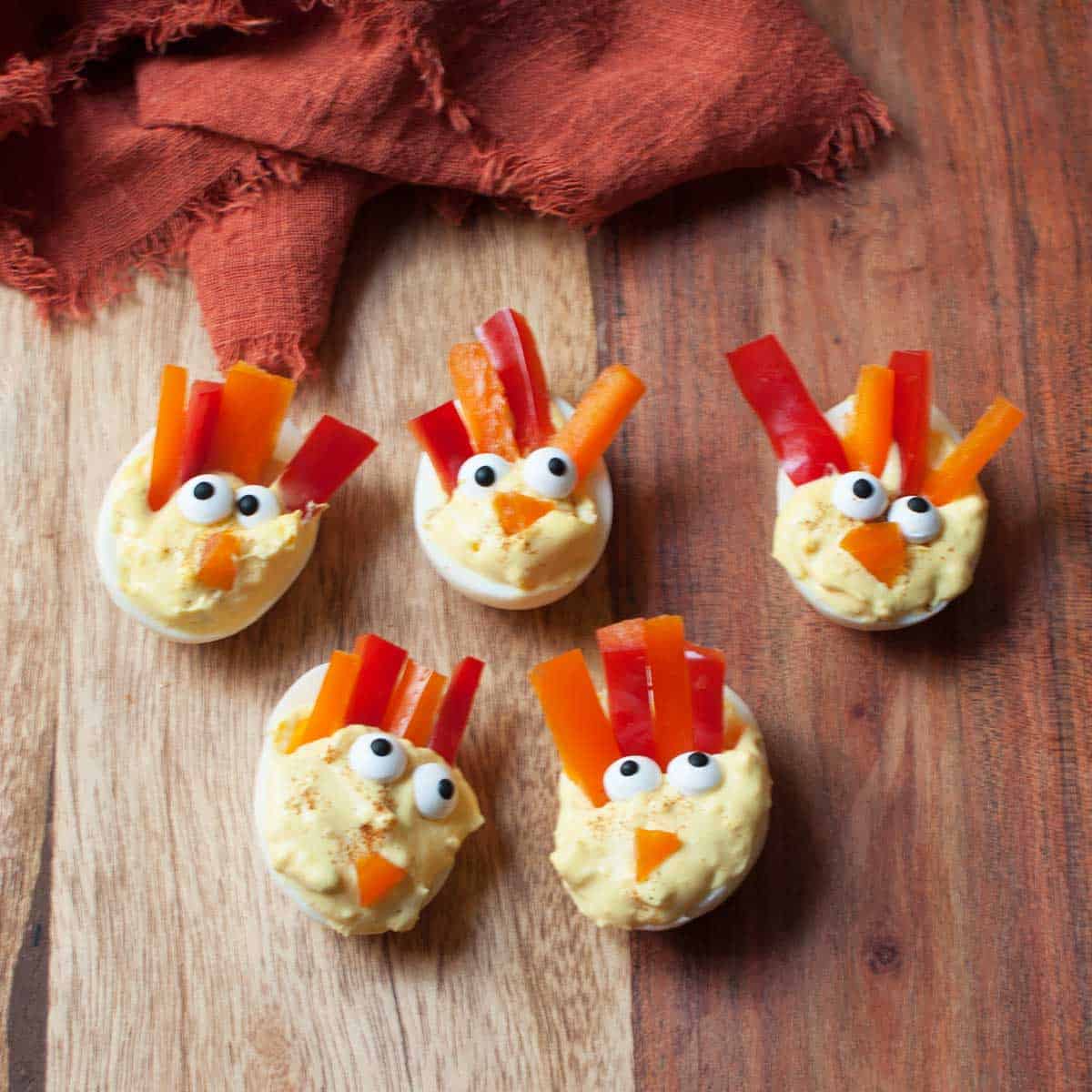 Audrey of Two Pink Peonies transformed a simple classic into something cuter and more festive with this Turkey-styled deviled egg recipe.
Like the original, you boil the eggs and make the egg yolk mixture with mayo and relish. But then you add bell pepper "feathers" and "nose," and candy "eyes" for something cuter that kids of all ages will happily eat.
Visit Two Pink Peonies for the recipe.
Smoked Salmon Dip
You'll want to see this smoked salmon dip from the always-consistent Amanda's Cookin' for an appetizer of dangerously delicious proportions. Why is it dangerous, you ask? Because once you start, it will be tough to stop.
We like this easy recipe because it calls for smoked salmon and lox—the formers' smokeless and saltier cousin, if you will. But you'll also find briny capers, dill, chives, mayo, sour cream, and cream cheese. It's a symphony of flavor you can't resist.
Visit Amanda's Cookin' for the recipe.
Mini Cheese Balls Trio
While Lyuba of Will Cook For Smiles knows a good Thanksgiving appetizer should be delicious. There's something to be said about cuteness. And these little mini cheese balls sure are adorable.
On her page, you'll find three flavor variations for the cheese balls: cranberry-pistachio, bacon chive, and even a super flavorful Italian cheese ball. The three flavors' bases are cream cheese, white cheddar cheese, and sour cream. And mini pretzel sticks make them easy to grab.
Visit Will Cook For Smiles for the recipe.
Bacon Wrapped Dates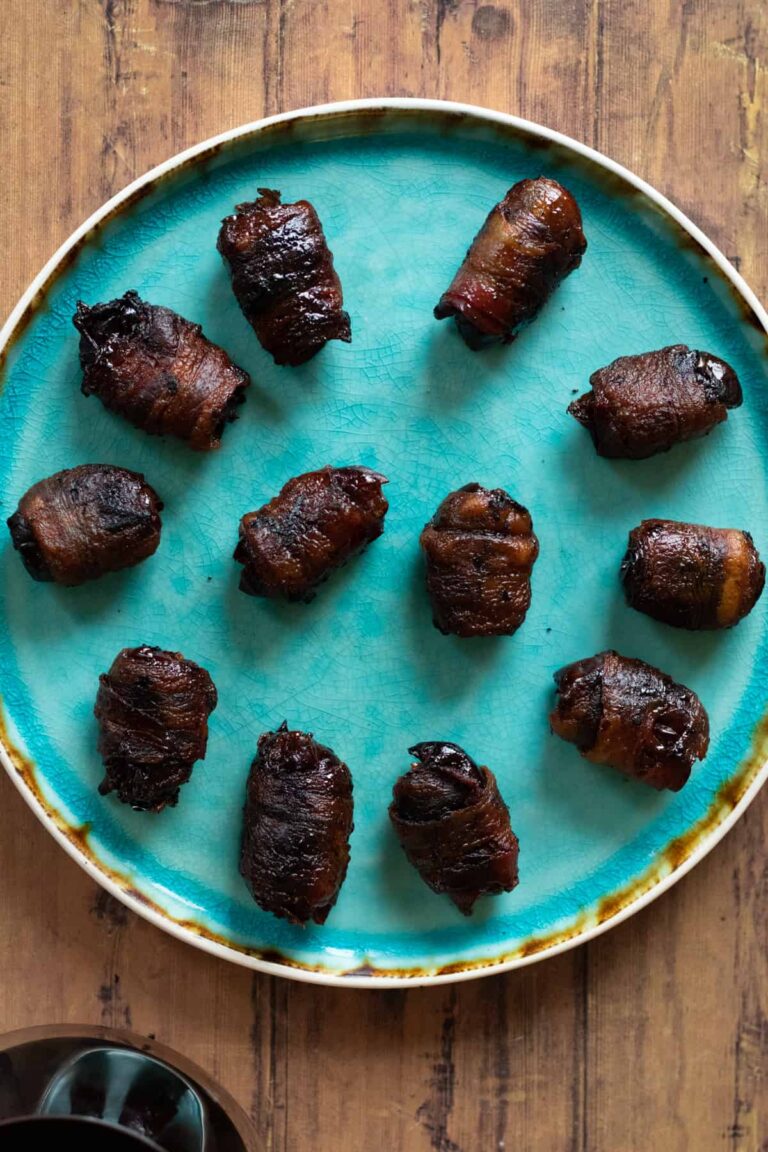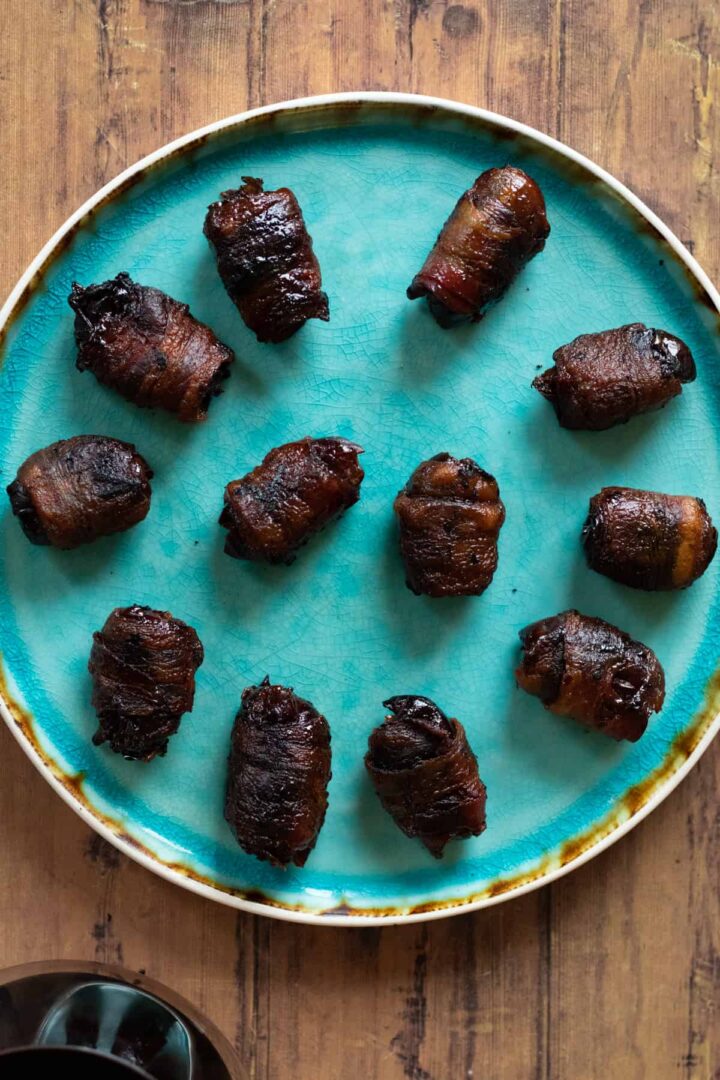 Two ingredient appetizers like this easy bacon-wrapped dates recipe from Emmeline of Always Use Butter make for stress-free holiday food preparation. While they have an air of fanciness, they fit in for all occasions.
You can trust Emmeline's tips if you want to enhance these "devils on horseback." Learn which cheese works best if you're going to stuff them. You'll also learn how to prepare them in advance.
Visit Always Use Butter for the recipe.
Air Fryer Potato Croquettes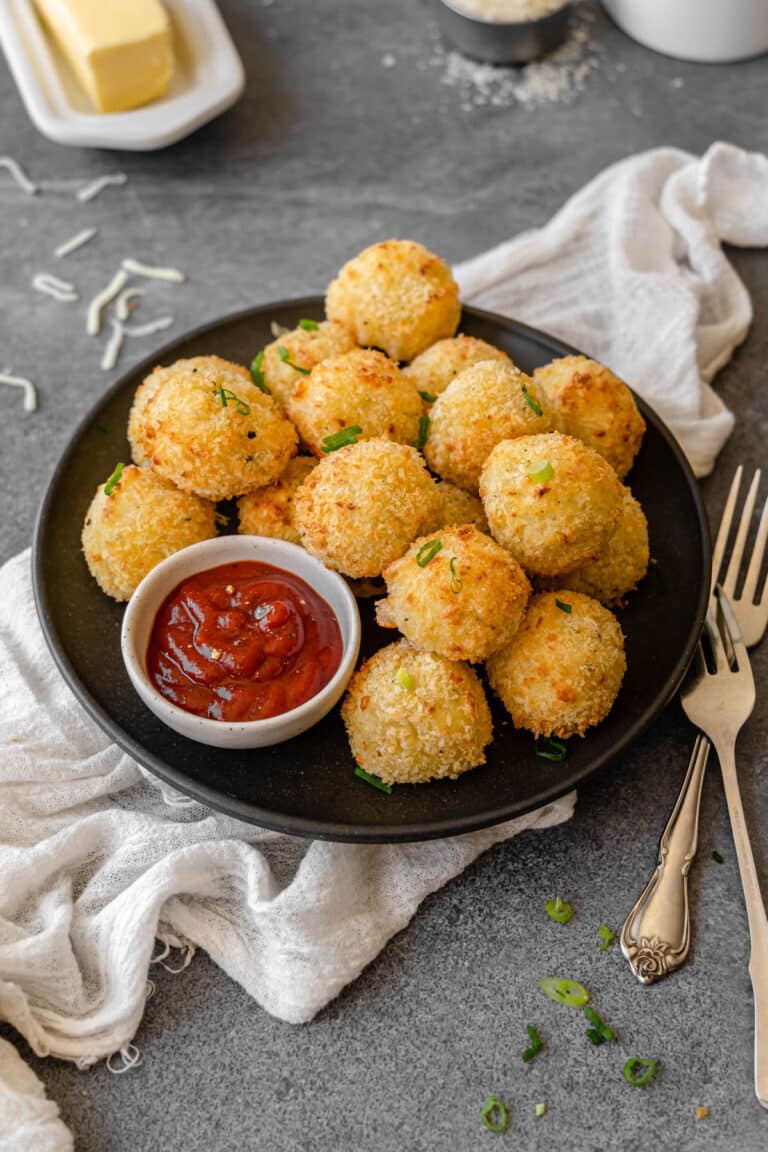 All cheesy and sinfully flavorful Fried potato balls will always be a smash party appetizer. But deep frying can be messy, time-consuming, and a lot of work (without proper preparation). But Jess of Balance With Jess solves that problem.
Her air fryer potato croquettes are delicious and easy for parties if you prep in advance and cook in batches. Don't worry! Jess covers this on the recipe page.
Visit Balance With Jess for the recipe.
Pumpkin Pie Cheese Crackers Thanksgiving Appetizer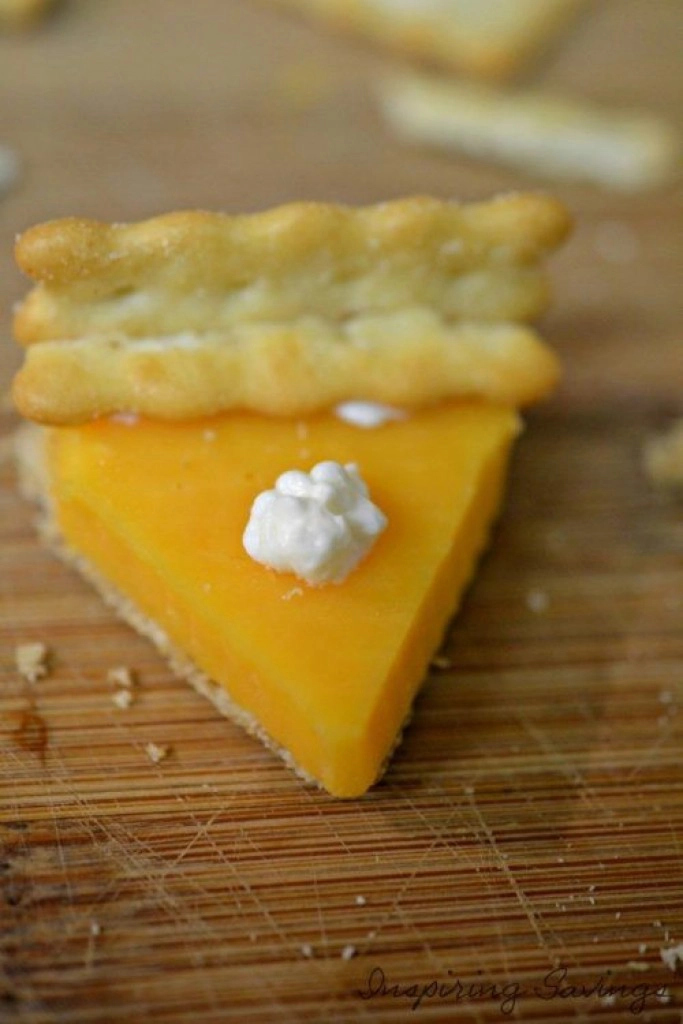 Nope! That's not pumpkin pie! Instead, it's a savory cheese and crackers snack from Jen of Inspiring Savings, fashioned after a slice of pumpkin pie. Isn't that neat?
The four-ingredient appetizer features two types of crackers, cheddar cheese and whipped topping, which is actually whipped cream cheese. So, hop over to the page where you'll find complete instructions detailing how to make the fun bites.
Visit Inspiring Savings for the recipe.
Vegan Fried Olives
Elana believes that party appetizers like these fried olives are Best Served Vegan. And while not all fried food makes excellent party food, this one is a different story. The bite-sized app will become the center of attention at the office Thanksgiving potluck.
As if fried olives aren't flavorful enough, you season the breadcrumbs with smoked paprika, oregano, and white pepper. And there's also a seductive roasted garlic cream filling. Hmmm, fried olives may be best, served vegan after all.
Visit Best Served Vegan for the recipe.
Buffalo Chicken Dip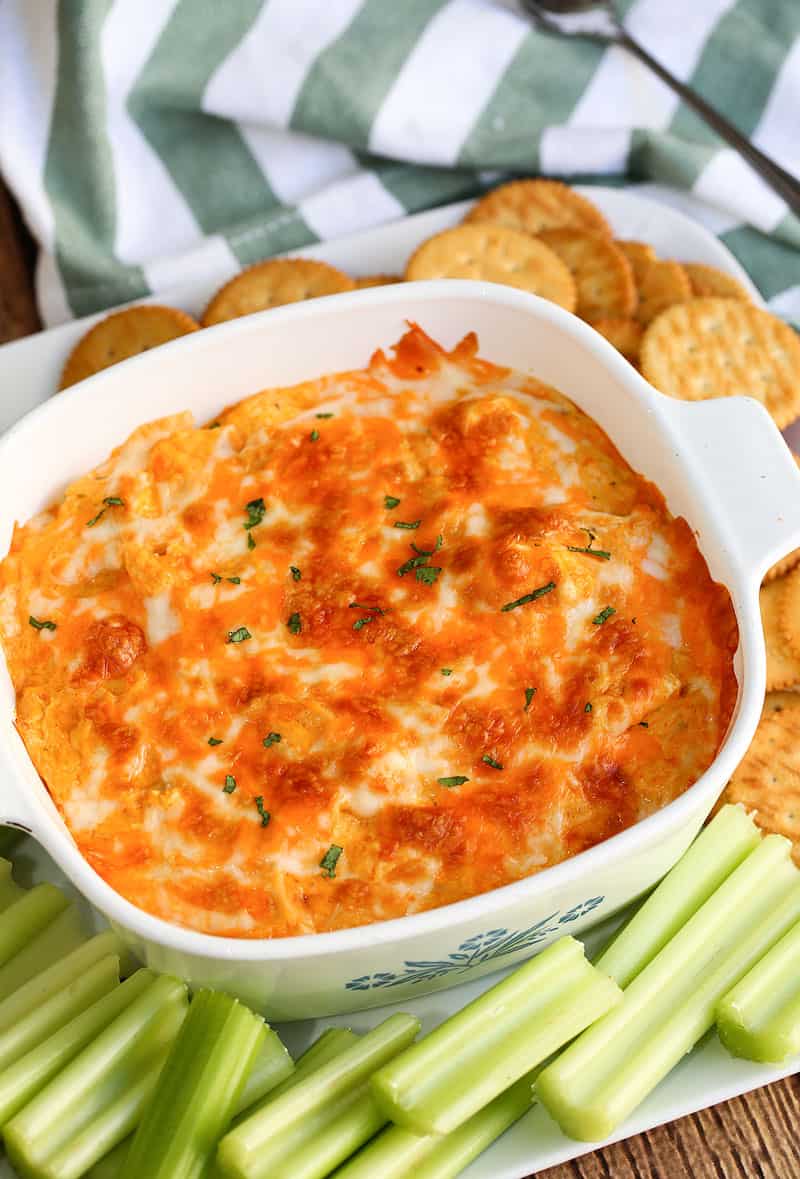 Quick appetizers for the holidays mean opting for fewer preparation steps. So, with this buffalo chicken dip from My Organized Chaos, Tammi does just that. Her recipe calls for canned chicken, so there's no need to shred it.
And that's not the only part of this recipe that's easy. The other ingredients include shredded and divided cheese, ranch dressing, and cream cheese. And best of all, the dish spends just 10 minutes in the oven. So say hello to easy and tasty snacking!
Visit My Organized Chaos for the recipe.
Pineapple Cranberry Brie Crescent Ring Appetizer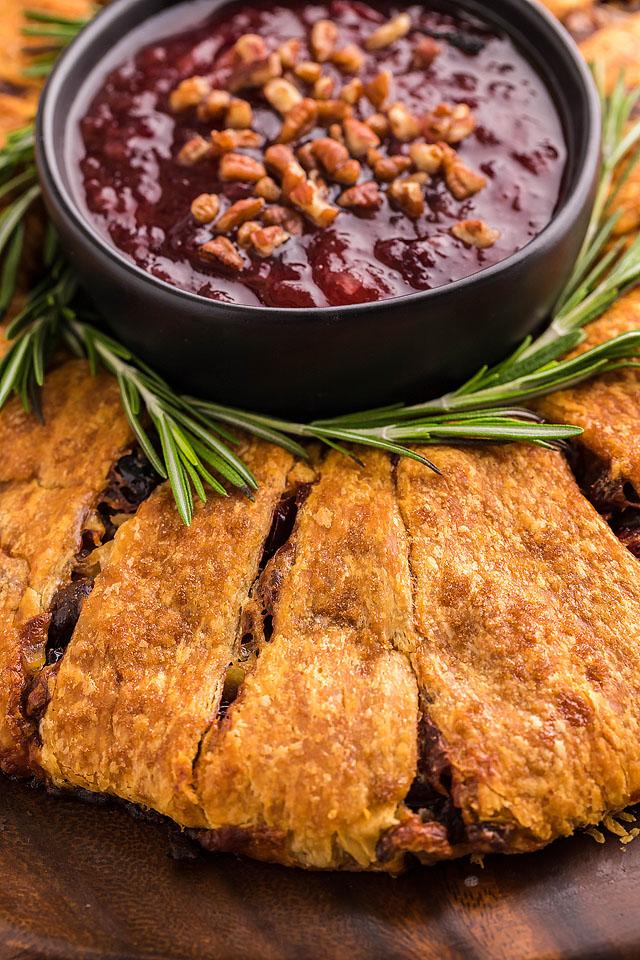 You get caught up in the beauty of images like this pineapple cranberry brie crescent ring from XOXO Bella that you forget you're reading an easy Thanksgiving appetizer recipe list. So, yes, it's beautiful. Yes, it's mouthwateringly delicious.
And yes, it's still easy.
Bella knows that time isn't a resource in high supply during the holidays, so she recommends canned crescent dough. And to eliminate your worries, you'll find clear guidance with lots of images so you can assemble this starburst-shaped app effortlessly.
Visit XOXO Bella for the recipe.
Vietnamese Shrimp Toast
Bánh mì chiên tôm, or Vietnamese shrimp toast, from Jessica of Balance With Jess, is a delightful toast with a spread made of savory shrimp, cheese, green onion, mayo, shallot, shrimp, and one secret ingredient that ties everything together. We'll let Jess share it with you.
Jess takes you on a trip to flavorville, providing delicious variations like aromatic grated ginger and garlic. Or substitutions like Japanese mayo for a deeper flavor. She even gives you brand recommendations so you can make this toast taste as good as her picture looks.
Visit Balance With Jess for the recipe.
Goat Cheese Croquettes
If you make these goat cheese croquettes from Ali, you will eat them down to The Littlest Crumb. They're plate lickin' good!
You start by combining goat cheese and thyme in a bowl and then forming balls. Freeze the balls before breading them. Fry (Ali provides make-ahead tips), then sprinkle with nuts. And lastly, you'll want to drizzle on some honey as we did with our honey mac and cheese balls.
Visit The Littlest Crumb for the recipe.
Air Fryer Bacon Wrapped Scallops
Bacon-wrapped scallops are delicious, but you can get a recipe for them just about anywhere. But for ease and expert guidance, we've turned to this 20-minute air fryer bacon-wrapped scallops recipe from Dan and Scott, the Platter Talk guys.
We love that they provide you with a guide on how to buy scallops. They also give you a straightforward yet genius tip on serving them—this is incredibly important. And if they get cold, they teach you what to do instead of reheating. It's an excellent resource.
Visit Platter Talk for the recipe.
Which Easy Thanksgiving Appetizer Will You Try First?
The Vietnamese shrimp toast that's soo good, the goat cheese croquettes, or something different? Let us know!