You don't want to miss a single entry on this list of the best 17 Halloween recipes for adults. So you won't find any recipes with googly eyes.
Aren't you just bursting with excitement?
Halloween is one of the most anticipated holidays of the year. The leaves change colors, and the days are cold, wet, darker, and shorter. So, it's the perfect time of year for terrifyingly delicious appetizers and treats.
And wow, oh wow, are you in for a treat!
We have a range of recipes from creepy and ghastly, like bloody Halloween cupcakes, and realistic skull cakes. We also included festive and sophisticated options like Halloween Caprese skewers. But no matter what, they're all delicious!
Enjoy.
P.S. If you like these Adult Halloween Recipes, you'll love these Halloween Cocktail Recipes.
Forget Me Not Cupcakes
These zombie's fingers, forget me not cupcakes from Claire of The Simple Sweet Life will be the most extravagant dessert you ever made for Halloween.
Now, we know you might be thinking, "there's no way I could make that." But you'd be wrong.
With crystal clear instructions, Claire walks you through how to make the zombie finger, the graham cracker grass topping, and all else. So, jump over to her page, make a list of supplies, and get started. It's such a fun and spooky project!
Visit The Simple Sweet Life for the recipe.
Spooky Halloween Skull Potatoes
Not only are these shrunken head potatoes from XOXO Bella a creepy creation, but they're also really tasty – a perfect appetizer for an adult Halloween party.
But before you run out to the grocery store, check out Bella's page. She'll share the best seasonings, carving techniques, and, most importantly, the right kind of potato.
Visit XOXO Bella for the recipe.
Halloween Air Fryer Ombre Mini Cakes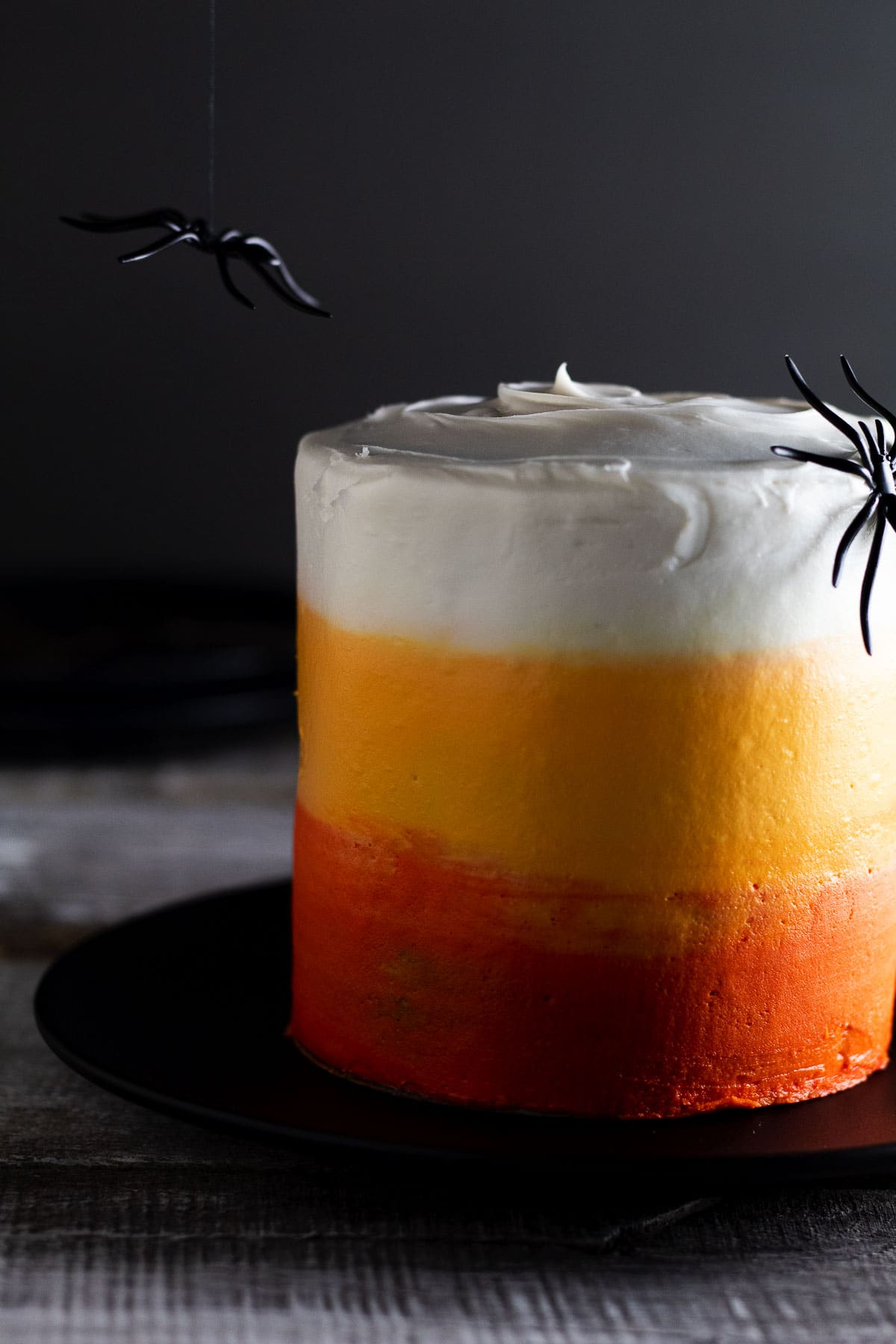 This Halloween air fryer mini cake recipe is our very own creation. We show you how to make a moist box cake with three layers. Then we show you the ombre frosting technique to blend the colors for a smooth finish.
It's a fun and easy recipe perfect for celebrating Halloween with a small group of adults.
See our ombre mini cake recipe.
Spider Halloween Pizza with Black Charcoal Crust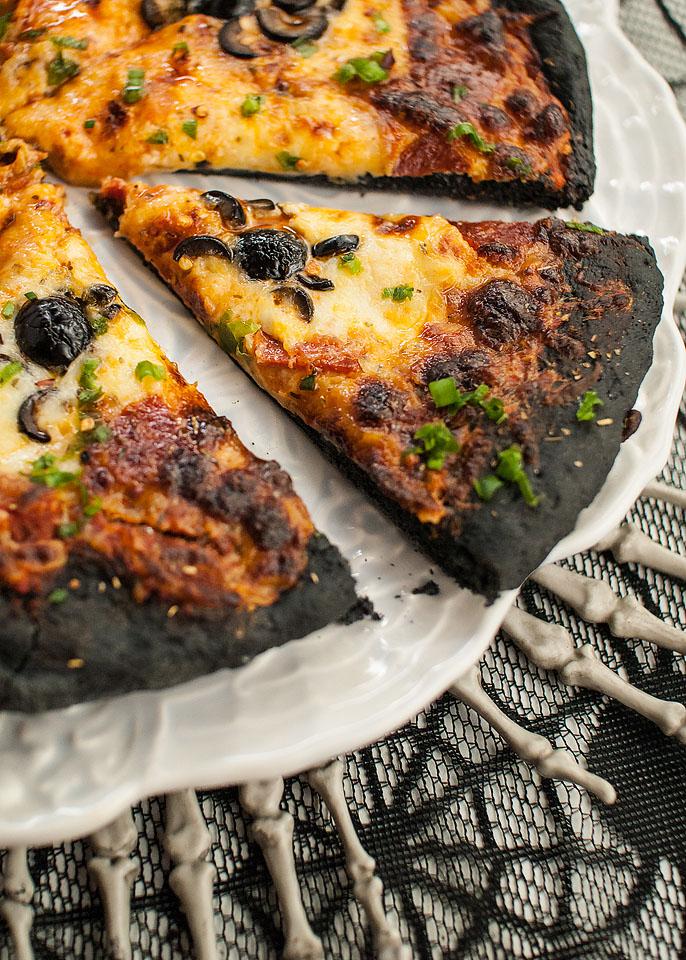 This Halloween pizza with olive spiders is another offering from the prolific and creative Bella of XOXO Bella. And no, the crust isn't burnt here. Instead, this grim and still delicious za gets its color from edible activated charcoal.
Say what?
Yes, activated charcoal, which has medicinal uses, is now used in novel recipes like black ice cream. Just make sure you buy food-grade charcoal.
Visit XOXO Bella for the recipe.
Creepy Halloween Candy Creatures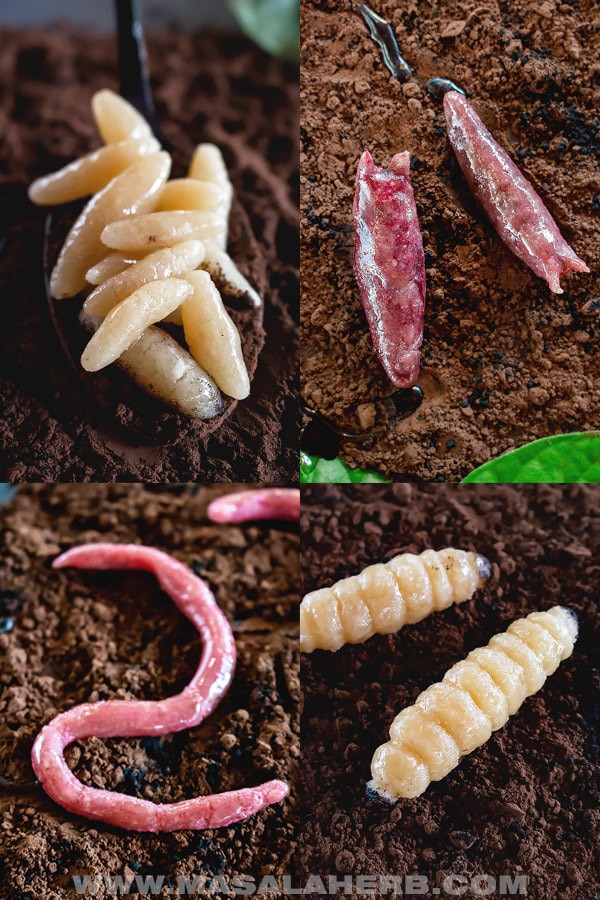 Adults and young alike will be weirded out when they see these realistic candy worms, grubs, and slugs from Helene of Masala Herb. And they'll just about lose it when they see you take a bite.
Yuck, right?
Actually, no. Those little crawly, wriggly bugs are deliciously disgusting. You see, they're made of marzipan, a sweet almond paste. So this is one Halloween recipe you can't miss!
Visit Masala Herb for the recipe.
Halloween Candy Apples
Even Snow White would've been weary of these "poison" apples from Amanda's Cookin. They're truly otherworldly!
But in reality, she made this simple apple confection using tart granny smith apples and high gloss candy coating.
As for the sticks, they're natural wood (thoroughly cleaned, of course).
So hop over to Amanda's page, where she'll guide you through this enchanted treat with high-quality, step-by-step process pics.
Visit Amanda's Cookin for the recipe.
Red Velvet "Raw Meat" Rice Krispies Halloween Treat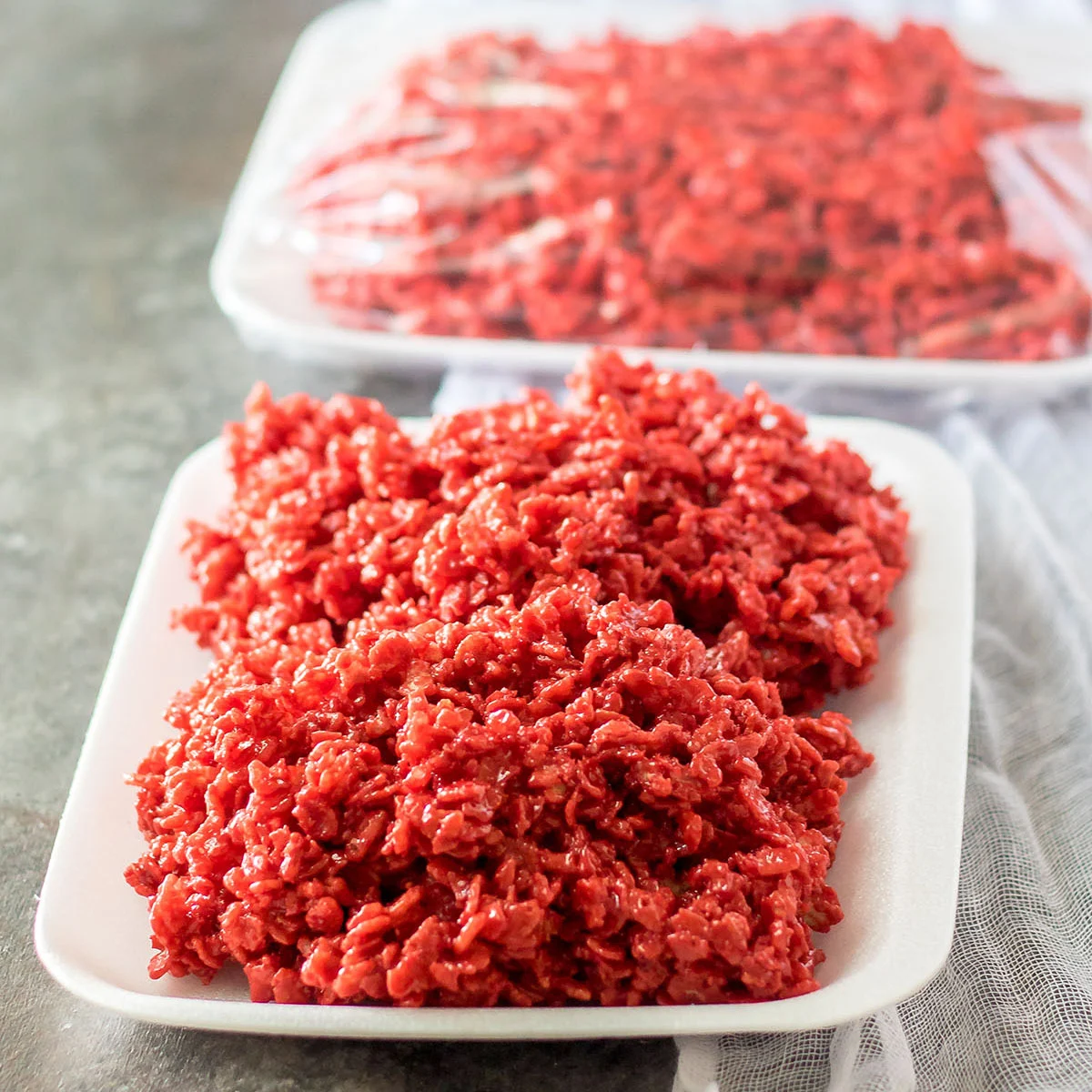 Imagine the look on their faces when they see you chowing down on "raw meat." An off-putting sight for sure. However, they'll swoon when they find out this Halloween trick is actually more of a treat.
The clever Melissa of Persnickety Plates brings you this deliciously gruesome Halloween treat using just five ingredients (six if you need more food coloring), and the best part is that it takes only 20 minutes to make.
Visit Persnickety Plates for the recipe.
4 Layer Halloween Cake
Creatives like Miranda of Cookie Dough And Oven Mitt can conjure up inspiration from many sources, even from a plate fashioned after a Ouija board (the source of inspiration for this black layered cake.)
It's an easy treat with just the right amount of sophisticated festive flair. The outside is black as night while the inside sports unexpected but familiar seasonal colors, making it suitable for adults and kiddos alike.
Visit Cookie Dough And Oven Mitt for the recipe.
Eyeball Deviled Eggs
Bloodshot eyeball eggs from Michelle of Cup Of Zest are a delicious and playful spin on those old-fashioned deviled eggs we all know and love. To get the bloodshot look, you crack the eggshell but leave it intact, so the red dye seeps into the egg white.
The inspiration for these eggs comes from Chinese tea eggs, a food that gets two big thumbs up from Michelle.
But while the tea imparts flavor into Chinese tea eggs, the food coloring does no such thing. So instead, to flavor these spookiest of eggs, you'll need mayo, mustard, olives, and pimiento.
Visit Cup Of Zest for the recipe.
Brain Cupcakes
Be sure to serve these brain cupcakes from Claire of The Simple Sweet Life immediately after adding the corn syrup "blood."
Else you'll end up with bloodless brains, and who wants that?
And while these detailed brainy cakes will undoubtedly put you on the leaderboard for over-the-top Halloween treats, you should know they're not that hard to make. In fact, you could even use premade cupcakes and frosting.
Visit The Simple Sweet Life for the recipe.
Puking Pumpkin Taco Board
Playful, delicious, easy, and gross, this puking pumpkin taco board from Vanessa, the creative force behind the Mango And Maple food blog, will bail you out of a jam.
So, if you are ripping and running and can't make time-consuming Halloween appetizers, make this festive taco spread instead. Both adults and children will love it. So you can't go wrong.
Visit Mango And Maple for the recipe.
Halloween Caprese Skewers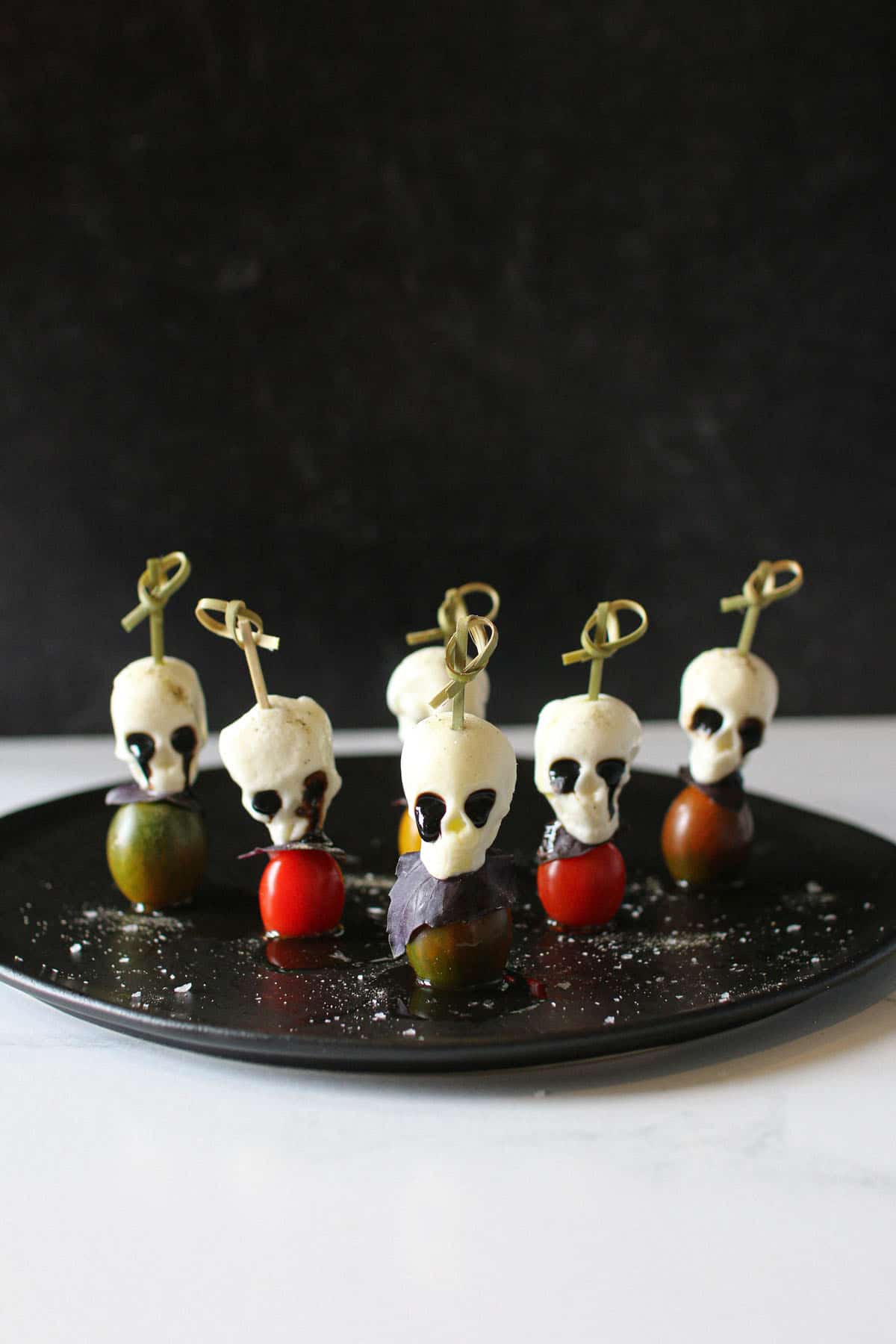 These morbid Caprese skewers from Make With Mara are certainly frightening to look at.
Did the sight of rotten bodily fluid seeping down the skull's eye sockets turn your stomach?
Well, fear not, my ghoulish friend.
Those "skulls" are mozzarella cheese, the drips from the eyes are balsamic glaze, and while those leaves look like they've seen better days, they're just purple basil.
Visit Make With Mara for the recipe.
Bloody Halloween Cupcake Recipe
These bloody Halloween cupcakes from Katalin of Spatula Desserts come adorned with a "glass" sugar topping. They are a sinister treat perfect for a scary Halloween or office party theme.
And while they're positively terrifying, they're also ridiculously delicious. First, the cake is moist and fluffy. Then, on top, there's a decadent cream cheese frosting. And finally, there's strawberry puree "blood."
Visit Spatula Desserts for the recipe.
Dead Man's Fingers And Dips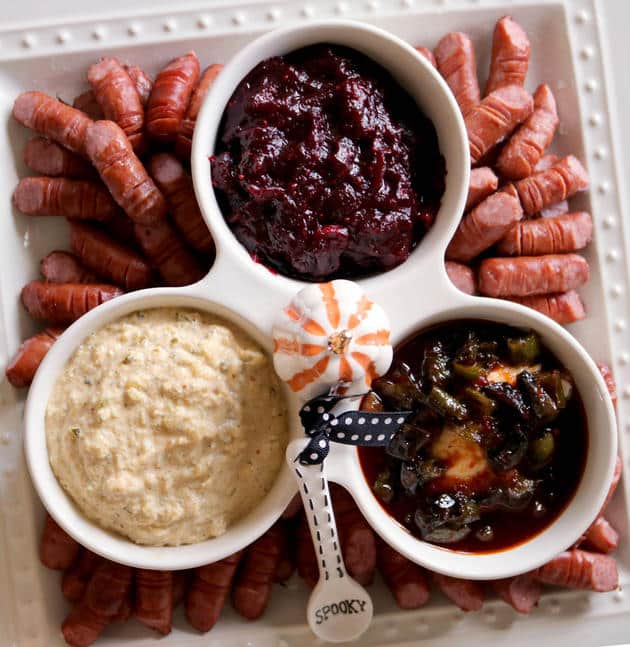 Texas born-and-bred creator Kelly of The Anthony Kitchen made this festive Halloween appetizer which features little smokies and three different dips.
While the tiny sausages are made to look like the repulsive appendages of a dead man, they're the perfect tasty dipper for lizard leg brew (spicy pepper jelly sauce and cheese dip).
Then there's Dracula's bloody stew (cranberry barbecue dipping sauce) and mummy mush (homemade pickle relish dip).
Visit The Anthony Kitchen for the recipe(s).
Halloween Spinach Dip
Audrey of Two Pink Peonies presents this easy peasy spinach dip with fun black olive spiders on top. She made it for a party and received so many compliments that she just had to share it on her blog.
While it's not so spooky, it is a wonderful addition to your adult Halloween party. It tastes great and takes just 15 minutes to make and an hour to chill before it's ready for the fun dippers like pretzels, vegetables, or even tortilla chips shaped like bats or ghosts, like our next entry.
Visit Two Pink Peonies for the recipe.
Halloween Tortillas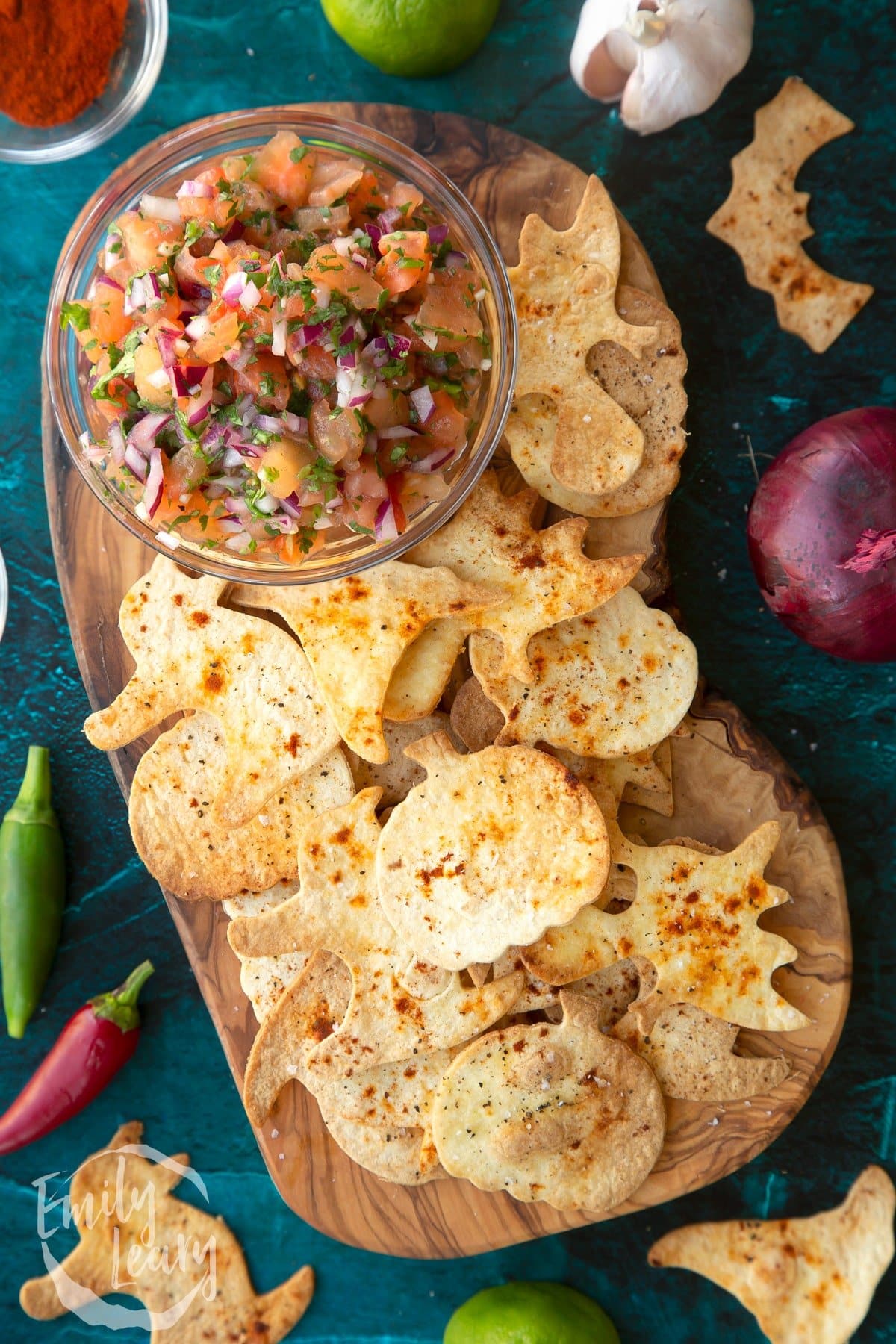 With a packet of tortillas and some Halloween cookie cutters, you can prepare this simple baked treat from Emily of A Mummy Too for a night of scary movies with your friends.
Sure, they're cute, but not so childish that you'll feel goofy serving them to adults.
Serve these calorie-saving baked chips with your favorite dip, like tomato salsa, spinach dip, or even hummus, and you've got a snack to win everyone over.
Visit A Mummy Too for the recipe.
Halloween Skull Cake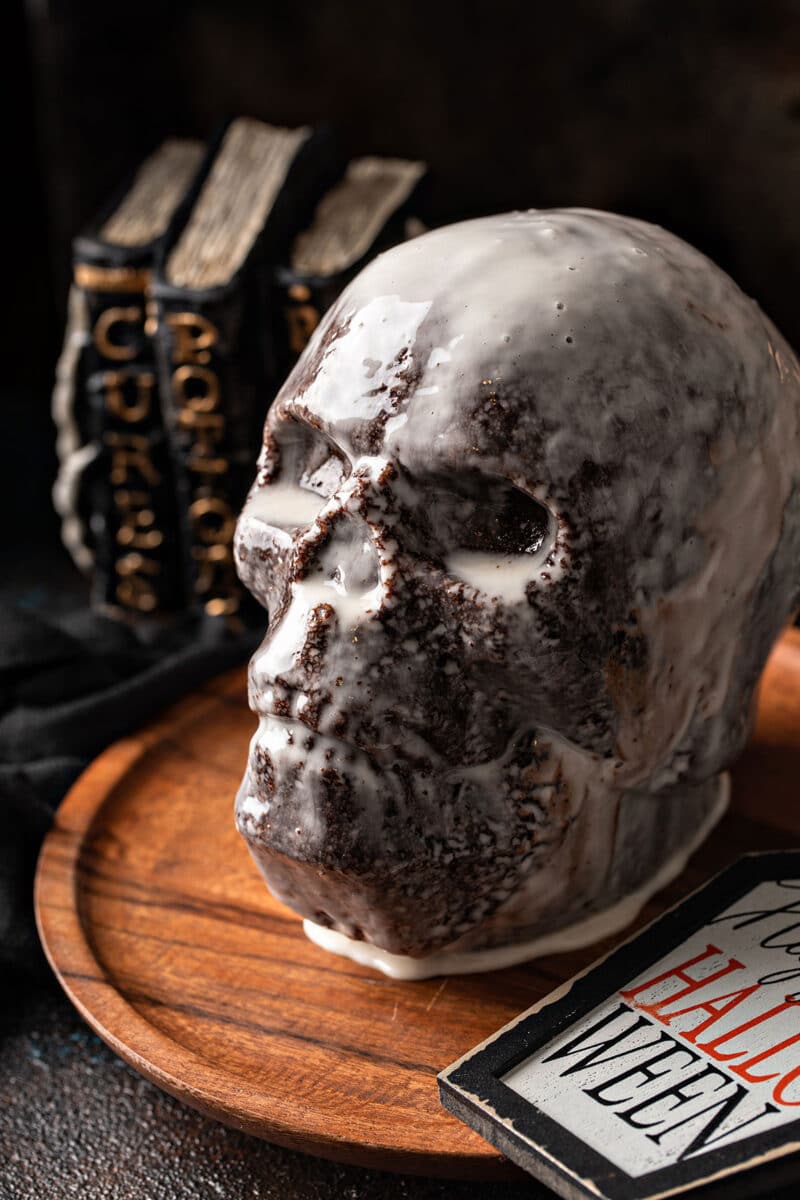 This Halloween skull cake from Kathy of Lemon Blossoms is a frightening, fun show stopper.
And while it's cool to look at, would you believe it's super easy to make using cake mix, a skull baking pan, and glaze?
So if you want to try your hand at it, go for it. Because, as Kathy will remind you, it's not about perfect. If the cake crumbles a bit or the skull doesn't look exact, that'll add to the character.
Visit Lemon Blossoms for the recipe.
Which Adult Halloween Recipe Will You Try First?
By now, you've seen all sorts of recipes you can make for Halloween. But which will make it to your menu? Will it be the rice cereal treat brains, the skull potatoes, or perhaps the Halloween Caprese? Let us know!