You've just discovered the most unique list of 21 Halloween cocktail recipes. There are so many creepy options, like a bloody-eye apple martini, a Phoenix cocktail, a zombie cocktail, and a candy corn martini.
There are drinks with dry ice to get that smoky and spooky effect. And drinks that get lit on fire, turn black, and so many more. So, let's get to it.
Enjoy!
And if you want to see some other adult Halloween Recipes, see this list.
Bloody Eye Apple Martini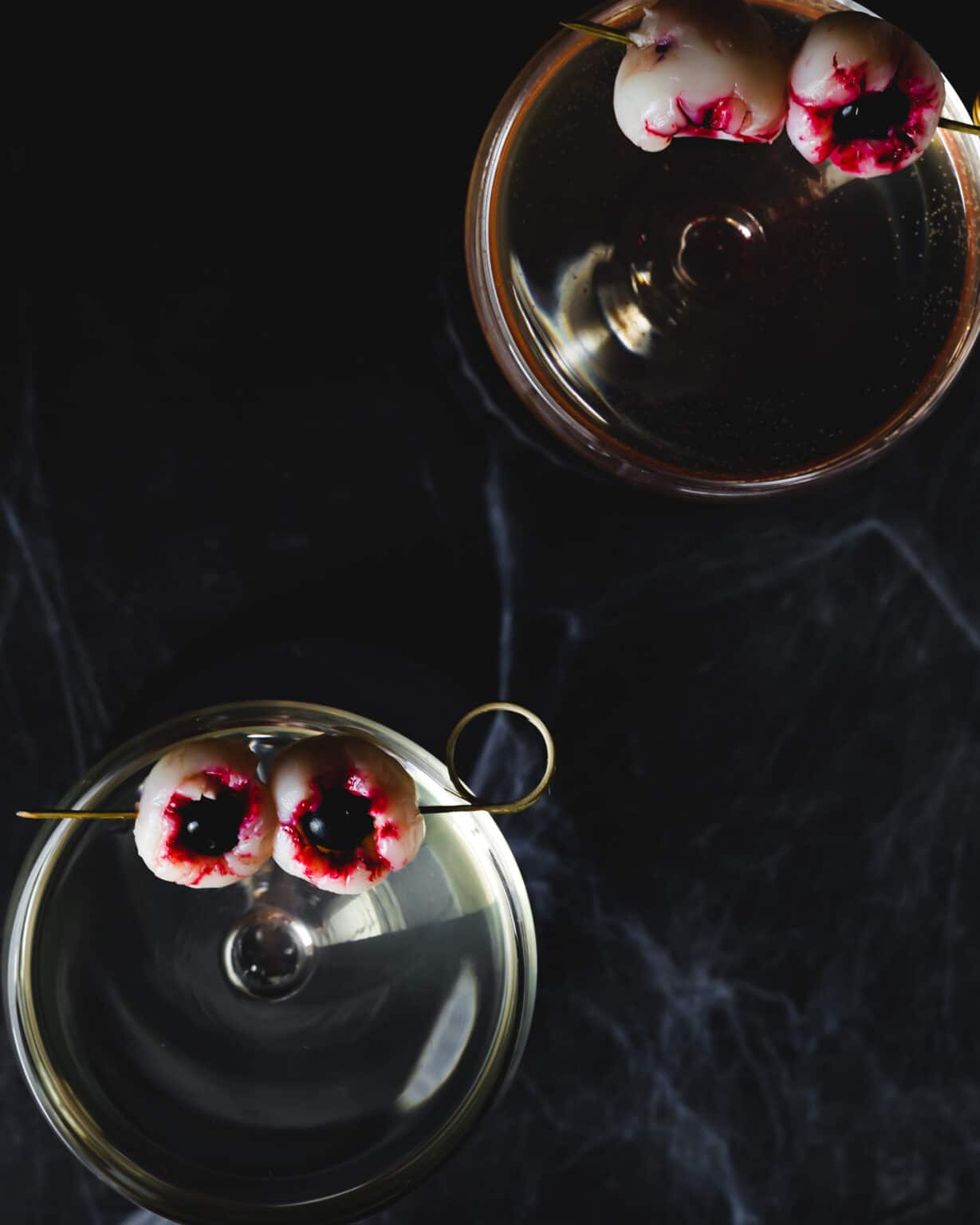 Bianca, the creator of Oh Sweet Culture Shock, brings us this eye-catching (sorry, couldn't resist) fall martini with Halloween flair. But not only are her pictures captivating, but the flavor of this fun cocktail will set the mood.
It starts with an apple cider martini that gets a festive upgrade from bloodshot lychee and blueberry eyeballs for a realistic effect to accompany your favorite gory movie.
Visit Oh Sweet Culture Shock for the recipe.
Zombie Cocktail Recipe
Have you ever had a drink that someone lit on fire? Yeah, we haven't, either. That's why we were utterly blown away by this zombie cocktail recipe from Ann's Entitled Life.
How do you light it on fire? How does this drink work? Well, one of the alcoholic ingredients is 75% by volume. So it's highly flammable.
And this fiery concoction is pretty popular too. It's a glamorous mixed drink that's been captivating folks since 2015 and with over 17,000 shares on social.
Visit Ann's Entitled Life for the recipe.
Candy Corn Martini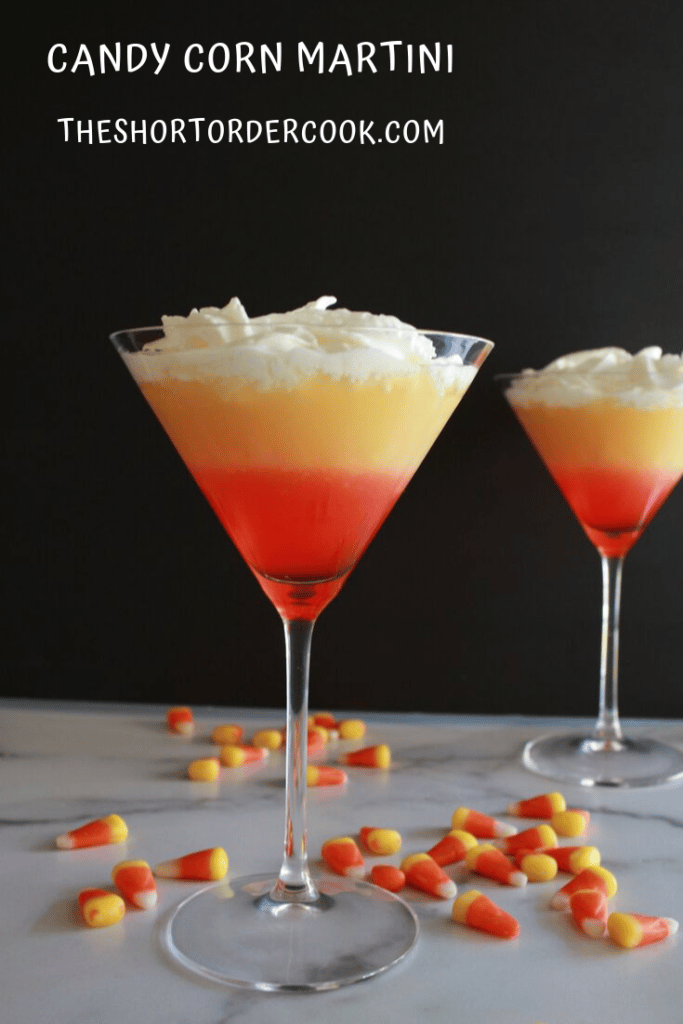 Consider this candy corn martini recipe from Angela of The Short Order Cook, a public service announcement. Halloween is not just for children! So, may this layered boozy beverage grace you with its presence each and every October.
The bottom layer is grenadine, which is a thick syrup. It's heavier than the alcohol, so it sinks to the bottom and gives the drink that red-orange hue. The yellow layer comes from vodka and pineapple juice. Then you finish it up with whipped cream.
Oh, and one more thing, this recipe was so good that Cosmopolitan magazine featured it.
Visit The Short Order Cook for the recipe.
Poisoned Orchard Cocktail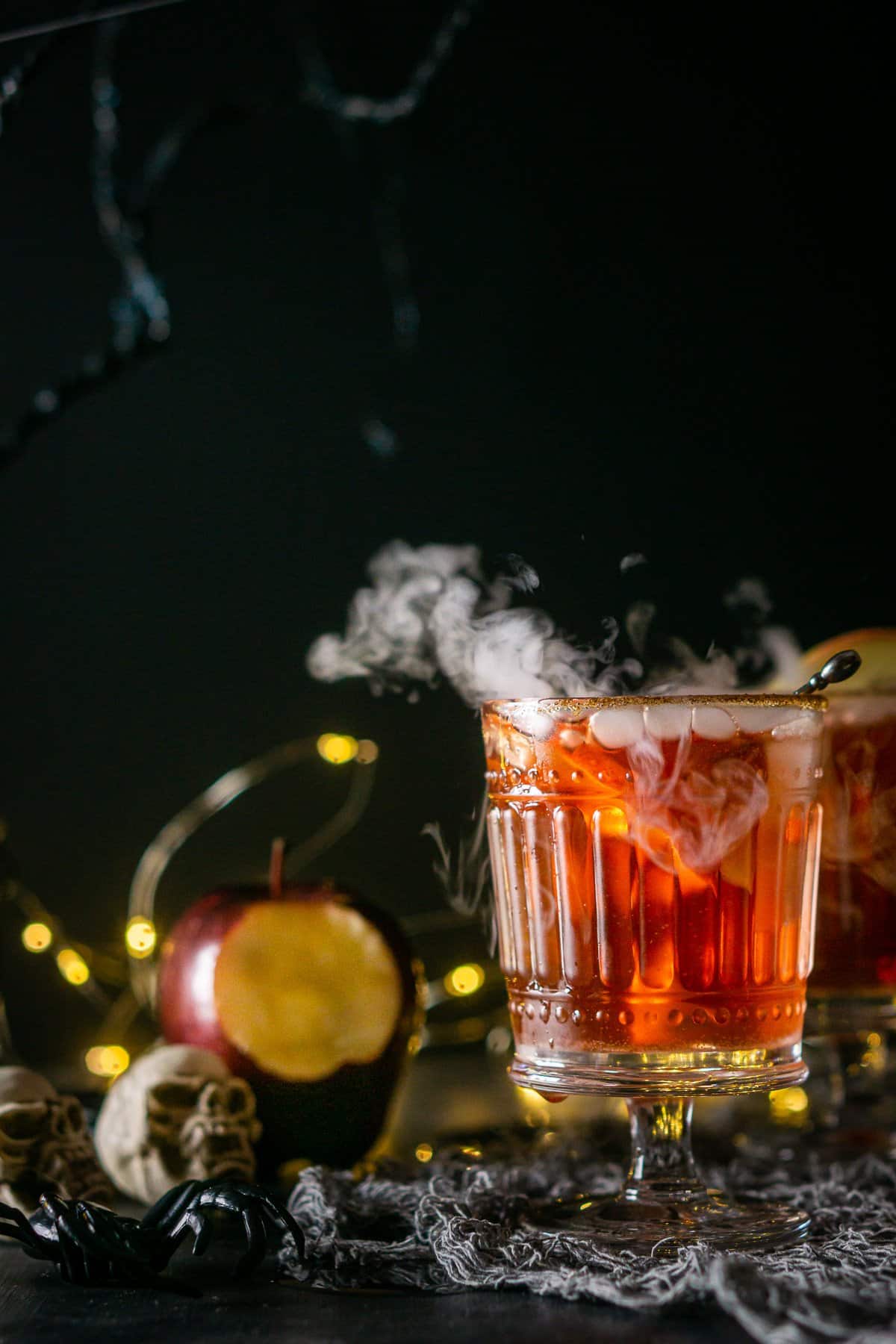 Don't worry. This smoky, bubbling spiced apple cocktail only looks wicked, surrounded by skulls and creepy crawly things. But it's a unique creation thought up by wonderfully talented Amanda of Burrata And Bubbles.
Get started by making your apple spice simple syrup weeks in advance if you choose. But on the big day, you'll want to prepare the cocktail, which includes rum, brandy, and ginger beer.
And if you want that bubbly smoky effect, add dry ice, but follow the safety instructions.
Visit Burrata And Bubbles for the recipe.
Black Widow Martini Mocktail
We like this black cocktail from Emmeline of Always Use Butter. It's a festive take on the good ole dirty martini. Plus, it's super easy to make with just a handful of ingredients like beet juice, lemon juice, and olive brine.
This sophisticated, grown-up drink is perfect for those practicing sobriety or the designated driver, unlucky, picking the short straw. But if none of that applies, it can still make a great cocktail. Just add vodka.
Visit Always Use Butter for the recipe.
Black Magic Rum Halloween Cocktail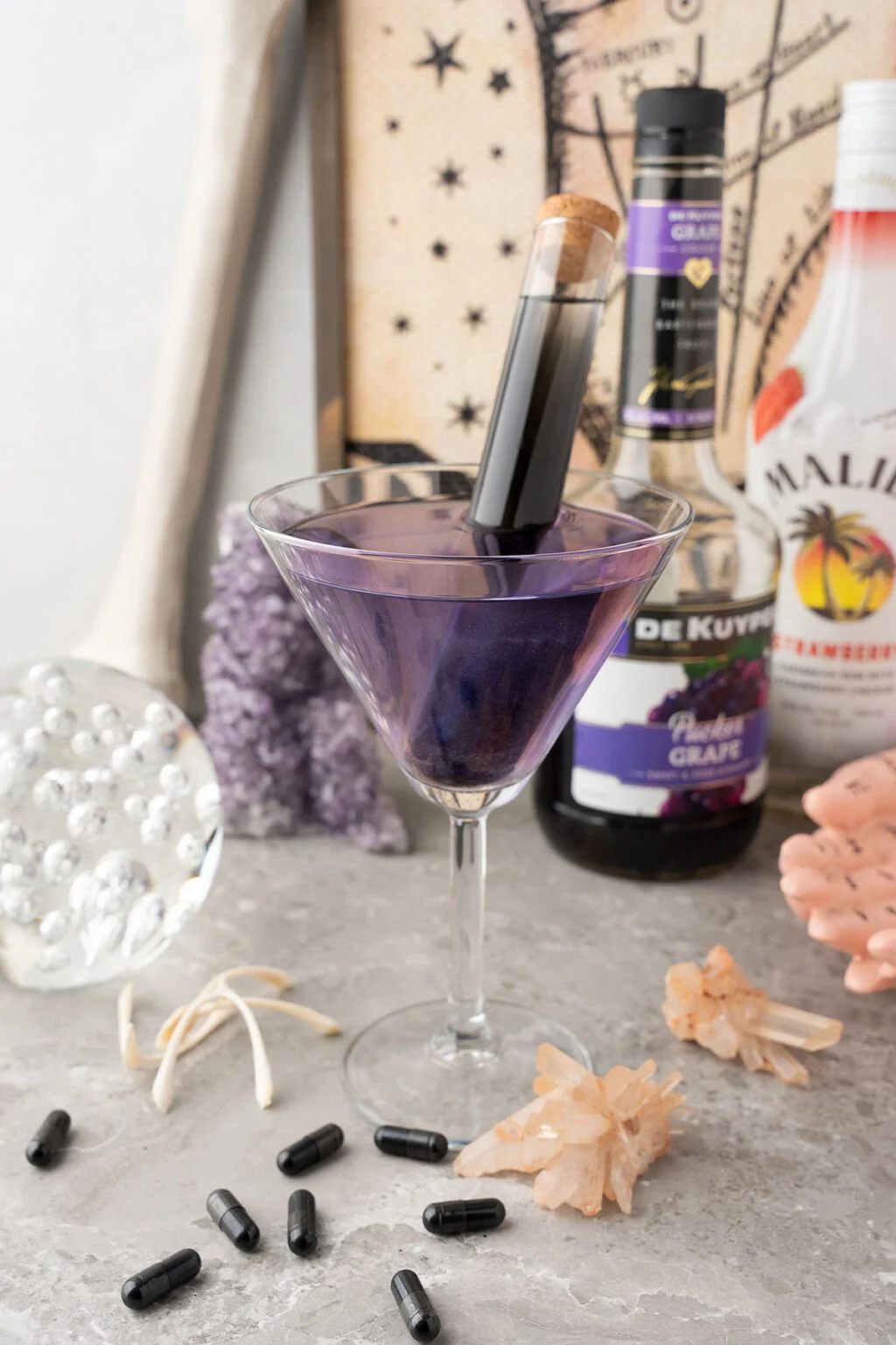 This grape and strawberry rum cocktail from Bella of the lifestyle destination blog XOXO Bella features lots of flavors, booze, and a spooky aesthetic.
The drink starts purple but gets dyed black when you add the vial filled with food-grade activated charcoal. That's pretty awesome!
So check it out. You'll find a creepy recipe, pretty pictures, clear instructions, and options for customization.
Visit XOXO Bella for the recipe.
The Phoenix Cocktail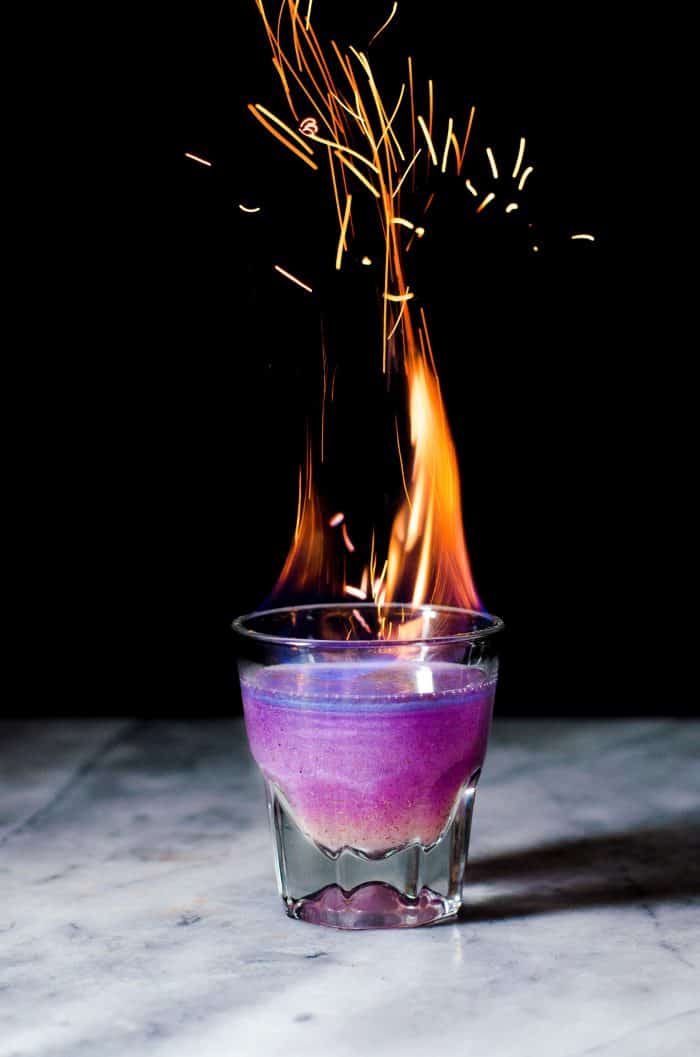 Self-proclaimed food geek Dini is The Flavor Bender, whipping up creative and delicious recipes that reflect her many travel and cultural experiences. So check out this Phoenix cocktail recipe, but we're sure you'll stay for so much more.
Speaking of the cocktail, it's a well-tested and balanced "…floral and sweet, Gin and Elderberry…" concoction with a spectacular fiery Phoenix rising effect. It's perfect for Halloween and many other occasions.
The recipe page is filled with detailed instructions and images presented in Dini's unique and entertaining style.
Visit The Flavor Bender for the recipe.
Vampire's Kiss Cocktail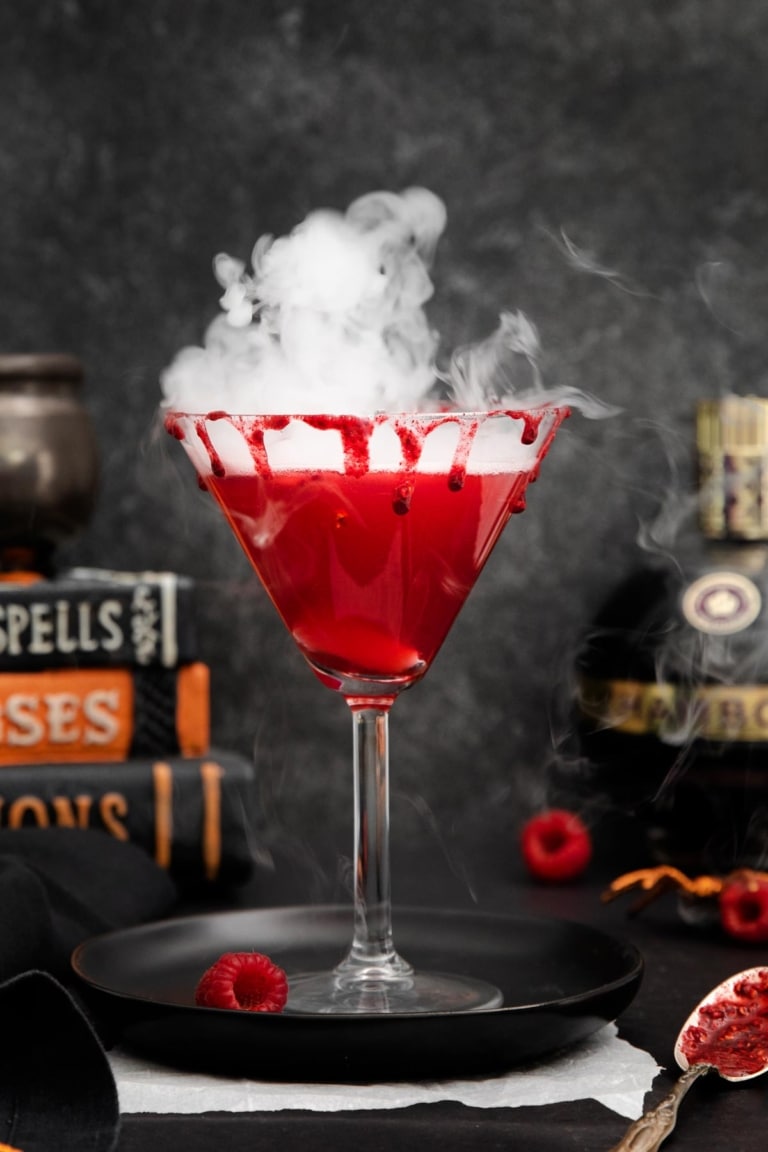 Dracula won't be the only one saying, "I vant to suck your blood," this Halloween. Because when you try this crimson vampire's kiss cocktail from Erin of Food Doodles, you'll wish you were a night stalker too.
The best part, though, is that this alcoholic beverage is rather simplistic. There are but four ingredients: raspberries, Chambord, vodka, and lime juice. So you won't find any added sugar, food coloring, or other "funky" stuff, as Erin says.
Visit Food Doodles for the recipe.
Frankenstein Margaritas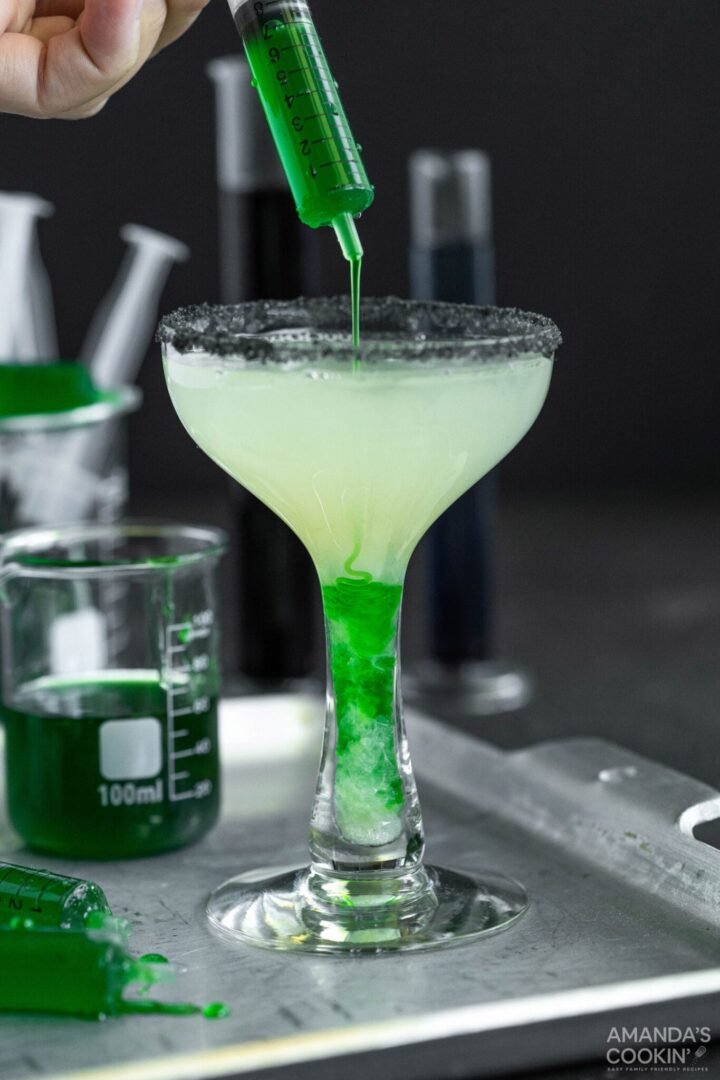 Green, sweet, sour, and packing a wallop, these Frankenstein margaritas from Amanda's Cookin make a great adult beverage sipper with a surprise. See that syringe filled with green liquid?
Well, that's the "goo" that brings the drink together and sets this Halloween booze apart. It's a thick, sweet, and sour add-in consisting of corn syrup, cornstarch, lime juice, and lime zest.
It's also guaranteed to get the party started. So, you'll have fun watching grown folks turn into kids with this one.
Visit Amanda's Cookin for the recipe.
Bloody Mary IV Bags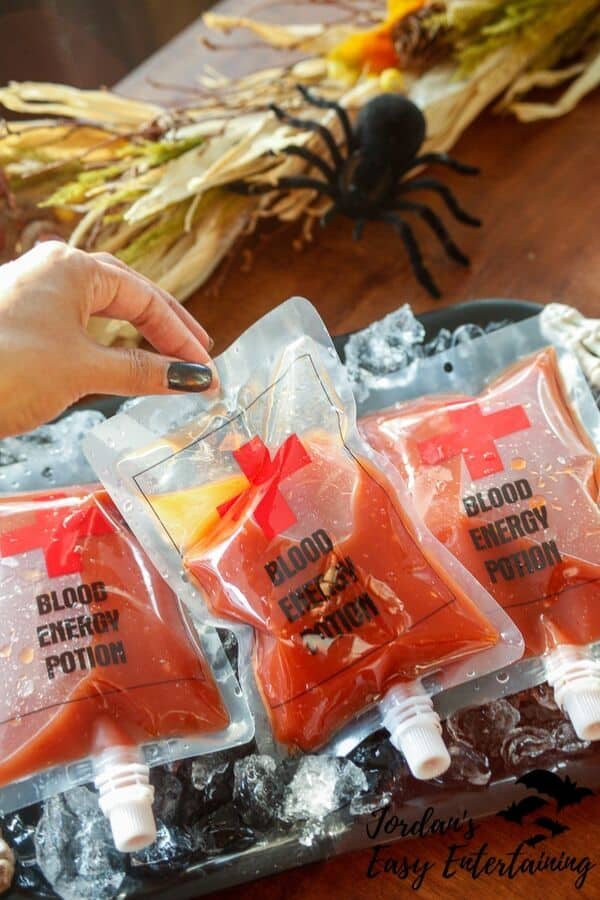 This classic bloody mary from Jordan's Easy Entertaining has all the components you could want in the iconic zesty cocktail, like tomato juice, horseradish, olive brine, and pickle brine. Just make sure to pick quality vodka. That's key.
What makes this project so much fun, however, is the presentation. When you pour the red mixture into these playful faux IV bags, you get an unforgettable drink all your party attendees will love.
Visit Jordan's Easy Entertaining for the recipe.
Halloween Mimosa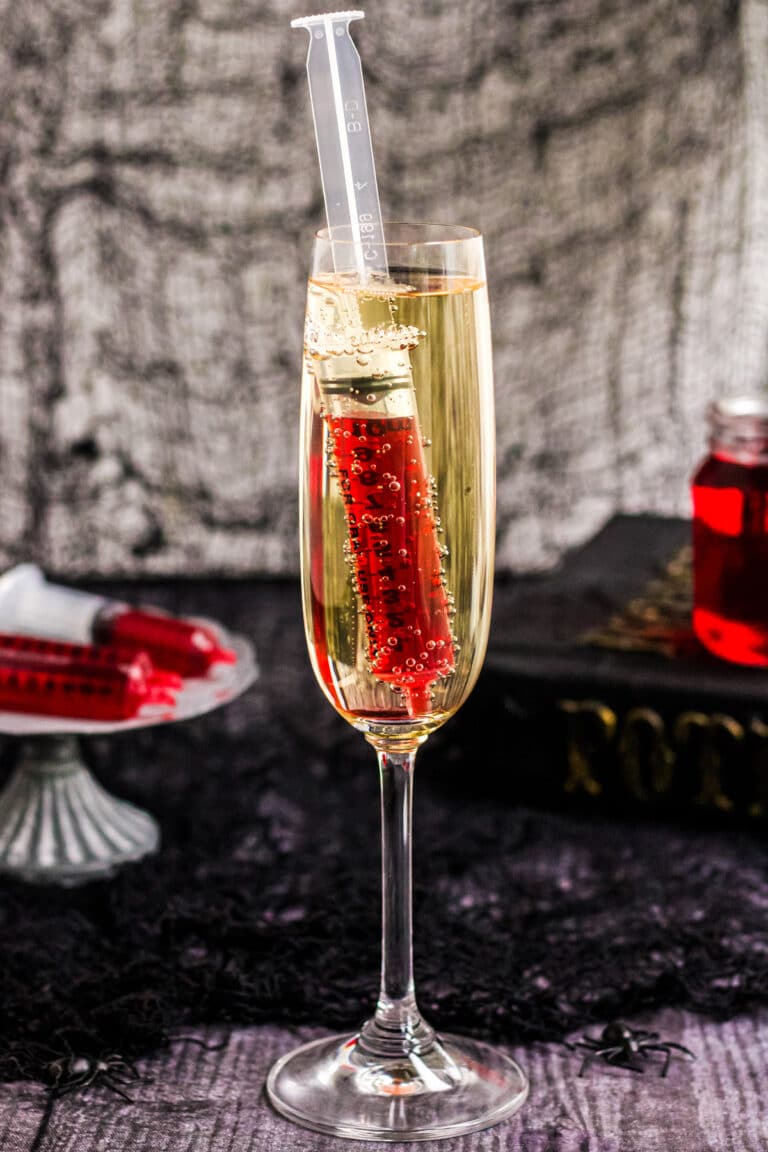 While a typical Sunday morning might feature mimosas benign as they can be with orange juice and champagne (or the more accessible, sparkling wine.)
Instead, these two-ingredient spooky mimosas from Karen of Fresh Coast Eats are composed of sparkling wine served with blood syringes. That "blood," however, is just tasty cherry grenadine.
Indeed, you can serve these mimosas for a creepy breakfast, but the goons, goblins, and other nightmare creatures will love them at night.
Visit Fresh Coast Eats for the recipe.
Dark & Spooky Cocktails
The "Dark & Spooky" from Marley's Menu is a tasty cocktail aptly named for the occasion. I mean, you would never make a mixed drink with "blood" running down the sides for any other time of year than Halloween. Unless, of course, you're a real bloodthirsty vampire.
Yikes!
The drink itself is delicious. It has lots of rum, ginger beer, and lime juice. So, how's that for flavor? The sweet red "blood" made from lime juice, powdered sugar, and food coloring runs down the glass's sides.
Optionally, you can order skull ice cube molds to up the eerie factor.
Visit Marley's Menu for the recipe.
Halloween Jungle Juice Recipe
With vodka, triple sec, and tequila, this Halloween jungle juice recipe from Melanie of The Cagle Diaries is a great way to get the party started. Not to mention, this dreamy cocktail has lots of fruit and fruit juices.
Just decorate the serving table with Halloween ornamentation, and this boozy orange elixir will be the star of the show. So you may will need to make more.
Just remember those apples, strawberries, and maraschino cherries will soak up the alcohol. So be careful not to overindulge.
Visit The Cagle Diaries for the recipe.
Halloween Punch
Frozen lemonade, cranberry juice cocktail, and ginger ale make the base of this frighteningly delicious Halloween punch from Lisa of Delicious Table.
Alcohol is totally optional (although it gets our vote.)
Add food coloring to change the color to green or red. You can add sherbet for more flavor and texture to up the gross-out aspect. Or add ice skulls, hands, or feet to make it a really spooky presentation. Whatever you choose, Lisa will assist you along the way.
But the dry ice for that "smoky" effect makes the cauldron work. Find it at your grocery store. Just follow all safety precautions.
Visit Delicious Table for the recipe.
Blood & Brains Cranberry Halloween Cocktail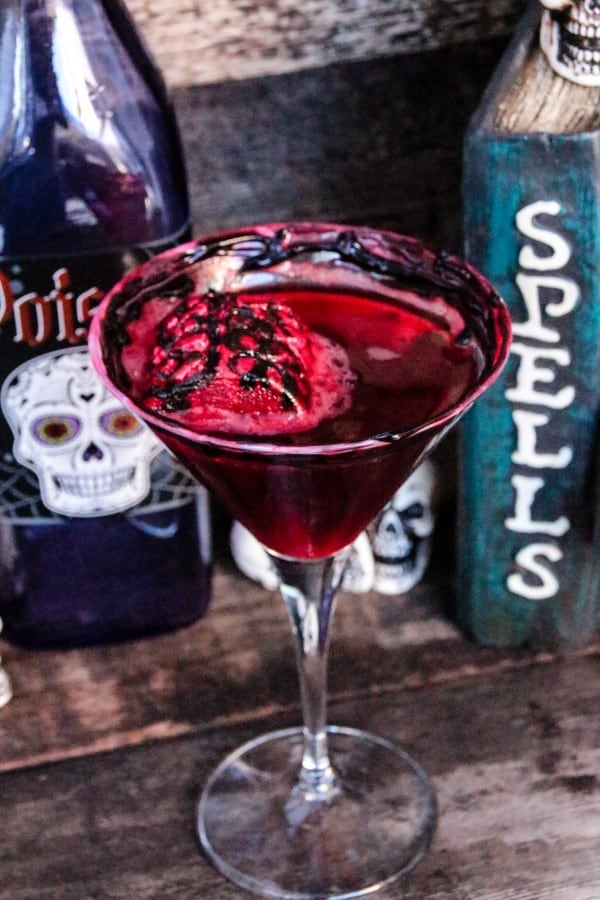 Ewww! Blood and brains in a cocktail. There's something wrong with this picture, right? That's just plain gross and unthinkable.
But don't worry, despite the grisly display, this cocktail is actually a harmless yet delicious offering from This Mama Loves. Indeed, it is a showy presentation but full of juices and alcohol to get the "blood," and the "brain" is a marshmallow. How creative!
Visit This Mama Loves for the recipe.
Creepy Crawler Cocktail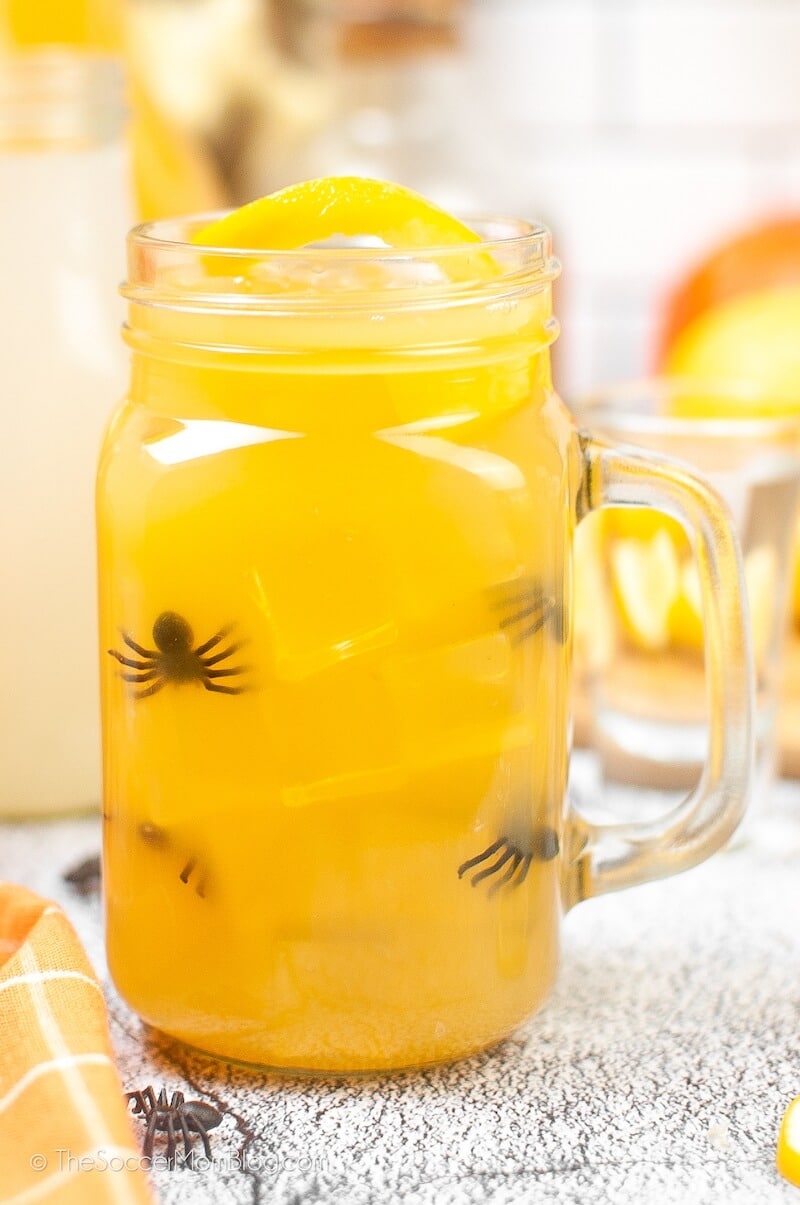 You'll love this chilling cocktail from Stacey of The Soccer Mom Blog if you love fruity alcoholic drinks. There's guava juice, lime juice, and lemon-lime soda combined with lots of vibe-enhancing tequila and vodka.
Additionally, there are refreshing orange and lemon slices. So, you have a delicious fruity drink that seems more suitable for sipping at the beach or by a pool than at a Halloween party.
But for creeps' sake, Stacey added plastic spiders to the pitcher—a subtle but spooky ornament that goes a long way.
Visit The Soccer Mom Blog for the recipe.
Tootsie Roll Shots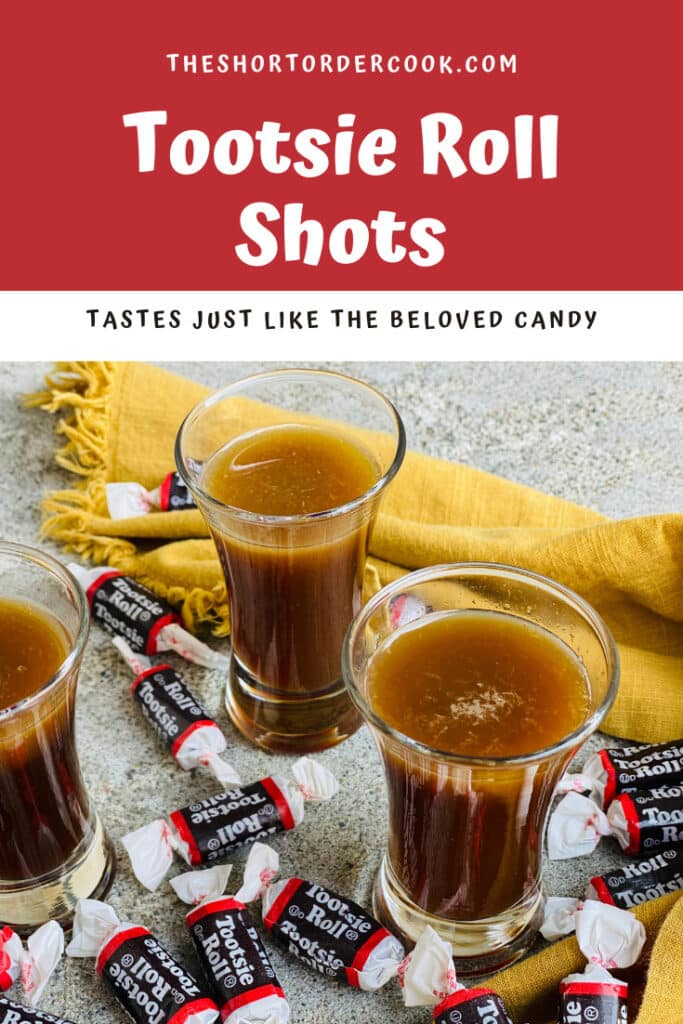 While Tootsie Roll shots from Angela of The Short Order Cook aren't spooky or creepy, they certainly put you in the Halloween frame of mind. In fact, it's the only time of the year that I see people eating the iconic candy.
What's so trippy about this recipe, however, is that it requires just two ingredients, and neither one is a Tootsie Roll. So it's all about the ratios. We'll let Angela fill you in on the rest.
Visit The Short Order Cook for the recipe.
Frankenstein Margarita Recipe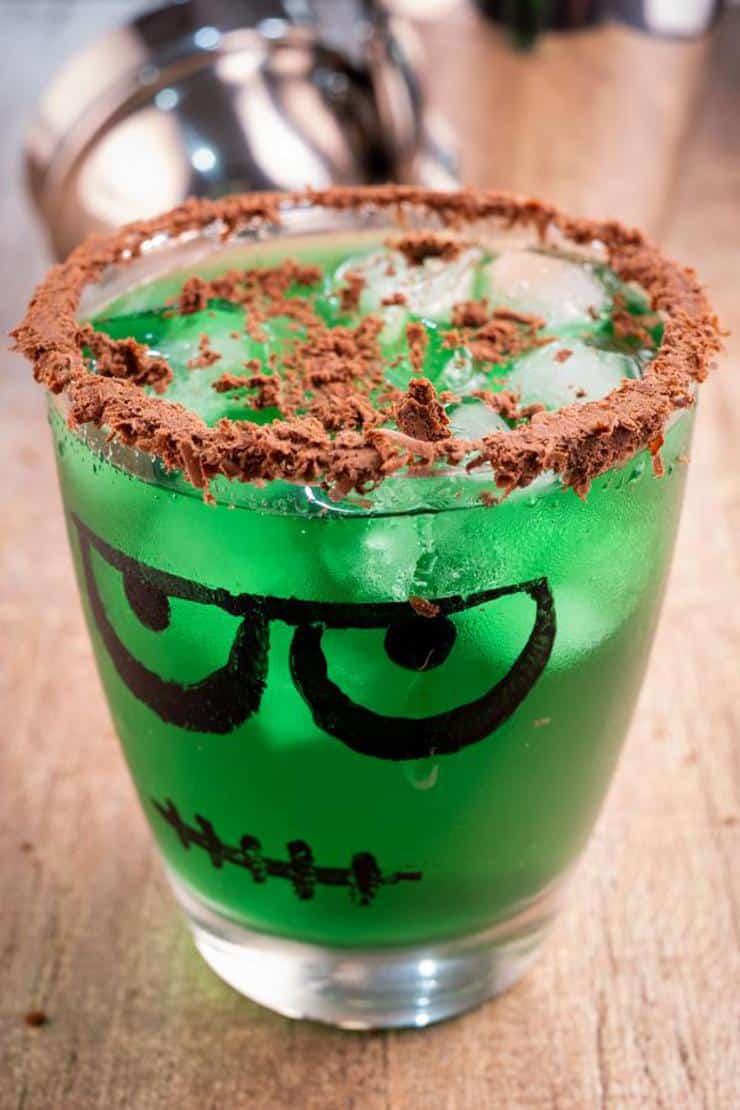 Anyone can make this simple Frankenstein's monster mixed drink from Kimspired DIY with a marker and a steady hand. It contains just six ingredients, including three different kinds of alcohol, lime, and chocolate.
Before you pour the drinks over the rocks, rim the glass with chocolate shavings. And yes, if you weren't aware, chocolate pairs well with lime.
Visit Kimspired DIY for the recipe.
Creepy Halloween Shirley Temple
This creepy Shirley Temple from Toni of Boulder Locavore is non-alcoholic. So there's no reason all your Halloween party guests can't enjoy the festivities. But as the title says, it's still a very spooky drink.
A typical Shirley temple contains ginger ale for that champagne-like effervescence, lime juice, maraschino cherries, and grenadine (bar syrup). But Toni fills the syringe prop with the grenadine for a hair-raising effect.
Visit Boulder Locavore for the recipe.
Green Goblin – Creepy Halloween Cocktail Recipe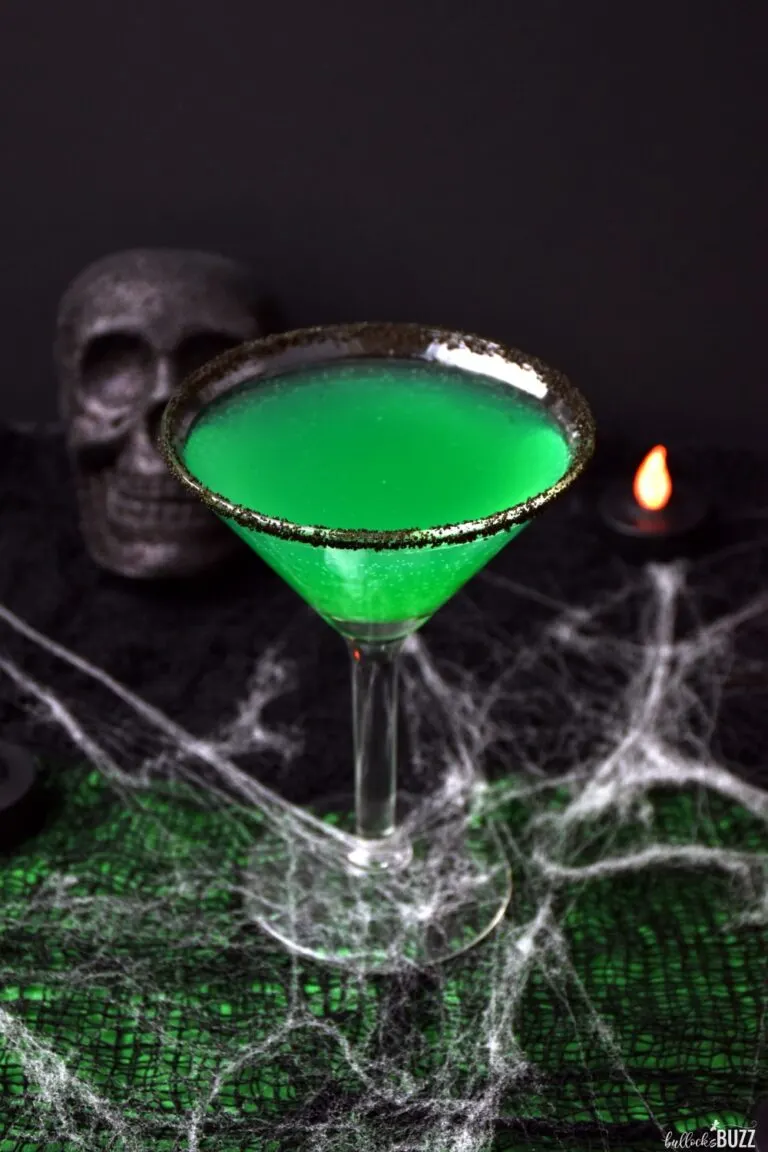 As Alaina of Bullocks Buzz likes to say, this green goblin Halloween cocktail is "the perfect spooky sipper." It's a vibrant green with an almost glowing effect. As for the flavor, it's both tart and sweet—a trick and a treat.
To get started, you need to rim the drinking glass with black sanding sugar. As for the drink itself, it's a rum-filled libation with blue curacao syrup, lemon-lime soda, and other juices.
Visit Bullocks Buzz for the recipe.
Witch's Brew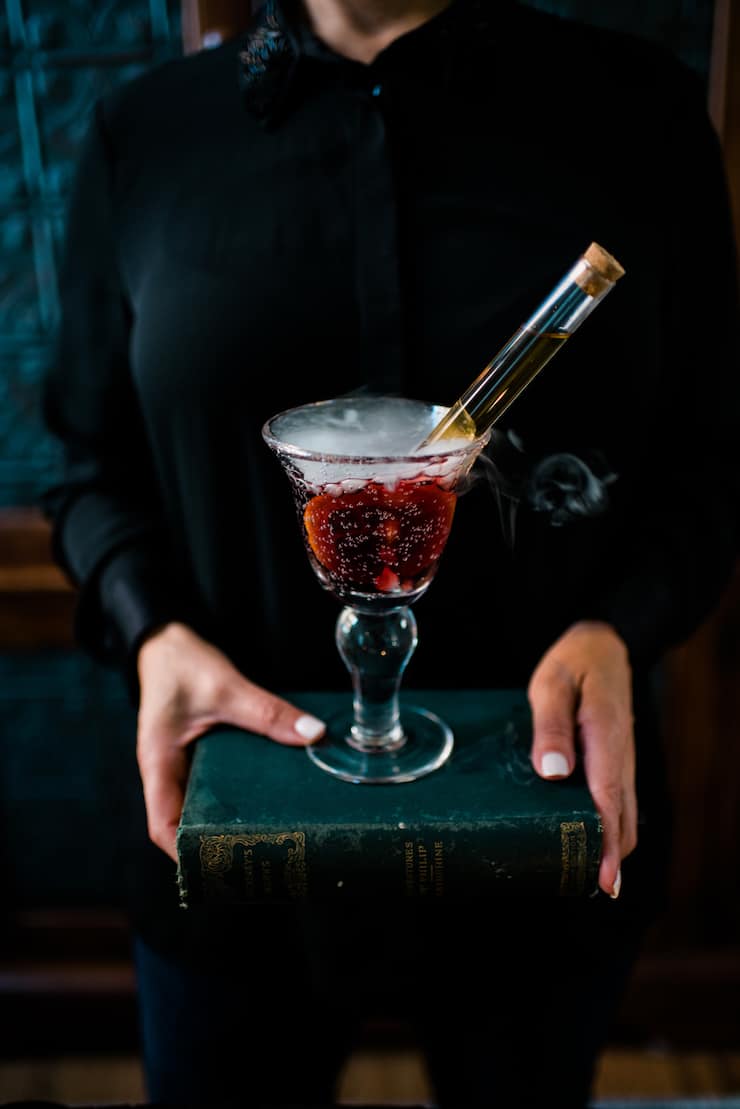 With red wine, blood orange, lime, mineral water, and bourbon, this Witch's brew from Yvette of Muy Bueno Cookbook is basically a tastebud-pleasing sangria, which is amazing itself. But the smoke rising from the glass gives us the creeps.
You can serve this boozy spooky delight as a big batch cocktail or keep it handy as a sipper while you pass out treats to trick-or-treaters. So whether it's a party of one or twenty, it'll be a hit.
Visit Muy Bueno Cookbook for the recipe.
Which Halloween Cocktails Do You Want To Try First?
Is it witch's brew, the Frankenstein margarita, or something else entirely? Let us know what you think.