In this Zojirushi bb-pac20 review you will find a very detailed hands-on review of one of the best (and most expensive) consumer bread machines on the market. Also, in this review, you will discover why the "best" bread machine is ultimately subjective. Sure, some bread makers are simply better than others. There are things like quality of build and features that can make a machine superior.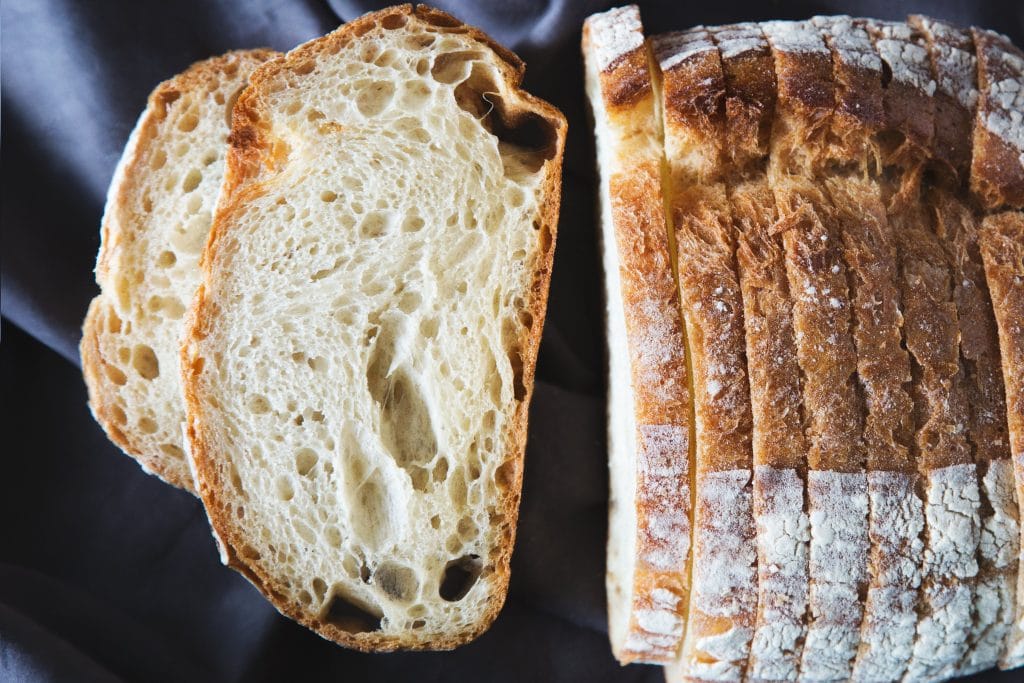 But when all of those attributes are near equal, it can become a challenge to truly distinguish one product from another. Some qualities that reviewers may forget to mention are cord length and overall size or ease of use.
So, with that, I hope that you find value in the review below.
Click here to see the Zojirushi bb-pac20 on Amazon
| Features Chart: | |
| --- | --- |
| Dimensions: | 18" Long x 10.5" Deep x 13" Tall |
| Wattage: | 600W, lid heater – 40W, Motor – 100W |
| Instruction booklet: | 51 pages in color |
| Cord Size: | Short |
| Viewing Window Size: | 2.5" x 1" |
| Warranty: | 1-year |
| Delay Timer: | Up to 13 hours |
| Crust Control: | light, medium, dark |
| Quick Bread Option: | yes |
| Kneading Blade(s): | 2 |
| Gluten-Free: | yes |
| Menu Options: | Basic, wheat, gluten-free, dough, jam, cake, sourdough starter, quick |
| Heating Elements: | 2- main body heater, and lid heater |
| Weight: | 22.5 pounds |
| Loaf Sizes: | 2; One pound, Two pound |
Zojirushi BB-PAC20: A Better Bread Maker Machine
Design, Quality of Construction, and Size
The black and stainless steel bread maker isn't what I'd call a pretty machine. I mean, I get it, a lot of people appreciate stainless steel appliances but there just isn't anything particularly pleasing about this one from an aesthetics standpoint.
But looks are far from being the most important thing to consider about an appliance before you buy it. What really stands out about this machine is that it is very well made. The quality build of this machine is apparent just by looking at it. And especially when you compare it to other famous bread makers.
Let's take the lid for example. In my review of the Cuisinart cbk-100, I mentioned how the hinges that connect the lid to the body are a little bit weak and flimsy. On this Zojirushi bread machine the hinges are super sturdy. In other words, this lid ain't coming off unless you intentionally try to break it off.
I've come across a lot of bread makers in the last few years and one of the things that stands out to me is that the control panel is almost always undersized and a bit difficult to read. This control panel, however, is different. A lot different. It actually sports a large font size. And even a large LCD screen. What's more is that some menu options sport colors; start, cancel, and crust control.
Now, let's address the elephant in the room; the Zojirushi bb-pac20 is a large small kitchen appliance. Not just a little larger than the competition. It's just a big ole rectangle. It's tall and long and wide. And unfortunately, if you have a small kitchen with limited countertop space this thing will make your area feel even smaller.
Small Quirk: The power cord is a bit on the short side. This can be annoying depending on the layout of your kitchen. Although I certainly wouldn't consider this to be a deal breaker. If you must, you can use an extension cord but be sure to follow the safety precautions detailed in the instruction booklet.
Lid
More about that lid. Everything that you see on this machine is simply of a higher quality than you'll find on most any other bread machine, with the exception of maybe a model from the Breville line. Many bread makers have a viewing window, but this is the largest viewing window I've ever come across.
It's about 7" x 1.5" which is a large enough opening to help you take a sneak peek at your bread during the baking process. With smaller viewing windows it's hard to really see what's going on in there without opening the lid.
Click here to get more details on the Zojirushi bread maker
There are steam vents on the back of the lid that are essential for ensuring a crispy crust and a perfectly moist interior of your bread.
The real magic in this lid is that it has a heating element all its own. This really does work well for even baking. Another thing that is special about this machine is that the bread making process will actually stop if you lift the lid. Other bread machines that I've used don't have this feature.
This encourages you to leave the bread alone and let it do its thing. If you're constantly opening and closing the lid then you will release the heat and impede the processes. For example, yeast works best with a steady temperature rather than wild fluctuations that would occur with constant opening.
Baking Pan
The baking pan for the Zojirushi bb-pac20 is very sturdy. By comparison, when researching the Cuisinart cbk-100 I discovered some complaints that the baking pan warped over time (In fact, you can bend it a little just by applying a bit of pressure to the sides). I assure you, you won't have to worry about that problem with this one.
The bread pan is very easy to clean thanks to the nonstick coating. I usually don't like products with nonstick coatings, but this one is different. It's very high quality. I don't think it'll come off like those cheap nonstick pans from Ikea.
Even the handles are thick and sturdy and attached to the pan with 4 small bolts on each side. These handles allow you to easily remove the pan from the unit itself. The pan snaps in one side at a time. To release the pan you need to tilt the pan towards you and lift. It's one of the easier bread pans to remove and replace.
Unlike other bread pans this one has two kneading blades. These two kneading blades undoubtedly do a better job at mixing the ingredients than their single kneading blade counterparts. Those blades are coating in something that makes them look all shiny. This will protect it from the wear and tear that it will receive over the years. On the underside of the baking pan there are wing nuts that you can use to release the kneading blades should they become baked into the bread.
Note: Make sure that you install the kneading blades the right way. When done right they will sit flush on the bottom of the baking pan.
Releasing the kneading blades from the pan isn't as easy as it might seem. Often times the baked on bread gets into the little crevices between the rotating shaft and the kneading blade. The result is that the baked on bread is like glue making it very difficult to remove them. To avoid this, you can remove the kneading paddles before baking starts. Several beeps will alert you when the baking process will begin (refer to the manual).
Another Note: Do not use anything abrasive to clean the baking pan. Just hand wash with water and a mild detergent.
Menu Options
There are many options for you to make the best bread for you and your family. You can choose from the following options: basic, wheat, gluten-free, dough, jam, cake, and sourdough starter.
Like most bread makers you have to choose a crust setting. I have to say though, the crust comes out a lot darker and thicker than the bread I've made in other bread machines. This is likely due to the separate lid heating element. We prefer a medium crust, but a lighter crust is probably delicate for most recipes.
Want more information on the Zojirushi bb-pac20? Click here
There is an option to make your own homemade bread recipe as well, and you can set your own times for the different stages of the baking process.
Control Panel
This is definitely my favorite control panel of all of the bread makers I've tried so far. It's large and the font size and style are very easy to read. You won't need to get out your monocle to see the words. The LCD screen is very large (compared to other bread machines), about 2.5" x 1". The buttons are big and responsive. Do you know how you have to press the buttons really hard on some machines? Yeah, that's not the case here.
The LCD screen displays the stage you're presently at during the whole process, and it even tells you the time at which your bread will be ready.
Delay Timer
There is a button called timer which can be used to set your bread maker to have the bread done at a particular time. This is a very convenient feature. If you and your family love warm bread (who doesn't?), then you can add the ingredients into your machine and have the bread ready for dinner when you all get home. Most bread machines have this feature. You can set the timer to delay the start up to 13 hours.
Instruction/Recipe Booklet and DVD
The Zojirushi bb-pac20 comes with both a recipe/instruction booklet as well as an instructional DVD. This is far and away from the best that I've seen from any small kitchen appliance. The DVD covers the basic setup of things and how to get started. It covers measuring and other best practices. It is so great to get a visual on how to use a machine.
The book is 51 color pages that include detailed instructions and images that guide you through anything that you might have a question about. Unlike many other instruction booklets this one is full size. That means that they didn't have to cram every bit of information onto a halve-page. It's really refreshing to see that they put so much effort into the booklet. There's even 100+ recipes in the booklet—more than enough to get you started.
Measuring and Adding Ingredients
Like all of the other bread machines that I've tested, this one comes with its own special measuring utensils. You get a measuring cup and a two-sided measuring spoon. When measuring, you want to be sure that you aren't pressing down or packing the ingredients as this will result in you adding too much. This is especially true with flour.
All of the measuring directions are given to you in the accompanying handbook. You should definitely read the first 10 or so pages because they contain some very good instructions.
For example, the included measuring cup can measure any amount of dry ingredients. But you should only use it to measure exactly a cup of dry ingredients. This is because the best way to measure out dry ingredients is to spoon them into the measuring cup, then use the backside of a butter knife to level it off. This is to ensure accuracy. When measuring in amounts smaller than 1-cup, you should use those nested measuring cups (like the ones pictured below).
The measuring spoon is good for measuring a tablespoon/teaspoon. Use it for yeast, sugar, dry milk, salt, or even cinnamon.
It's best to add ingredients in the order that they are listed. Usually wet ingredients go first then and yeast is one of the last ingredients to be added.
Click here to check out reviews for the Zojirushi bb-pac20
Baking Cycle
If you haven't baked bread before then I'll fill you in on a little secret; it's a long process. For example, a basic white bread recipe is going to take about 3.5 hours. However, you can save a little time by turning off the initial rest cycle (this is explained in the booklet).
What's included in the box?
You get everything that you need to make your first loaf of bread. You get the bread machine itself, the baking pan, two kneading blades, a measuring cup, and a recipe book.
Results
We've tried several different bread machines across other brands and thus price ranges. I can say without a shadow of a doubt that the Zojirushi has so far produced more consistent great-tasting bread than any of the other machines we tested out so far. By far.
Not only is the bread better tasting but it also looks uniform—every single time. We absolutely love this machine.
With that, it's also true to our experience that the "lesser" machines produce decent to good results. So, ultimately you will have to decide if it is worth paying the steep price for great results.
Pros and Cons
There's a lot to like about the Zojirushi bb-pac20 but that doesn't mean that it is best for everyone. There are some cons to think about before you plunk down a car payment on this bread maker.
Pros
-Top heating unit
-Dual Kneading Blades
-Large Viewing window
-3 crust shade options
-Delay timer up to 13 hours
-baking process stops once you open lid
-Instructional DVD
-Very detailed instruction booklet
-rubberized feet on legs prevent the machine from "walking" off of your countertop
Cons
-Much more expensive than other bread makers
-Very large size, takes up A LOT of space on your counter
-Short power cord
-heavy (22.5 pounds)
Customer Reviews
Customers that profess their love for this machine tout this as the best bread maker they've ever used. These seemingly hyperbolic statements are more than fandom. We've had the same experiences! It gets praises for the loaf size and because it produces evenly baked bread.
Now, there are some complaints. One of the most common complaints is that it produces inconsistent results: lopsided, partially risen, etc. This issue could come down to user error and possibly bad units.
Perhaps from users whom have followed directions incorrectly or used cold ingredients when they should have used room temperature ingredients. Also, we've found that we get the best results when using Arthur flour all-purpose flour with a higher protein content than other flours. That's not to say that some people did not experience defects.
Other complaints that are worth noting are that some folks complain about the paddles wearing out, and aluminum getting into the bread. There are replacement knead blades also known as paddles available for purchase when the old ones start to show signs of wear.
Ultimately you will have to decide. Do your due diligence by reading through the reviews. I can tell you this however, I have yet to find a "perfect" product. I think that this one is a very good product overall.
Warranty
The bb-pac20 comes with a 1-year warranty. This is not an impressive warranty at all.
Click here to check price for the Zojirushi bread maker
Summary
The quality oven the build is evident just by taking a look at the thing. The hinge and lid are firmly secured to the body of the machine. You probably won't run into durability issues although there were some complaints from customers.
The one downside, for us, is the size. This machine is humongous. That means that it can't have a permanent spot on our countertop else the kitchen will look cluttered. If you have the space then this no problem. It's just that we don't fancy it on our counter.