These mint white chocolate brownie bites are a fantastic way to celebrate Christmas and the holiday season. They taste great and on top of that they look great and better still, they are fun to make. We had a blast making these sweet minty chocolate treats. Make these for your family and friends and no one will complain!
This recipe is ridiculously easy. While brownies from scratch are typically better tasting than the boxed stuff, we don't think the difference is great enough to warrant making them from scratch for this recipe. So, just grab a box of your favorite brownies (we prefer the fudgy kind).
Decorating Your Brownies
Decorating these brownie bites was a lot of fun. But we had to decide on drizzling or dipping them in white chocolate. Originally we thought to dip the brownies in the white chocolate. But we decided that for most people this would actually be a little more difficult than drizzling for a couple of reasons. For one the brownies might crumble a little and leave crumbs behind in the white chocolate. And the bigger issue is that in the time it takes to dip each of the brownie bites, the white chocolate would begin to harden.
So, for those reasons above we decided most folks would be better off drizzling the white chocolate over the brownies (feel free to dip though). We simply put the melted white chocolate in a Ziploc bag and cut a small piece off of a corner of the bag. We then drizzled the chocolate at an angle. Feel free to get a little crazy here, you can make patterns, etc. Magic. The white chocolate looks beautiful against the dark fudgy brownies.
Other Recipes To Try:
Prior to drizzling we chopped a few Andies mint chocolate candies and crushed some peppermint. You want to make sure that you do this step prior to drizzling because the chocolate will harden and the candy won't stick.
How To Make Mint Whit Chocolate Brownie Bites
First gather your ingredients.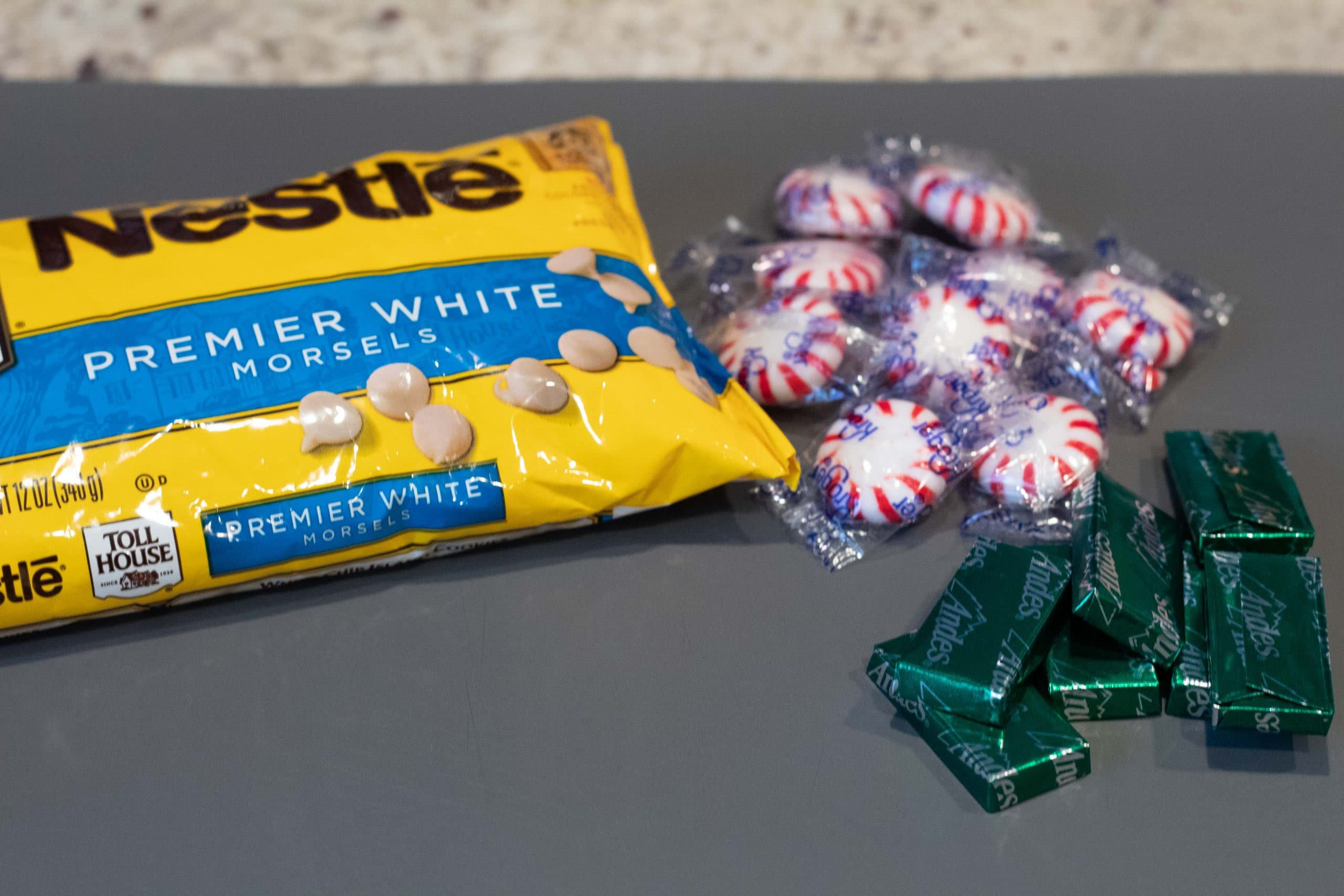 Next, make and bake those box brownies.
Melt the white chocolate and put it in a bag.
Drizzle the white chocolate over the brownies.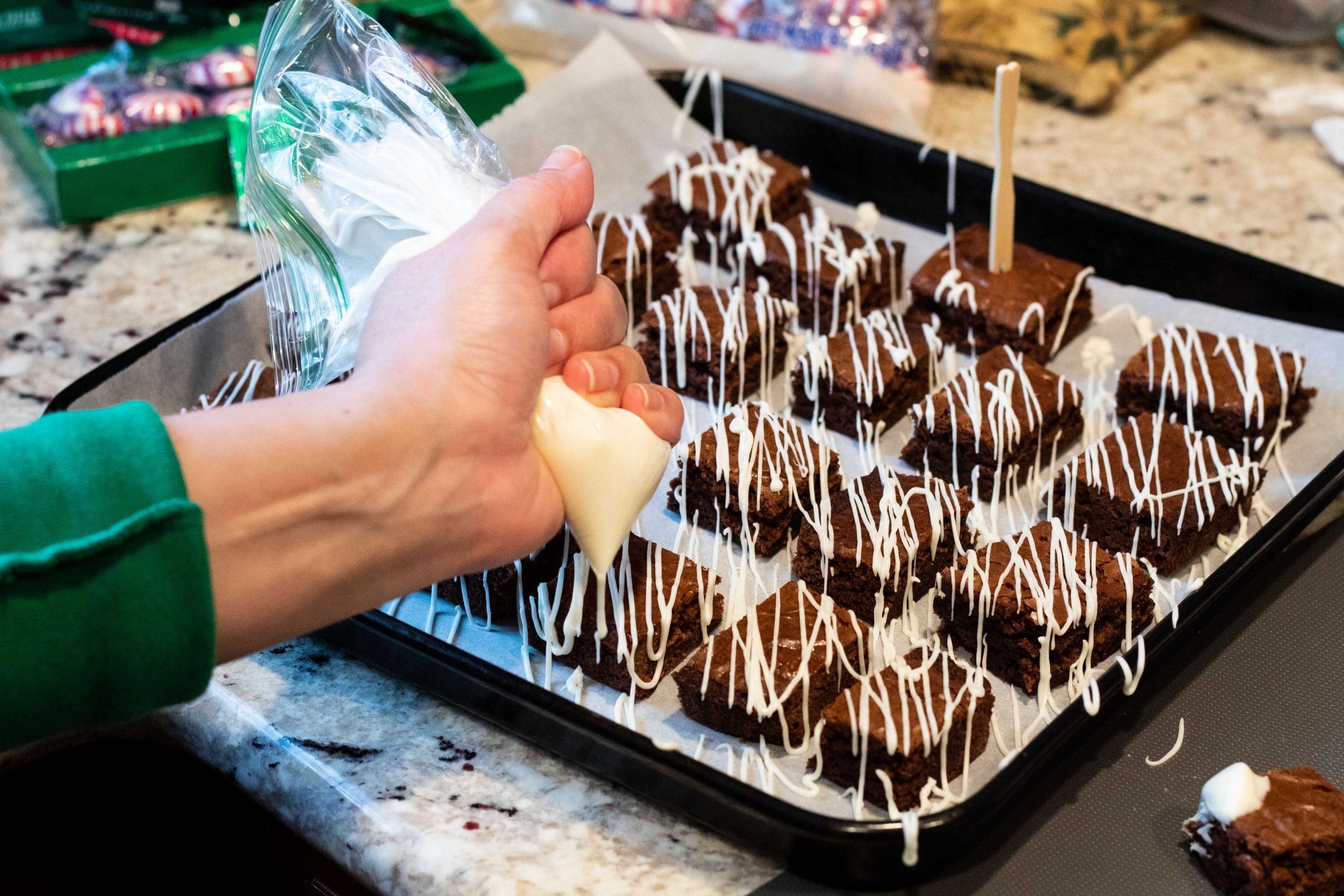 Next, sprinkle the mint candies.
We hope you have as much fun making these mint white chocolate brownie bites as we did!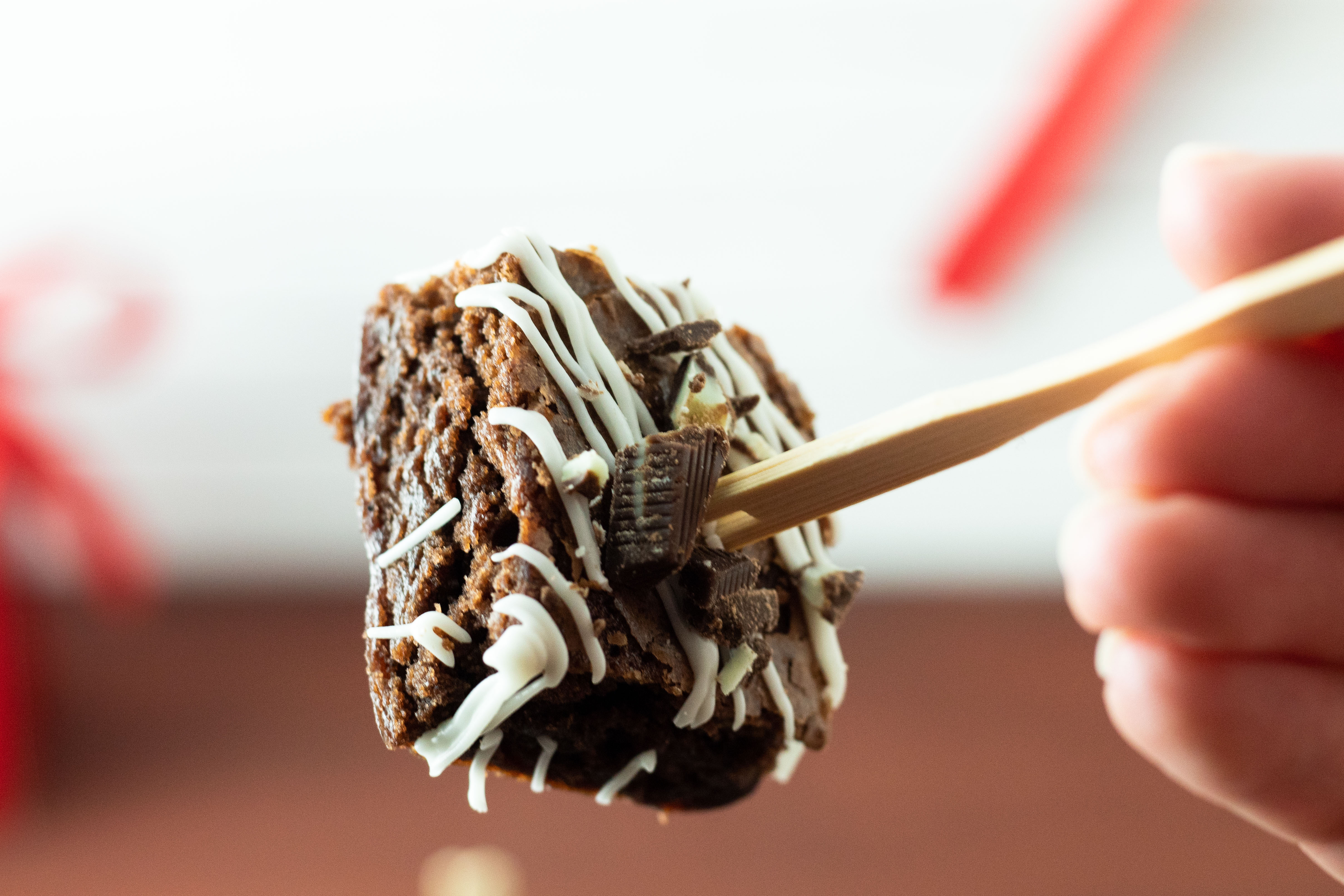 White Chocolate Mint Brownie Bites
These white chocolate mint brownie bites are amazing. They are very easy to make and require just a few ingredients that you can find at any grocery store.
Ingredients
1

Brownie Box Mix

1

Cup

of White Chocolate Chips

Chocolate Mint Candies

I used Andes

Peppermint Candies

Crushed
Instructions
Preheat the oven to 350 degrees.

Spray a baking sheet (11 ¾ x 9 ¼) with cooking spray and pour the mixture evenly in the pan. (See note). Bake for 22-25 minutes or until a toothpick comes out clean.

Allow brownies to cool completely. (See note)

Once the brownies are cooled cut them into squares and place them on a baking sheet lined with parchment paper. Set aside. (See note)

Chop the chocolate mint candies and crush the peppermint candies. Set aside.

Take a medium size pot and add about an inch of water. Take another heat proof bowl that is smaller and put it on top. Turn the heat on to medium low. You don't want the water to boil just simmer. Add the white chocolate chips and allow them to completely melt. This will take about 5 minutes.

Remove the smaller bowl from the heat wait about 2 minutes then pour the melted chocolate in a sandwich bag. Cut a small hole on the corner.

Drizzle the white chocolate over the cut brownies and top with the chopped candies. Enjoy!
Notes
The box I used called for 2 large eggs, 3 tablespoons of water, and ½ cup of vegetable oil.

You can use a standard 13 x 9 cake pan. I use a casserole pan because my oven is pretty small.

You can also speed up the cooling process by putting the brownies in the freezer for 15 minutes before cutting.

I cut the brownies small but you can cut them anyway you want. I like them to be about a two bite size dessert.