Say goodbye to bland and discover what cookies can be with this tasty list of extraordinary gourmet cookie recipes. You'll find some of the best, unique, unusual, and cool cookie recipe ideas ever.
But don't take my word for it! Here's a snapshot of what you can expect.
There are billionaire alfajores, strawberry cheesecake cookies, Amish oatmeal whoopie pies, and so many more! So are you ready to upgrade your cookies?
Let's dive in!
If you like this list, you'll love this compilation of shortbread dessert recipes.
Billionaire Alfajores with Toasted Coconut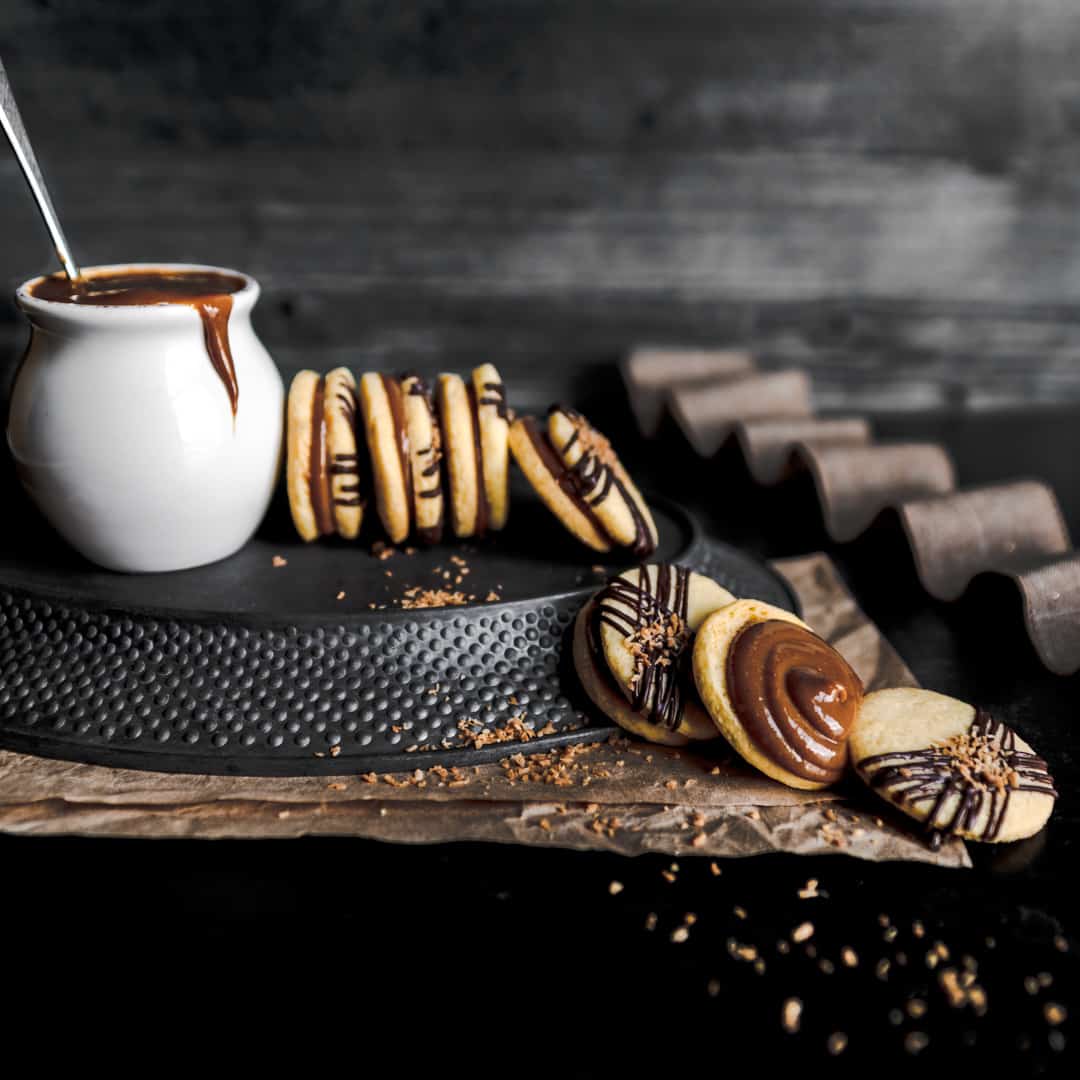 We're excited to introduce Billionaire Alfajores with Toasted Coconut by The Sage Apron! These cookies are the epitome of indulgence, with their soft, buttery texture and a rich filling of homemade dulce de leche. Picture yourself taking a bite and feeling the crumbly cookie melt in your mouth, followed by the rich caramel flavor and a hint of toasted coconut. It's decadence fit for royalty! But here's the burning question: Will you be able to resist the temptation of having just one?
Viennese Whirls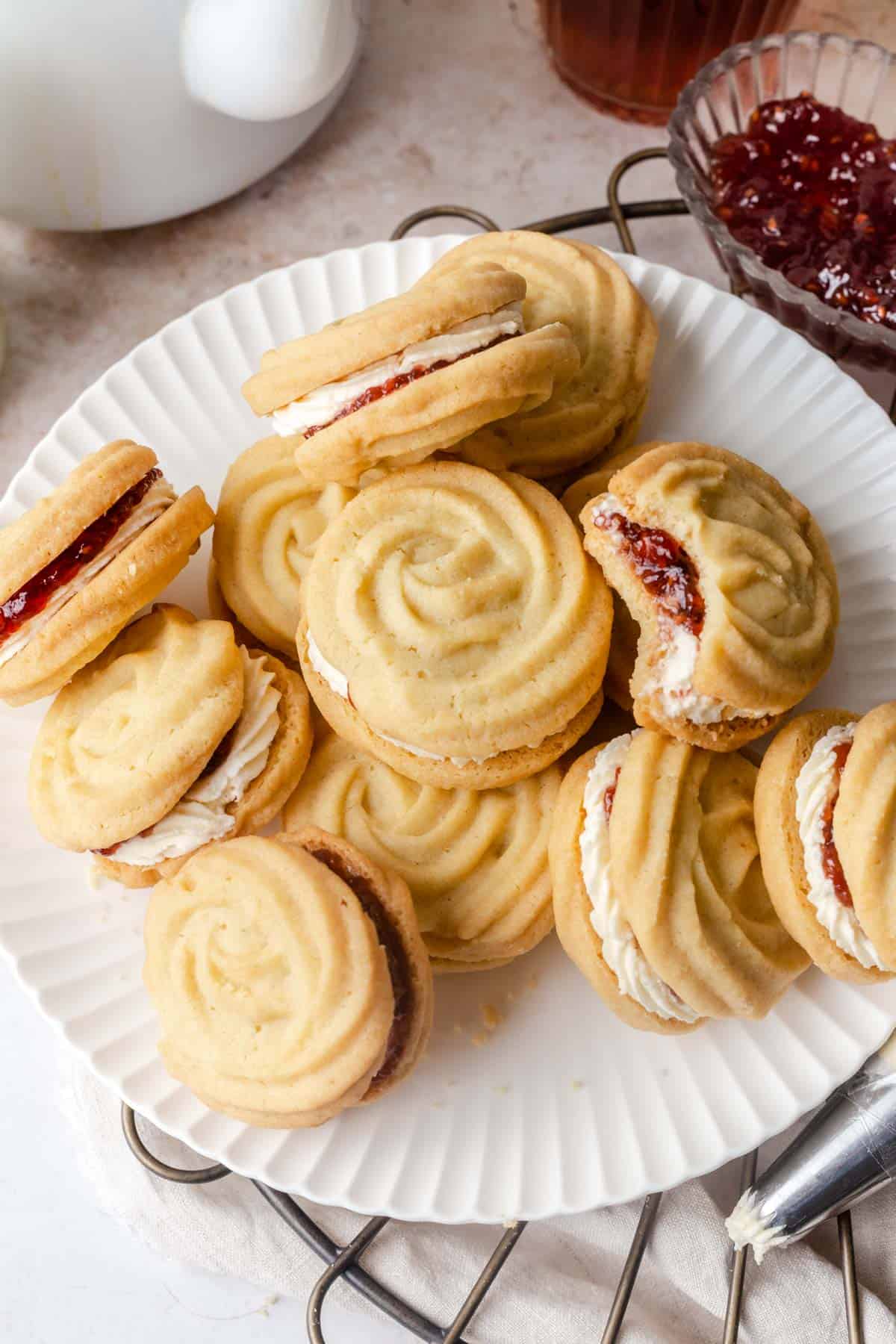 These iconic Viennese whirls presented by Emma Duckworth Bakes were made famous by the talented Mary Berry on The Great British Bake Off. They have captured the hearts and taste buds of contestants and viewers alike. And with just seven basic ingredients, including a secret one for the perfect texture, these melt-in-your-mouth sandwich cookies filled with vanilla buttercream and tangy raspberry jam are a delightful treat. Plus, you can get creative with different variations like chocolate caramel or lemon zest.
Edible Flower Shortbread Cookies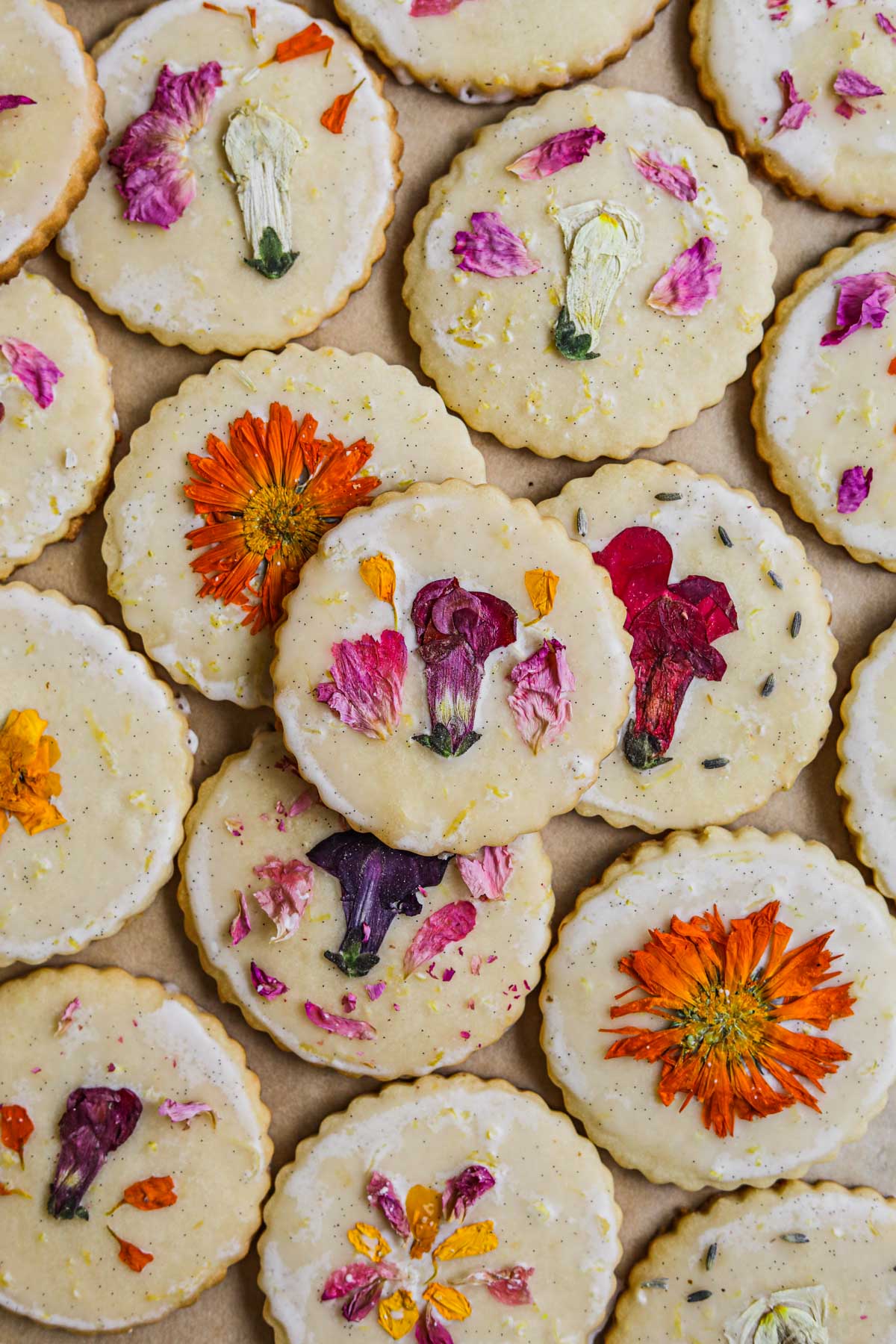 Edible Flower Shortbread Cookies from the Heirloom Pantry are exquisite and perfect for hosting or gifting! These melt-in-your-mouth treats boast sweet lemon shortbread dipped in a tangy lemon vanilla bean glaze, adorned with delicate pressed flowers. So with just a few simple steps, this recipe captures the essence of spring, inspired by the captivating super bloom.
Strawberry Cheesecake Cookies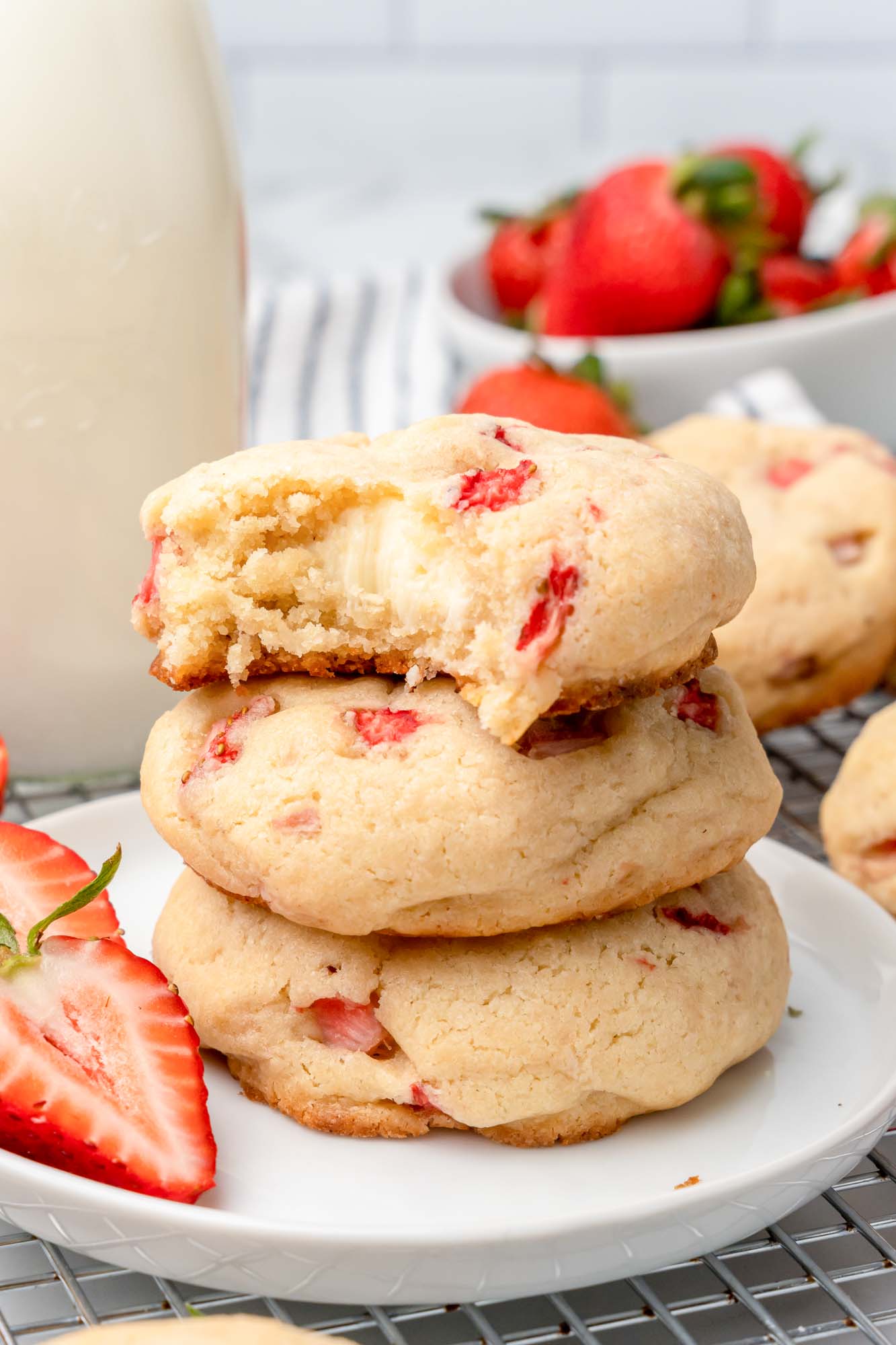 Strawberry cheesecake cookies are the ultimate cookie adventure. They're a buttery treat bursting with fresh strawberries and a surprise center of creamy cheesecake filling. And With simple ingredients like cream cheese, sugar, and diced strawberries, these oversized bakery-style cookies will impress everyone with their tangy-sweet goodness.
Birthday Cake Cookies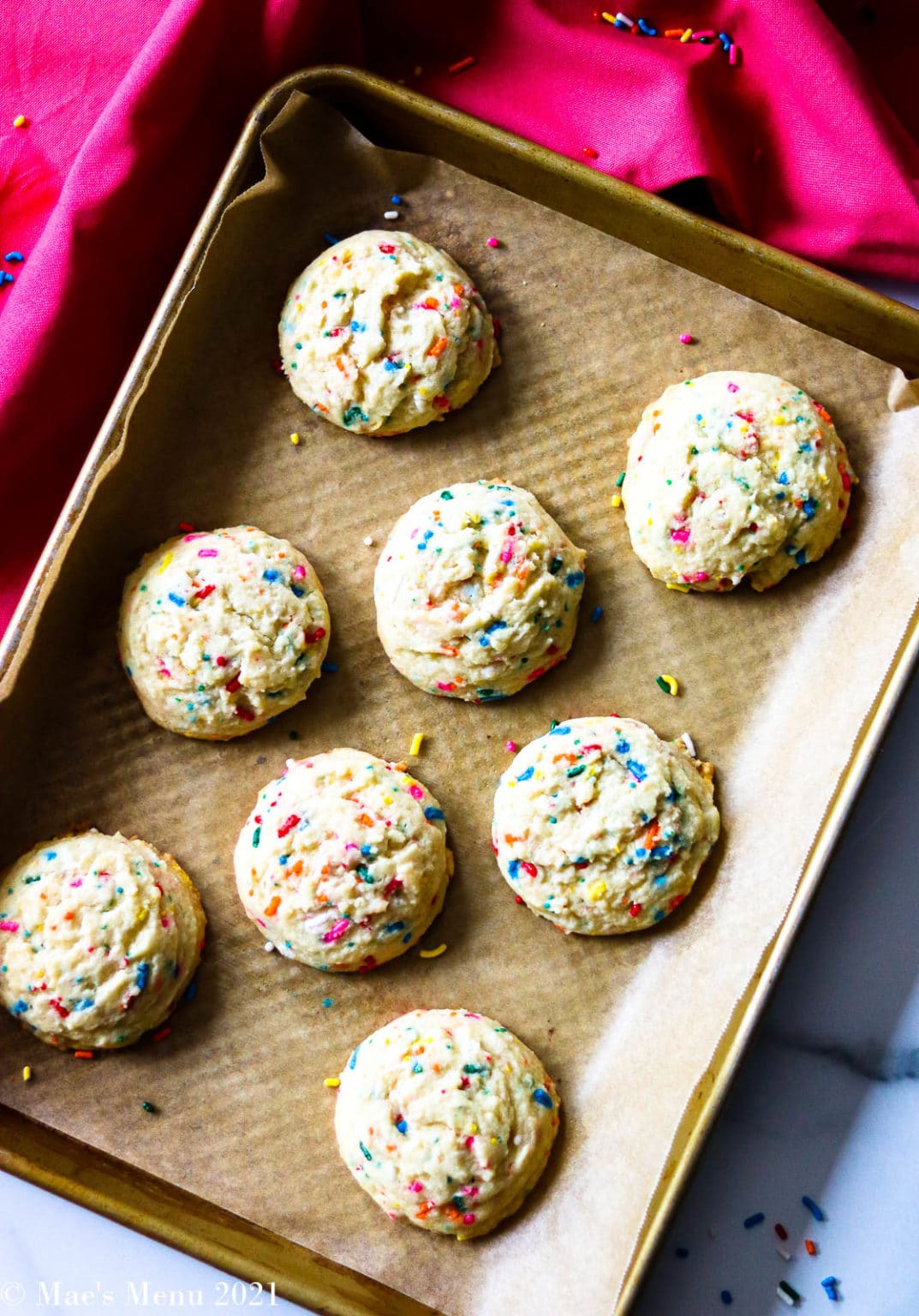 Birthday cake cookies, or Funfetti cookies, are a collision of nostalgia and sweetness! This recipe takes you back to simpler times, with each pillowy, buttery bite delivering a burst of rainbow sprinkles. Imagine the joy of sharing these nut-free treats at a classroom birthday party or poolside gathering. And here's a little secret: freezing the leftovers means a nice treat is always just moments away!
Amish Oatmeal Whoopie Pies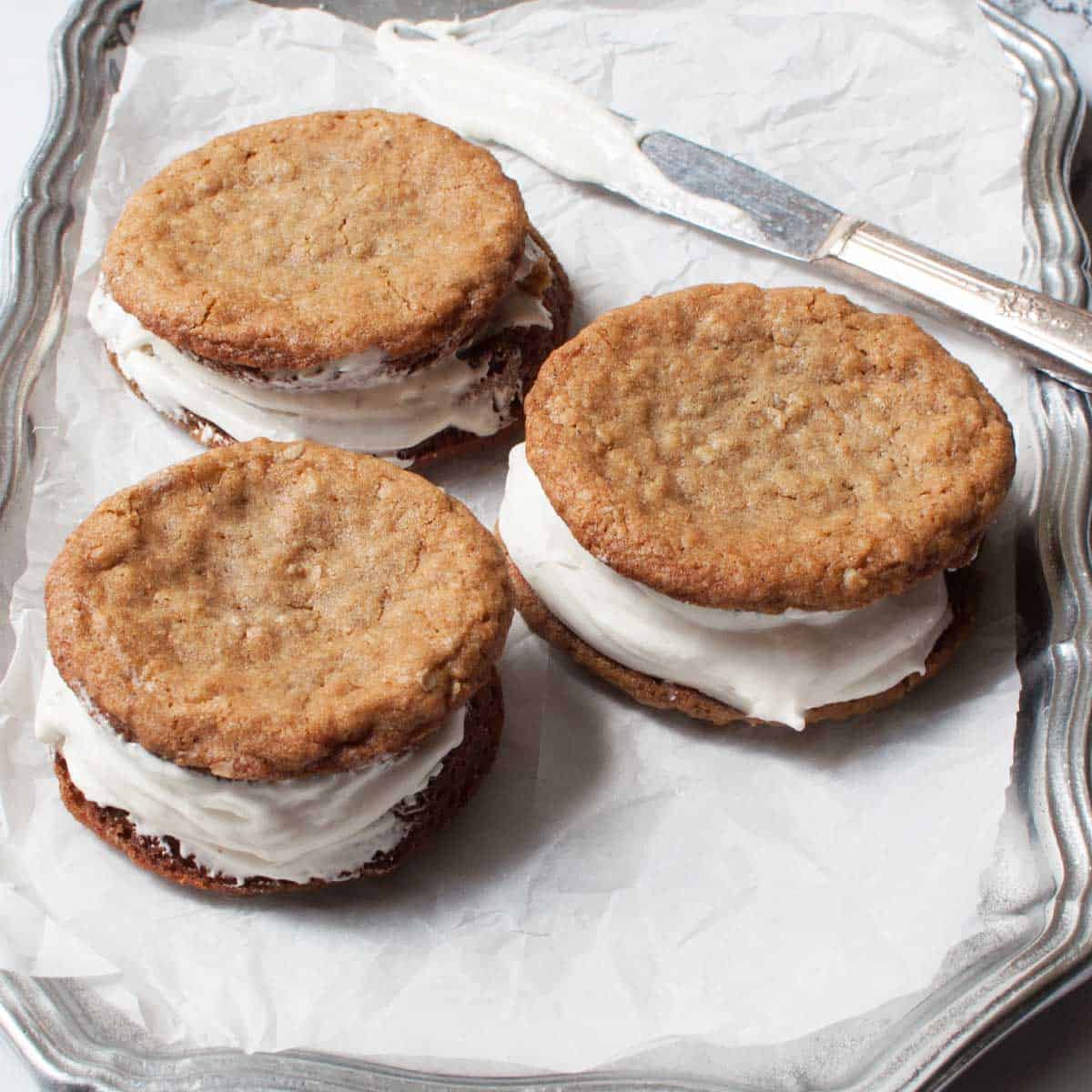 The Amish Oatmeal Whoopie Pies by Two Pink Peonies are like a taste of Amish bakery heaven! These soft and fluffy cookies filled with a luscious marshmallow filling will transport you straight to the heart of Lancaster, Pennsylvania. And with a perfect balance of oats, cinnamon, and nutmeg, these cookies are a comforting treat for any occasion. So whip up a batch and watch them disappear at your next holiday cookie exchange.
Cinnamon Roll Cookies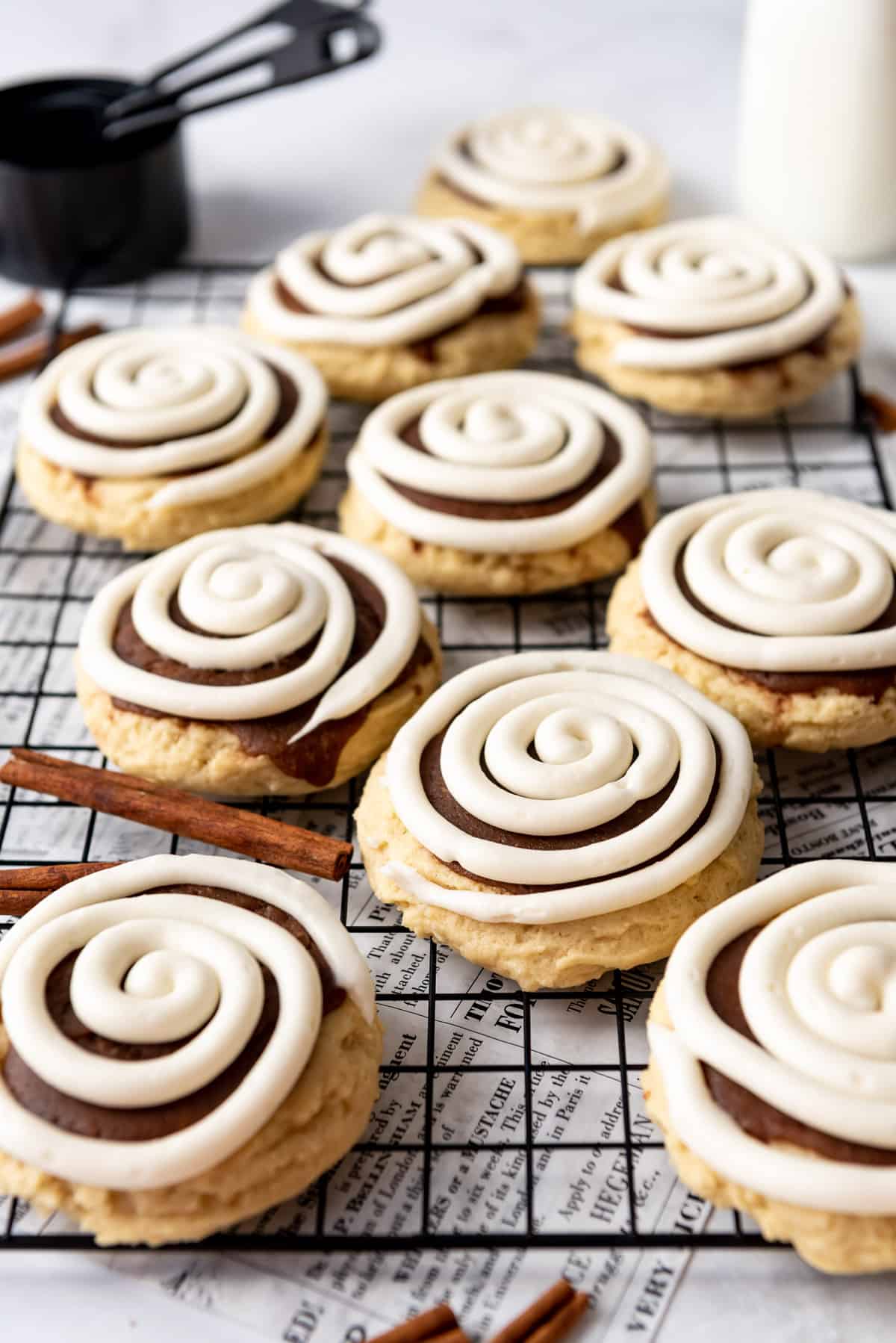 Irresistible copycat Crumbl cinnamon swirl cookies are based on the Crumbl cookie lineup. It's the latest cookie craze sweeping the nation! Imagine a thick, buttery cookie base topped with a mouthwatering cinnamon sugar glaze and mesmerizing swirls of cream cheese frosting. It's just like cinnamon rolls in cookie form! Don't miss the secret ingredient that adds a unique twist to this decadent treat.
French Madeleine Cookies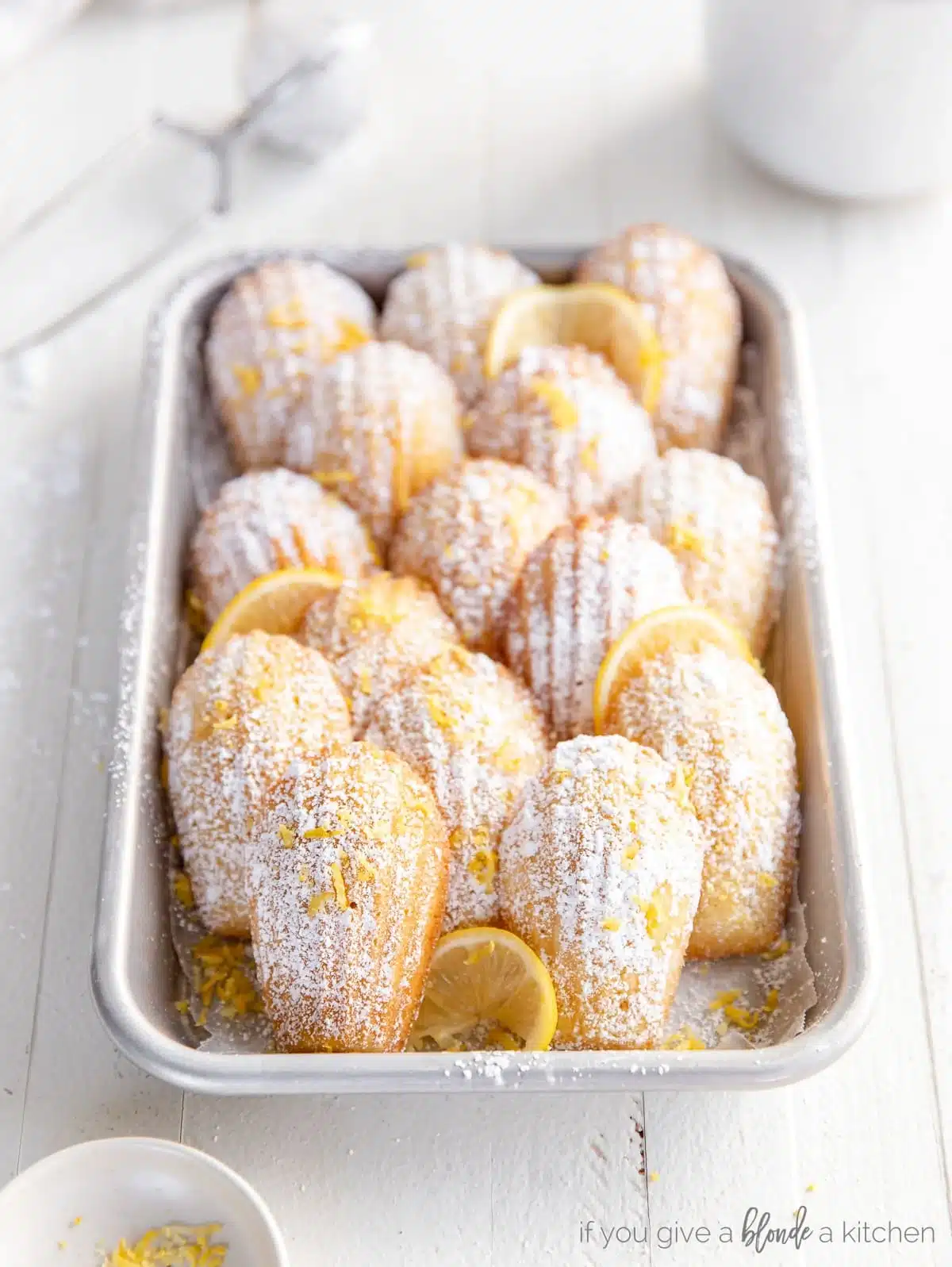 Discover the enchanting world of French Madeleine cookies with this recipe from If You Give A Blonde A Kitchen, where delicate cakes and heavenly cookies cross paths. First, whip the batter for 10 minutes, infusing these shell-shaped treats with a pillowy lightness. Next, chill the batter and watch the Madeleines soar in the oven. Finally, with a dusting of confectioners' sugar, these spongy wonders will transport you to sweet bliss.
Decadent Coffee Cookies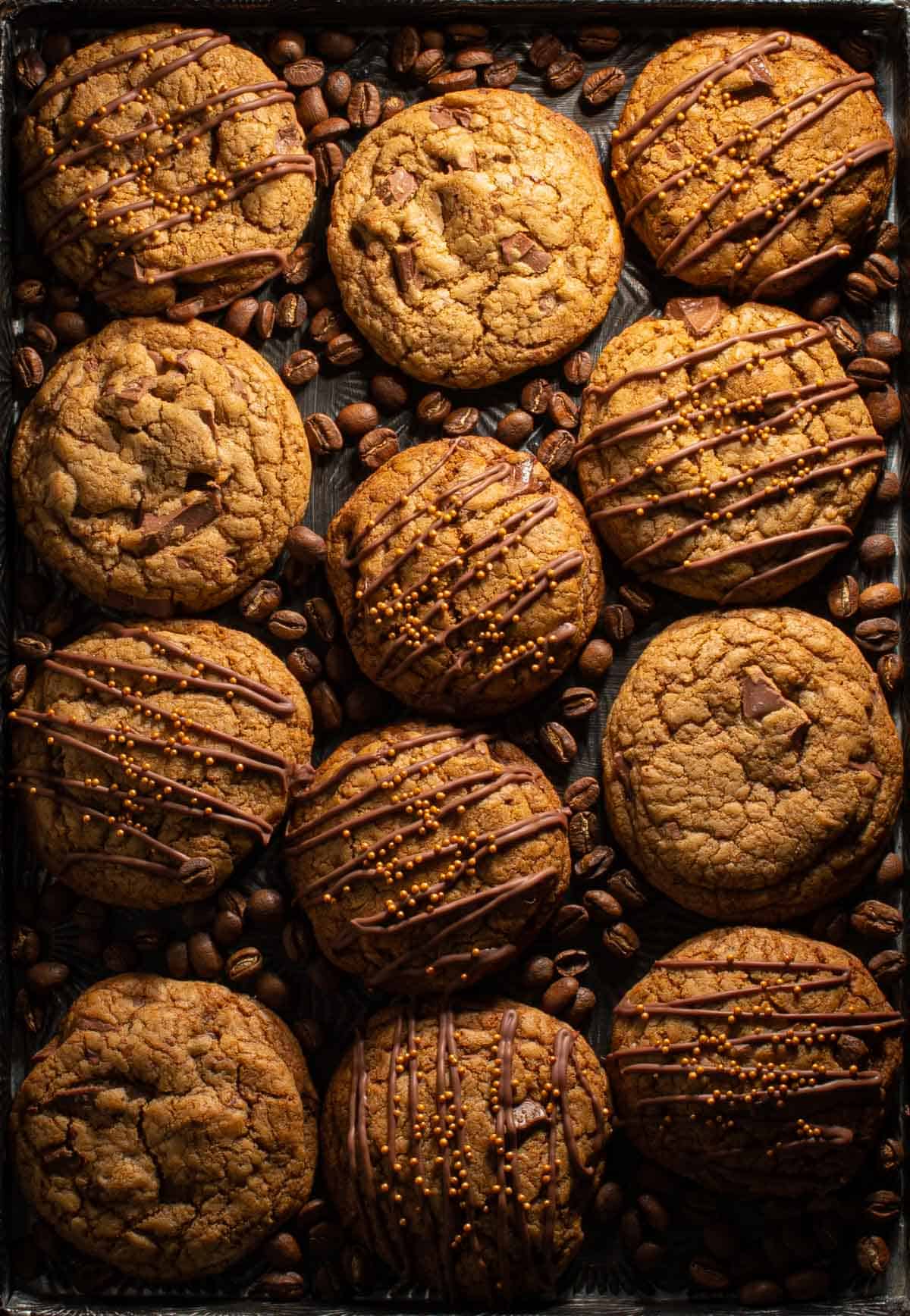 Get ready to take your cookie experience to new heights with these decadent coffee cookies from The Cinnamon Jar. They're a sophisticated twist on the beloved chocolate chip cookie. But despite their mysterious allure, these treats are actually a breeze with everyday ingredients like butter, brown sugar, instant coffee granules, and eggs. So enjoy them alongside a frothy cappuccino or savor them as an after-dinner delight with a shot of espresso.
Lemon Curd Cookies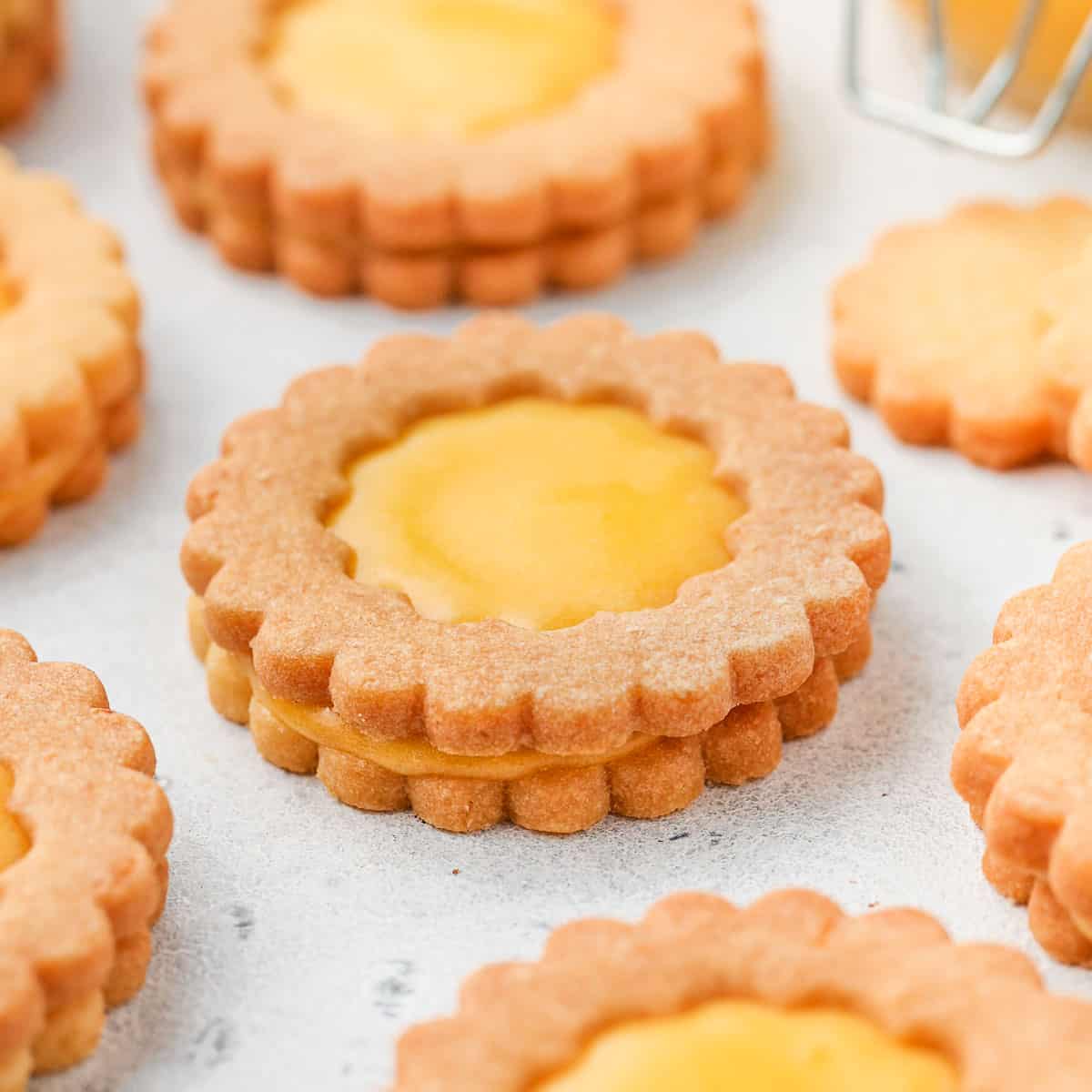 You'll love the versatility of these lemon curd cookies by Sylvie of A Baking Journey. A luxuriously zingy, bright lemon curd filling is squeezed between two buttery flower-shaped shortbread cookies. You'll love how versatile they are. Have them with your afternoon tea or other occasions when you want a touch of elegance with your celebration.
Salty Marshmallow Cookies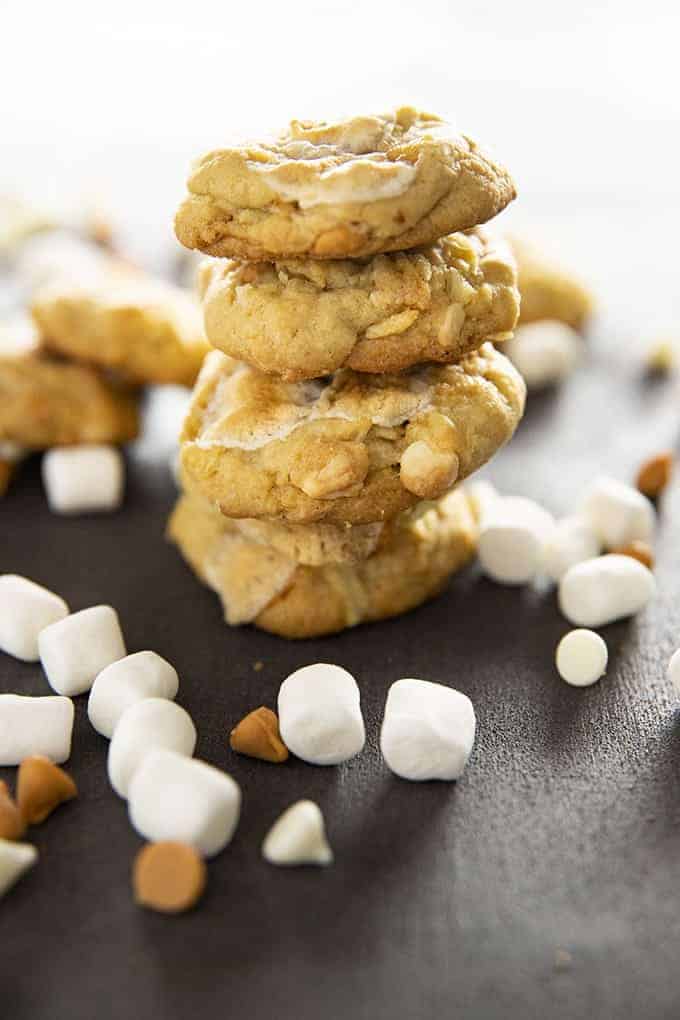 You'll fall in love with salty marshmallow cookies from none other than the food blog The Salty Marshmallow. It's a twist on classic potato chip cookies. These irresistible treats combine sweet and salty flavors, featuring a luscious blend of crushed potato chips, butterscotch and white chocolate chips, and marshmallows. Creamed butter, sugars, and a hint of almond extract create a fluffy base. A sprinkle of salt brings it all together.
Croatian Peach Cookies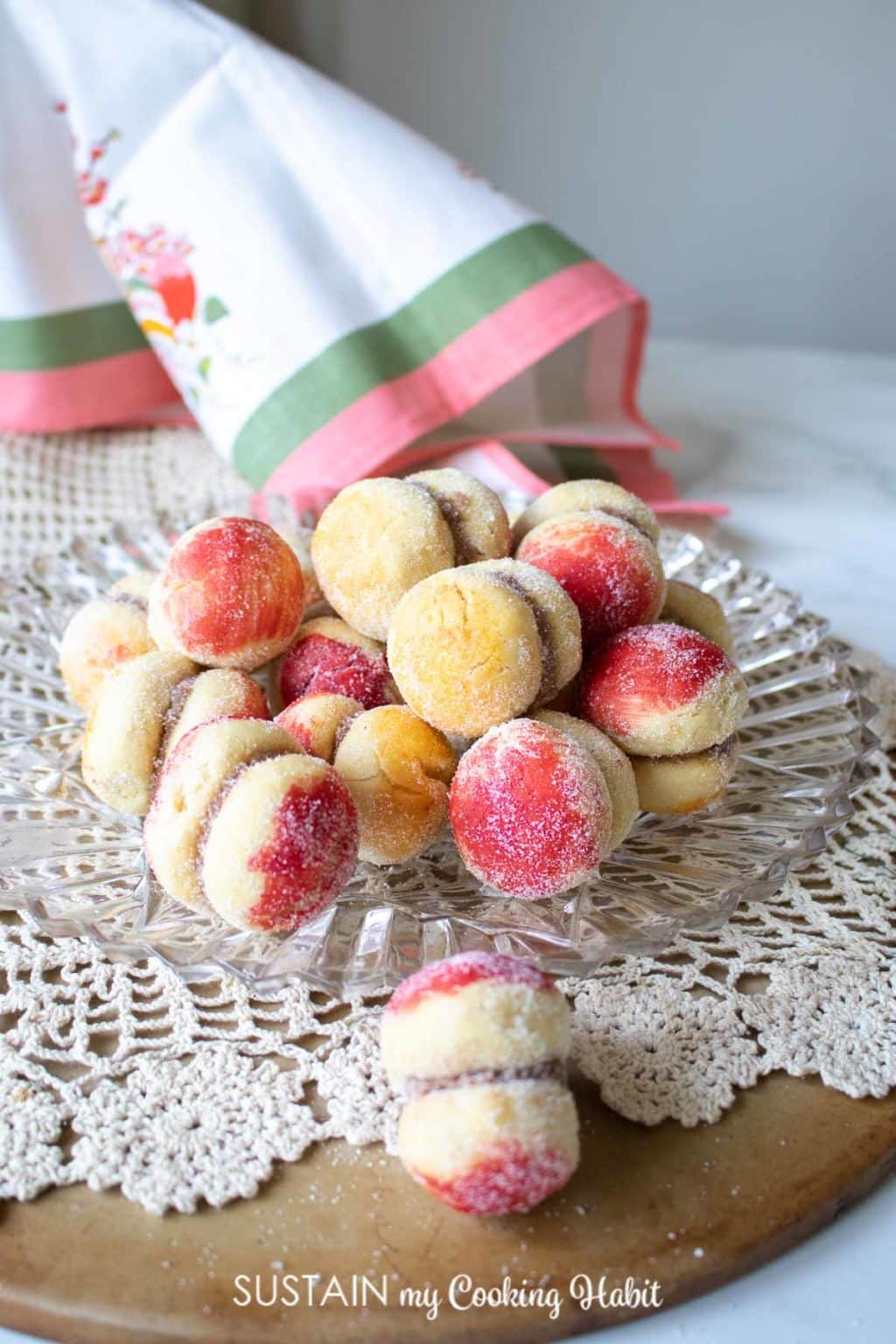 Discover the cherished Croatian tradition of Breskvice, the painted Croatian peach cookies by Sustain My Cooking Habit. These delightful treats have enchanted generations with their memorable appearance and exquisite taste. Here's what makes them so desired. Between two hard cookies, you'll find a soft apricot jam filling. Next, paint them with food dye for a gorgeous presentation.
Chocolate Peppermint Thumbprint Cookies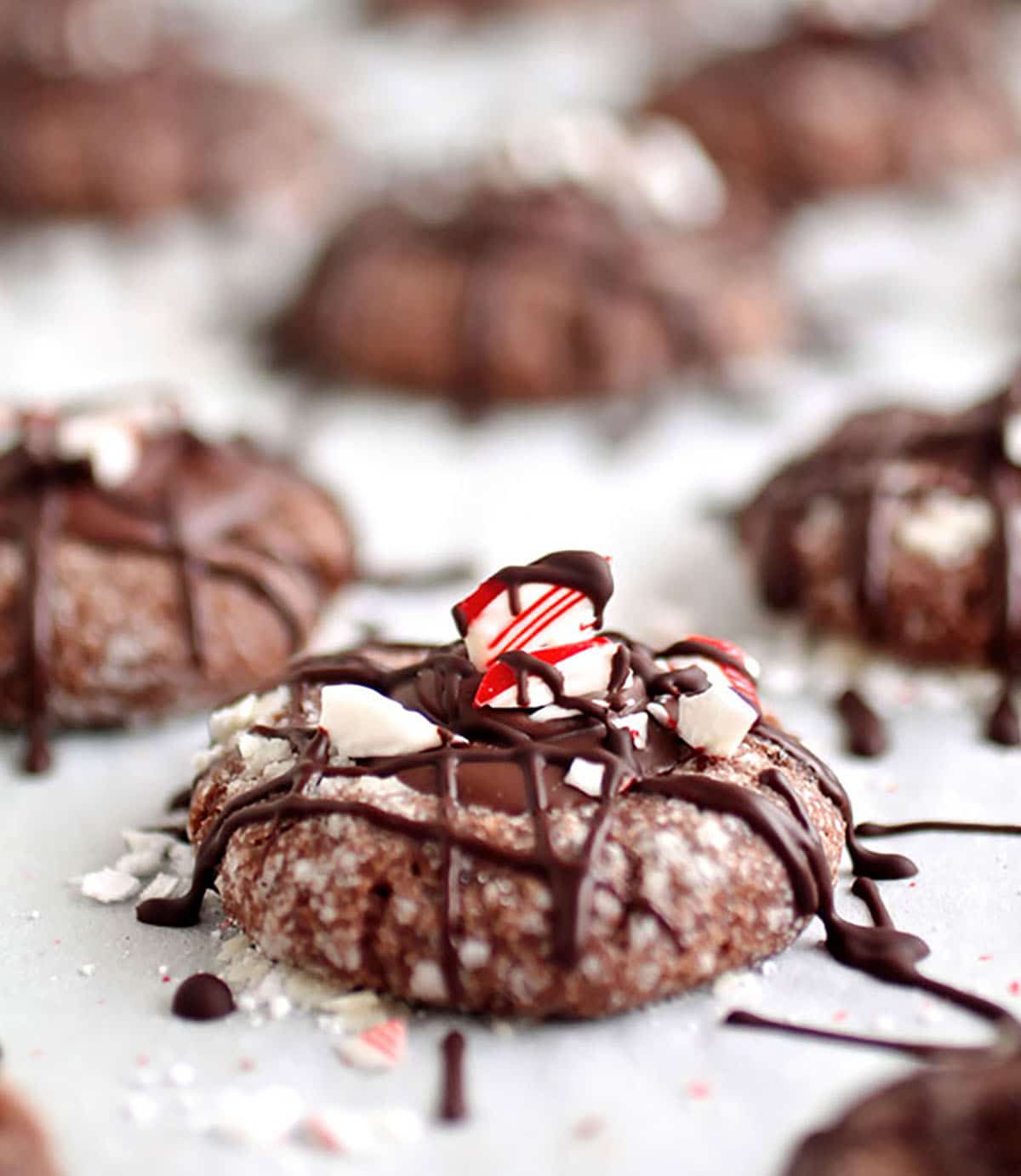 With a rich and chewy texture, similar to a brownie, these chocolate peppermint thumbprint cookies by Life As A Strawberry are a holiday treat all will love. You make them with a fudgy thumbprint cookie dough rolled in powder. Then get this, each cookie is filled with high-quality dark chocolate and sprinkled with crushed candy cane. Variations are endless, but Jessie suggests nuts, chocolate chips, or nuts.
Biscoff Butter Cookies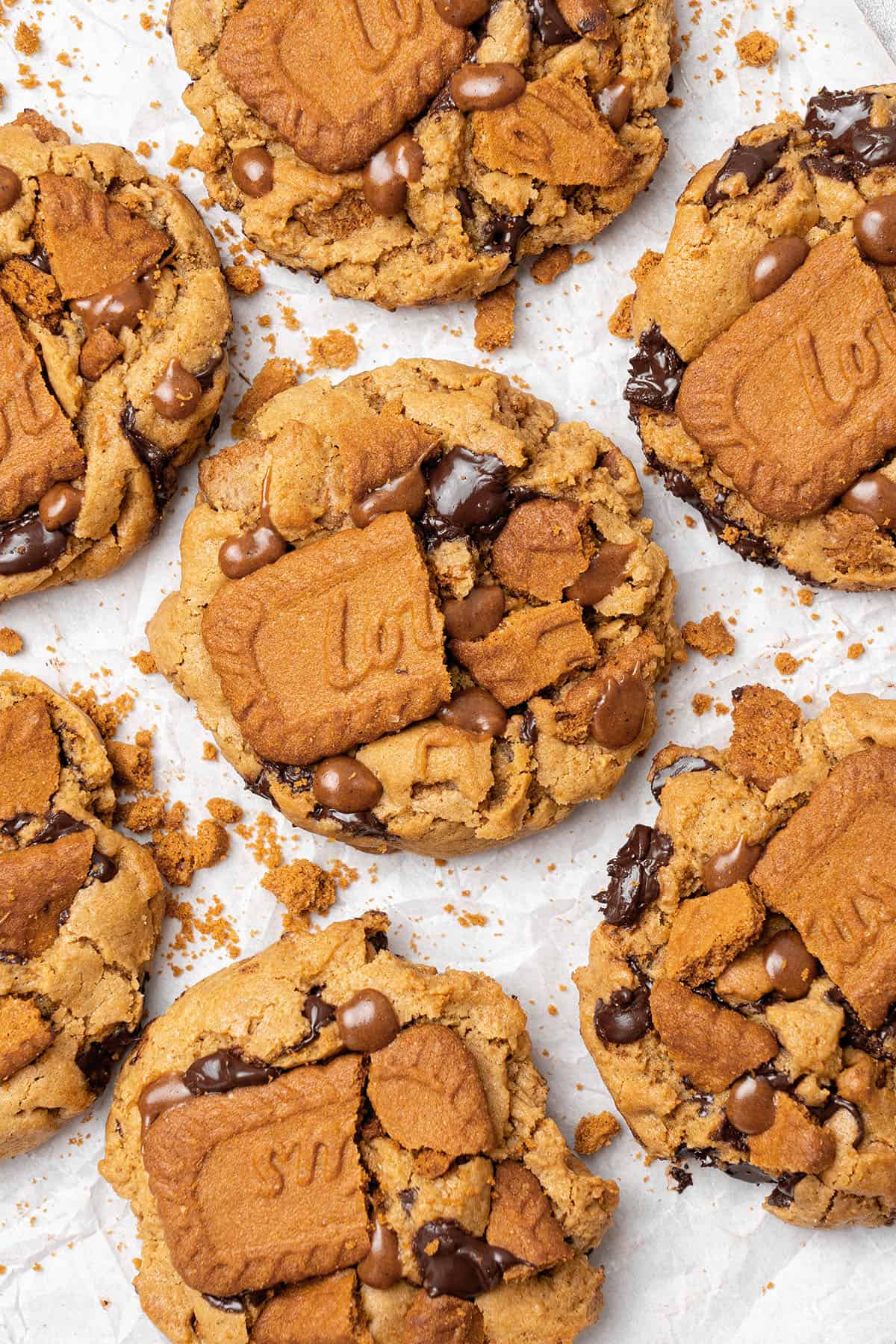 These Biscoff butter cookies are delicious chocolate chip cookies loaded with Lotus Biscoff spread, chocolate chunks, cinnamon, and brown sugar. They have a chewy exterior, gooey interior, and the irresistible flavor of Biscoff. This recipe is quick, easy and includes expert tips for the best results. Find step-by-step instructions and baking tips in the article.
S'mores Cookie Recipes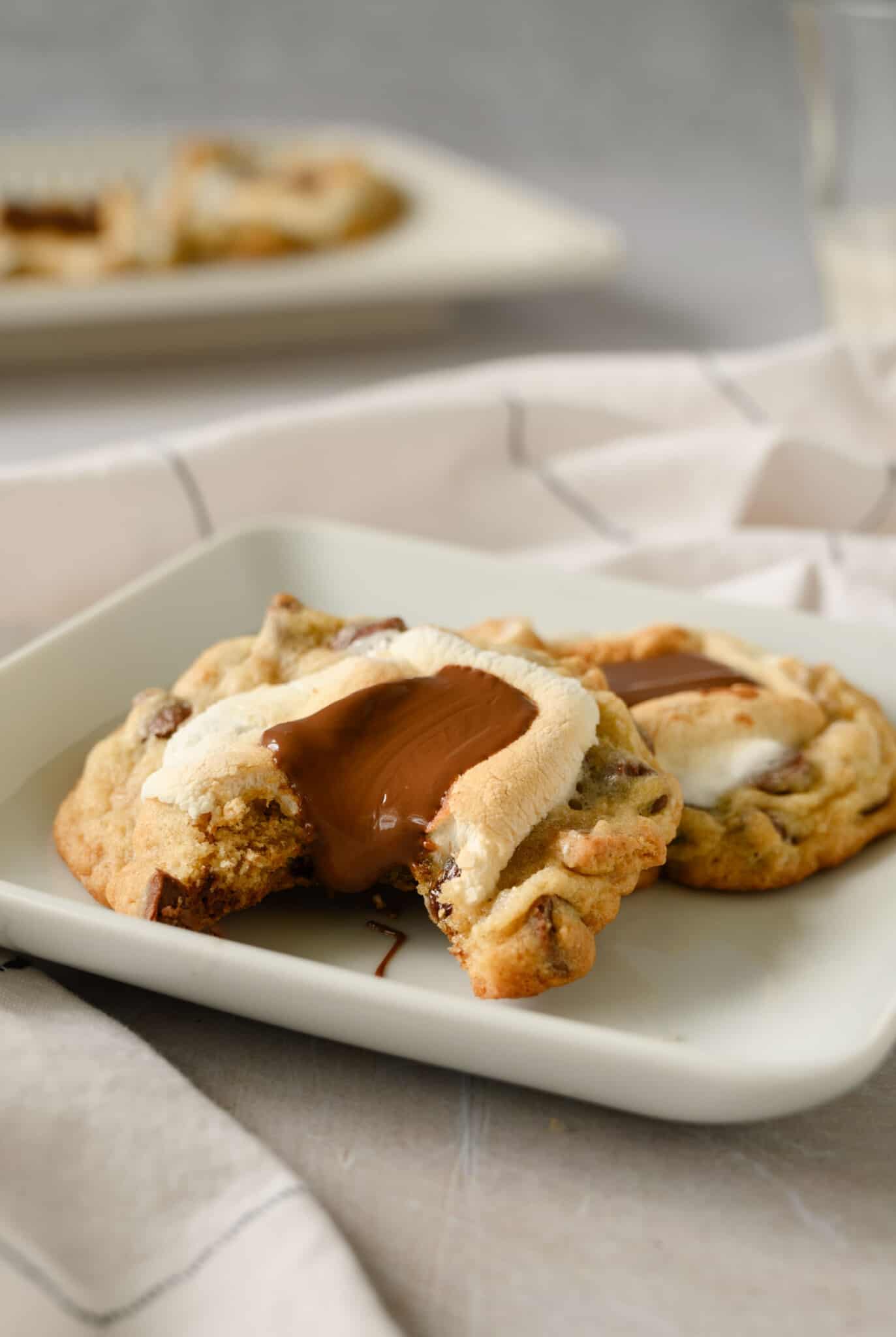 S'mores Cookies or Smookies are the love child of gooey s'mores and irresistible cookies! These colossal treats boast marshmallows, milk chocolate, and graham crackers, all packed into a chewy, homemade cookie. Picture yourself scooping out a luscious dough, nestling a marshmallow, and watching it transform into a golden masterpiece. Top it off with a melty chocolate bar, and you have a sweet sensation that will leave you craving s'more!
Copycat Crumbl Cornbread Cookies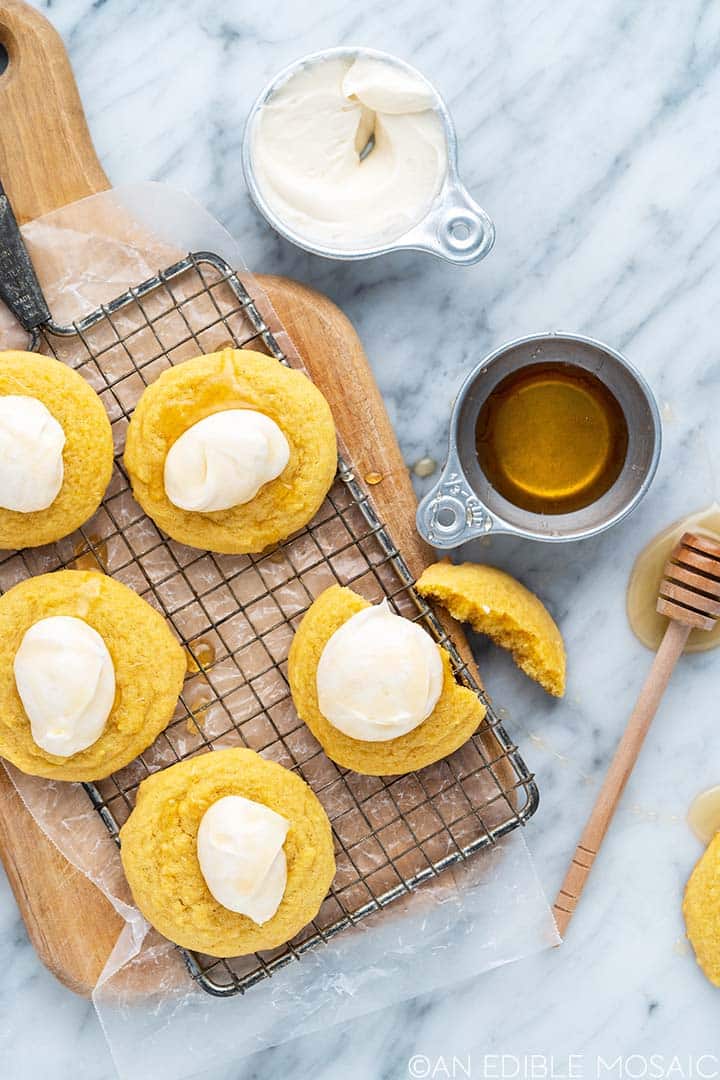 Copycat Crumbl Cornbread Cookies-where thick, buttery vanilla cookies meet the texture and taste of cornbread. These treats are sensational, with a delightfully sweet and salty balance and a slightly coarse texture reminiscent of cornmeal. And the honey buttercream frosting? Pure bliss!
Chewy Pistachio Cookies with Dark Chocolate Chunks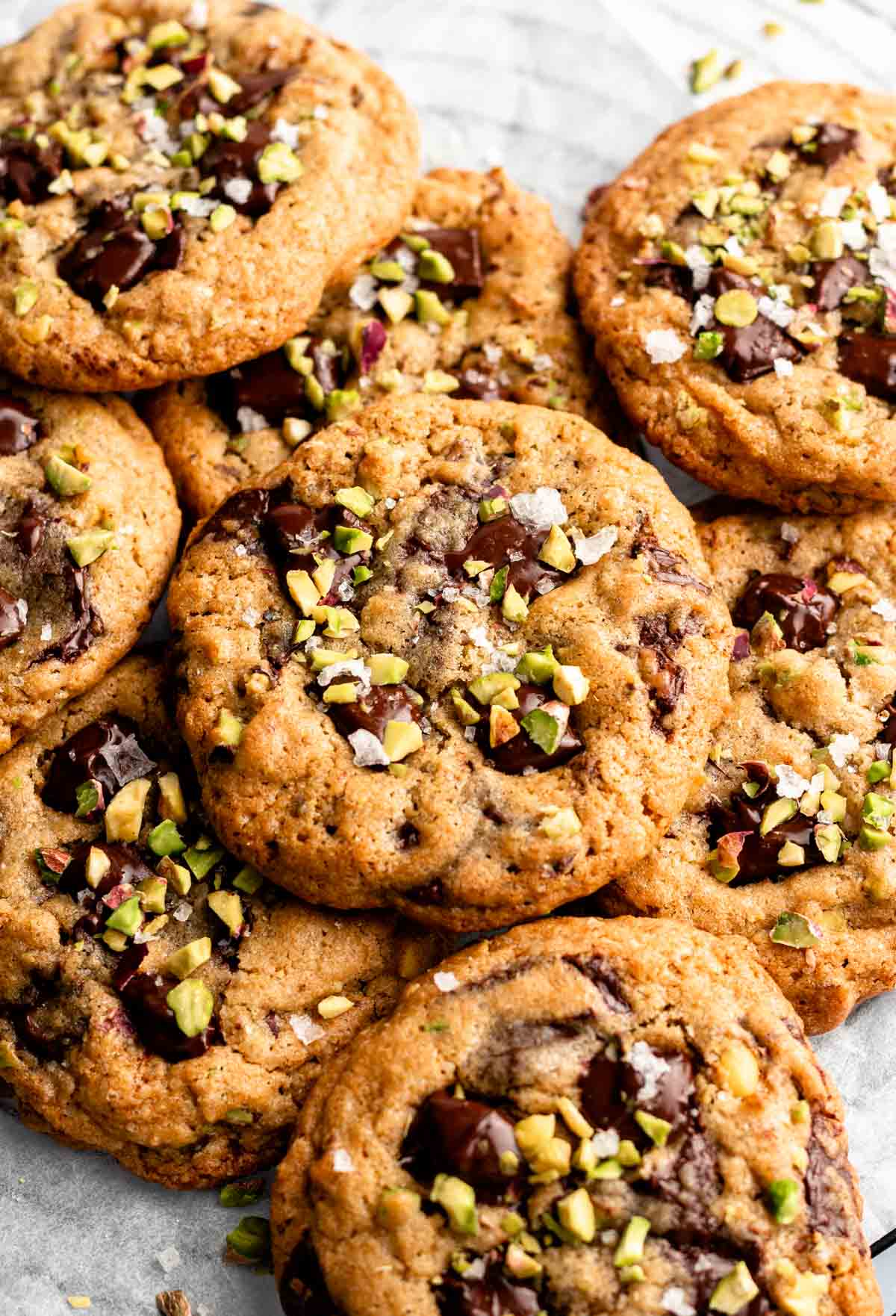 Bursting with rich flavors, each bite of these chewy pistachio cookies with dark chocolate chunks reveals a delightful base loaded with nuts and pools of chocolate. Don't forget the flakey salt on top for that perfect finishing touch! No artificial flavoring here—these cookies boast a natural pistachio taste that harmonizes flawlessly with the luscious dark chocolate.
Chocolate Peanut Butter Cookie Bars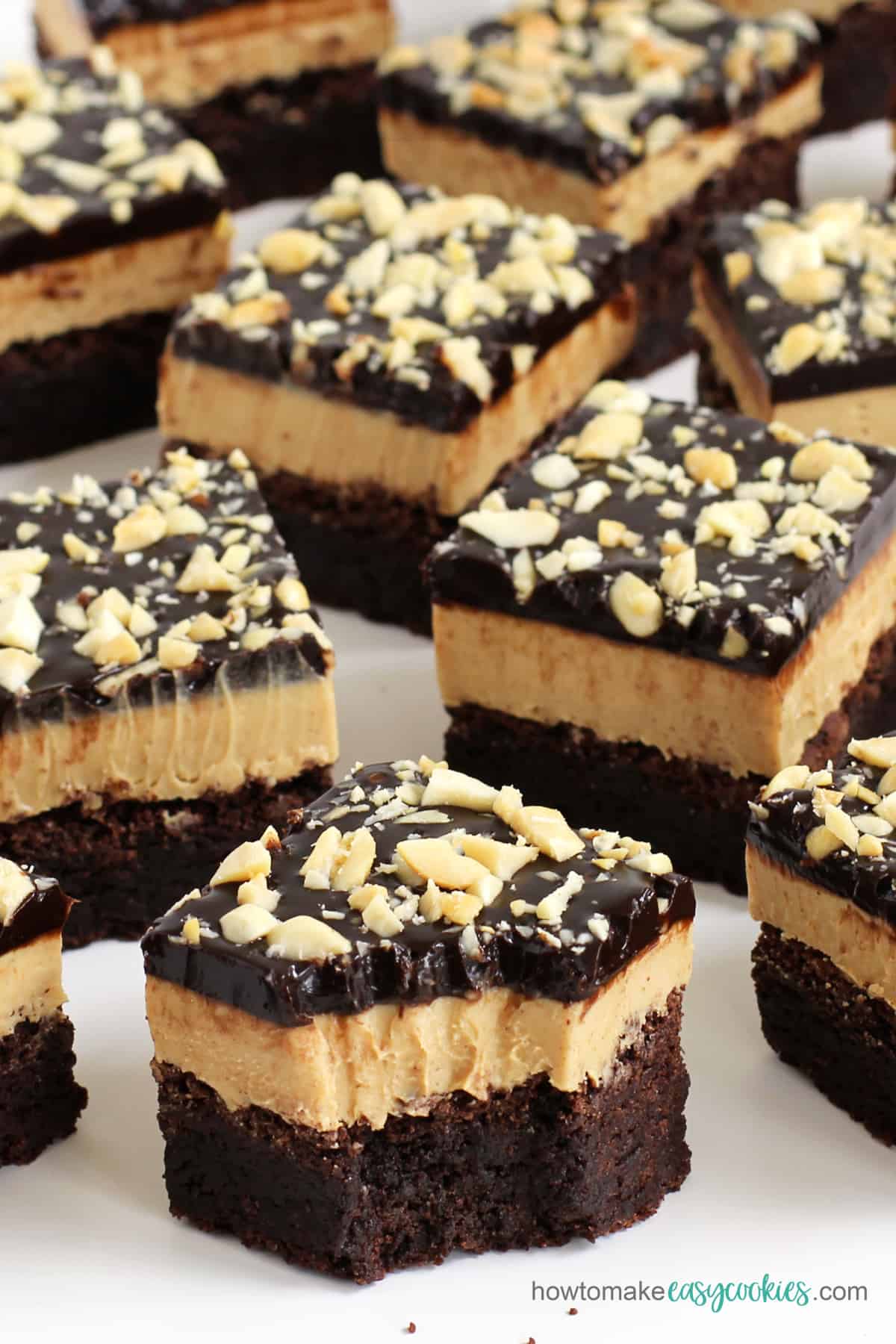 These chocolate peanut butter cookie bars by How To Make Easy Cookies are layered with creamy peanut butter fudge and luscious chocolate ganache. They're decadent treats sprinkled with chopped peanuts throughout for added texture. Have them ready for the kids after school and watch the smiles appear on their faces.
Neapolitan Cookies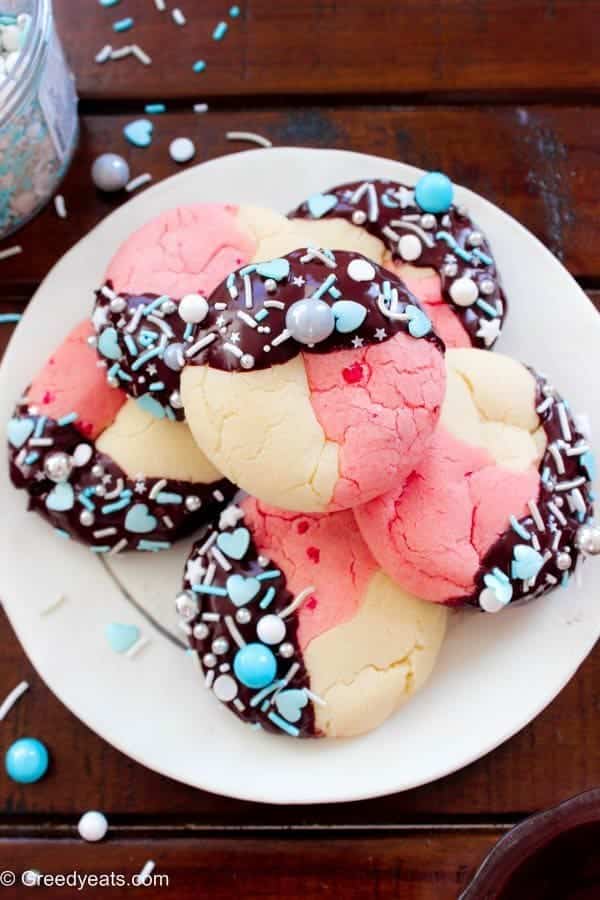 Neha of Greedy Eats uses cake mix to make these multi-colored Neapolitan cookies. They are super soft and tender in the center with crispy edges. You mix them with vanilla and strawberry cake, then dip them in chocolate and sprinkles. The result is an immaculate treat with a gorgeous presentation.
Homemade Milano Cookies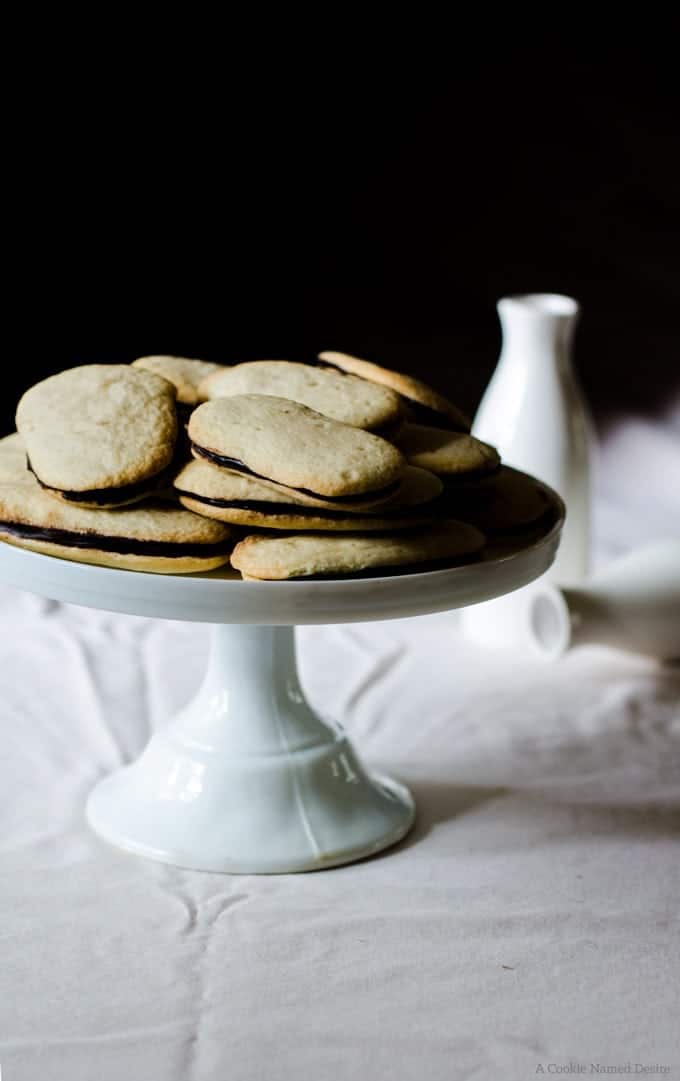 Milano cookies were somehow sophisticated yet accessible. They weren't expensive, but the sandwich cookies were geared toward adults. This fact wasn't lost on Amanda of Cookie Named Desire. But now, she created an even better version than the original. The 30-minute treat features two crispy, buttery cookies with a luscious homemade ganache.
Turkish Apple Cookies (Elmali Kurabiye)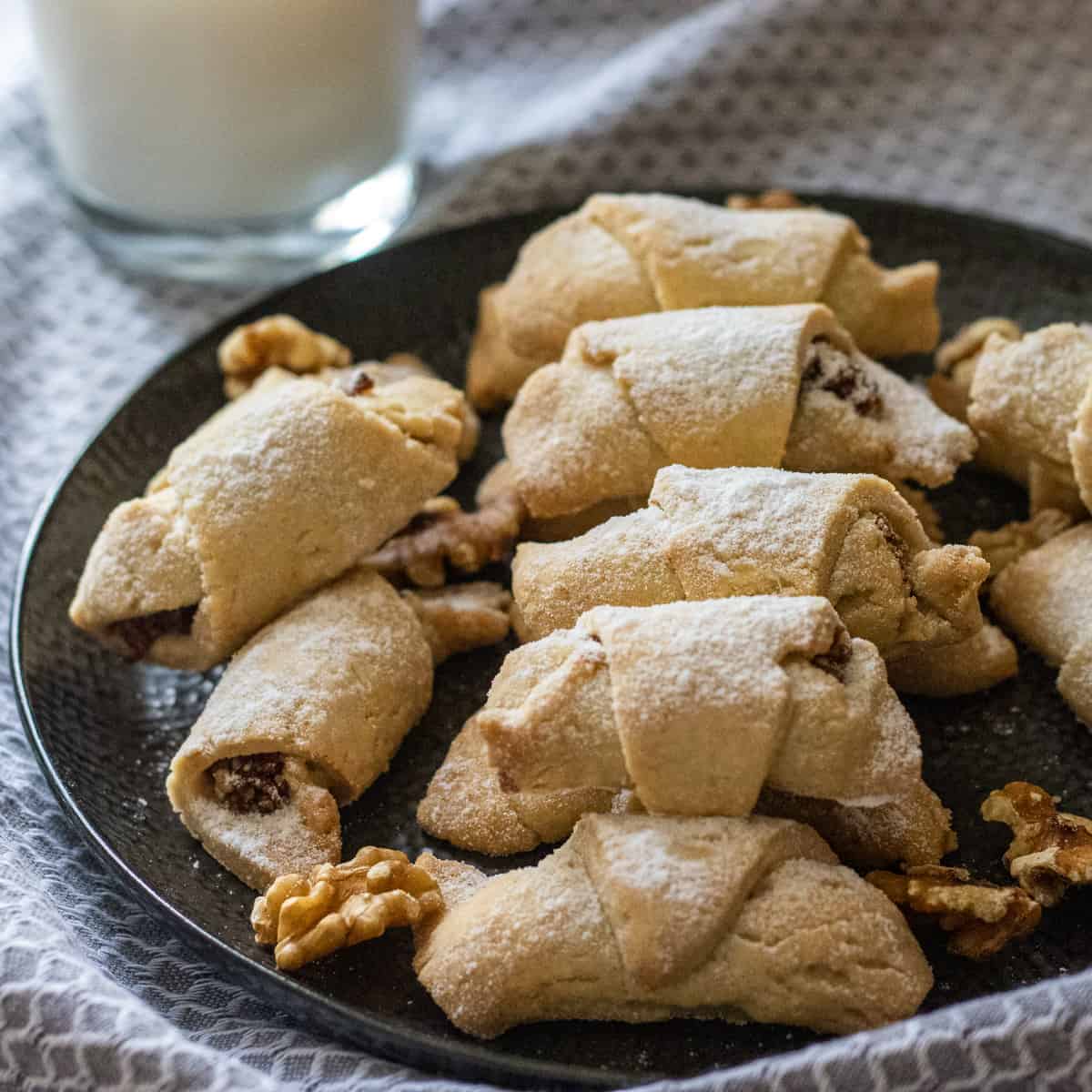 You can depend on Ayla of Cooking Gorgeous to introduce you to obscure treats like Turkish apple cookies. They are melt-in-your-mouth pastries made with crispy cookie dough stuffed with an apple, cinnamon, and walnut filling. You'll be the star of your next potluck, gathering, or autumn cooking exchange as each batch makes 40 cookies.
Which Gourmet Cookie Recipes Will You Try?
Whether enjoyed as a luxurious treat or presented as a thoughtful gift, gourmet cookies elevate the simple pleasure of cookies to an extraordinary experience. So, take a moment to savor the decadence, appreciate the artistry, and let gourmet cookies transport you to a realm of pure culinary bliss. But which one will you make first? We'd love to know!