If you're looking for easy and cute recipes perfect for Halloween, look no further than our list of 19 Easy Halloween Dessert Recipes. You are sure to find something that will inspire you.
There are so many cute ideas to get you started, like Jack Skellington cookies, Halloween S'mores dip, and candy corn fudge to set you on your way. You'll even see a few two-ingredient recipes.
So, let's dive in, shall we?
Easy Halloween Cookies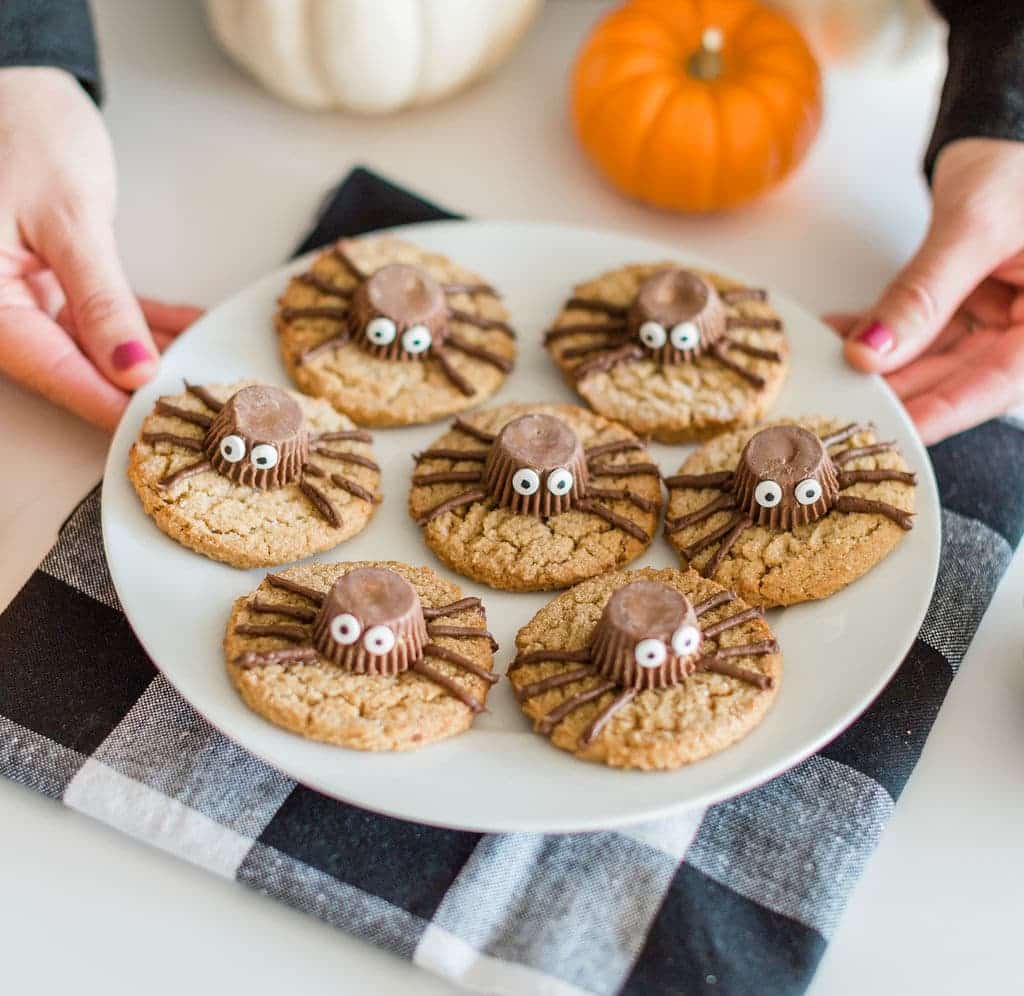 Melissa of Best Friends For Frosting brings us this easy Halloween spider cookie recipe. For Melissa, Halloween and fall are the best time of the year. We get it. The trees are beautiful, the weather gradually changes, and you can make cute little desserts like this for the kiddos.
This cookie couldn't be easier. As you can see from the picture, you take your favorite cookie recipe, top it with round chocolate candy, draw frosting legs, and add eye candies for a simple festive treat all will remember.
Visit Best Friends For Frosting for the recipe.
Bloody Good Cheesecake
If you want to make a Halloween dessert centerpiece that sends chills down their spines, look no further than this bloody good cheesecake from Heather of Sugar Dish Me. It's a creepy, hair-raising treat that actually tastes really good.
The cheesecake itself is red velvet with a chocolate graham cracker crust. And while the blood is frightening, it's actually a delicious corn syrup and food coloring concoction. Heather shows you exactly how to put everything together for a fun, dreadful, and tasty presentation.
Visit Suger Dish Me for the recipe.
Halloween Fudge
With just three ingredients, you will love this easy white chocolate Halloween fudge recipe from Sherri of To Simply Inspire. This recipe is the perfect time-saver for when the big day creeps up on you, and you have no plans.
After you make the base, the best part is the add-ins. As pictured, Sherri uses candy corn, but you can swap it for your favorite. Or use pretzels or even Haloween Oreos. You'll find tips and answers to questions you might have on the page.
Visit To Simply Inspire for the recipe.
Candy Corn Bundt Cake Recipe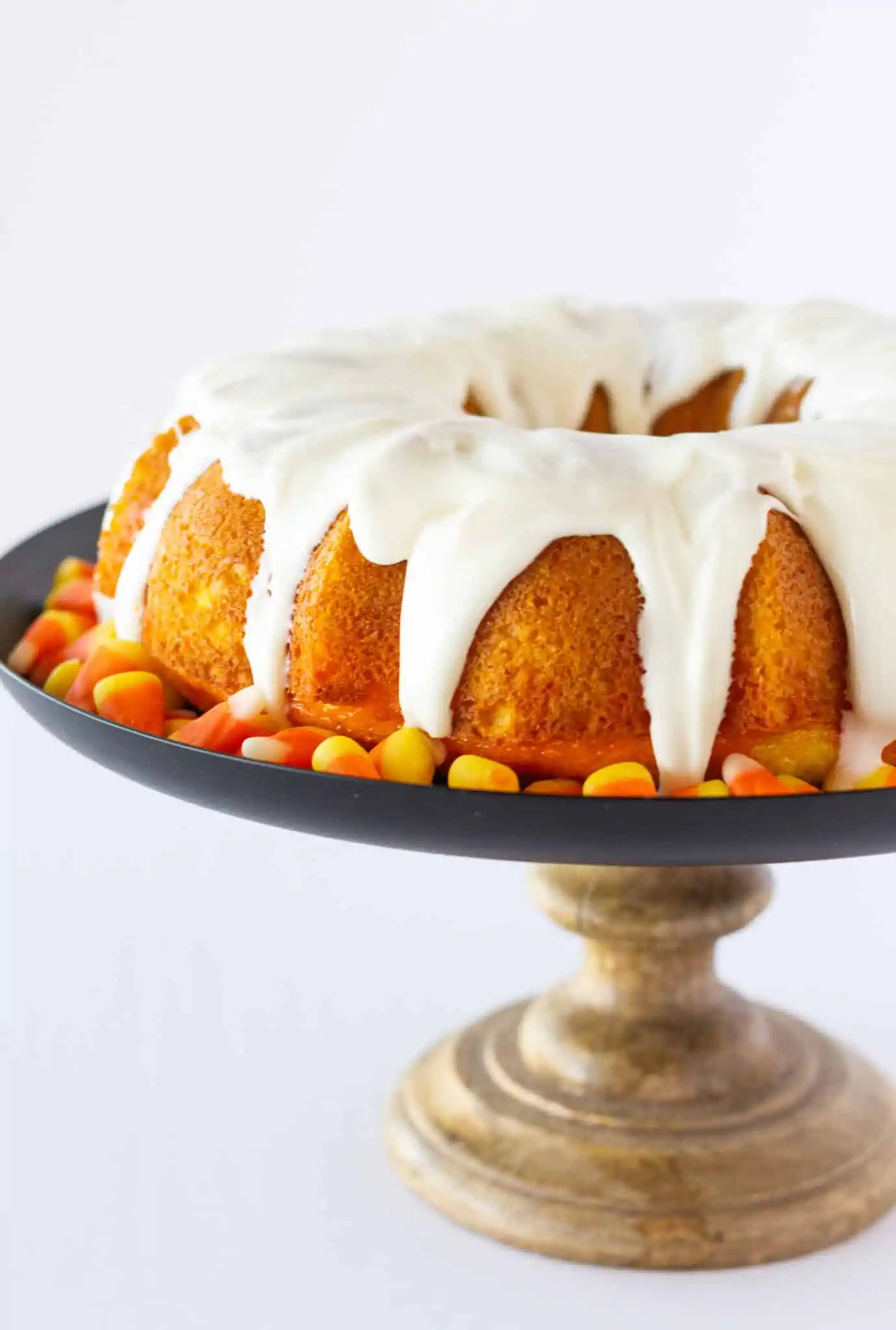 Can you have a Halloween dessert list without candy corn? We didn't think so. So that's why we included this delicious candy corn bundt cake recipe from June of Practically Homemade.
It starts with a white cake mix batter. Next, you separate it into three different bowls, two of which you will add food coloring. Then you layer the cake mix and bake. June's page is full of helpful tips. Like how to make sure the cake doesn't stick to the bundt pan and variations to make it your own.
Visit Practically Homemade for the recipe.
Halloween Kit Kat Ice Cream Cake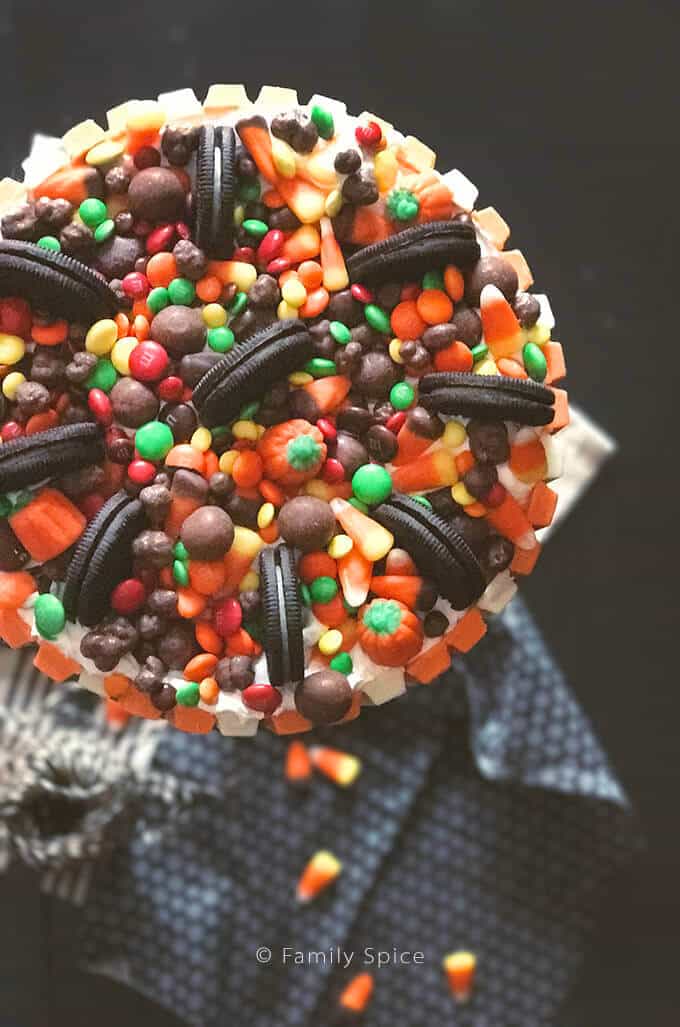 Celebrate autumn and Halloween with this Kit Kat ice cream cake from Laura of Family Spice. It's a fun dessert you'll want to make on the first day of the spookiest month of the year.
So there's a lot of cool stuff going on here!
First, you have a layer of ice cream, Kit Kats, m&m's, and even Oreos. But there's no baking involved. You just assemble and freeze. Making it a great last-minute festive treat for a Halloween party. The hardest part might be keeping your children away from it before you're ready to serve.
Visit Family Spice for the recipe.
Best Pumpkin Pie Dip
Amy of Ared Spatula knows parents have busy schedules and never-ending to-do lists. So, there's certainly no reason to stress out over Halloween dessert. That's why she made this pumpkin pie dip, an easy Halloween dessert recipe.
It starts with pureed pumpkin. You can buy it canned or roast a baking pumpkin and make it yourself. Amy loves to use ginger snaps as the dippers, but pretzels or other cookies are delicious too.
Visit Ared Spatula for the recipe.
Jack Skellington Cookies
You'll love this Jack Skellington cookie recipe from Jillian of A baJillian Recipes. It's a delicious treat decorated in the likeness of one of the most iconic Halloween characters ever.
But the cookie itself is delicious!
It's a rich, chewy, black and white dark chocolate cookie using Dutch cocoa powder with flavor-enhancing ingredients. So you'll crave them all year long. On the page, you'll find precise directions and images showing you how to make these picture-worthy confections.
Visit A baJillian Recipes for the recipe.
Halloween Rice Krispie Treats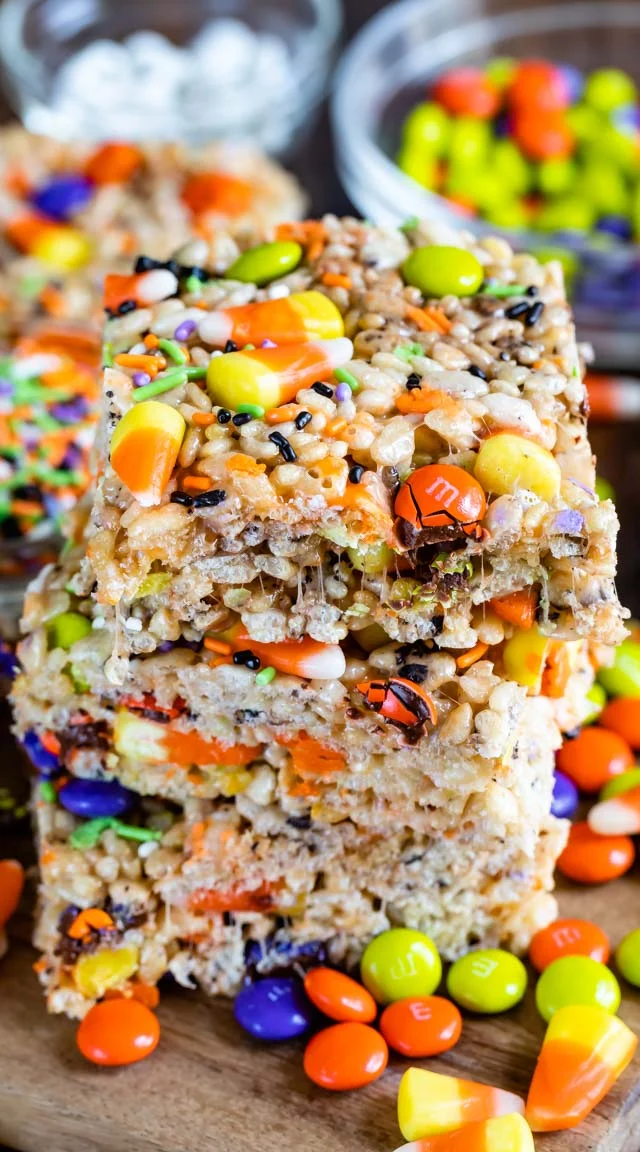 Rice Krispie treats, all gooey and delicious, make some of the best snacks ever. But often, the treat is just the beginning. It's the blank canvas for fun ideas like these Halloween Rice Krispie treats from Dorothy of Crazy For Crust.
So it starts with her special rice cereal treat recipe. You won't want to use the one on the back of the box. Then, you add in Halloween-themed sprinkles, m&m's, and candy corn. On the page, you'll find all sorts of tips, like what to do if your treats are too dry.
Visit Crazy For Crust for the recipe.
Pumpkin Pudding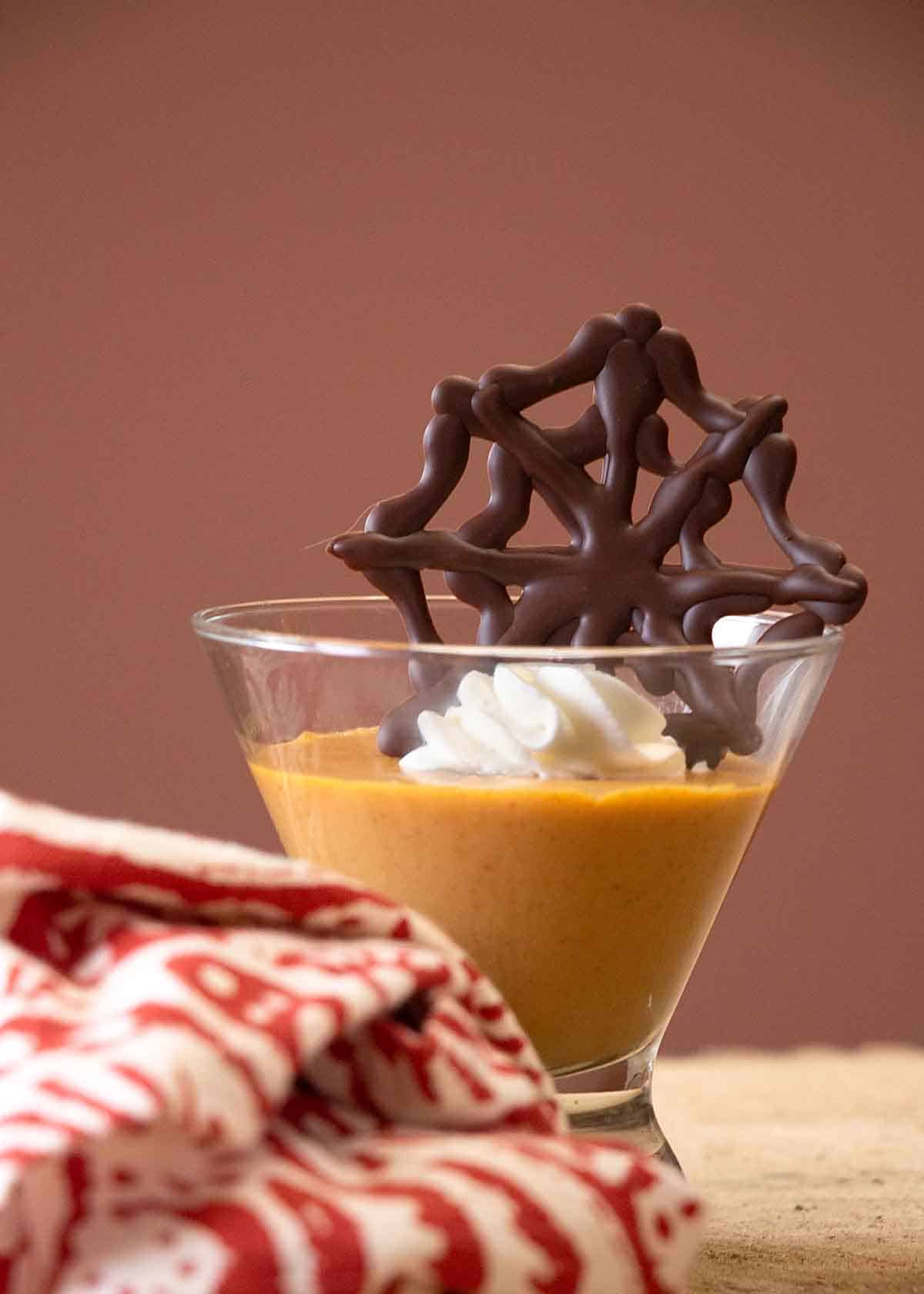 This pumpkin pudding from Inger of Art Of Natural Living is a delicious fall confection that can be dressed up for Halloween. With the adornment of a chocolate spider web, this pudding becomes tasty and festive.
And unlike most pumpkin puddings which are pumpkin pie in pudding form. This one is lightened up a bit as it uses less sugar. And the page isn't just a recipe. It's also very informative. For example, an interesting tidbit explains the differences between pudding and custard.
Visit Art Of Natural Living for the recipe.
No-Bake Vampire Halloween Trifle
So you want to make a Halloween trifle, but you don't want to bake a cake, no problem! This no-bake vampire Halloween trifle from Emily of Clever Housewife is a ghastly concoction filled with blood, teeth, spiders, and bats.
It's a candy-filled Halloween dessert that's easy as can be. But, you might wonder, what is this trifle's cake layer? Well, it's sweet rolls that you can buy at the grocery store. And as for the blood, it's just cherry pie filling.
Visit Clever Housewife for the recipe.
Halloween S'mores Dip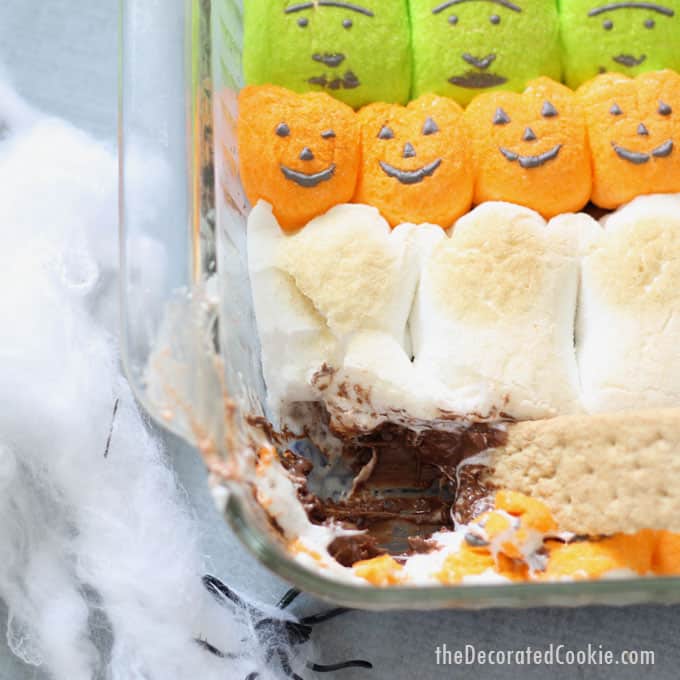 The kids will go bananas for this cute Halloween s'mores dip from Meaghan of The Decorated Cookie. In fact, the kiddos will go absolutely bonkers for just about anything you make from her site. But this one is special because it's festive and ridiculously simple, like two-ingredient simple.
So, we'll let Meaghan fill you in on the details, like where to find these cute Halloween marshmallows. But before you head over to her site, we must warn you. You won't be able to resist all of the adorable creations.
Visit The Decorated Cookie for the recipe.
Easy DIY Caramel Apples
These caramel apples from Bella of XOXOBella are a classic treat perfect for Halloween or other fall celebrations. It consists of just two simple components. And we bet you know what they are. 😉
But instead of using candy melts or other shortcuts, Bella shows you how to make the caramel from scratch.
It's a recipe that has you combine sugar, cream, corn syrup, and a few other pantry items for a masterpiece confection. Bella details the steps on the page and explains why you can't substitute items.
Visit XOXOBella for the recipe.
Easy Halloween Cake Pops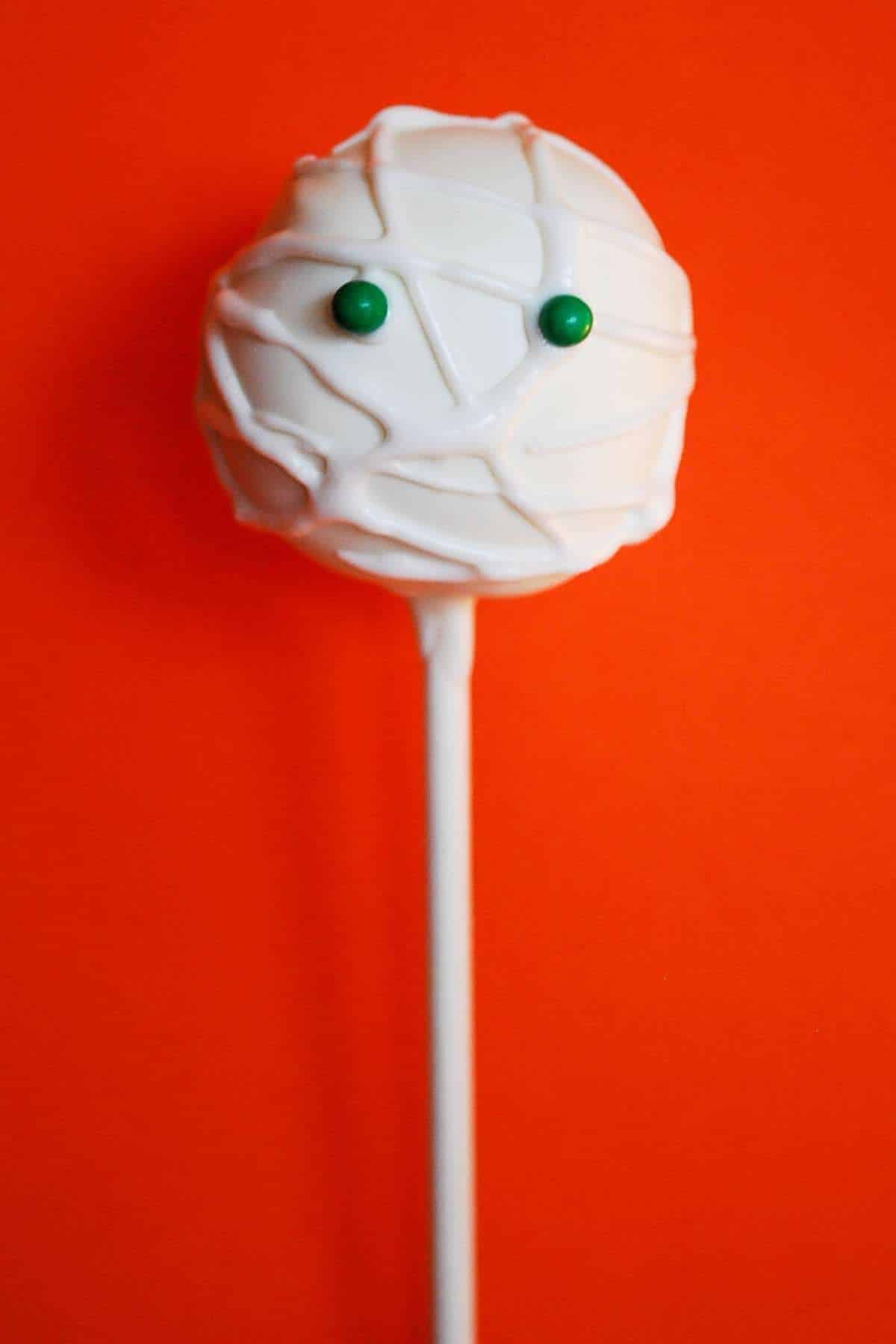 These Halloween cake pops from Amee of Amee's Savory Dish are easy to make. You simply crumble the cake, mix in frosting, and form the balls. Nope, you don't have to make a cake from scratch. The box mix works perfectly here.
However, the fun part and the part that requires a bit of patience is decorating each one as a mummy or pumpkin. For this, we recommend enlisting the services of your little ones. They'll be super excited to help you make these two-bite cake pops.
Visit Amee's Savory Dish for the recipe.
Halloween Sugar Cookies
Complicated cookie decorating techniques look amazing, but they're also time-consuming endeavors. So, if you want festively decorated cookies without all the fuss, check out these easy Halloween sugar cookies from Kelly of The Anthony Kitchen.
It starts with a simple sugar cookie dressed in royal icing. Next, you can go crazy with the adornments, such as black sprinkles, wacky eyes, or other decorations. You'll find the recipe and tips you might need to make these tasty and spooky treats on the page.
Visit The Anthony Kitchen for the recipe.
Halloween Puppy Chow
Also known as monster munch, this Halloween puppy chow from Trisha of Salty Side Dish is an easy treat the whole family will nibble on. It consists of common ingredients like rice square cereal, chocolate chips, powdered sugar, and peanut butter. Chances are you have most of that stuff in your pantry.
We like this recipe because it comes together in mere minutes and is entirely customizable. So make this puppy chow for Halloween using your favorite candies. Just don't feed it to fido (chocolate and dogs do not mix).
Visit Salty Side Dish for the recipe.
Halloween Chocolate Trifle
Jillian, the creator of Food Folks And Fun, brings us this grisly Halloween trifle filled with brains, teeth, eyeballs, fingers, and blood. Oh my! But don't you worry, those "body parts" are just tasty candy add-ins to a ghoulish trifle so good you'll want to make it year-round.
So, there are delicious alternating layers of box mix cake and cool whip at its core. It's straightforward. But not only is this recipe easy, but it's also inexpensive at just $0.42 per serving. So, head over to the page and see how Jillian does it.
Visit Food Folks And Fun for the recipe.
Chocolate Peanut Butter Protein Ball Spiders Recipe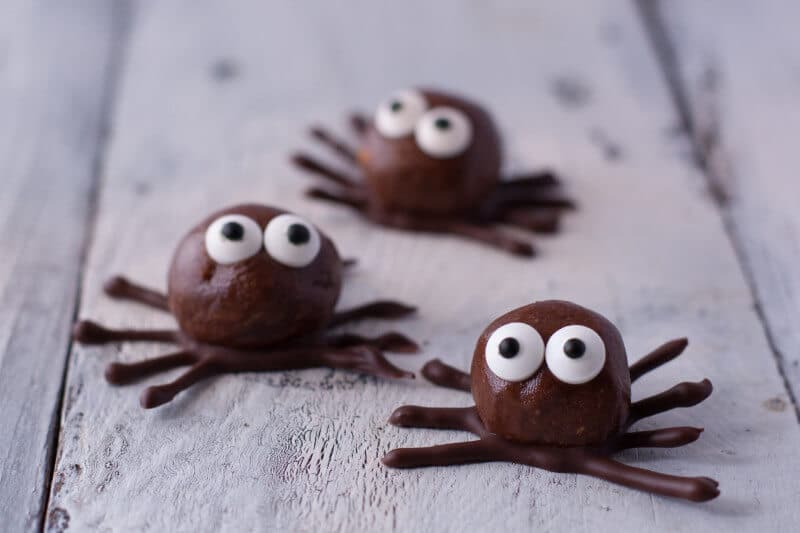 On Halloween, most of us eat a year's worth of candy brimming with sugar and a bunch of stuff that, well, isn't so good for you. But if you want a guilt-free and energizing goodie, turn to these protein ball spiders from Diana of Eating Richly.
They're cute and tasty treats that start with a base of peanut butter, cocoa powder, and a couple of other ingredients. You then make the chocolate spider legs and assemble them for a healthy yet delicious Halloween snack you can be proud of.
Visit Eating Richly for the recipe.
Mini Red Velvet Cheesecakes
These little red velvet cheesecakes from Christie of The Girl Who Ate Everything aren't just a haunting Halloween dessert option; they're also the best red velvet recipe she's ever had. Each scary morsel is a two-bite delicious cheesecake with cream cheese frosting atop a crunchy oreo crust.
And if the red cheesecake isn't scary enough, you can add syrup, blood, and cookie knives. So, make them for your grown-up Halloween party or a night of watching spine-tingling slasher films. They'll become a favorite you make often.
Visit The Girl Who Ate Everything for the recipe.
Easy Candy Corn Bark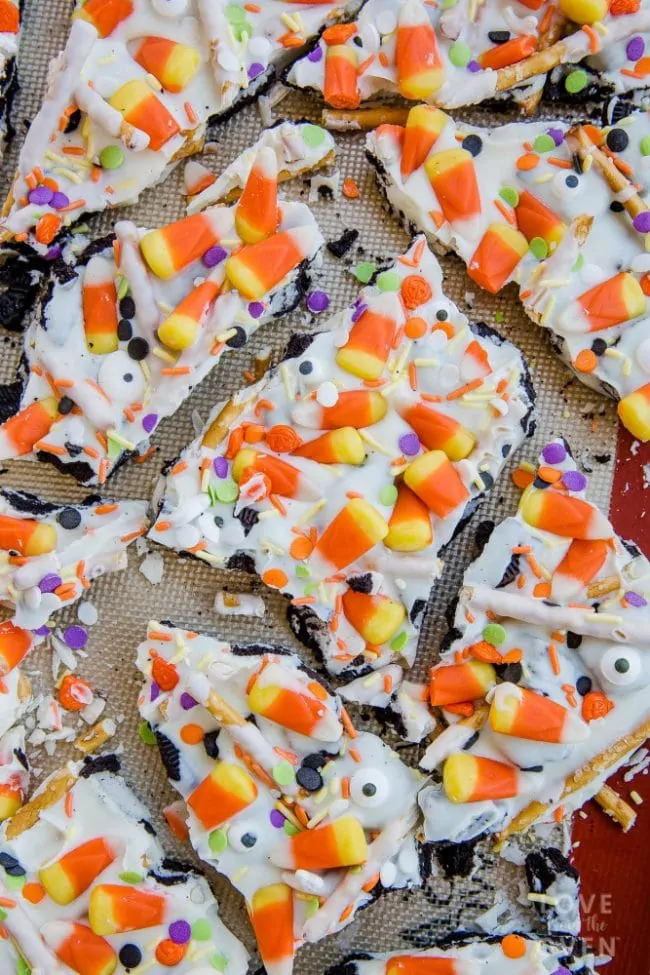 There isn't a way to go wrong with this easy candy corn bark recipe from Chrisite of Love From The Oven. In fact, this candy bark is so customizable she hesitates to call it a recipe at all. It consists of white chocolate, pretzels, candy eyes, cookies, and other fun stuff.
But you can swap nearly any ingredient for another. So, if you find yourself in a pinch with no Halloween snacks to make, don't be scared! With Christie's tricks, you can whip up this bark in just 10 minutes for a treat all the little goblins will devour.
Visit Love From The Oven for the recipe.
Which Easy Halloween Dessert Recipe Will You Try?
There are so many delicious and easy treats to try. So what will it be, the candy corn bark, mini red velvet cheesecakes, or something else entirely? Let us know!