Jump to Recipe
Air Fryer Puff Pastry Bacon Twists are your new favorite appetizer or snack! They are delicious with salty bacon wrapped in fluffy, layered buttery strips of puff pastry. It's a recipe that takes just minutes to make and you can serve it with a variety of dipping sauces. Are you ready to indulge?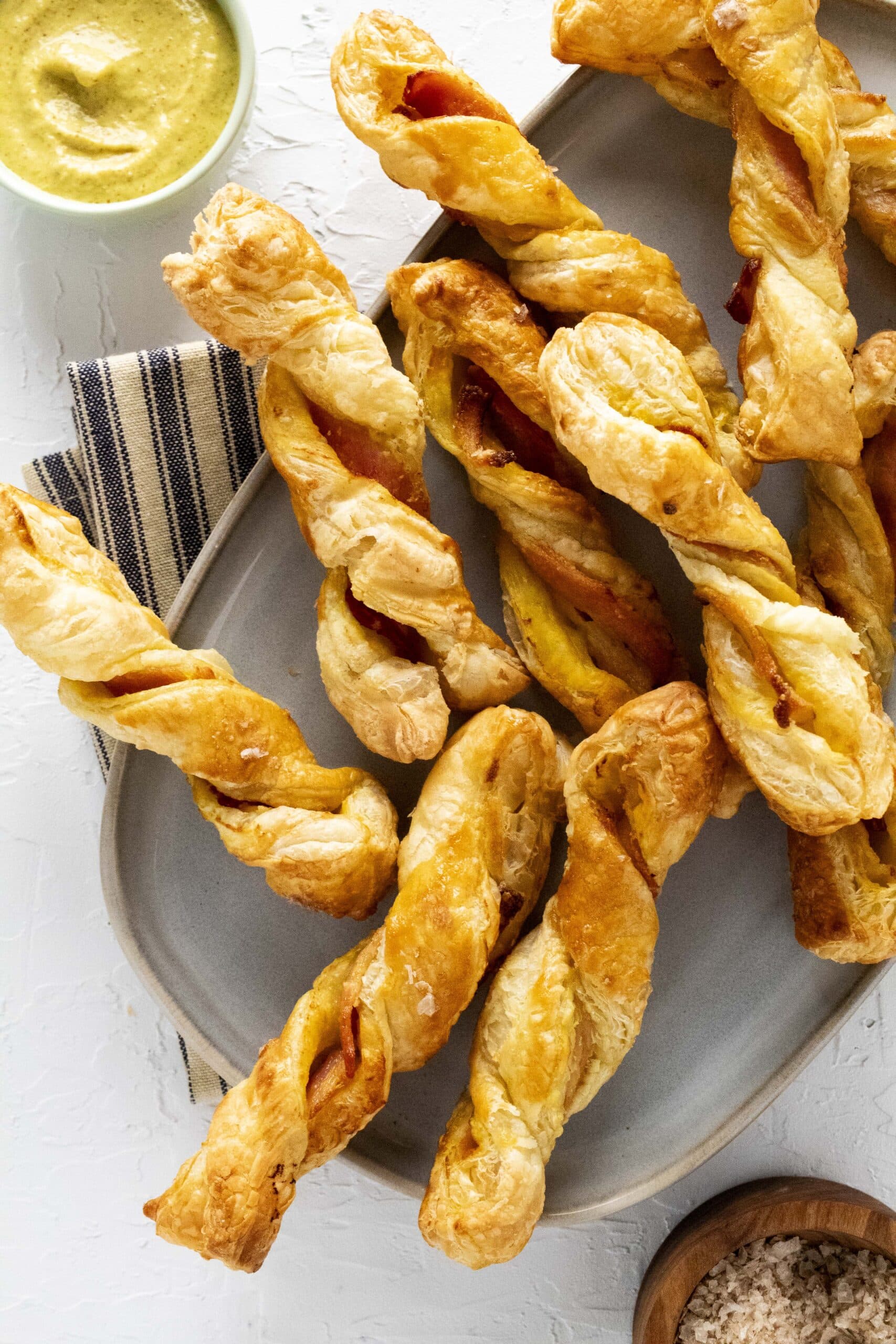 Okay, so these puff pastry twist are so good, you'll want to make them as an afterschool or movie snack (move over popcorn), but they're fancy enough to be a Christmas or Thanksgiving app.
We can't get enough of bacon, it's one of favorite guilty pleasures. For more salty porky goodness, see our air fryer caramelized onion tart with bacon, our bacon wrapped jalapeno hotdogs or our bacon slow cooker caramelized onion dip.
Jump to:
Ingredients
Before we jump into the how of this recipe, let's talk about the what and why. While there are only a handful of ingredients, each is important, let's discuss.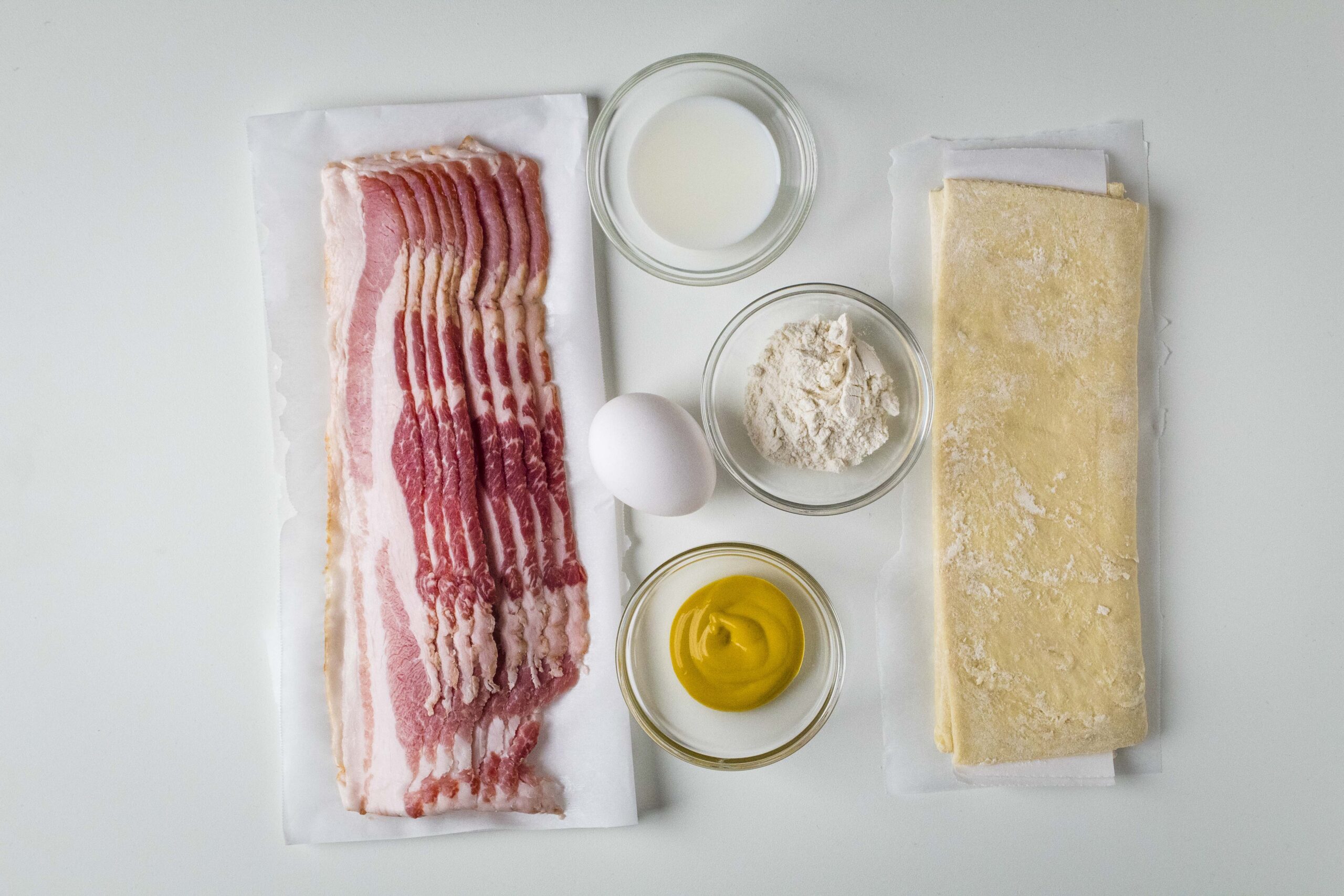 Puff Pastry – With store-bought puff pastry, there is no need to make it from scratch. Just take a short stroll down the freezer aisle.
Bacon – You will need regular cut bacon for this recipe. Use your favorite variety whether that's hickory smoked, applewood, or even brown sugar bacon is okay.
Mustard – The mustard adds flavor and helps the bacon stick to the puff pastry.
Flour – You will need a bit of flour for the rolling pin and rolling surface.
Egg – For that nice golden brown bakery finish, you will need to make an egg wash.
Milk – The milk thins out the egg wash so that you can easily brush it on.
See the recipe card for quantities.
How to Make Air Fryer Puff Pastry Bacon Twists
So now you know what you need for this air fryer bacon puff pastry twist recipe. Let's talk about putting it all together. There are only a few steps and we'll walk you through each one. Just be sure to thaw the puff pastry prior to getting started. And preheat your air fryer to 350 degrees and make your egg wash.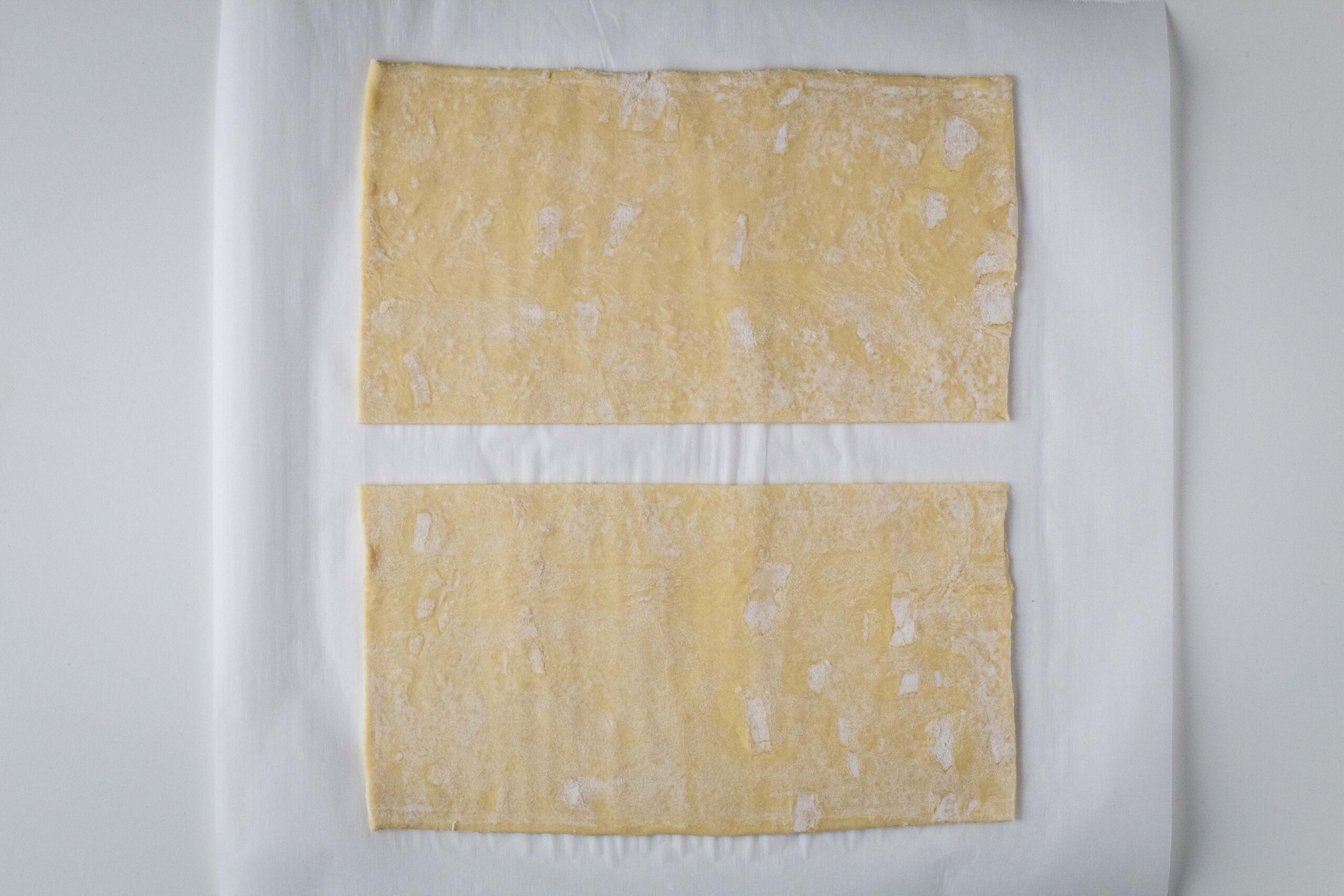 The first step is to roll out the puff pastry and cut it in half as shown in the image above.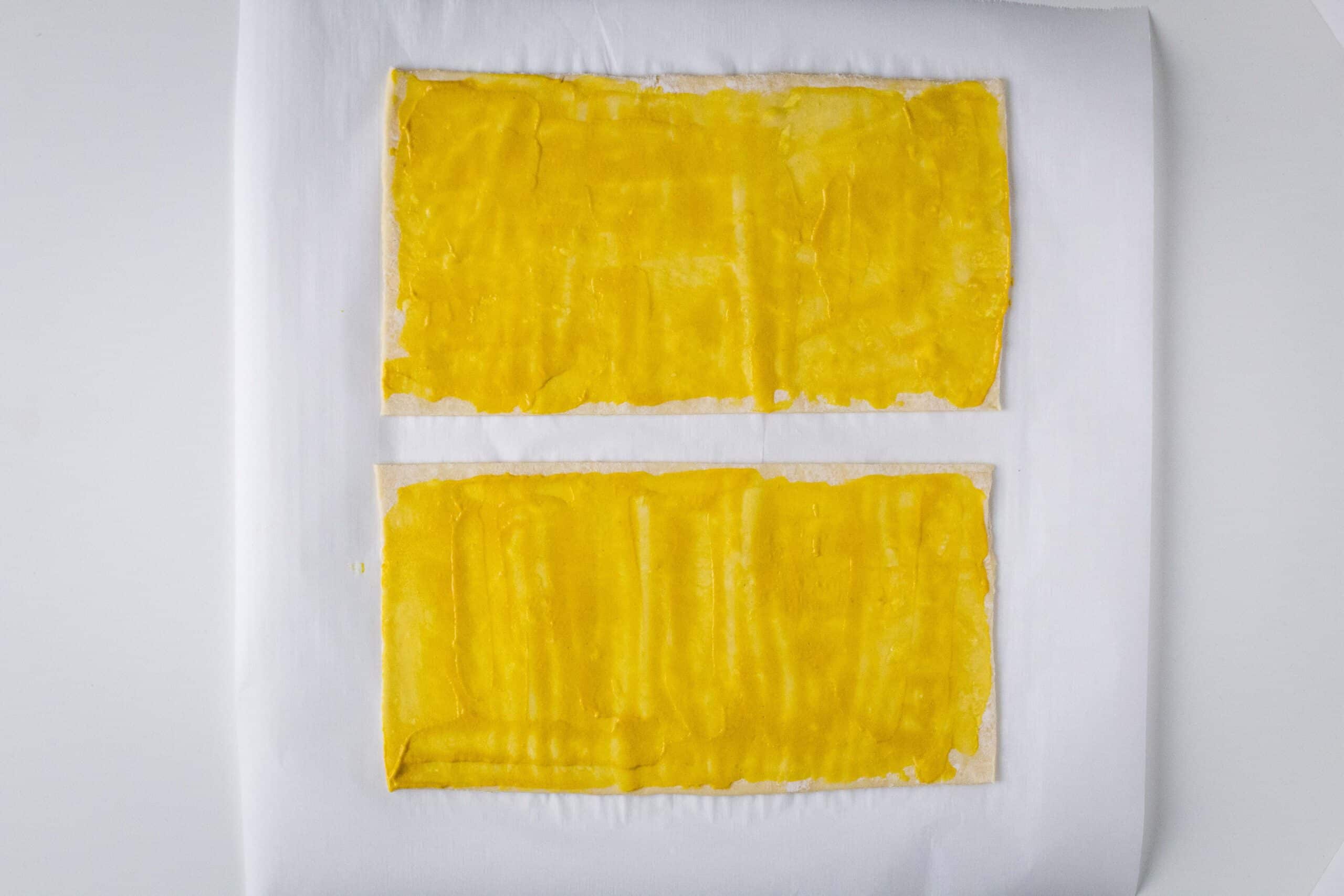 Next, you'll want to spread mustard on both halves as shown above.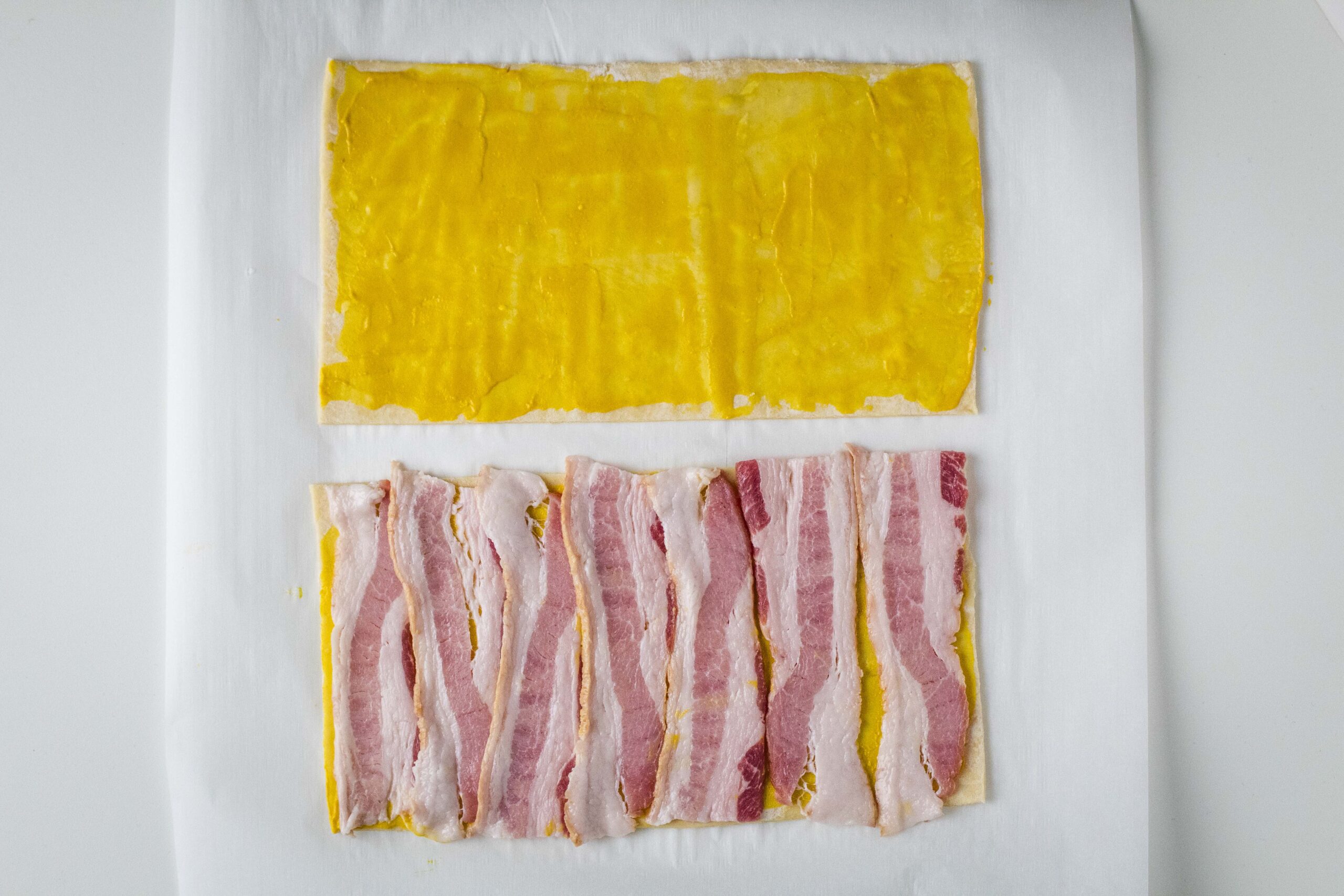 Next, cut the bacon in half along its length. Add the bacon to the puff pastry as shown. Then, cover the bacon with the other half sheet of puff pastry.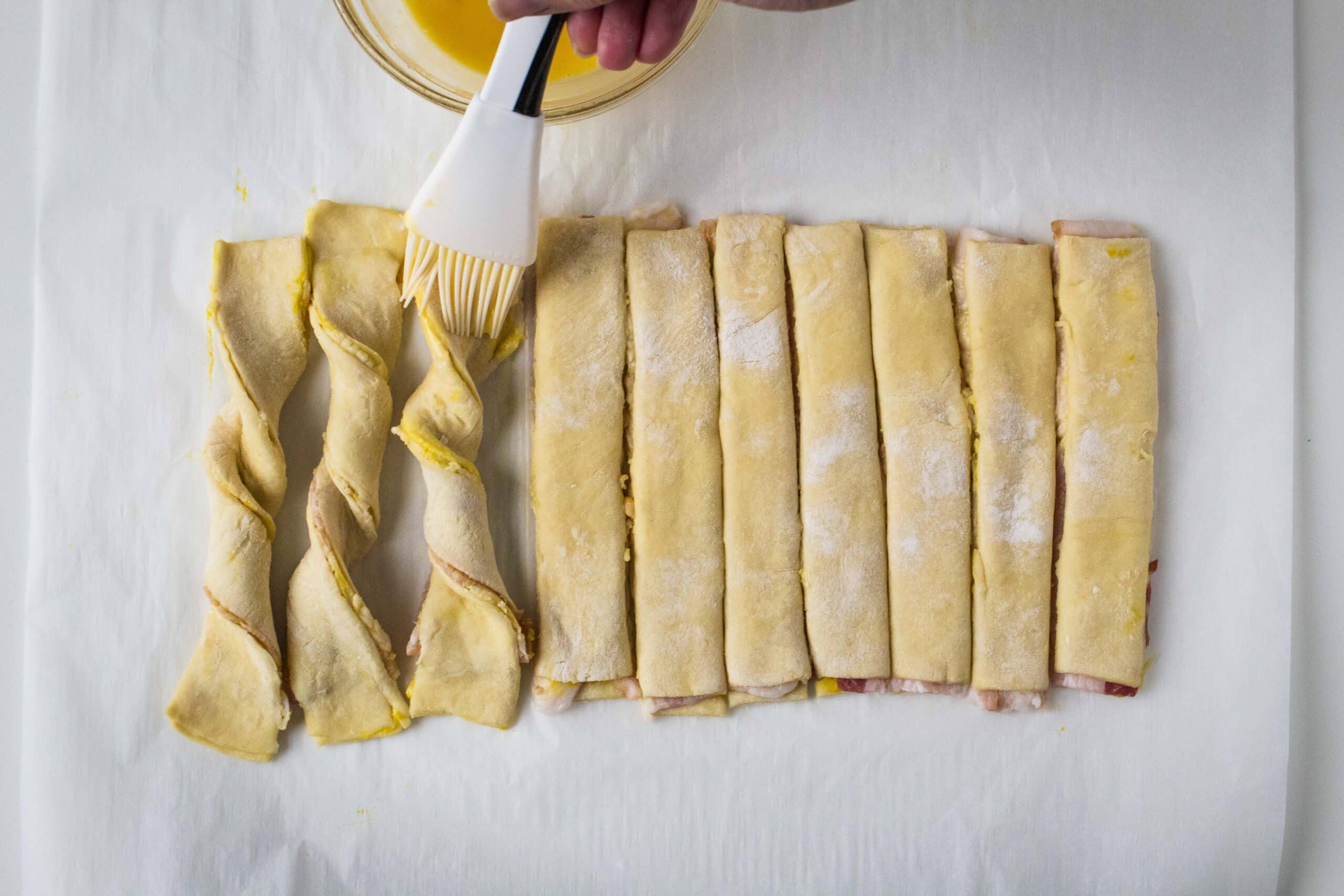 Cut the puff pastry into 10 strips. Take a strip and twist it three times and press the ends together firmly. Brush the puff pastry bacon twist with the egg wash. Air fry at 350 degrees for 6-8 minutes until golden brown.
Hint: If you find that the ends of these air fryer puff pastry twist start to unravel push the bacon down away from the edges so that the ends of the puff pastry touch. Finally, press the puff pastry ends together firmly.
Variations
OMG! We are so excited about the many ways you can change up this recipe. Best of all, creating variations for this recipe are just as easy to make as the original. Below are some of our favorite ideas.
Cheesy Bacon Twists – Before adding the bacon, how about adding some grated cheddar or parmesan.
Herb & Bacon Twists – Instead of mustard, brush the puff pastry with melted butter and minced garlic.
Sweet and Spicy Bacon Twists – Combine brown sugar with a pinch of cayenne pepper. Sprinkle this mixture over the bacon.
Everything Bagel Bacon Twists – This one is simple. After you brush the bacon twists with the egg wash, sprinkle them with everything bagel seasoning before air frying.
These are just a few examples of how you can change up this recipe. If you have any ideas, please let us know.
Equipment
The only special equipment you'll be needing for this bacon twists recipe is an air fryer. We like the Instant Pot Vortex as it's moderately priced, reliable, and we've had it for years.
Storage
First you'll have to let your bacon twists cool before placing them in an airtight container or zipper storage bag. You can keep them in the fridge for up to 3 days or freeze them for up to a month.
To reheat, just pop them back in the air fryer at 350 degrees for a few minutes until heated through.
Top tip
Don't be afraid tightly twisting the puff pastry bacon twists. A firm twist means that the bacon and pastry stay intertwined securely maintaining their shape and encourages even cooking.
FAQ
What is the best puff pastry for bacon twists?
Whatever you find in the freezer aisle at your grocery store will work. However, national brands like Pepperidge Farm is very good and reliable.
What are some recommendations for dipping sauces for puff pastry bacon twists?
There are so many delicious dipping sauce ideas you can try for your new favorite air fryer snack. You've got ranch, barbecue sauce, honey mustard sauce, or even an apricot sauce would go well with this recipe.
Can I add cheese to these bacon twists?
Yes! Hard cheeses like parmesan and cheddar work well here because they will melt but they won't be too messy and gooey.
How to prevent soggy puff pastry?
The are three things you need to do to avoid soggy puff pastry. For one, make sure that you thaw the puff pastry completely before getting started. And secondly, preheat your air fryer to 350 degrees before baking. Lastly, don't overcrowd the air fryer basket.
Other Puff Pastry Recipes
Looking for other recipes like this? Try these:
Air Fryer Bacon Twists Recipe
With these bacon twists, we're introducing you to your new favorite anytime appetizer. They're easy, salty, and so very delicious with just five simple ingredients.
Ingredients
1

Puff Pastry Sheet

8

Slices of Bacon

2

Tbsp

Prepared Mustard

1

Large Egg

1

Tbsp

Milk
Instructions
Preheat the air fryer to 350 degrees.

In a small bowl, lightly whisk the egg and milk. Set aside.

Unfold the pastry sheet on the work surface lightly dusted with flour. Roll the pastry sheet into an 11×10-inch rectangle. Cut the pastry sheet in half lengthwise.

Take one half and place it in front of you so that the longer side is facing you. Spread 1 tablespoon of mustard on the pastry, leaving the edges mustard-free. Take the rest of the mustard and spread it on the 2nd half.

Add the bacon strips on top of the mustard, leaving a border all the way around. If the strips are too long, trim the excess off. (See note)

Top the bacon with the other half of the pastry sheet, mustard-side down.

Slice the pastry into 10 strips. Take a strip and twist it with your hands about 3 times. Ensure you pinch the edges firmly close. (See note)

Continue until all strips are twisted and ends are pinched. Brush the top with the egg wash.

Spray the air fryer basket with cooking spray and add a few strips. Cook for 6-8 minutes. Continue until all strips are cooked, and enjoy!
Notes
Make sure to thaw the puff pastry according to the package instructions.
You want to use regular-cut bacon; thick-cut bacon will take longer to cook and may burn the pastry. 
You might also need more or fewer strips, depending on their width. Mine were pretty wide.
Leaving a border after laying the bacon on top of the mustard helps when you are ready to twist. You want to firmly pinch the ends to prevent the puff pastry from separating. 
Make sure you twist tightly. This will prevent it from separating during cooking. 
Depending on the size of your machine, you may need to cook these in a few batches. 
After the egg wash, we added flaky sea salt. However, this would also be good with everything seasoning or poppy seeds. 
Nutrition
Calories:
174
kcal
Carbohydrates:
11
g
Protein:
5
g
Fat:
12
g
Saturated Fat:
3
g
Polyunsaturated Fat:
2
g
Monounsaturated Fat:
7
g
Trans Fat:
0.01
g
Cholesterol:
23
mg
Sodium:
208
mg
Potassium:
60
mg
Fiber:
0.5
g
Sugar:
0.3
g
Vitamin A:
31
IU
Vitamin C:
0.01
mg
Calcium:
9
mg
Iron:
1
mg