Jump to Recipe
This Air Fryer Caramelized Onion Tart recipe is delicious and surprisingly quick with a touch of elegance. You have freezer aisle puff pastry, caramelized onions, gruyere cheese, and sprigs of thyme.
They're crispy with gooey cheese and the irresistible deep and sweet flavor of caramelized onions and herbs. So, make these little bites when you want a lunch or appetizer on the fancy side of life.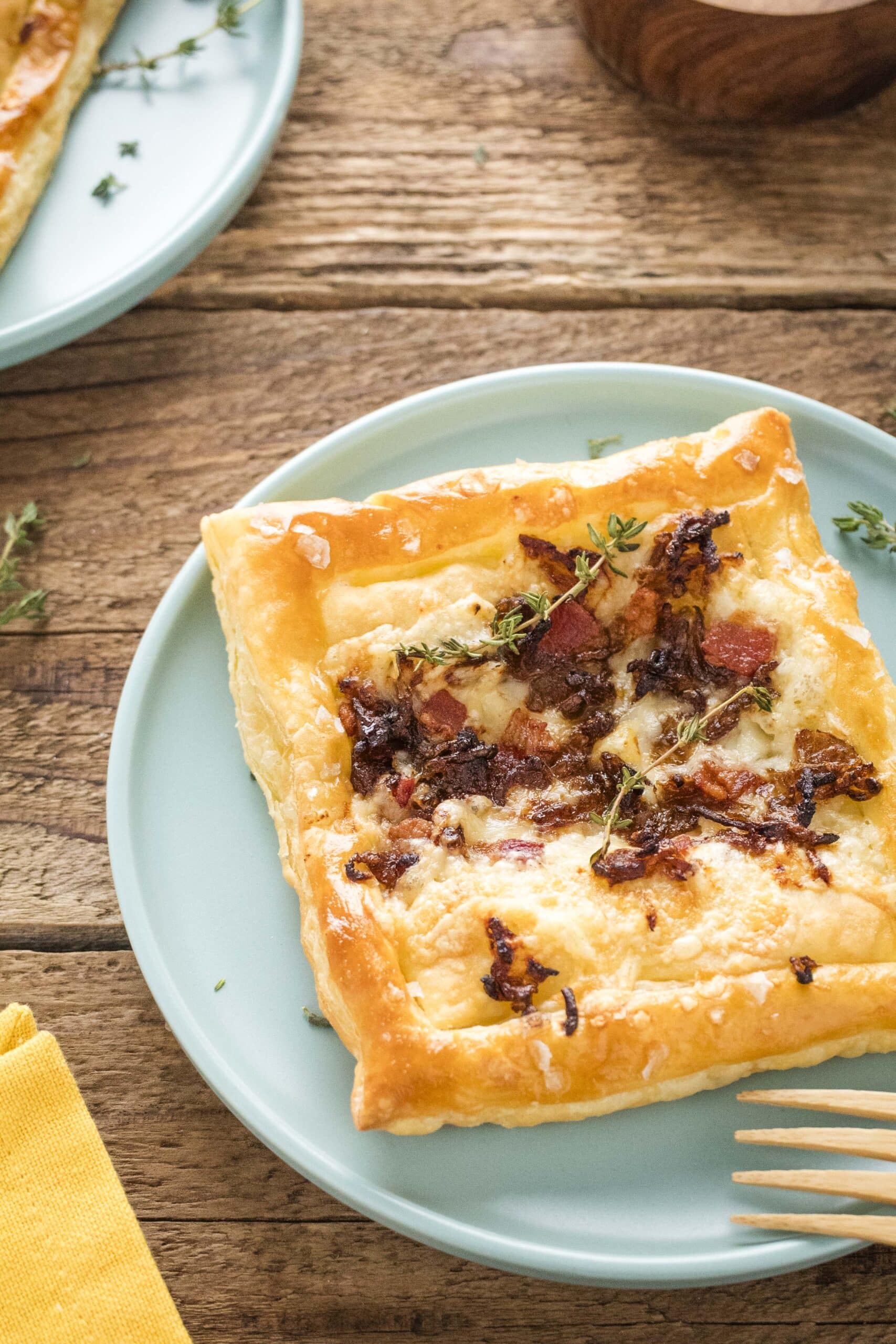 You might feel moved to make these around holidays or as part of a surprise dinner for two.
And if your looking for another appetizer featuring onions as the main ingredient, see our slow cooker caramelized onion bacon dip.
Jump to:
Ingredients
While you'll fall in love with the flavor, you'll also love that this recipe requires just four ingredients including the caramelized onions. So, let's talk about the ingredients in more detail.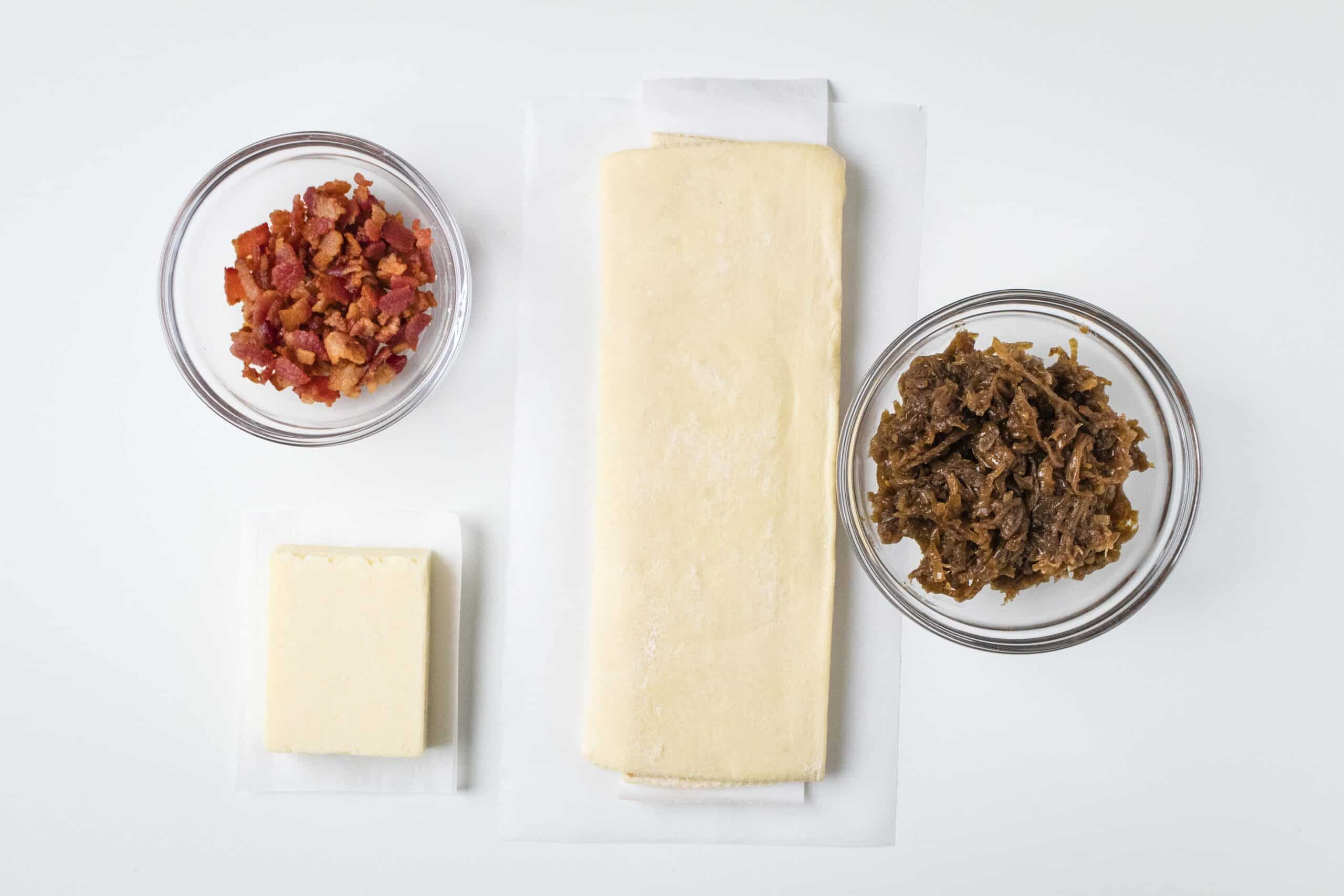 Puff Pastry – Freezer aisle puff pastry is the true hero of this dish. While you could make it from home, it would be time-consuming. Plus, the freezer aisle stuff tastes great. Just thaw by taking it out of the freezer about 40 minutes before using.
Caramelized Onions – We also use a bag of run-of-the-mill yellow onions to make our tasty caramelized onions.
Gruyere Cheese – we used a version of Gruyere called cheddar gruyere. To make shredding the cheese easier, you'll want to place it in the freezer for about 20 minutes before using it.
Bacon – any variety of savory bacon will work well. Dice it before cooking. Freezing before dicing makes it easier to do.
See the recipe card for quantities.
How to Make Caramelized Onions
You can make caramelized onions in several ways. In our experience, they taste best when prepared stovetop. But for those reddish-brown, thick, jammy caramelized onions, it's gonna take time. As in 45 minutes to an hour.
But, if you have the patience, it's totally worth it. The versatile food makes a delicious side, ingredient, dip, and even homemade jarred food gift.
The next, and most common way we make caramelized onions is with the slow cooker. What you sacrifice in flavor, you get back in convenience.
The First step is to slice up about three pounds of onions. Then add them to your favorite slow cooker with some chicken base and butter.
After 7 hours, most of liquid will have evaporated. Then you'll need to allow it to cook 3 more hours with the slow cooker lid removed to get that thick jammy texture. Below is what it will look like when they are done.
How to Make Air Fryer Caramelized Onion Tart
Now that we know how to make the caramelized onions for these tarts, let's discuss assembling this elegant gourmet appetizer so that it's as delicious as it is pleasing to the eye. The first step is to preheat the air fryer to 350 degrees.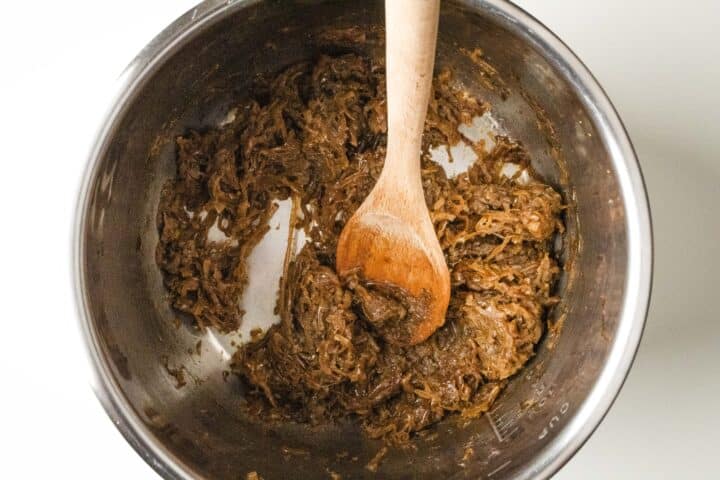 You'll want to make the caramelized onions based on the instructions in the recipe card.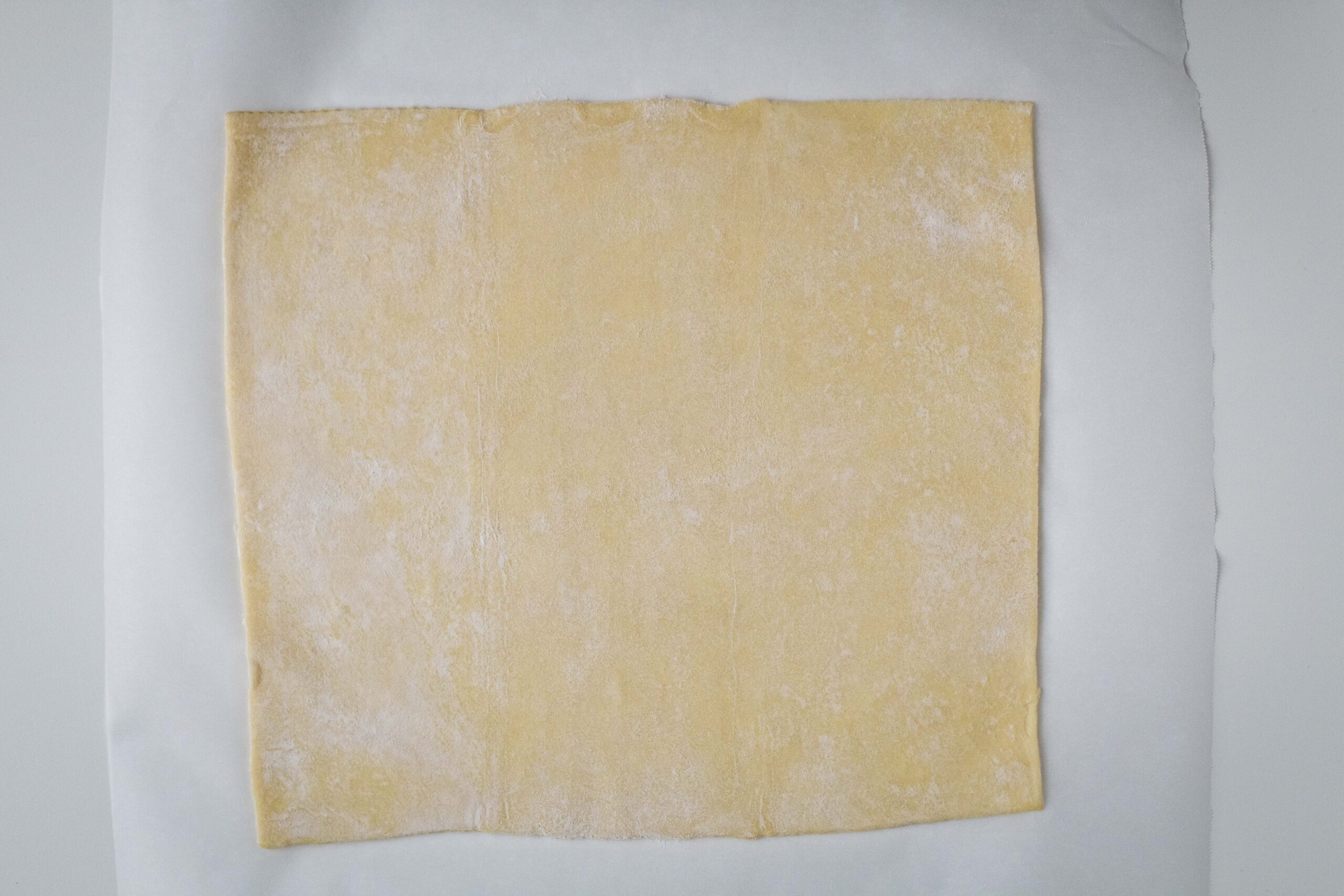 Then thaw the puff pastry. You will need to add flour to the rolling surface and rolling pan and roll the puff pastry to about 11 inches by 10 inches.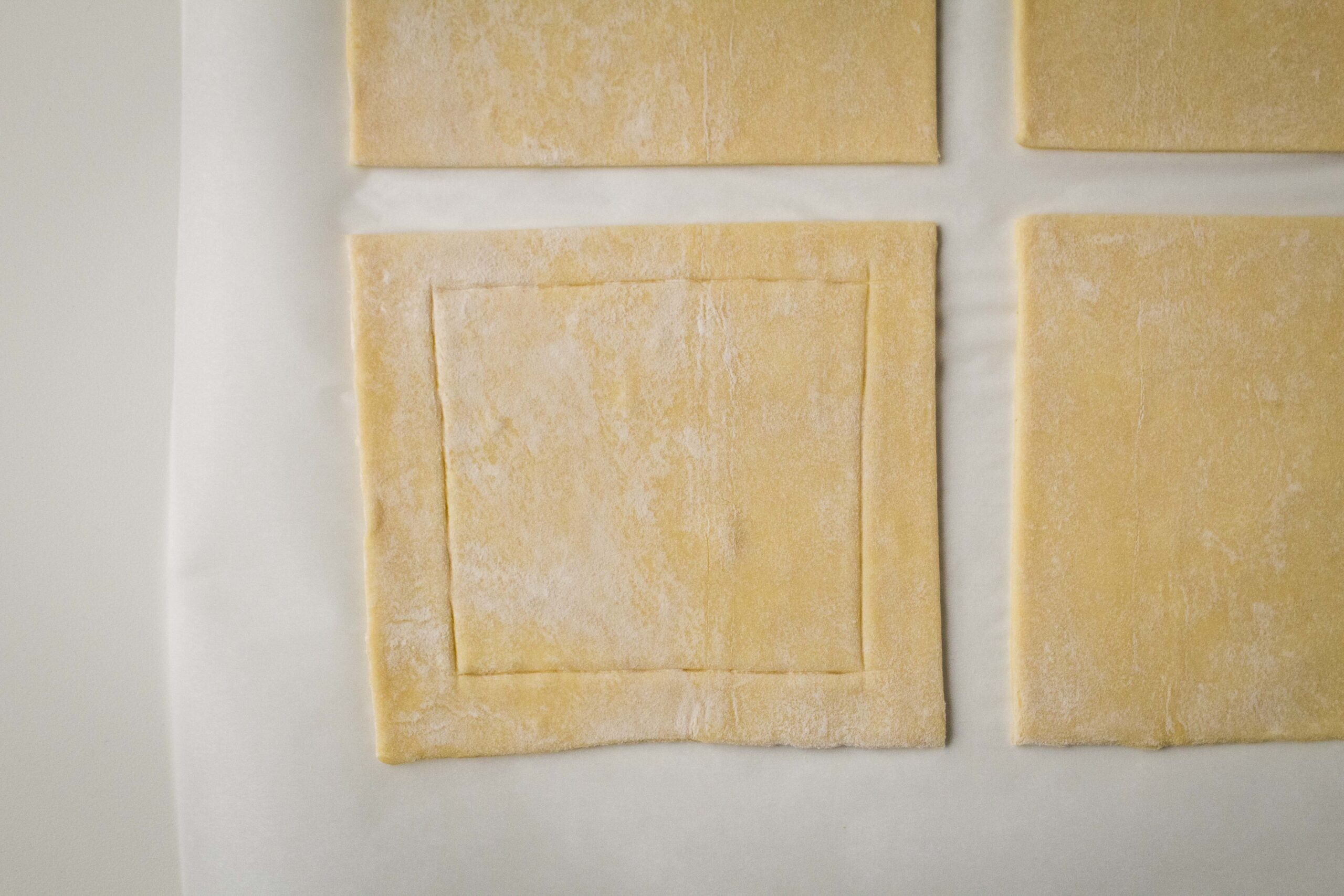 Then cut the puff pastry into four equal parts. Next, use a paring knife to create 1/2 inch border around your puff pastry squares as shown in the image above. But be careful not to cut all the way through it.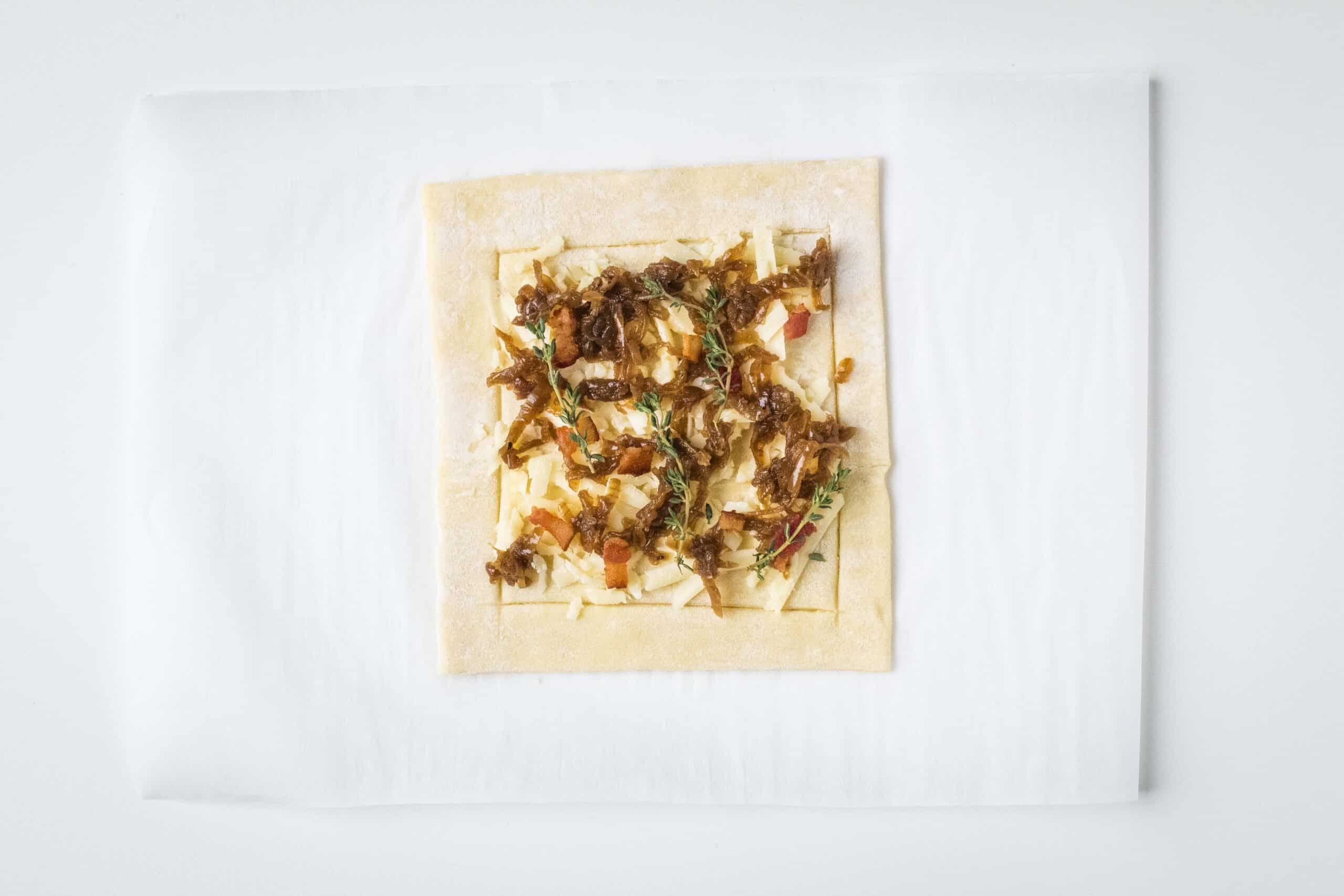 Add some cheese, bacon, caramelized onions, and thyme to the puff pastry as shown above. Brush the edges with the egg wash and bake it for 6 to 8 minutes at 350 degrees.
Hint: When creating the border, do not press completely through the pastry. Instead, all you need to do is score it.
Variations
There are so many different ways you can remix your air fryer caramelized onion tarts to suit your taste. Below, we'll discuss some options to spark your imagination.
Mushroom Medley – Sautee mushrooms then add them to your puff pastry along with the caramelized onions and bacon.
Sweet and Savory – Add some apples, fig jam or balsamic reduction for a sweet and savory air fryer creation.
Cheesy Twist – While this recipe calls for gruyere cheese, blue cheese or goat cheese are phenomenal options to change this recipe.
Mediterranean – For a taste of the Mediterranean, add olives, feta, capers and anchovies.
Spicy – Add a pinch of red pepper or chili pepper flakes to the caramelized onions while they're cooking.
Equipment
The only specialized equipment you'll need is an air fryer. We like the Instant Pot Vortex. We've had it for years and it works as good as the day we first started using it.
For the caramelized onions, we used a mandoline slicer. We've had it for years and it works great.
Storage & Reheating
So you've made some air fryer caramelized onion tarts. Great! The next step is to allow them to cool to room temperature. Then, place them in an airtight container in a single layer. You will need to use parchment paper between layers to prevent sticking.
You can store them for up to 3 days. Then when you want to reheat them, use the air fryer to warm them up.
Top tip
The number one tip is to preheat the air fryer. Doing so will ensure that the puff pastry crust stays crispy while the toppings are warmed and the cheese is gooey.
FAQ
Can I caramelize onions in an air fryer?
It's possible but it's far better to make them stovetop or in the slow cooker as detailed above.
What's the best way to ensure my tart crust is crispy in the air fryer?
Preheat your air fryer and do not overload the tart with toppings as that can make the crust soggy.
Can I freeze air fryer caramelized onion tarts?
Yes. Fully cook the tarts and allow them to cool. Next, you'll want to freeze them in a freezer bag or airtight container using parchment paper to separate the layers. Reheat in the air fryer to serve.

However, they taste much better if you make them fresh.
Looking for Other Delicious Air Fryer Meals?
Try these:
Air Fryer Caramelized Onion Tart Recipe
This Air Fryer Caramelized Onion Tart recipe is so good you'll want to make it all of the time. It is quick to make with just a few ingredients. Follow along.
Equipment
1 Slow Cooker

1 Mandoline Slicer

Optional (wear cut-resistant gloves if you use a mandoline slicer
Ingredients
1

Puff Pastry Sheet

4

Slices of Bacon

Diced and Cooked

4

Oz

Gruyere

Shredded

1

Large Egg

1

Tbsp

Milk

Fresh Thyme
Caramelized Onion
3

Pounds Onions

Thinly Sliced

1

Tsp

Chicken Base

2

Tbsps

Unsalted Butter

Melted
Instructions
Thinly slice all the onions and place them in the slow cooker bowl. Add the melted butter and chicken base. Cook on low heat for 7 hours. Then, remove the lid and cook for an additional 3 hours.

Dice the bacon and cook it until crispy. Place the cooked bacon on a plate lined with paper towel to absorb any access fat.

In a small bowl, lightly whisk the egg and milk. Set aside.

Preheat the air fryer to 350 degrees.

Unfold the pastry sheet on the work surface lightly dusted with flour. Roll the pastry sheet into an 11×10-inch rectangle. Cut into 4 equal squares.

Divide the cheese, 1/2 cup caramelized onion, and bacon between each square. Start with the cheese, then onions, bacon finally, top with a few springs of fresh thyme.

Brush the edges with the egg mixture.

Spray the air fryer basket with cooking spray and add one square. Cook for 6-8 minutes. Or until golden brown.

Continue until all pieces have been cooked, enjoy!
Notes
Removing the lid will help get a jam-like consistency. You want most of the liquid evaporated. 
You won't use all of the caramelized onion. 
You will need to cook in batches. 
Store in an airtight container in the fridge for up to 2 days. 
Reheat at 350 degrees for 2-3 minutes. 
Nutrition
Calories:
562
kcal
Carbohydrates:
28
g
Protein:
17
g
Fat:
42
g
Saturated Fat:
16
g
Polyunsaturated Fat:
4
g
Monounsaturated Fat:
19
g
Trans Fat:
0.2
g
Cholesterol:
96
mg
Sodium:
627
mg
Potassium:
125
mg
Fiber:
1
g
Sugar:
1
g
Vitamin A:
513
IU
Vitamin C:
0.1
mg
Calcium:
307
mg
Iron:
2
mg