On this list of flavorful 30 minute dinner recipes, you'll discover so many delicious quick dinner ideas you'll never have to spend all day in the kitchen again! So this is one list you don't want to miss.
Here is a preview of what you can expect.
For example, there is a fiesta lime chicken dinner, flaky air fryer salmon, Cajun jambalaya, and so many more. You'll be surprised at how delicious these quick meals are. So are you ready to discover the tasty?
Let's dive in!
If you love this list, you'll love these cheap dinner recipes.
Fiesta Lime Chicken Recipe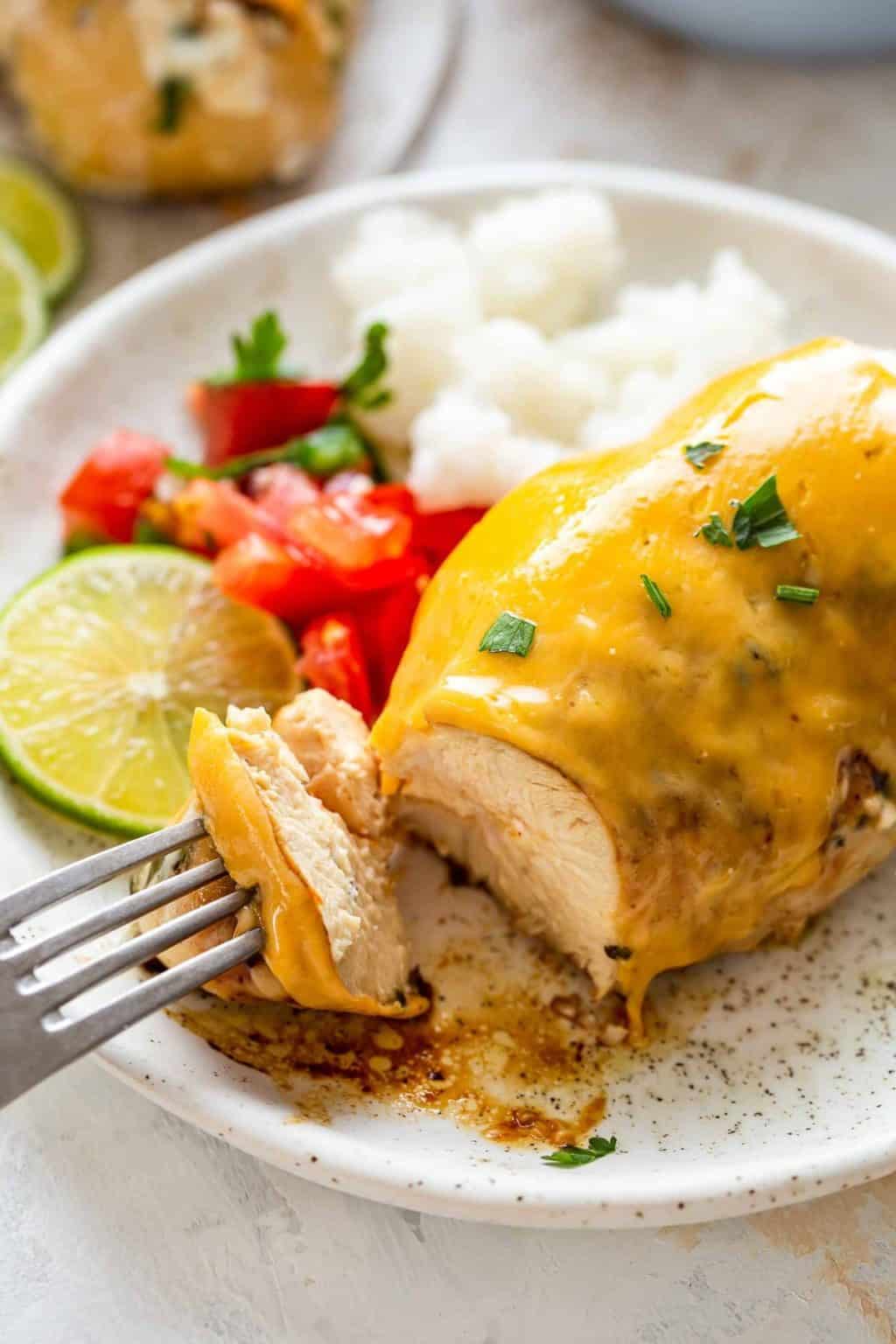 Have a restaurant-quality chicken dinner right in your own dining room with this Tex-Mex fiesta lime chicken recipe by Becky of Easy Chicken Recipes. First, your chicken breast gets a bath in a delicious 6-hour marinade full of tequila, lime juice, orange juice, cilantro, pepper, and other seasonings. But after that, you can have it on the table in just 30 minutes.
Creamy Cajun Pasta with Sausage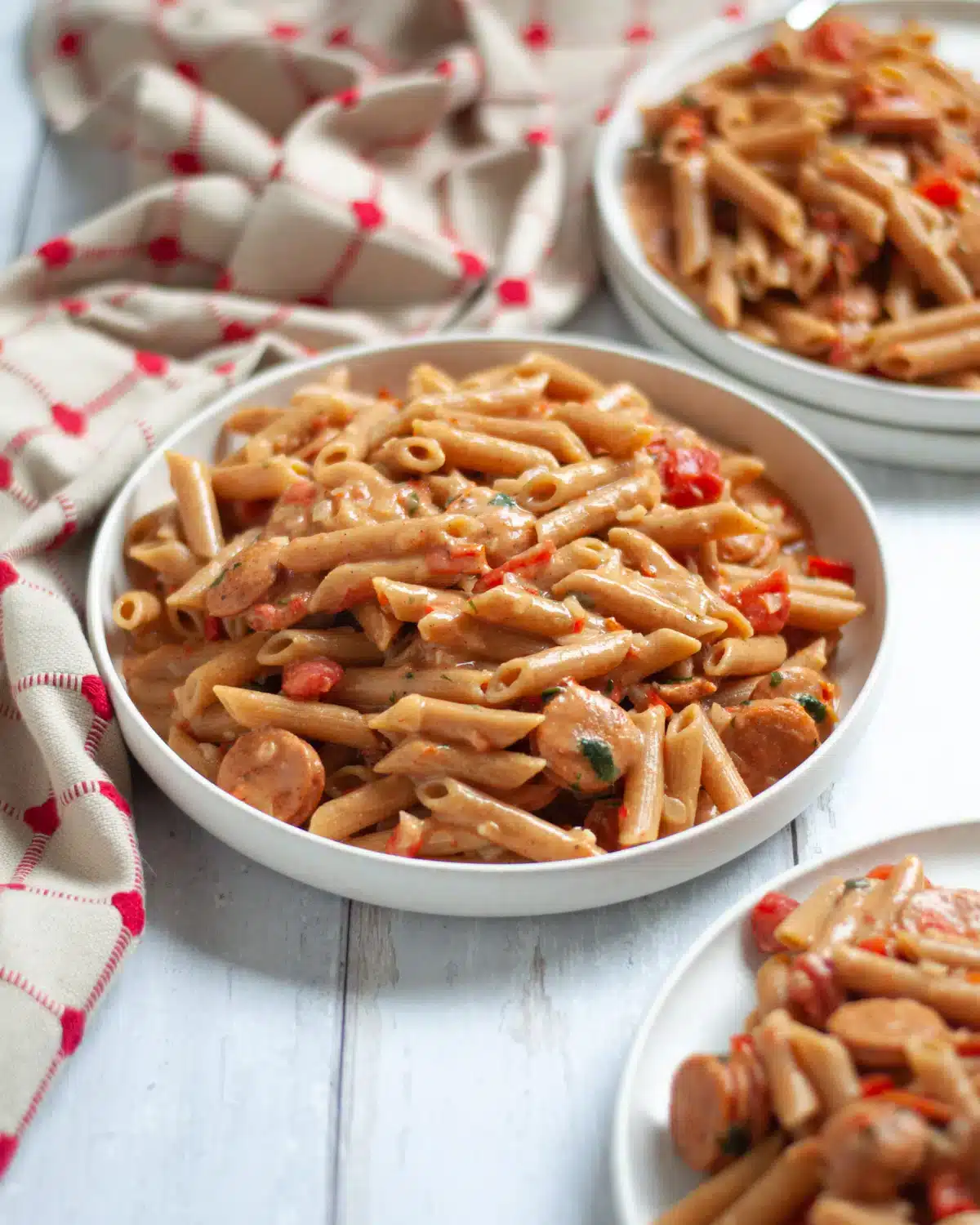 This creamy cajun pasta with sausage recipe from Meredith of Our Love Language Is Food is full of spice, andouille chicken sausage, and other pantry staples. It's a great way to shake up your dinner menu, especially if you cater to a house full of pasta lovers.
Honey Lemon Chicken
Honey lemon chicken by Melissa of Modern Honey is a satisfyingly sweet and salty dinner option you'll want on your menu immediately. It's rich and buttery, with so much flavor from the fresh lemon juice, garlic, pepper, and soy sauce.
Tuna Pesto Pasta
30-minute meals are great, but what if you could have dinner on the table in just 15 minutes? That's the promise of this elegant yet flavor-filled aromatic tuna pesto pasta recipe by Maretha of The Cinnamon Jar. Every bite is full of walnut, bright fresh basil, salty parmesan, and garlicky pesto.
Easy Pork Egg Roll In A Bowl
If you're looking for a tasty crowd-pleasing dinner packed with protein and veggies, this easy pork egg roll in a bowl from Street Smart Nutrition is right up your alley. It features ground pork, red bell peppers, matchstick carrots, shredded green cabbage, and the flavors of sesame oil, garlic, and ginger.
Poppy Seed Ham And Cheese Sliders
When it's been a long day, and takeout won't do, you turn to tasty, quick meals the whole family will love, like these poppy seed ham and cheese sliders from Love These Recipes. The game day favorite is cheesy, meaty and comes together in minutes.
Skillet Ranch Chicken Fajitas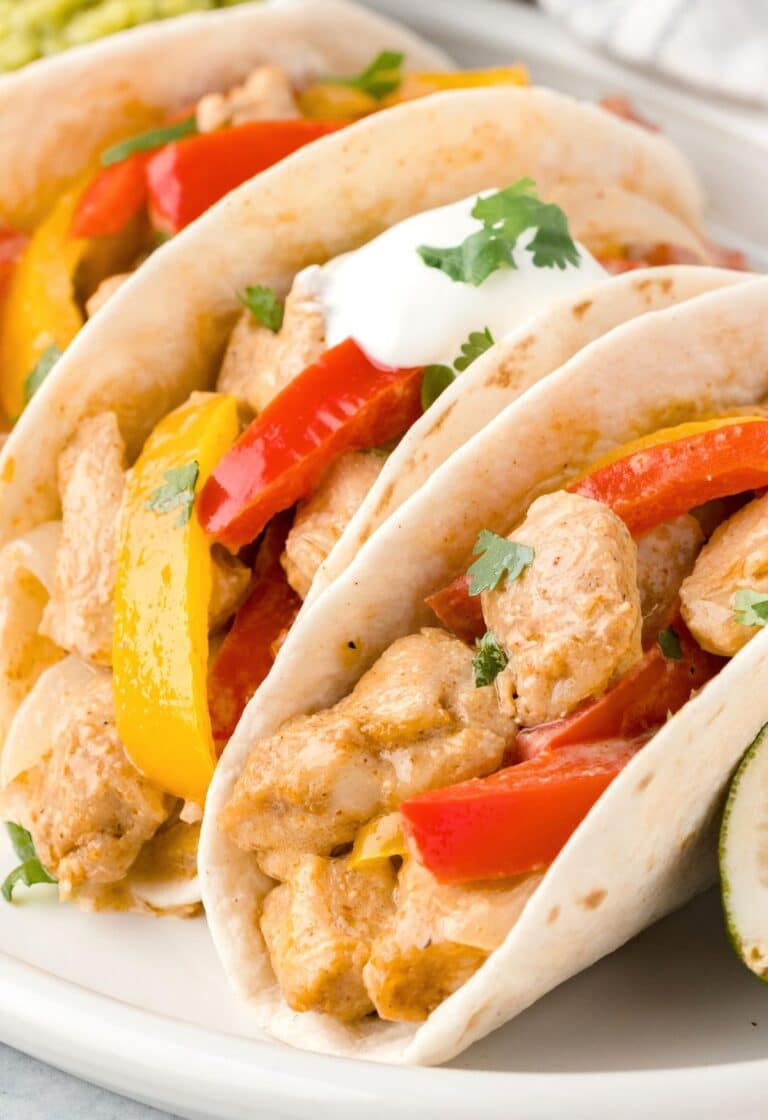 These skillet ranch chicken fajitas are great for sticking Together As Family. Each mouthwatering bite has tender chunks of chicken, bell peppers, onions, and ranch dressing. Mmmm! How can a meal this delicious be so quick too?
Easy Chicken Broccoli Alfredo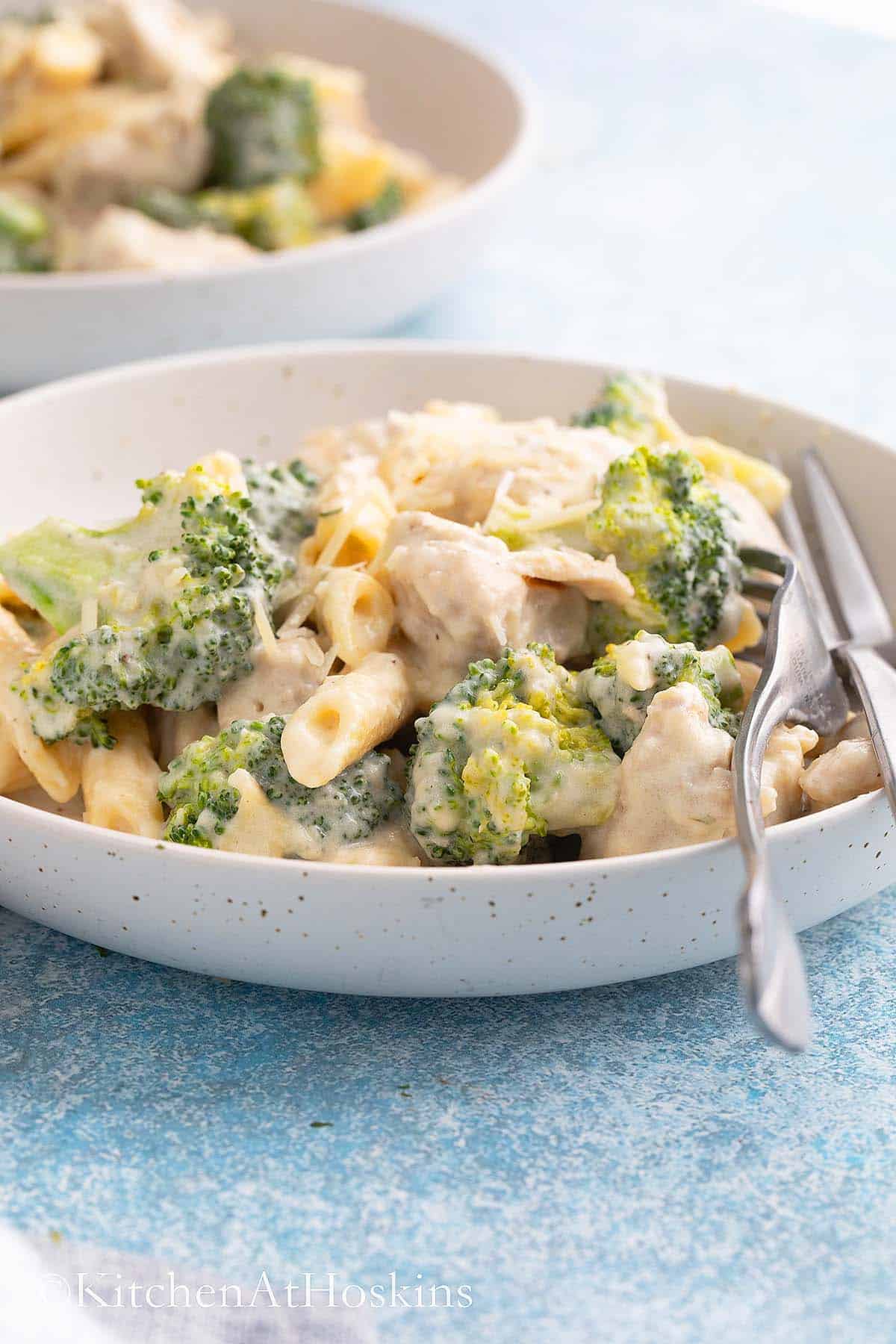 Keep those bellies full and satisfied with this easy chicken broccoli alfredo by Maria of Kitchen At Hoskins. Each forkful of this plate-licking-worthy meal features juicy chunks of tender chicken breast, al dente penne pasta, perfectly cooked broccoli, and sauce. That sauce is a creamy, silky smooth alfredo, smothering everything.
Flaky Air Fryer Salmon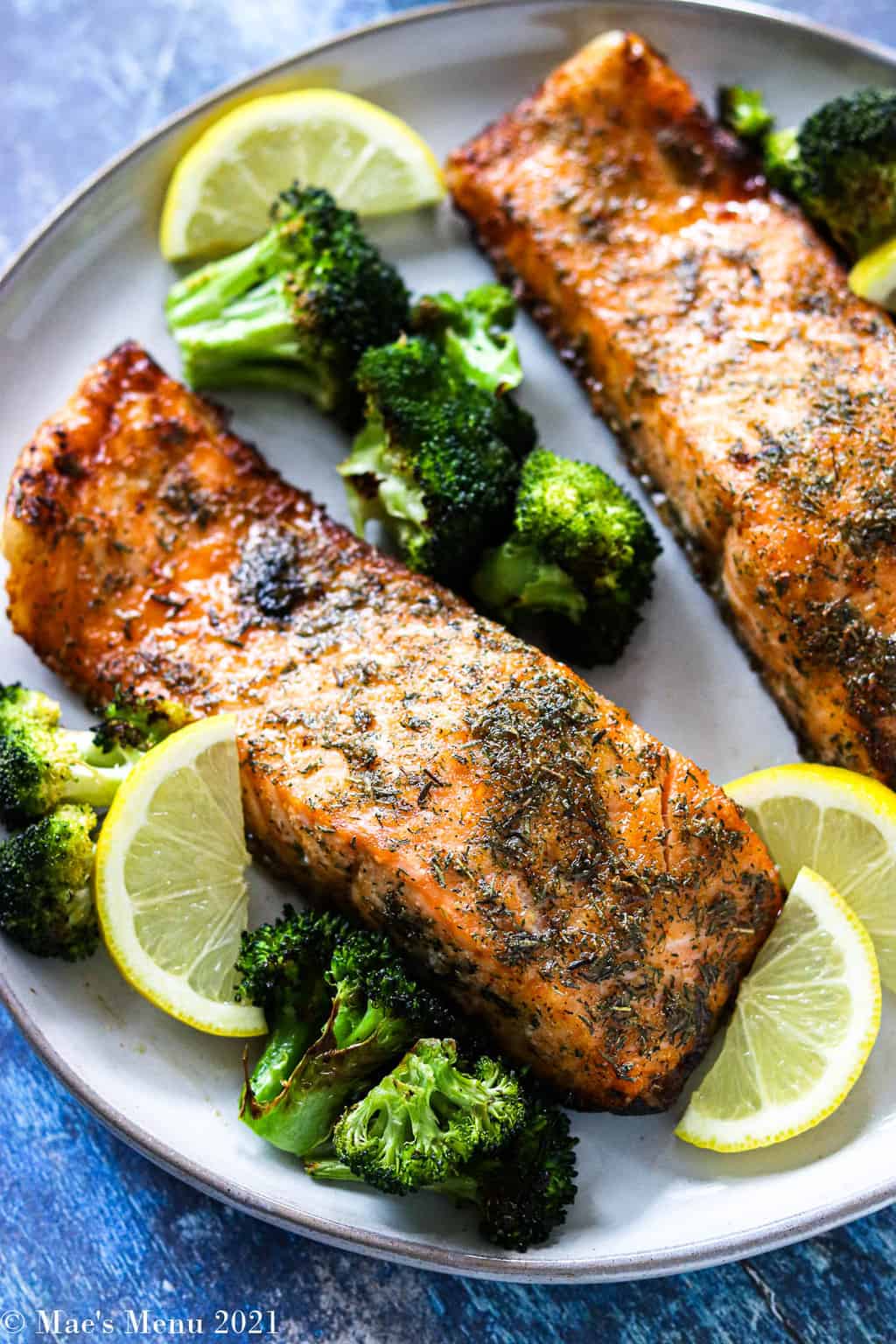 With this flaky air fryer salmon, Chelsea of Mae's Menu proves you can quickly have a gourmet and nutrient-dense meal. In less than 30 minutes, you'll have tender salmon with a crispy exterior seasoned well with a cayenne, onion, dried dill, and thyme-seasoned maple glaze.
Delicious Coriander Garlic Butter Prawns
The flavors of East and West collide for this coriander garlic butter prawns recipe by Cooking With Lei. This fragrant and fresh recipe is so simple that it actually takes more time to prepare than to cook (15 minutes compared with just five). Each succulent shrimp is deliciously seasoned with cilantro, garlic, and butter.
Juicy Lemon Herb Kabobs
You'll want to try this fast, juicy lemon herb chicken kabobs recipe from Healy Eats Real because what's more fun than food on a stick? They're juicy, citrusy, filling, fresh, and aromatic. And that slight char gives a smokiness making them irresistible.
Shortcut Chicken and Dumplings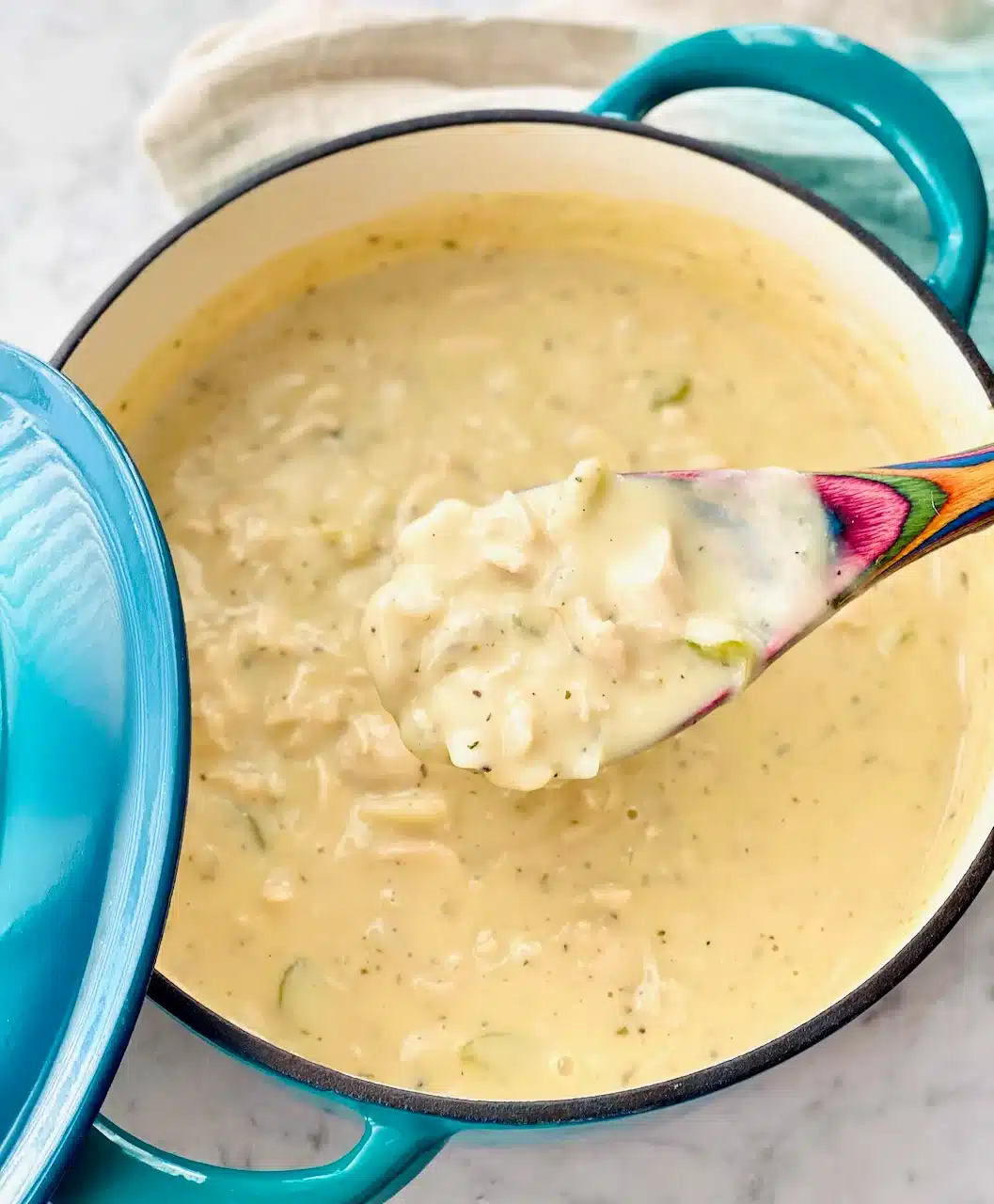 You're on this page for 30-minute meal ideas, so you probably weren't expecting to see an entry for shortcut chicken and dumplings. But here's the deal, it's super flavorful with shredded chicken, cream of chicken soup, celery, onion, oregano, garlic powder, and other seasonings. However, there's a secret ingredient that makes everything come together quickly.
Cajun Jambalaya Recipe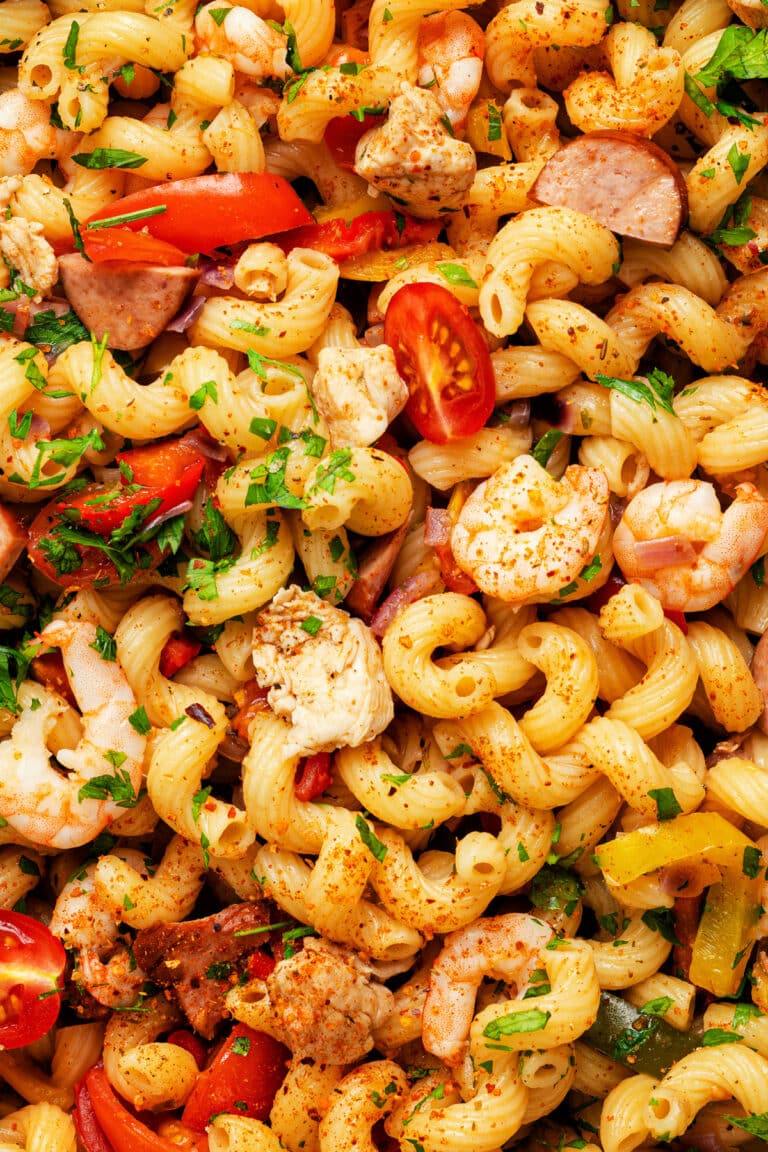 While not authentic, you'll still enjoy the flavors of this cajun jambalaya recipe by Lucy of Super Golden Bakes. This appetizing one-pot meal has everything you need, from the chicken and smoked sausage to the shrimp, veggies, and tender pasta.
Chicken and Asparagus Stir Fry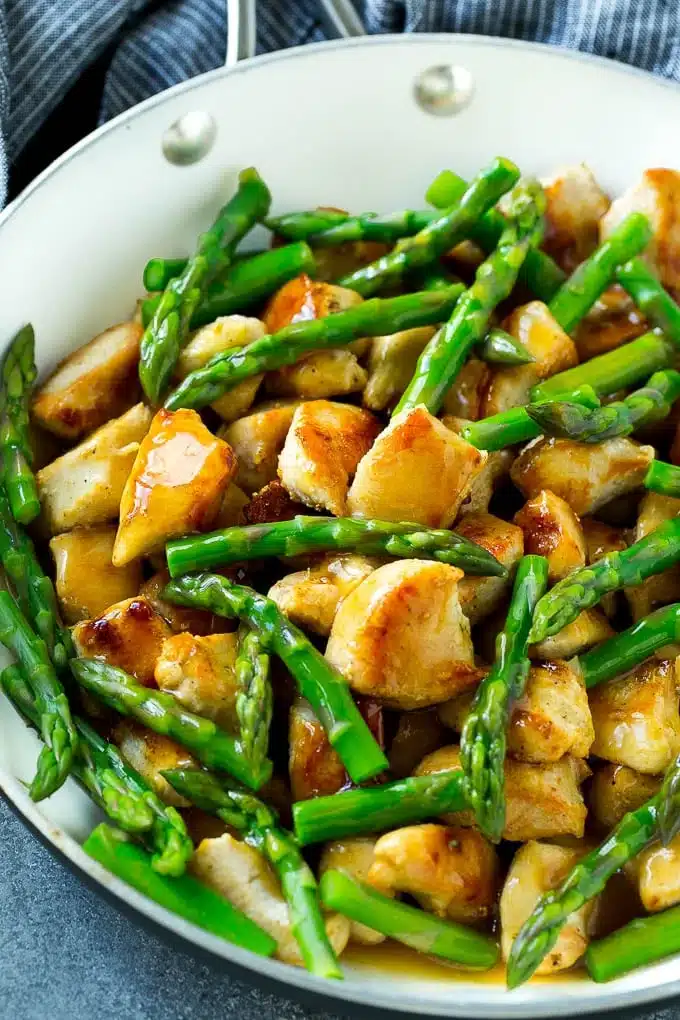 Sara knows a little something about quick and healthier meals. It's how she gets through Dinner At The Zoo. Take this chicken and asparagus stir fry. It's a 25-minute dinner featuring succulent chicken breast pieces and fresh asparagus coated in a flavorful garlic and ginger sauce.
Provolone Grilled Cheese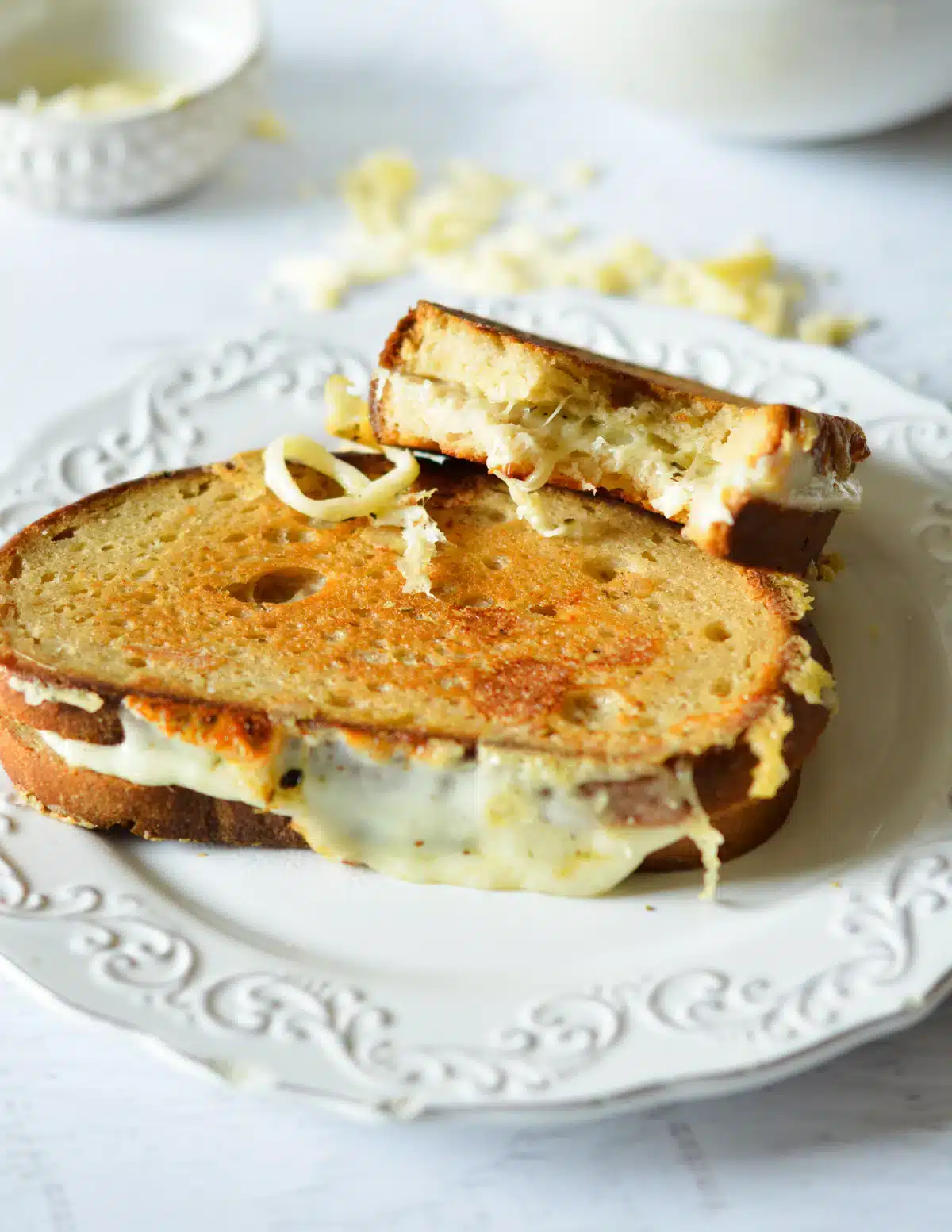 Or if you're really strapped for time, check out this provolone grilled cheese sandwich recipe by Carolyn of Caramel And Cashews. But it's not your mama's grilled cheese. This one starts with a basil, rosemary, garlic, salt and pepper spice mix and a blend of provolone and gruyere.
Air Fryer Pizza Recipe
Marlynn of Urban Bliss Life is a master of quick and tasty meals like this air fryer pizza recipe. There will be no dough-making or thawing. You take prepared French bread, pizza sauce, cheese, and your favorite toppings and have a satisfyingly filling dinner in no time.
Easy Thai Peanut Chicken Noodle Stir Fry
If you're like Chef Lindsay Farr and will eat peanut sauce on just about anything, you'll love this 20-minute easy Thai peanut chicken noodle stir fry. Why? It's nutritious with mixed veggies and chicken covered in a velvety peanut sauce with roasted red chili paste, brown sugar, and rice vinegar flavors.
Boursin Chicken Recipe
Shhh! Don't give the secret to quick and flavorful chicken breast. As you'll discover in this Boursin chicken recipe from Alicia, The Dizzy Cook, it's herbed cheese. And best of all, with just six ingredients, including boneless skinless chicken breast, garlic and herb cheese, and shallots, it comes together in just 30 minutes.
Blackened Salmon Tacos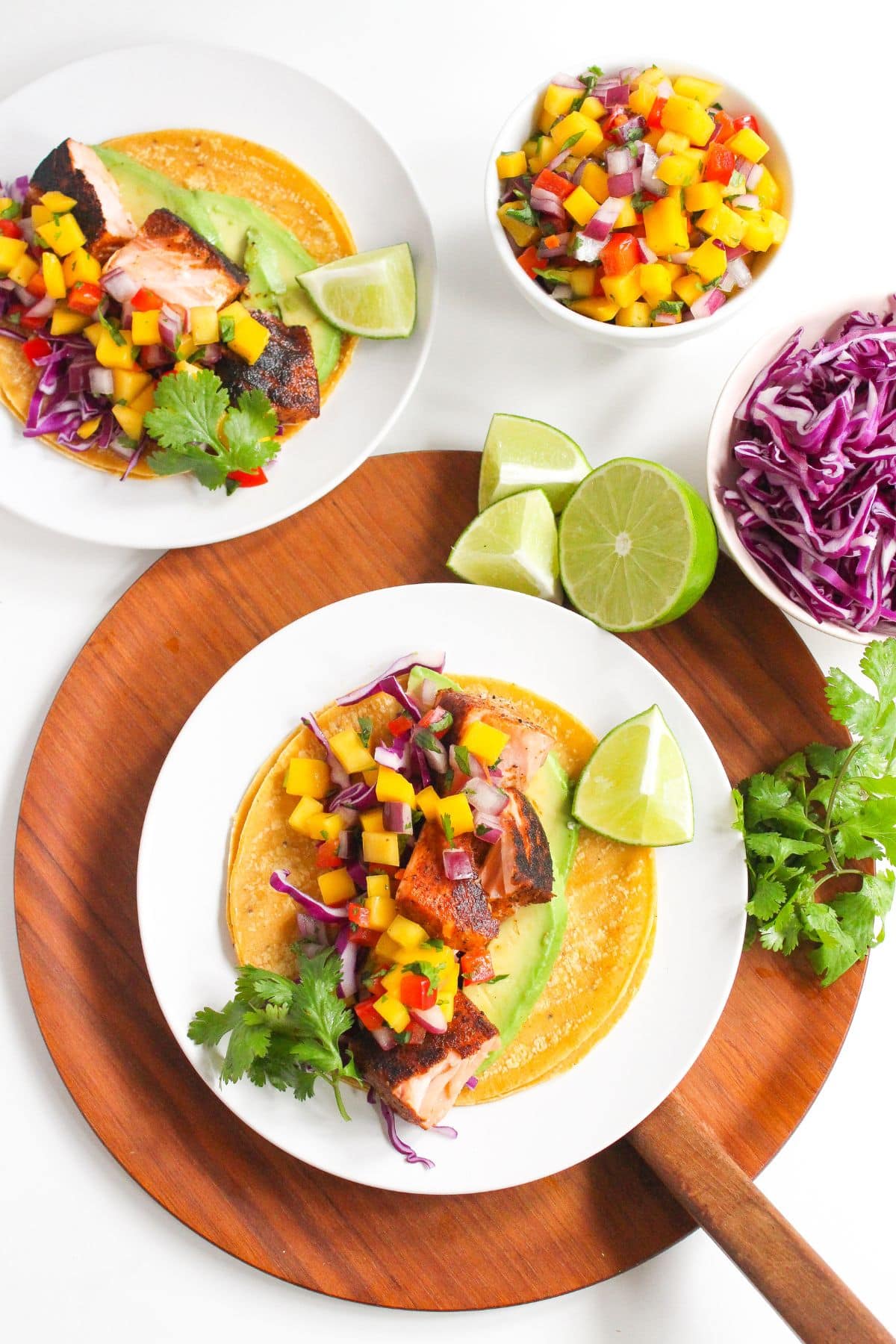 Blackened salmon tacos topped with mango habanero salsa and crunchy red cabbage are not only a yummy dinner idea but a healthy one. The blackened seasoning makes for a crispy crust offering a unique texture. While the sweet and spicy salsa adds a flavor so good you're sure to keep it on the menu.
Cast Iron Pork Tenderloin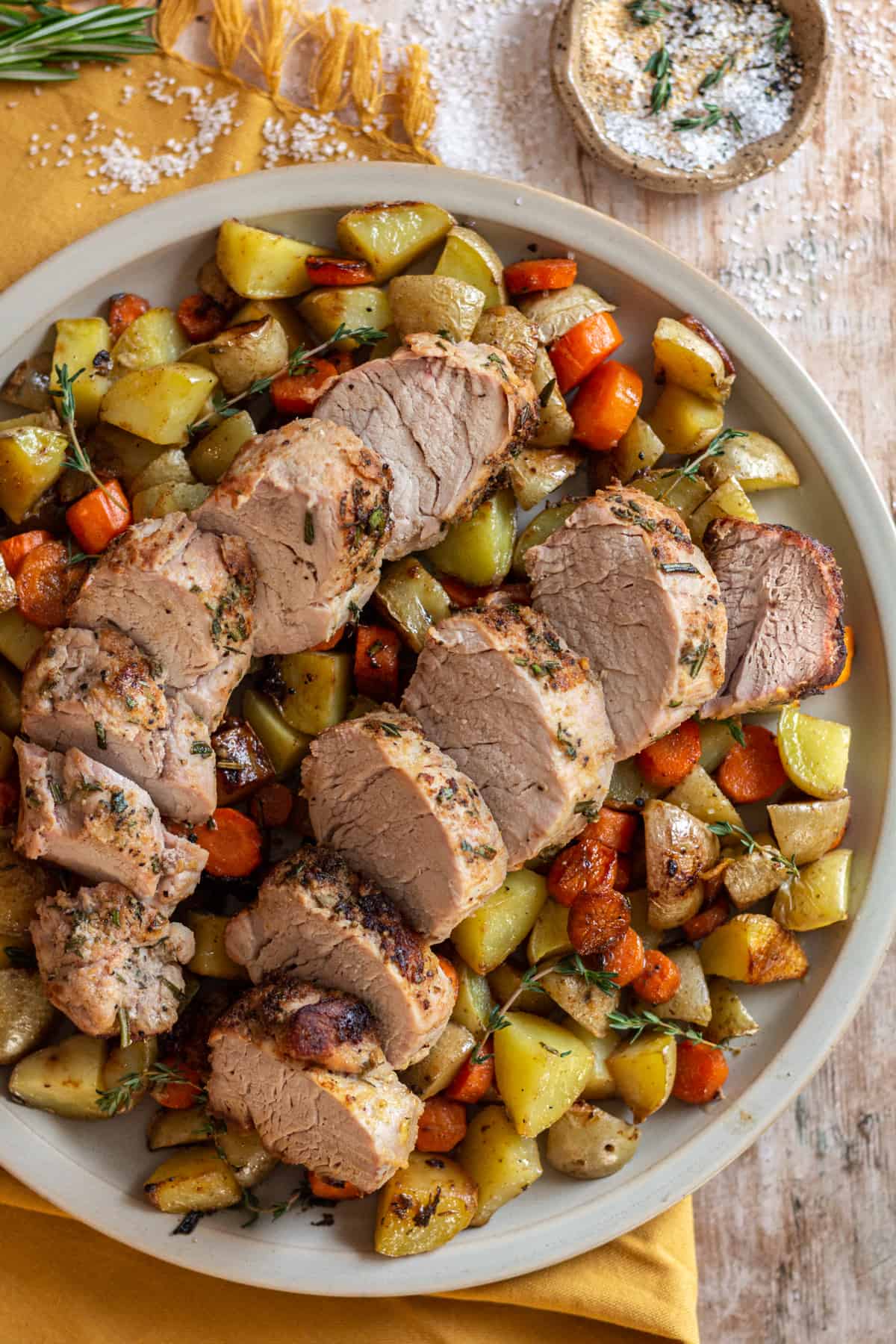 This cast iron pork tenderloin recipe from Katie of Sugar And Snap Peas features a delightful hunk of pork loin seasoned with mustard, herbs, and spices. You quickly sear the meat, then place it in the oven to finish cooking. But before you do that, add potatoes and carrots to make it a complete meal.
Creamy Chicken Bacon and Mushroom Pasta
We all know that bacon is the universal upgrade that enhances all meals. Luckily for us, so does Samantha of Made In Motherhood, as she shares her creamy chicken bacon and mushroom pasta recipe. The 35-minute pasta features perfectly cooked al dente fettuccine, earthy mushrooms, chicken bone broth, and grated parmesan.
Easy Baked Teriyaki Chicken Thighs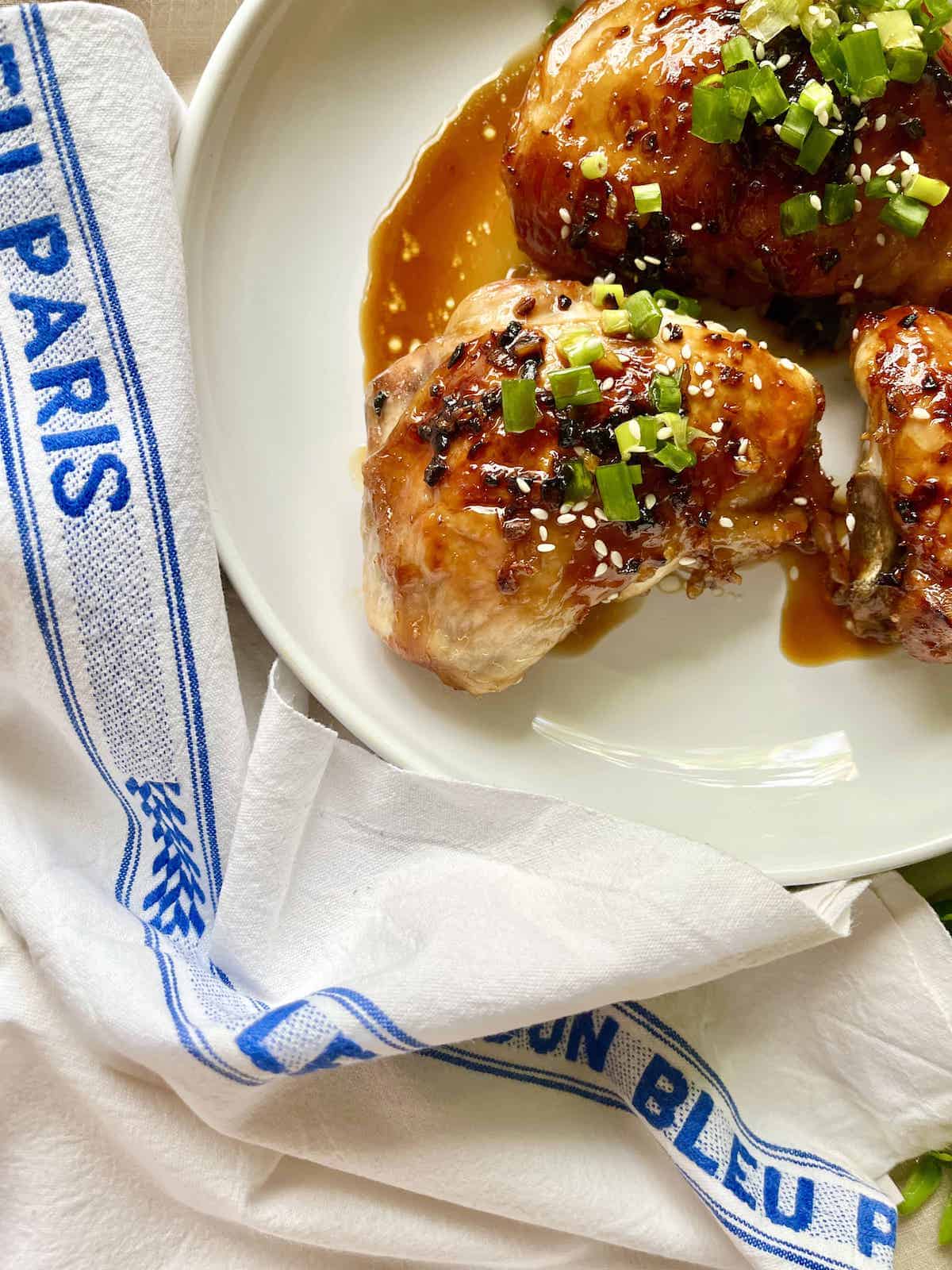 Don't let the name scare you off. These easy baked teriyaki chicken thighs from Greedy Girl Gourmet have simple ingredients like soy sauce, ginger, and rice wine vinegar. And you can easily find those at your favorite grocery store. The total cooking time is just 25 minutes.
Spicy Southwest Salad
Are you the kind that longs for a refreshing summer salad on a hot evening? If so, you're in good company with this spicy southwest salad from The Oregon Dietician. You've got chicken in a sublime honey, lime juice, and seasonings marinade. Then there's lettuce, avocado, tomatoes, and other vegetables covered in a finger-licking good spicy ranch dressing.
Mexican Chicken Chili
This perfect-for-fall Mexican chicken white chili by A Day In CandiLand is so hearty you'll have to have two bowls. It's a yummy bowl filled with white beans, cooked chicken, and many seasonings like ground chili, cumin, and oregano. Just serve it with sour cream, jalapeno pepper, and avocado.
Which 30 Minute Dinner Recipes Will You Try First?
30-minute dinner recipes are a game-changer for busy individuals and families. So with these quick and flavorful dishes, you can whip up a delicious and satisfying meal in no time. From hearty one pan wonders like Cajun jambalaya, to mouthwatering spicy southwest salad, these flavor packed recipes prove you don't need need hours in the kitchen. So, which 30-minute dinner recipe are you ready to try first? We'd love to know!