This Simple Alfredo Sauce Recipe is creamy, rich, and oh-so indulgent. Of course, it's great on pasta, but you'll even want to put it on your pizza. And it makes an incredible sauce for chicken and a wonderful dip for fries. Are you starting to see the potential?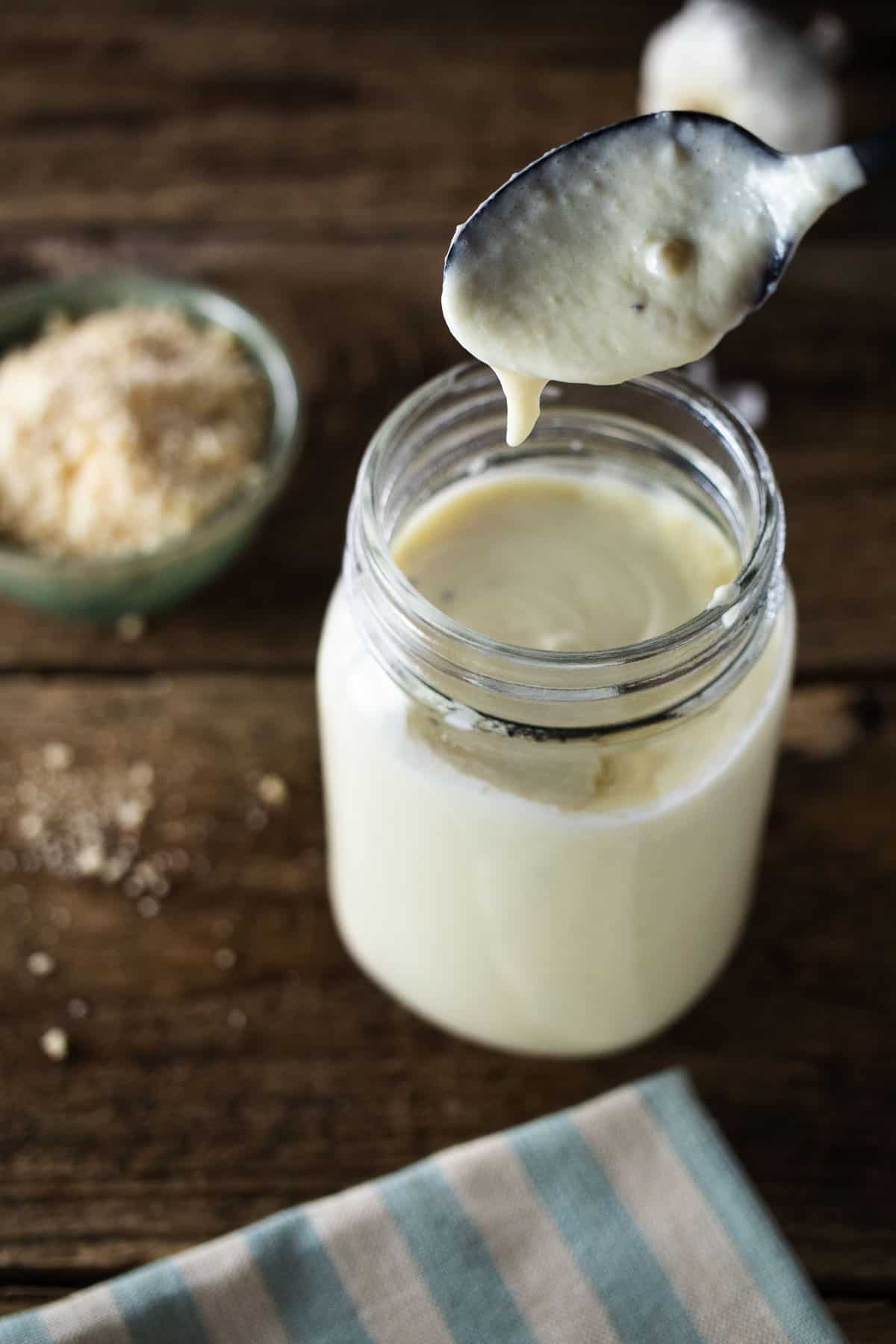 But best of all, this creamy and thick sauce is easy to make with just six modest ingredients (including salt and pepper) combined for tremendous flavor. It's even naturally low-carb with no alterations. And trust me when I say this, you will never want to go back to the storebought stuff again.
It's a dish your guests are certain to love, so make it with pasta on the holidays.
And if you like this recipe, you'll love our low-carb chicken quesadillas.
Jump to:
Brief Alfredo Sauce History
Like all great foods, Alfredo sauce has a storied history. It was invented by Alfredo di Lelio, an Italian restauranteur, in the early 1900s. While his name sounds fancy, would you believe his original recipe consisted of fewer ingredients than this one: butter, parmesan cheese, and pasta water?
But how did the yummy dressing end up in America? Well, after World War II, American soldiers returned home with a hankering for Italian fare. And the rest is, you know, history.
Ingredients
Are you surprised that your favorite pasta sauce only requires a handful of ingredients to make? However, each one plays an important role in both flavor and texture.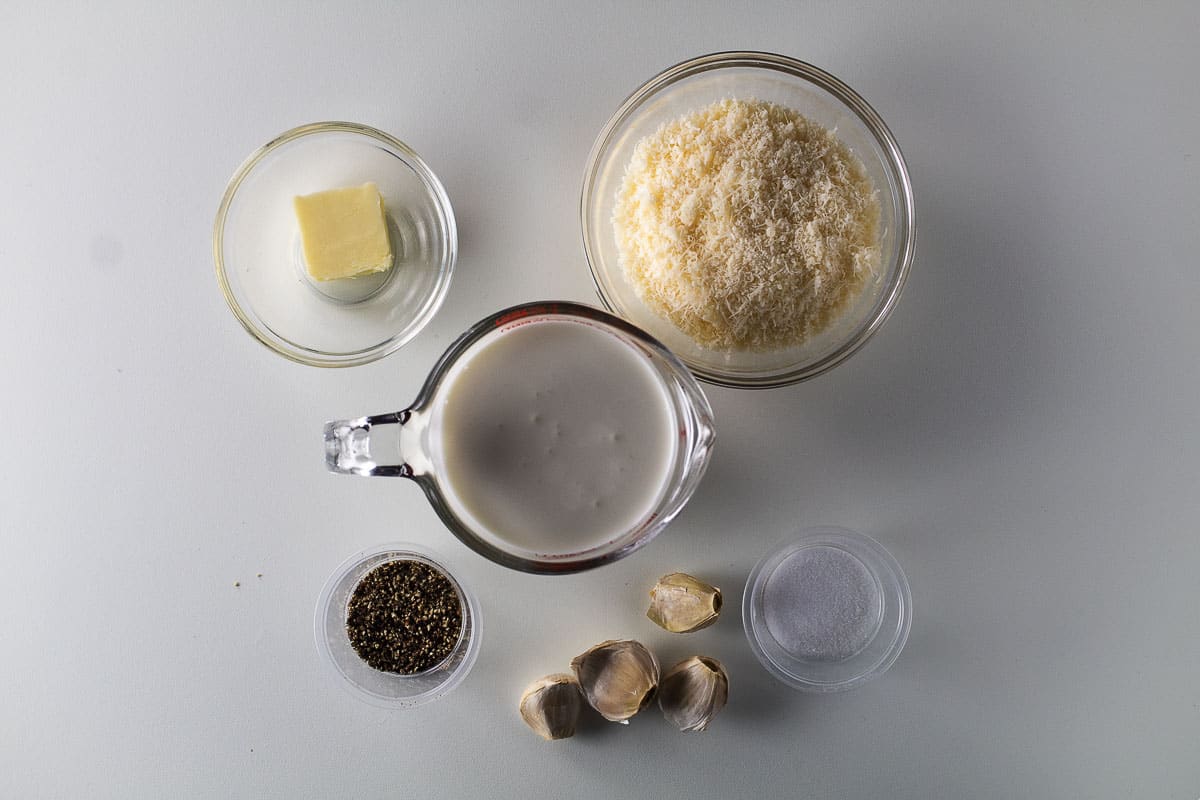 Cream – Cream is an essential part of this sauce as it adds a velvety richness and smooth texture. Be sure to use heavy cream, not half and half.
Butter – To better control the amount of salt in your dish, use unsalted butter.
Parmesan cheese – This hard cheese is nutty, sharp, and perfect with cream and butter.
Garlic – For a kick in the flavor department, use fresh garlic.
Salt
Pepper
See the recipe card for quantities.
Instructions
Making alfredo sauce at home is easy! All you need are six ingredients (including salt and pepper). Just follow the simple steps.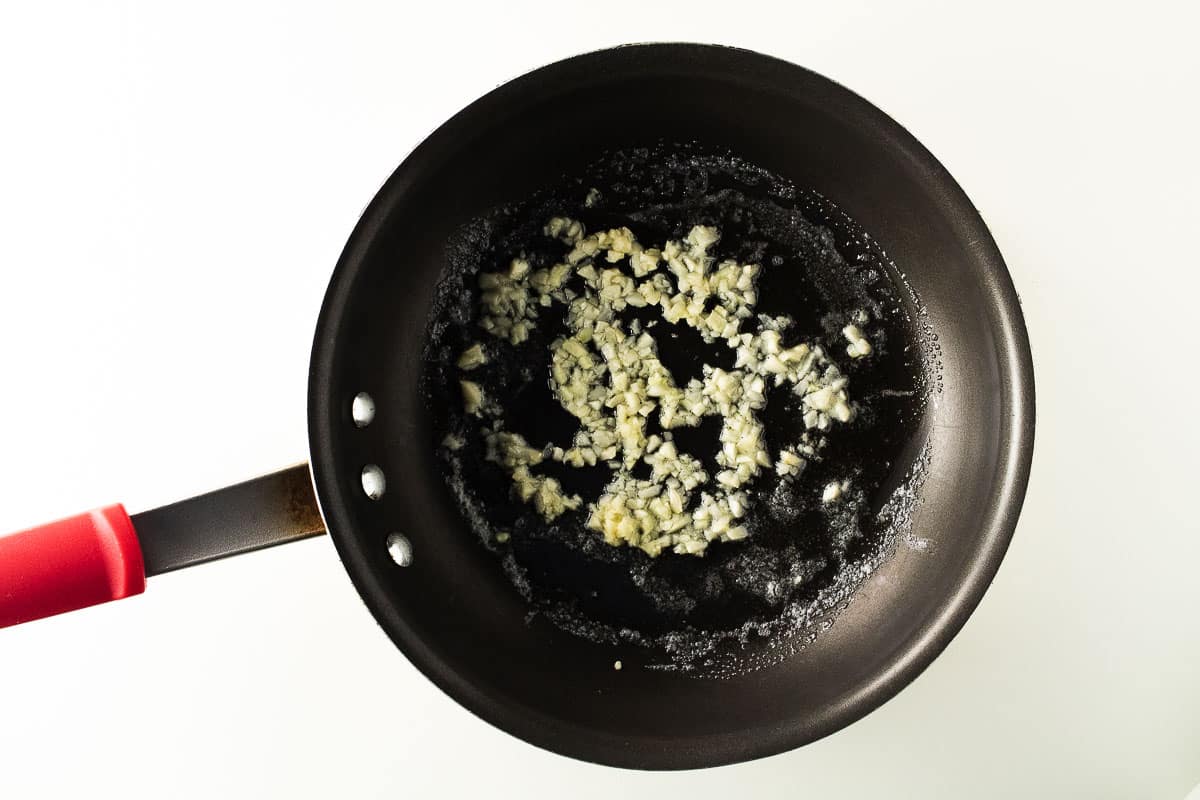 First, melt the butter and cook the garlic.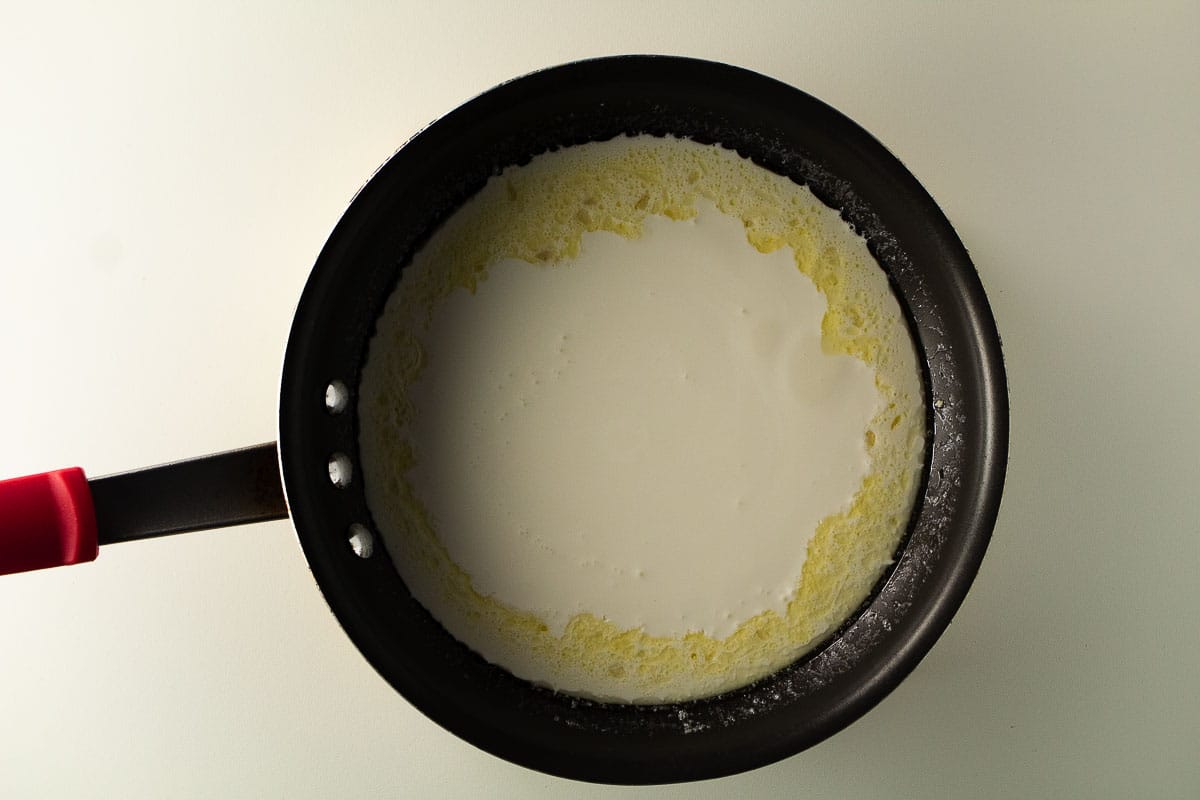 Next, add the heavy cream.
Then, stir in the parmesan cheese until it melts in.
Variations
If you're feeling creative and want to make this sauce your own, no problem. There are myriad ways you can transform this simple Alfredo sauce recipe into something more exotic. Below are a few ideas:
Spice It Up – Is food just not right without a little kick? Well, add some cayenne pepper or red pepper flakes to spice it up a notch.
Herb It Up – If you have fresh herbs like basil, dill, or chives hanging around, use them to infuse your sauce. Chives are particularly interesting if you're going for a mild onion flavor.
Add Mushrooms – For a deep, earthy, and savory upgrade, shiitake, cremini, or portobello mushrooms are a nice touch.
Bacon – Add a hint of smokiness and saltiness that only bacon can provide.
Spinach Alfredo – For added nutrition, fresh or steamed spinach is a great choice.
How to Store and Reheat Alfredo Sauce
If you have leftover alfredo sauce, you'll want to properly store it by first making sure it's cool. Then you'll want to transfer it to an airtight container for up to five days.
To reheat, place the sauce in a pan, warm over low heat, and stir constantly. Only use low heat; otherwise, it might separate. Did it get a little too thick? No problem. A splash of cream or milk will bring it back to the desired consistency.
Top tip
To avoid a grainy texture, use high-quality, freshly grated parmesan cheese. It's the best for this recipe as it melts smoothly into the sauce resulting in an irresistible smooth and creamy texture. Also, never use shredded cheese as it has anti-caking agents, which will result in a grainy texture.
FAQ
What dishes pair well with Alfredo sauce?
Alfredo is such a versatile condiment. A better question is, 'what dishes don't pair well with alfredo sauce?' Seriously, you have seafood, chicken, beef, veggies, salad, and more.
What are some common substitutes for heavy cream in Alfredo sauce?
While the texture won't be as velvety and creamy, you can substitute heavy cream with half and half, low-fat or skim milk, almond or cashew milk, and even Greek yogurt.
How can I make Alfredo sauce healthier?
Alfredo sauce, while delicious, is also rich and indulgent. So, if you want to lighten it up a bit, here are some ideas. You can use olive oil instead of butter or half and half instead of heavy cream.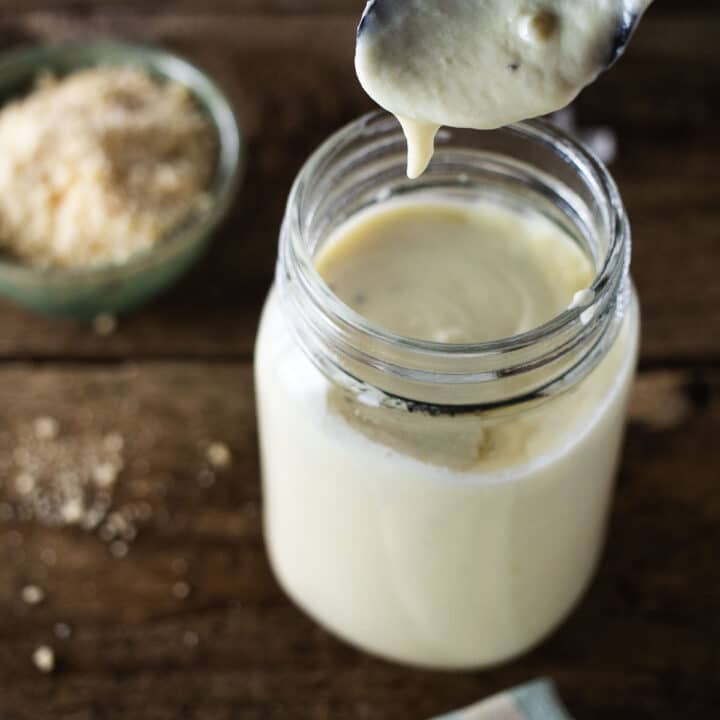 Alfredo Sauce Recipe
This recipe is super delicious and is low-carb. This sauce will be amazing on anything you put it on.
Ingredients
1

Tbsp

Salted Butter

2

Cups

Heavy Cream

Room temp

4

Garlic Cloves

Minced

1/2

Cup

Parmesan Cheese
Instructions
In a medium saucepan on medium heat, melt the butter.

Add the heavy cream and garlic. Bring to a gentle simmer. Continue to simmer for about 10 minutes until it thickens and is reduced by 1/3.

Lower the heat to low and gradually whisk in the Parmesan cheese. Continue to whisk until it's smooth. Add salt and pepper to taste. Enjoy!
Notes
Store leftovers in the fridge for up to 4 days. It is best if kept in an airtight container. 
Reheat in a saucepan on low heat for about 3-5 minutes. Make sure to whisk to ensure the sauce stays nice and smooth.
Nutrition
Calories:
242
kcal
Carbohydrates:
2
g
Protein:
4
g
Fat:
25
g
Saturated Fat:
16
g
Polyunsaturated Fat:
1
g
Monounsaturated Fat:
6
g
Trans Fat:
0.1
g
Cholesterol:
75
mg
Sodium:
128
mg
Potassium:
69
mg
Fiber:
0.03
g
Sugar:
2
g
Vitamin A:
967
IU
Vitamin C:
1
mg
Calcium:
116
mg
Iron:
0.1
mg