Grains like barley, corn, and rice are delicious in savory dishes, so why not oatmeal? Well, with these 11 Savory Oatmeal Recipes, you're about to find out that oatmeal is dangerously tasty in all manner of non-sweet creations.
So before you turn up your nose, here's a sampling of what you can expect. First, there's Cheesy Oatmeal with soft-boiled eggs, Baked Protein Oatmeal, and even Indian-inspired Masala Oats. Are you ready for more?
Let's dive in!
For other non-traditional recipes, check out this breakfast for dinner list.
Cheesy Oatmeal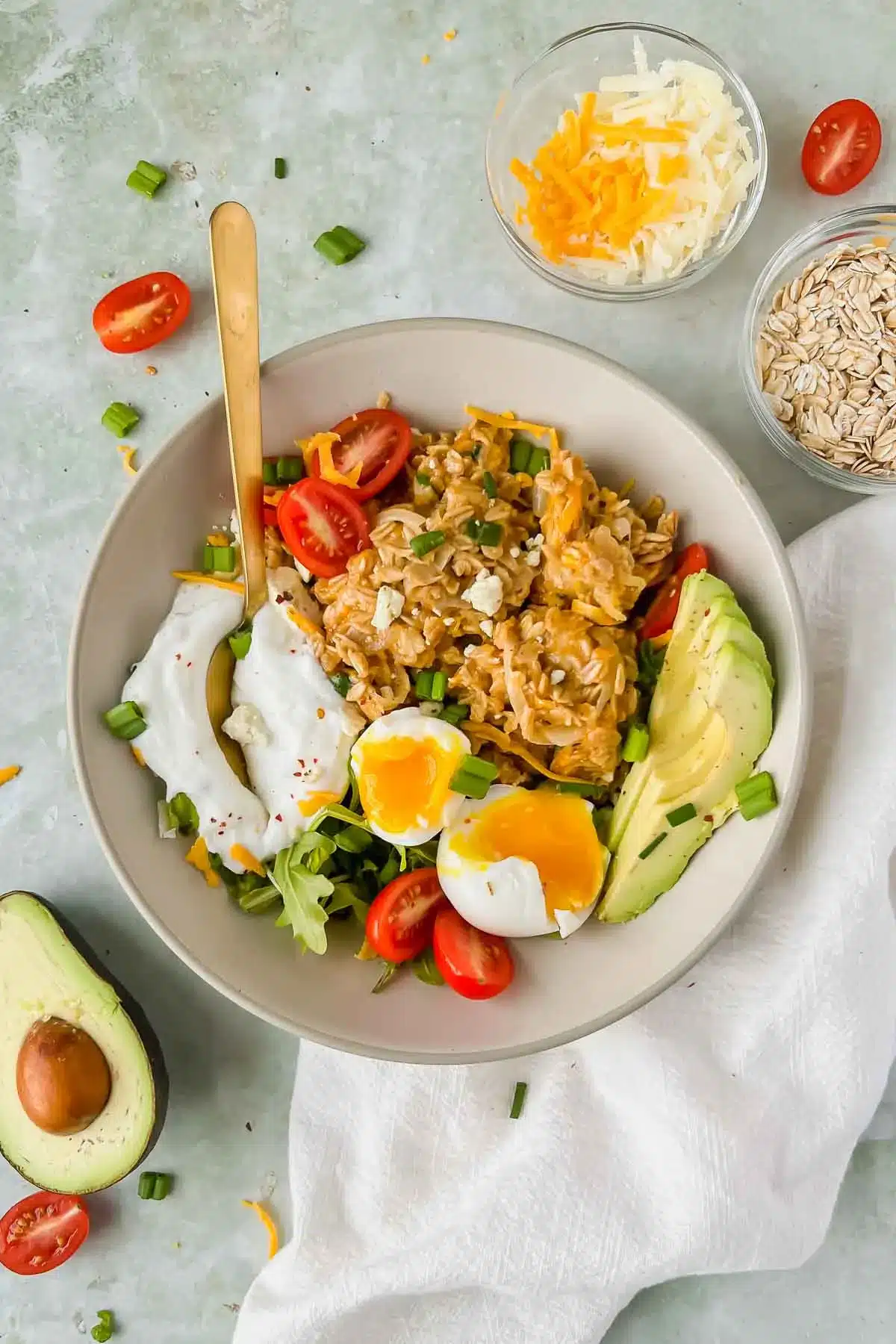 Cheese, sauteed garlic, and caramelized onions sound good on pasta, pizza, or just about any savory dish, but oatmeal? Yes, indeed. That's the kind of healthy deliciousness you can expect to find at A Paige Of Positivity. Oh, but that's just the beginning. The 15-minute Cheesy Oatmeal breakfast remix continues with fresh vegetables and herbs like tomatoes, avocado, and even a soft-boiled egg.
Vegan Steel Cut Oats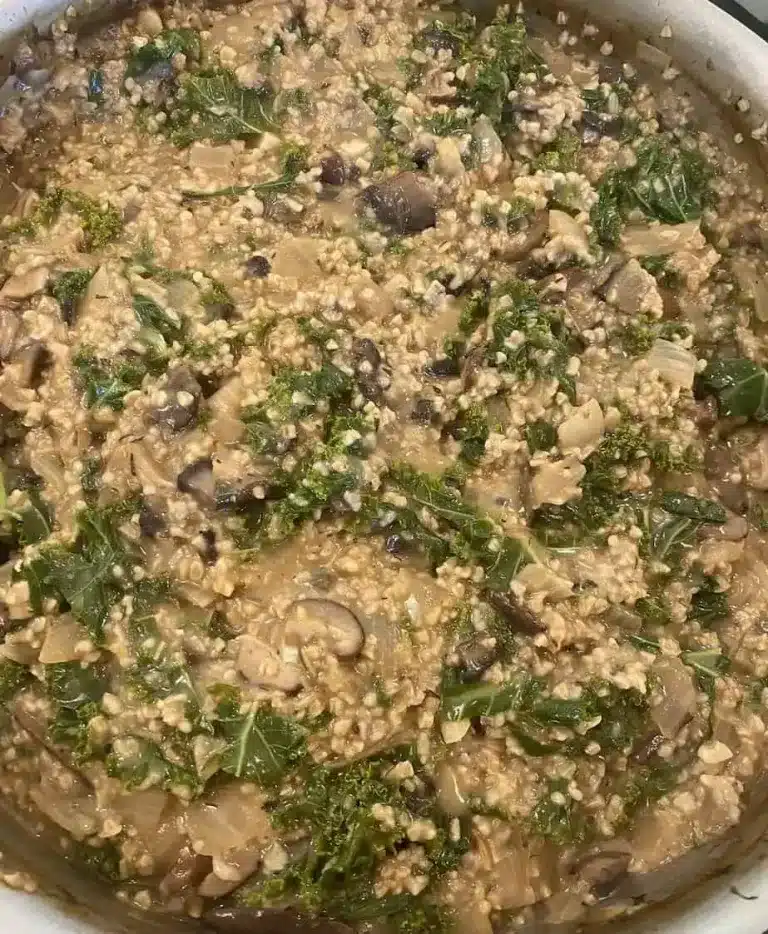 Jenn of Plant-Powered Livin' just isn't that into oatmeal. At least not in the way it's traditionally served for breakfast. However, this Vegan Steel Cut Oats recipe is in an entirely different category. Her version features umami-laden mushrooms, leeks, chicken broth, cheese, kale, and even nutritional yeast for a savory punch.
Baked Protein Oatmeal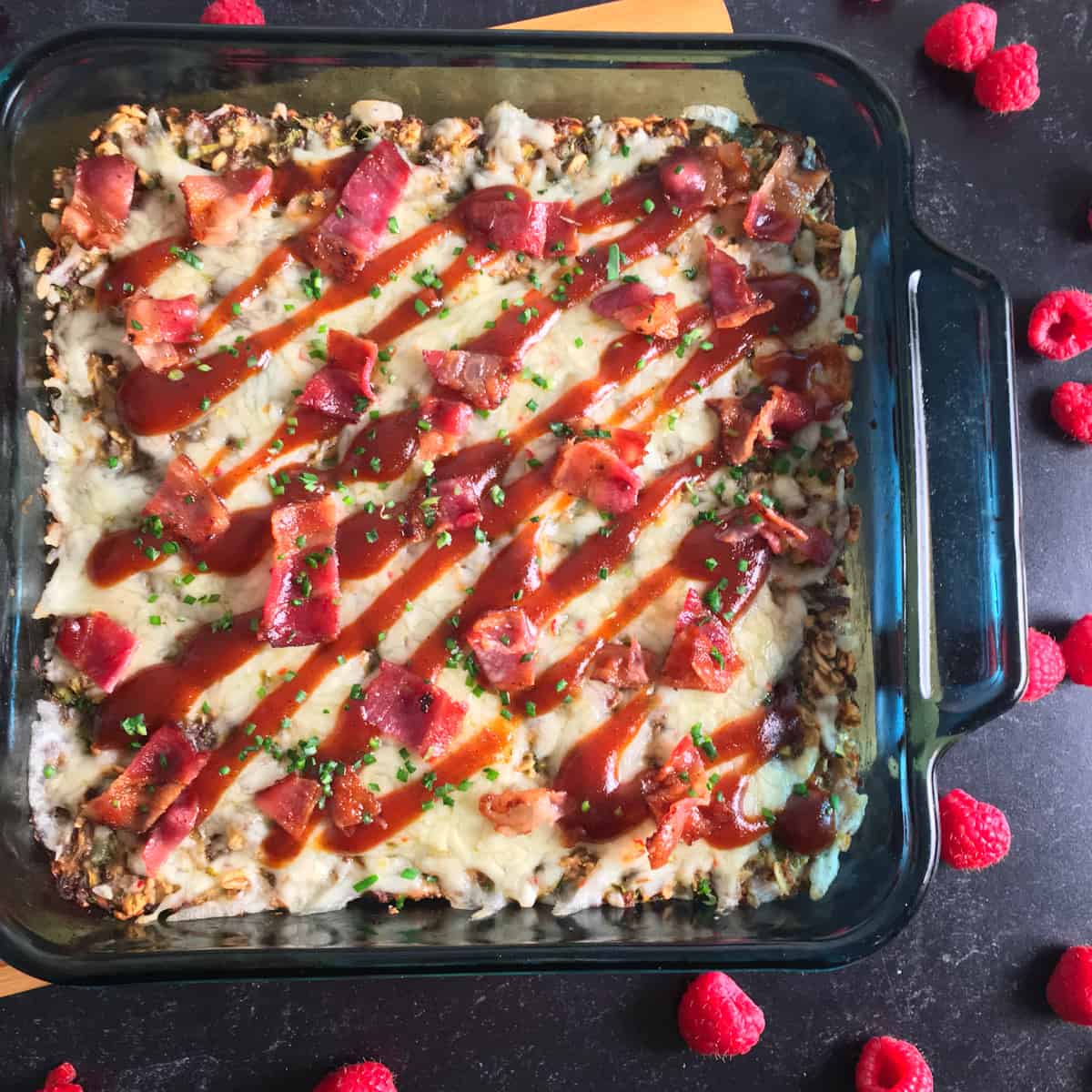 Holy moly! You've never seen a dish like this Baked Protein Oatmeal from Summer Yule. It's a "proatmeal" (protein oatmeal) recipe filled with B-12-rich ground beef, rolled oats, shredded zucchini, red onion, jalapeno, cheese, and eggs. It's like a tasty spin on meatloaf with grains and veggies that takes little time to make.
Masala Oats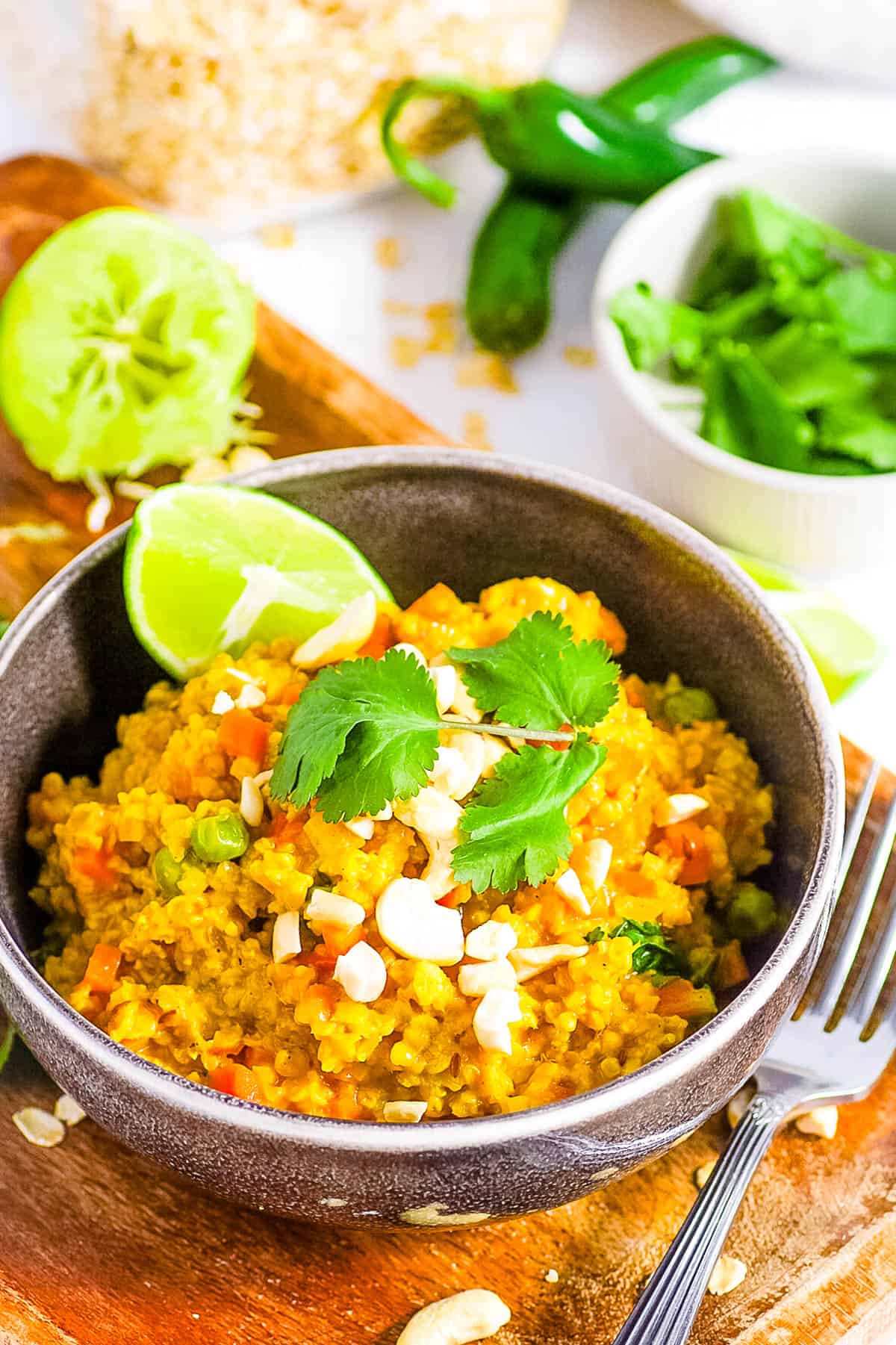 Anjali of The Picky Eater Blog provides another creative spin on the polarizing morning grain. This time it's an interpretation of the prepared Saffola brand Masala Oats. She combines rolled oats with Indian spices like turmeric, garam masala, paprika, coriander, and more. And you'll also appreciate vegetables like tomatoes, carrots, and peas for a hearty, healthy vegan meal you'll keep in your rotation.
Savory Lentil Oatmeal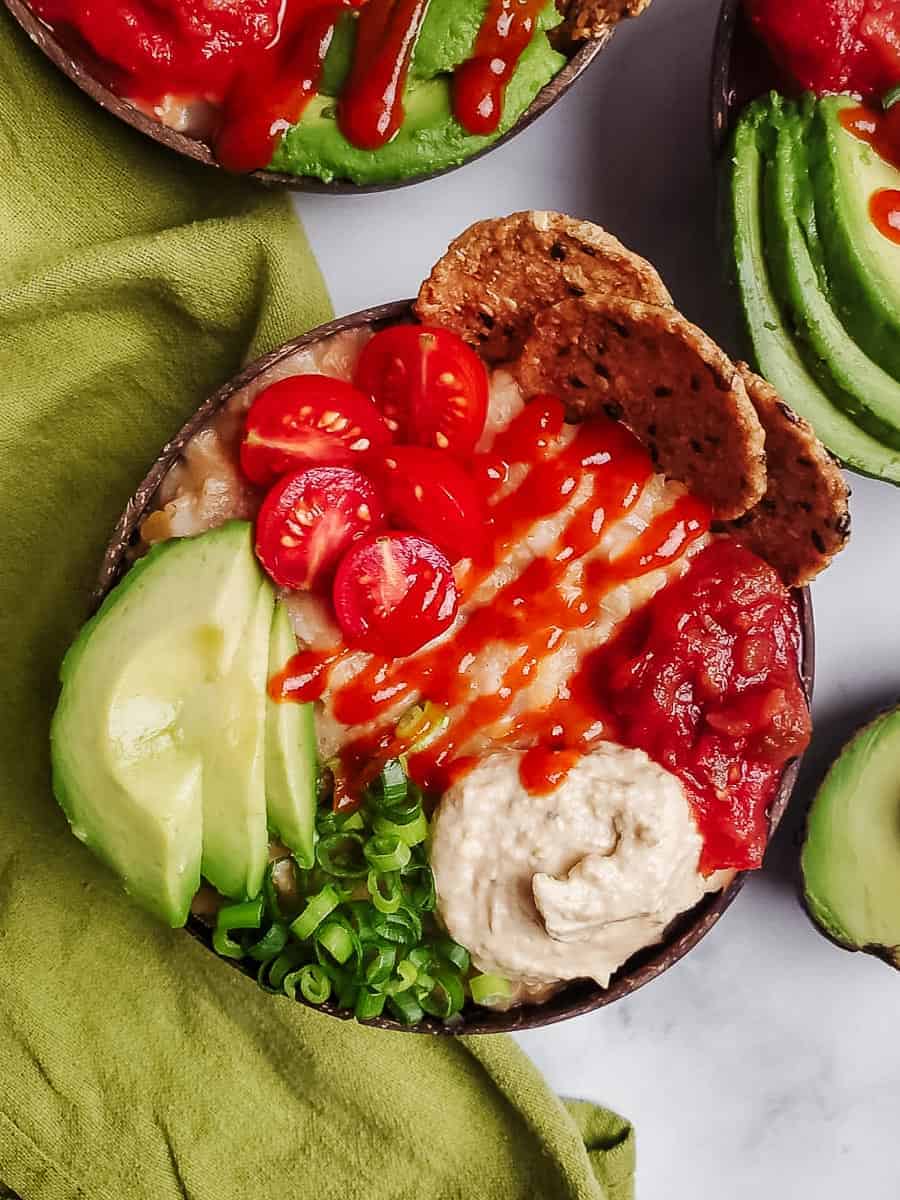 Take Mitch and Justine of Broke Bank Vegan's word for it. Your body will thank you for this nutrient-dense, Savory Lentil Oatmeal. It's a dish that merges rolled oats with split red lentils, garlic, and onion. But that's just the plain version. Elevate it with hummus, cherry tomatoes, salsa, avocado, or crackers for a breakfast or lunch bowl to power your day.
Cheese And Zucchini Muffins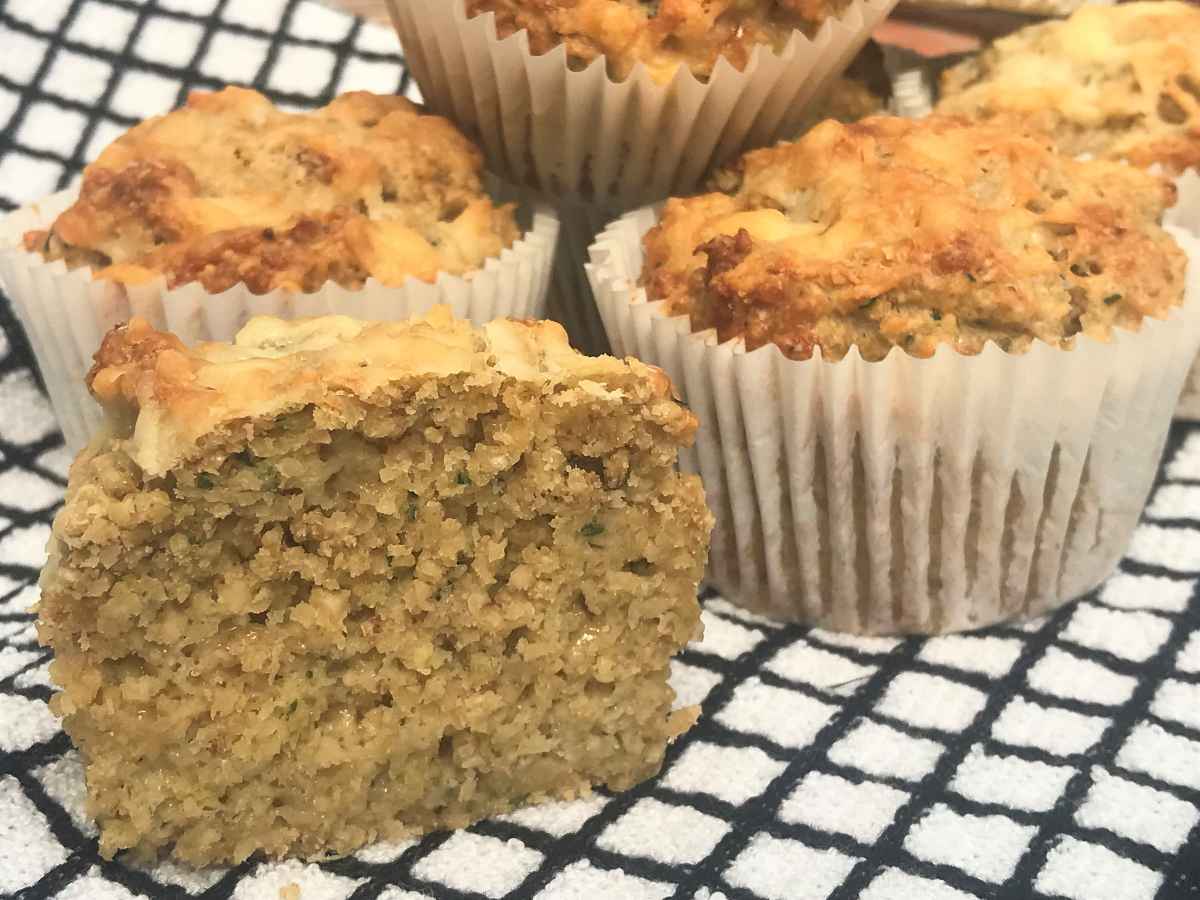 Oats make up the bulk of these Cheese and Zucchini Muffins from Wendy of Cinnamon and Kale. Alone they make a delicious side to your favorite easy soup recipes. However, they also make a fantastic quick meal when you run short on time. Plus, you can whip them up with less than ten ingredients quickly.
Smoky Mushroom Vegan Oat Burger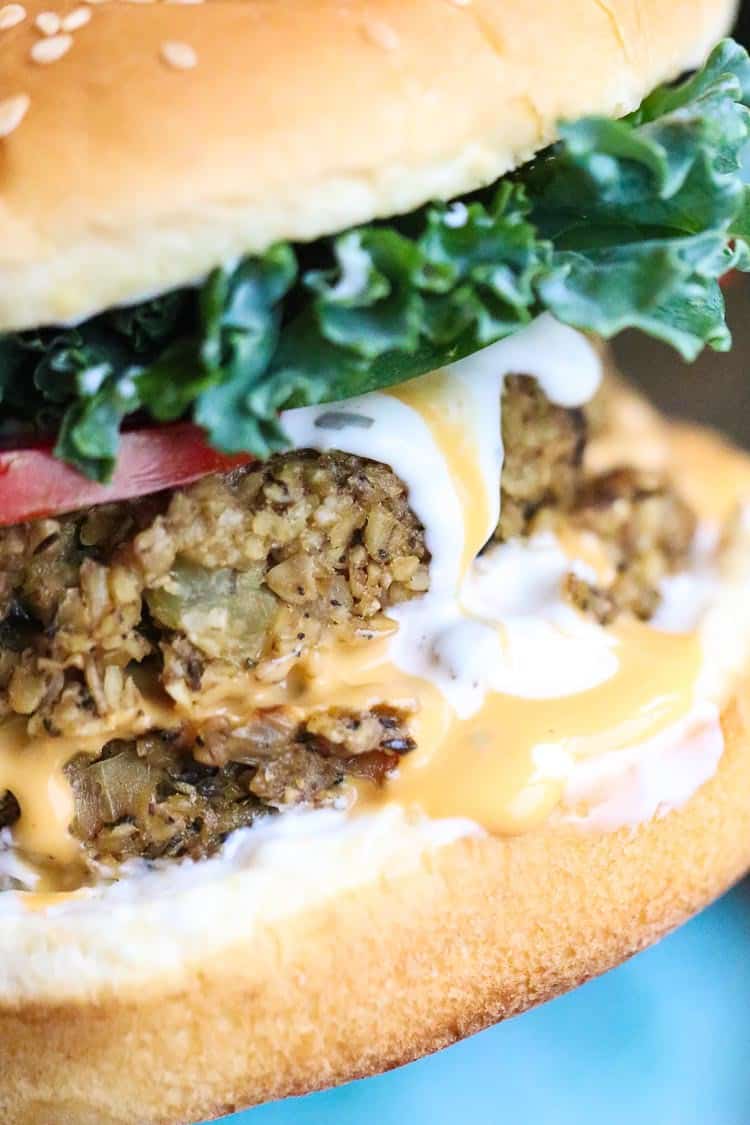 What we have here is a Smoky Mushroom Vegan Oat Burger from none other than Kate of Vegan Blueberry. Yes, it's a veggie burger made of oats, mushrooms, and onion, and for that umami (savory) quality, you've got to add liquid aminos. This recipe post, filled with many tips and tricks, is ideal for those on a meatless diet. Or if, like us, you're excited to try all manner of different cuisine.
Old Fashioned Oatmeal Dinner Rolls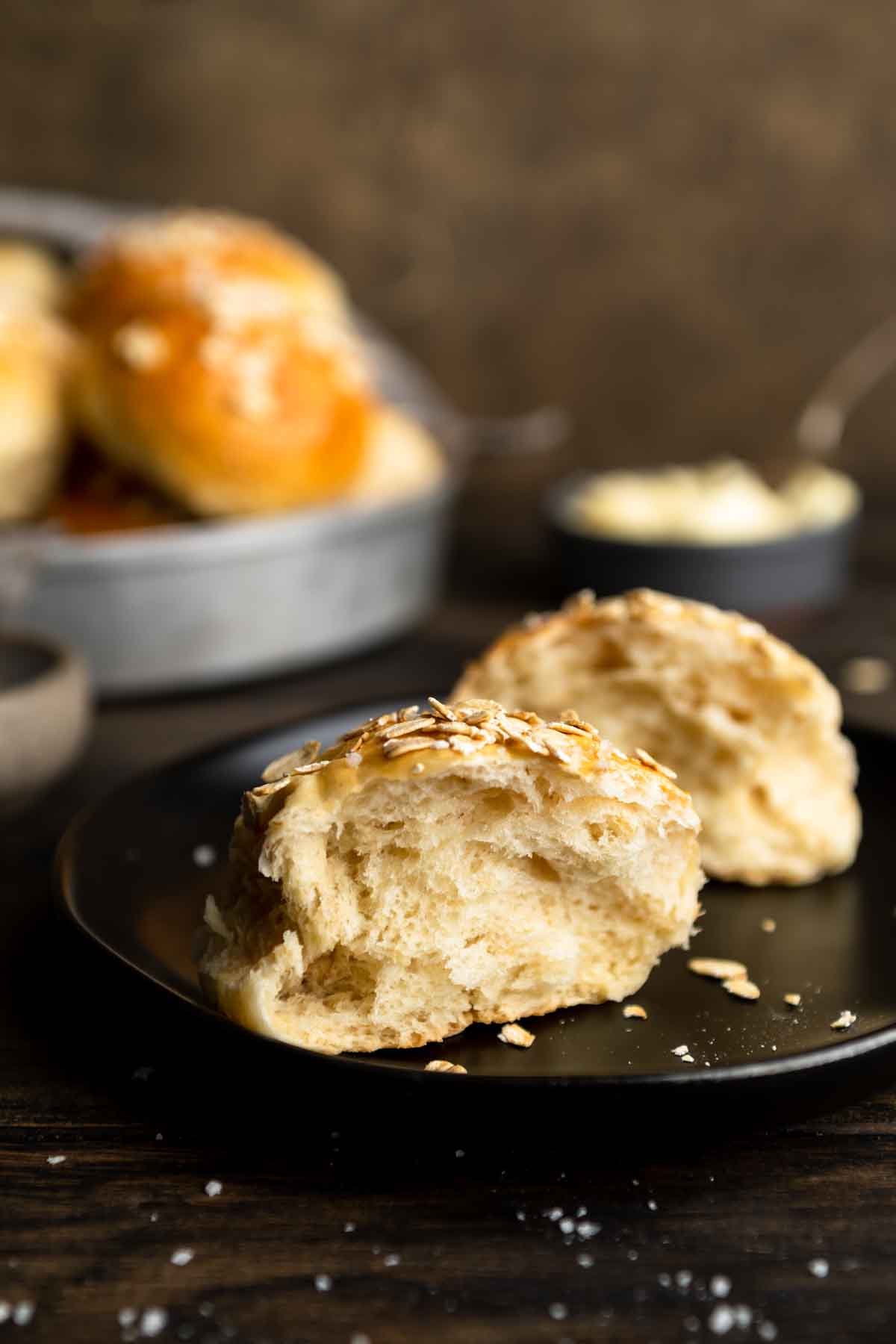 If you want bread so soft and pillowy, it's like eating a cloud. Make these Old Fashioned Oatmeal Dinner Rolls by Scott and Taylor of Food Worth Feed. The team provides you with a simple and trustworthy recipe that includes pantry staples like oats, all-purpose flour, milk, and honey. Their tips and tricks will guide you to success.
Curry Oatmeal with Tandoori Masala Roasted Zucchini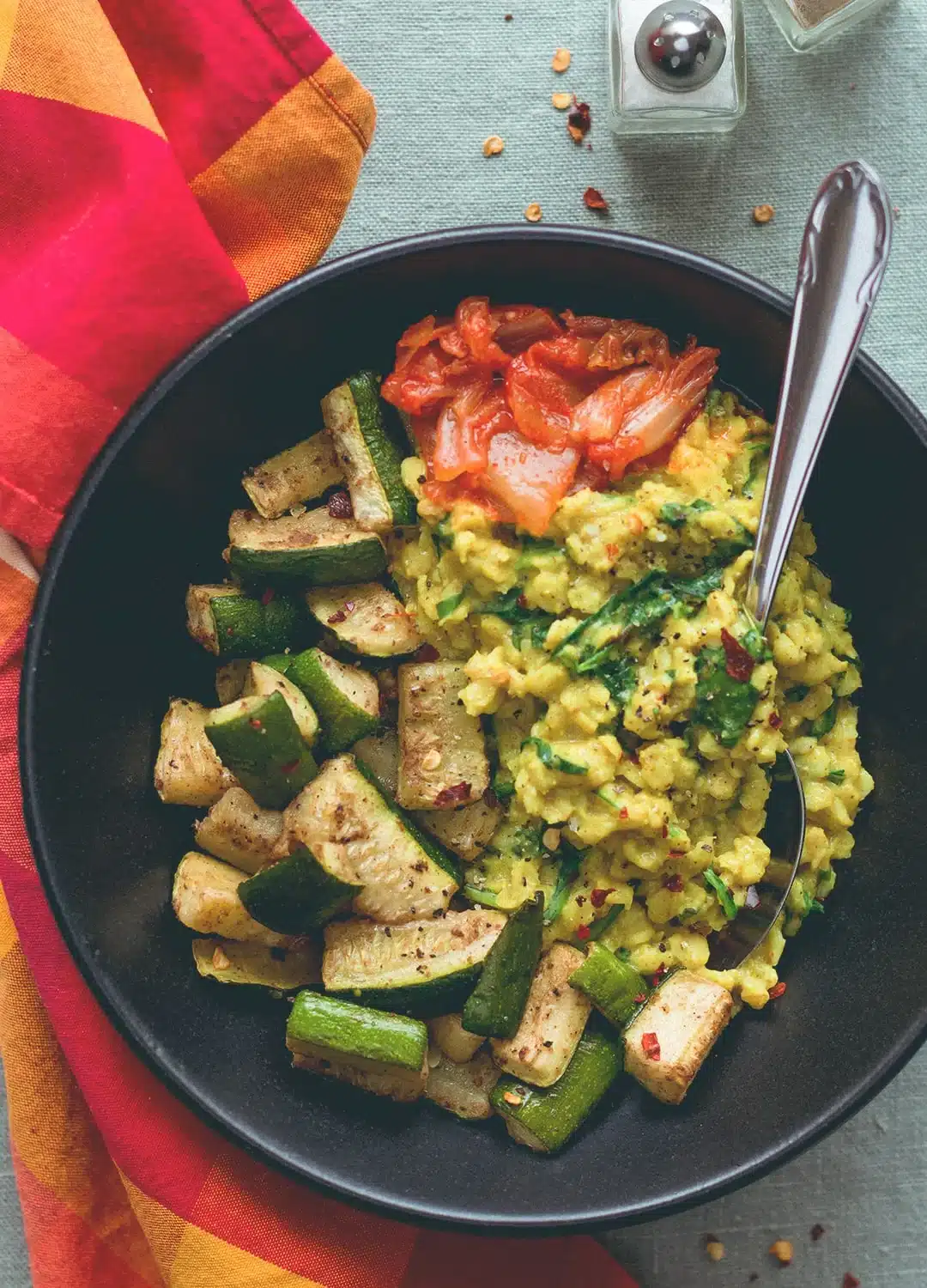 When Veronika isn't busy taking faceless selfies featuring The Healthful Ideas, she's making them. This Curry Oatmeal with Tandoori Masala Roasted Zucchini is the ultimate fusion comfort food. But what is it? Well, it's Indian cuisine-inspired oatmeal and roasted zucchini seasoned to the max with turmeric, curry, garam masala, chili, garlic, and onion powders. Then, Veronika adds a bit of Korean kimchi for an added twist. Talk about flavor!
Savory Oatmeal with Steel Cut Oats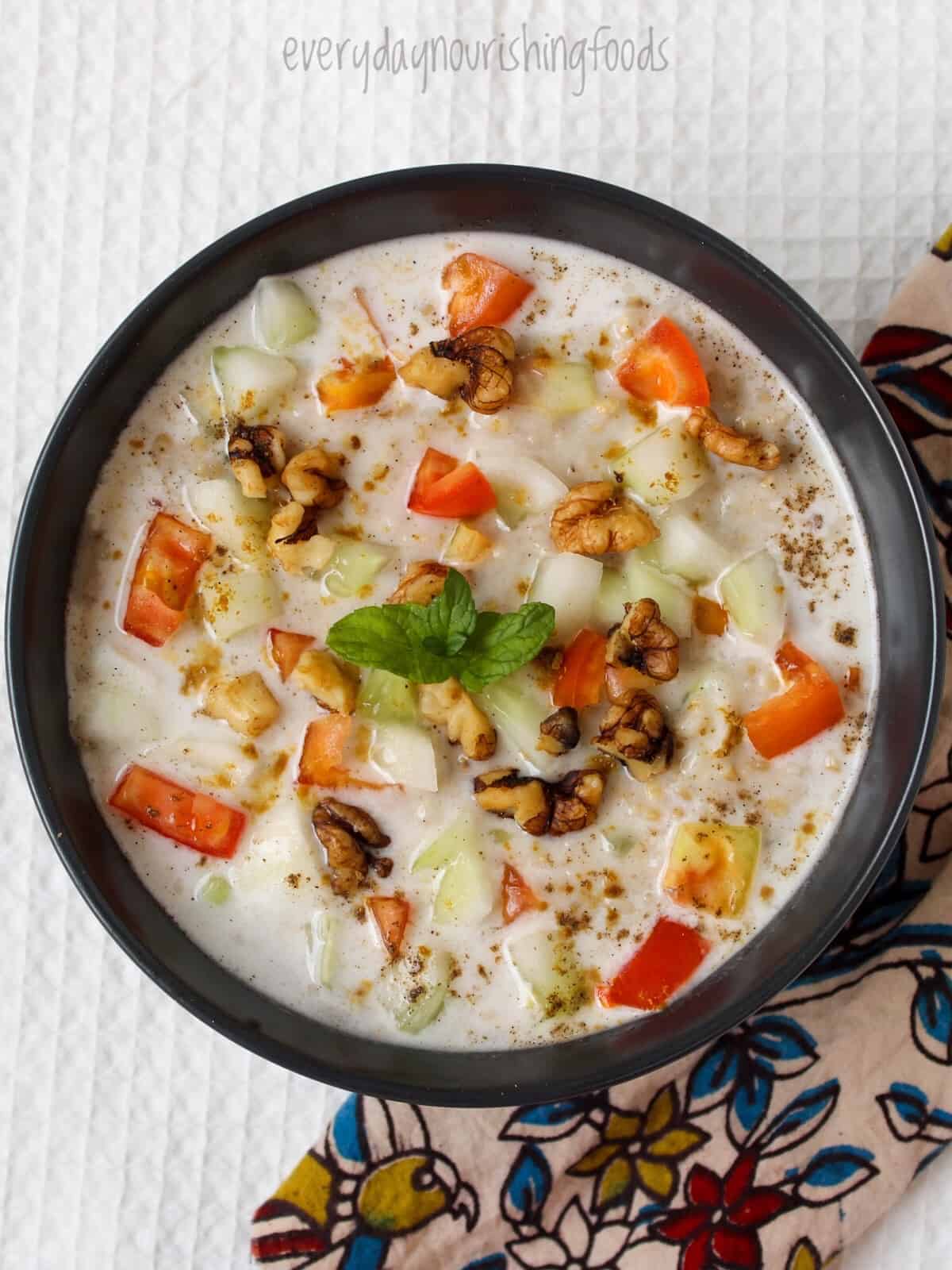 If you're kind of like, "whatever, dude," when it comes to sweet oatmeal recipes, Sravanthi of Everyday Nourishing Foods has an idea for you. It's her version of Savory Oatmeal with Steel Cut Oats. First, the health-minded food blogger carries you through a thorough 30-minute oatmeal recipe using your favorite electric pressure cooker. Next, it's time for the savory add-ins. In this case, chopped veggies, yogurt, cumin, salt, and pepper.
Wholegrain Spelt and Oat Buns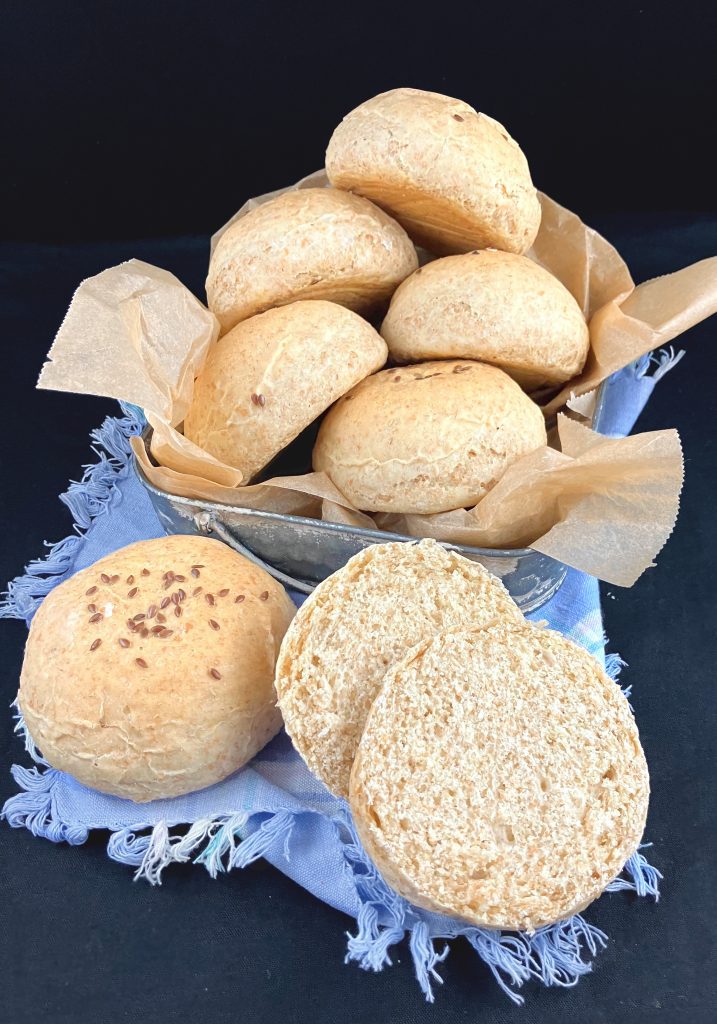 The Spelt Kitchen offers this Wholegrain Spelt and Oat Buns recipe, known in Sweden as havrebuller. And if Tracy's enthusiasm is any predictor, it may well become your new favorite bread. At first glance, the ingredient list looks ordinary. So, of course, there are the usual suspects you know in a bread recipe; milk, yeast, sugar, and flour. But the flour is of the spelt variety for a nutty flavor and denser texture.
Which Savory Oatmeal Recipe Will You Try First?
By now, you've seen nearly a dozen savory oatmeal recipes? So the only question is, which one are you most excited to try first? So will it be the Curry Oatmeal, the Smokey Mushroom Vegan Oat Burger, or something different? We would love to know!