This roasted jalapeno cheese dip is the bee's knees (or insert some other old timey saying here). I'll put it like this: this dip is so good, you're gonna want to lick the bowl. If it's more than just you around, you might have to play rock-paper-scissors to determine who gets to be alone with the bowl for a while. It's that good!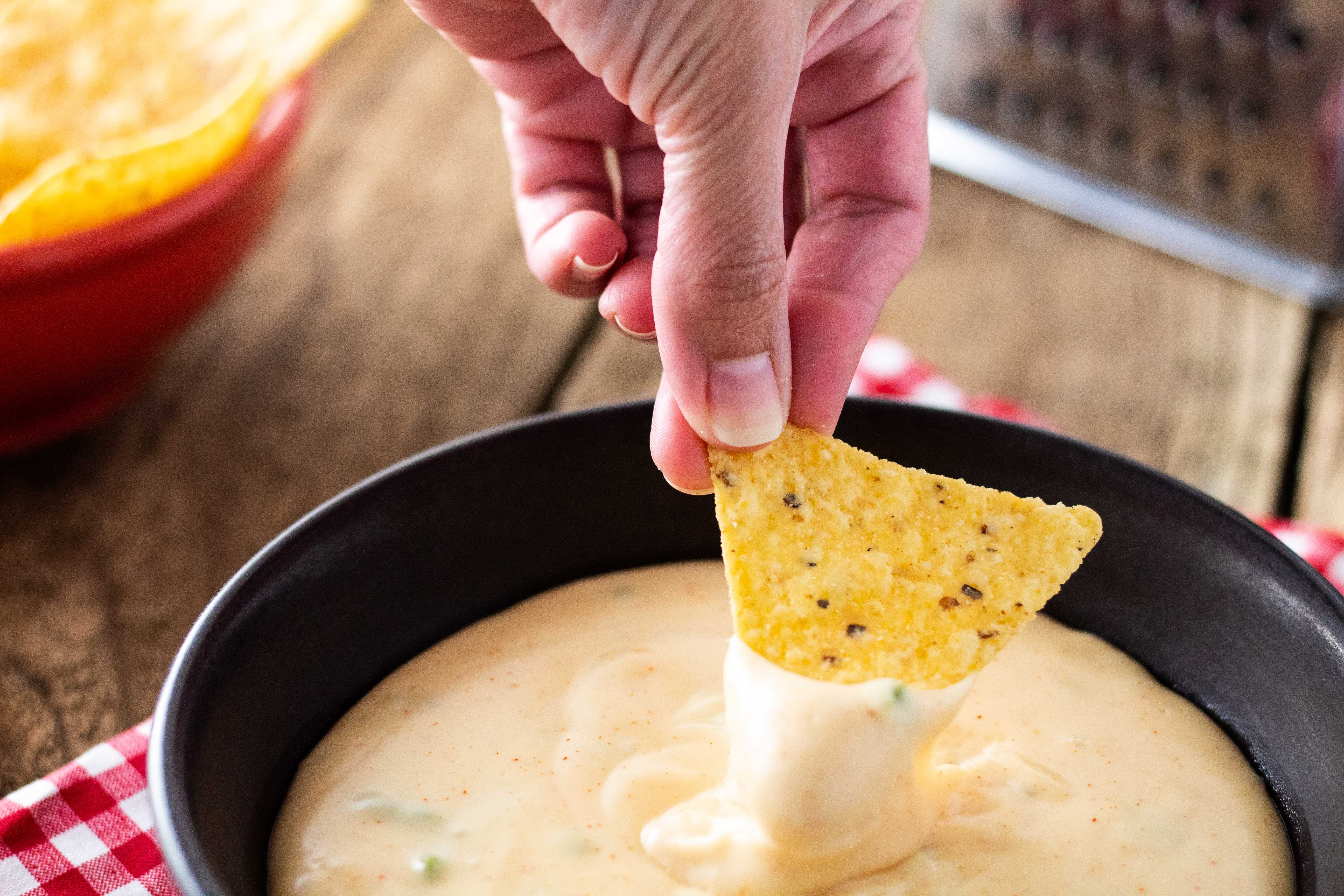 So, there's a couple of considerations when it comes to making cheese sauce. We want thick, creamy, smooth and deeply cheddar flavored cheese sauce.
To get that velvet smooth cheese sauce you will need to ditch the shredded cheese for this recipe. Yep, you can't use it or what you'll end up with won't be smooth. Instead, it will be filled with lumps and bumps. The flavor might be there but it will be missing that smooth textural component that makes up part of how we perceive taste (learned that from The Flavor Bible).
Okay, now you know not to use shredded cheese. The next consideration is the kind of cheese you use. For this recipe, we went with Cabot Vermont aged cheddar. It's a strong aged white cheddar. We rally recommend the Cabot brand (so does America's Test Kitchen). Not the common orange stuff. This might sound like a specialty item but it's not. In our neck of the woods you can find a good quality, inexpensive, aged cheddar cheese right next to the regular stuff. It'll probably be out of your line of sight, so you normally don't notice it unless you're looking for it. Look up.
Consistency is next in importance. You want to use full fat milk. This isn't the time to cut calories. Slowly add in the milk. Pay attention to the consistency as you're making it. If you like your cheese sauce a little runnier then add milk. If you like thicker cheese sauce you might want to be easy on the milk. Add the milk slowly. Now, it's not the end of the world if you add too much milk to your sauce. Just let the sauce cook for a little while longer.
Aside from those considerations above, it's important to note that while the consistency you'll get from this recipe is good. It won't be as smooth as the neon-orange stuff you get from the can. But remember, that stuff is highly processed and has preservatives in it to extend shelf life. This cheese sauce recipe will still have a texture to it. But it will definitely be much smoother than if you had used shredded cheese. And if you use a good cheese this recipe will taste much better than the orange stuff.
Another cool thing about this cheese sauce is that it reheats rather well. Just put it in the microwave (15 to 20 seconds at a time). Your results will depend on the power of your microwave. You could also warm it on the stove on medium-high heat. Use a whisk.
Roasted Jalapeno Cheese Sauce
This roasted jalapeno cheese dip is the bee's knees (or insert some other old timey saying here). I'll put it like this: this dip is so good, you're gonna want to lick the bowl.

Ingredients
2

Tablespoons

Unsalted Butter

Room Temperature

2

Tablespoons

All Purpose Flour

1

Cup

Whole Milk

¼

Teaspoon

Paprika

¼

Teaspoon

Sea Salt

½

Cup

Shredded Cheddar Cheese

1

Small Jalapeno

Broiled
Instructions
Start by cutting the jalapeno in half and taking the seeds and rib out. If you like it spicy then by all means keep the seeds in and broil the jalapeno whole. Broil the jalapeno in the oven for about 10 minutes or until the skin gets nice and charred (rotate the pepper to ensure all sides are charred). The cooking time could change depending on how close your rack is to the broiler so keep an eye on it. When the jalapeno is done take a paper towel and pull the skin off then mince and set aside. (See note)

While the jalapeno is broiling take a box grater and shred the cheddar cheese put it in a small bowl and set aside. (See note)

In a medium sauce pan add the butter and flour. Whisk until combined and cook the butter and flour mixture for 1-2 minutes. This is going to cook off the flour taste. That wouldn't be good in the sauce. Then add the milk and whisk occasionally. It will take about 5-7 minutes for the sauce to thicken.

Add the shredded cheese, the broiled jalapeno and the paprika. Whisk until the cheese is melted and the sauce is nice and thick. Pour over your favorite nachos. Enjoy!
Notes
I like getting the skin of the jalapeno nice and charred that is where you will get that smoky flavor without using a grill. This adds another flavor element that you won't expect. You will still get the spice but you will also get a nice smoky flavor.

The best way to shred semi soft cheese is to put it in the freezer for about 15 minutes. This hardens the cheese which helps make it easier to grate. You do not want to use already shredded cheese because it includes cornstarch to prevent the cheese from clumping together into a ball. That will change how the cheese melts and you will not get that smooth sauce you want. No one likes a lumpy sauce.