Perfect Pasta Without the Carbs?
The veggetti claims to be perfect for vegetarians, and it claims to make "Perfect, delicious pasta without the carbs!" I bought into the hype a little bit, and decided to give Bed Bath and Beyond my money for the opportunity to have vegetable pasta. It seemed like a good investment.
I thought it would be a cool conversation piece when we had guest over, at least as long as the novelty lasted. I also thought it would make another sneaky way to get my kid to eat more vegetables. Not because he doesn't like vegetables, but rather because I'm the type of Dad whom likes to play tricks on his kid from time to time.
Two Sided Vegetable Pasta Slicer
The Veggetti has two sides one for thin pasta and the other side for thick pasta. It also comes with instructions/recipe book and a safety holder to use when the vegetable becomes too small to hold. The safety holder has small spikes that allow you to grip the vegetable.
Going in, I was enthusiastic. I was excited actually! This is the type of product I thought had that cool factor, yet practical application.
First, We Tried to Make Thin Veggetti Pasta
I took out a cutting board, a knife, a potato, a bowl, a carrot, and the Veggetti and started the test. First I tried using the Veggetti with a carrot. The carrot was thin so the way it touched the blades made it less than efficient. I twisted the carrot, but the vegetti produced very little pasta.
So, I tried angling the carrot towards the blades and twisting, that worked. I started to get a little pasta action going, although twisting at this angle was uncomfortable. It didn't work as well as I thought it would, but hey, this was the first try. I proceeded optimistically.
Next, I tried the potato; again I tested on the thin pasta side of the Vegetti. The potato worked much better, but still not as good as I thought it should. It was not very easy to turn the potato, and eventually the blades got clogged with potato skin. I read back through the directions, and it didn't say anything about peeling the potato first. Not off to a very good start here.
The Thick Side Worked a Lot Better, but…
So I tried the thick pasta cutter side next. This side worked much better than the thin side. It did not clog up at all. I was actually making some Veggetti. I made so much Veggetti that eventually I needed to use the safety holder to continue.
Disappointment set back in. I jammed the safety holder into the potato, twisted and it worked; at first. Then the safety holder slipped off and with it came chunks of potato.
Eventually I was able to get it working again, but pieces of potato kept breaking off. In the end, I was left with a weird conical shaped piece of potato that was too small to use with the Veggetti, and too large to disregard as waste. No problem, I diced the leftover potato and stored it for later.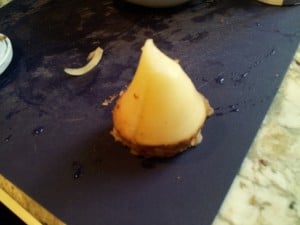 Don't Cut Your Hand Trying to Clean the Veggetti
Cleaning this thing was a nightmare. While rinsing did remove most particles from the thick side, it did very little to remove bits and pieces from the thin side.
I ended up having to pull the pieces out bit by bit. I tried using a scrubber, but that didn't help much. You can not use the scrubber on the inside of the Veggetti because the blades would cut it. Though there were remnants of potato and carrot left on the Veggetti, I wasn't going to risk cutting myself to clean it.
I Really Wanted This Thing to Work
I really wanted this product to work well, but unfortunately it didn't, not to me at least. As soon as I realize that it didn't work very well, the novelty wore off quickly. The commercials and product labeling make it out to be simple to use, and it's anything but. It isn't very efficient. It only works on the thick side, but you still end up with a weird shaped piece of vegetable.
It's not ergonomic or comfortable to use; so this is a definite no go for any one with arthritis. The carrots barely take the shape of spaghetti pasta, and you have to constantly press the carrot against the blade instead of just twisting as the ads say.
Conclusion: Some things to consider…
(Wow…It comes with a gourmet recipe guide…)
Granted, I only tested it on potatoes and carrots, but it didn't work well, I didn't want to waste money trying it on another vegetable; I was over it. If the product doesn't work well on 2 of the 5 vegetables listed on the package, then that's a bad sign. And though it may work well on other vegetables, perhaps zucchini, squash and cucumbers; the packaging says it also works great with carrots and potatoes. I think my test was solid.
There are other products like this on the market. If you have to make pasta from veggies, maybe try a different product, like the spiralizer; just be sure to do your research. Perhaps you are okay with the Veggetti's limitations, it isn't expensive, it does "work" (on the thick side at least), just not as well as one would hope. I think the concept is clever, and I will definitely try a different vegetable slicer in the future.