On this page, we compare a lot of SodaStream models. Those models include Fountain Jet, Splash, Play, Source, Crystal, Fizzi, Power, and Genesis. None of the units we came across are bad, per se. Rrather they have a unique feature or set of features, price or even availability that could make one more attractive to you than another.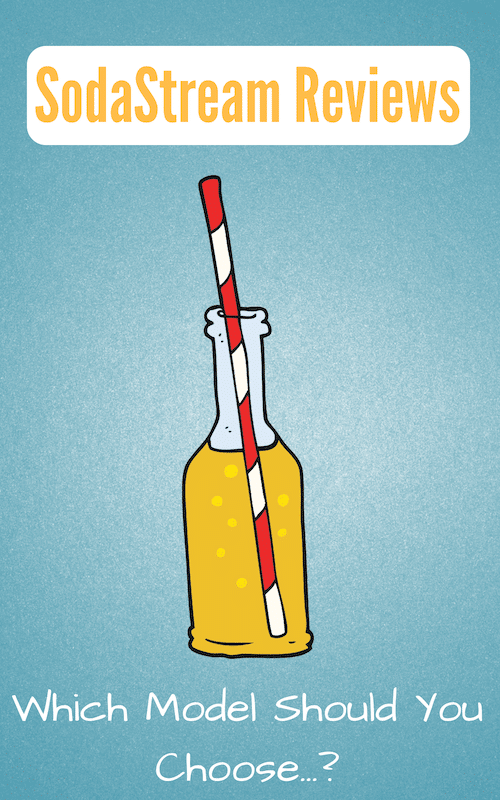 There are a lot of different sparkling water makers out there, so you are probably here because you want a SodaStream soda maker. But, that doesn't make your job any easier. There are a lot of SodaStream models out there to choose from. But, don't worry, we will help you narrow down your decision by giving you all the information and resources that you need to make a choice.
1. SodaStream Play Review
The SodaStream Play is a very good looking machine. It has a modern design and is available in three colors: black, blue and white. The Play measures 5.2″w x 16.5 "h x 9.0″d and weighs about 5 pounds making it very easy to transport from one location to another.
Product design innovation is at its best when things get more functional and simpler to use. And that is exactly what's supposed to be the case with the SodaStream Play. For this unit, the SodaStream Company teamed up with renowned product designer Yves Baher.
What's Unique about the SodaStream Play?
A new feature makes it stand out from previous versions. It is a subtle but significant design changes to the slider. To activate the carbonation process you have to press the slider downward. Rather manually sliding it back into place, it automatically returns to its original position. This simplifies the carbonation process. Also, this model features the snap-lock feature.
As with all SodaStream models, in just 30-seconds you can have fresh carbonated water. There is a lot of flexibility when it comes to the co2 canisters that you can use with the Play. You can choose a 60 or 130 liter for your machine.
Which bottles/co2 canisters are compatible with the SodaStream Play?
The SodaStream play is compatible with 1-liter plastic bottles. It is also compatible with 1-liter PEN dishwasher safe bottles. You may come across conflicting information on certain product descriptions. But based on everything that I've come across the Play is not compatible with ½ – liter bottles. For more information, you can check out the comparison chart located here.
The Play is compatible with both the 60 and 130 liter co2 canisters.
Get more details on the SodaStream Play
What comes in the box?
The SodaStream Play comes with just a few items. Inside the box you will find the SodaStream Play, a starter co2 canister and a 1-liter bottle.
What is the warranty?
This machine comes with a 3-year warranty.
Do note that this unit, like others, only comes with a 4-oz starter carbonator canister but you can trade it in for a full sized 60-liter co2 canister.
Customer Reviews
There are a lot of customers that are happy with the performance of this machine. Some customers compared the models side-by-side. They said that they like this model because the bottles pop in and out easier (compared to the Fountain Jet for example). They also really like the modern design of this machine over previous iterations.
But, after reading customer reviews for this unit, I wasn't impressed. There are too many instances of this machine failing on customers (some, after a relative few uses). This would be worrying for me if I were interested in this model. Some complain that the thing is cheaply made. Others said that it is noticeable that the amount of carbon it takes to fill up a bottle is more than on other models. Others complained that their unit did not come with the mail-in rebate to get the full 60-liter co2 canister.
Pros
Beautiful modern design
Easy to use
Available in 3 different colors
Compatible with 60L and 130L Co2 canisters
Affordable
No electricity required
Cons
Substantial number of durability complaints
Some Say it is cheaply made
SodaStream Play – check price and availability
2. SodaStream Power Review
As the name suggest, and unlike most SodaStream models, the "Power" model requires electricity for use. It is one out of just two that require electricity to work (see also SodaStream Revolution). So, if you go with this model you might have to consider where you might plug it in. But if you truly want this machine that probably wouldn't be an issue. Besides, with 4.8″w 16.6″h 9.1″d dimensions, it won't take up too much space.
The Power model is certainly a beautifully designed machine with very modern looking features. Available in white or black, its metal components will compliment a classic kitchen or fit right at home in a more modern designed kitchen.
What's Unique about the SodaStream Power?
There's lots to like about the Power model. It has a plastic and metal construction which means that it will probably last you quite a while. And that means that it is most likely more durable than units with just plastic housing. Some might like that the metal accents give the machine a more industrial or modern look.
(Personally, we tend go away from small kitchen appliances with metal accents as all of our major appliances are stainless steel.)
The touch activation is a very nice feature as well. So instead of having to push a lever down (to carbonate), you simply press one of three buttons at the top of the machine. There are 3 levels of carbonation; light, medium, high.
The quick snap-lock feature makes it very easy to get the bottle in place for carbonation. I checked out the video (you can too) and it really is easy and more convenient. All-in-all, these automated features will fit in seamless to an automated world. If this kind of automation isn't important to you then you may not be able to justify paying a premium (if there is one) when you are ready to purchase.
Get more details on the SodaStream Power
Which bottles/co2 canisters are compatible with the SodaStream Power?
The Power is only compatible with the 14.5-ounce or 60-liter co2 canisters. For some whom would like to use a larger co2 canister – to save money or space – this could be a negative. For most, this shouldn't be an issue. Do note that there are only three models – Fountain Jet, Play and Revolution – that are compatible with the larger 33-ounce/130-liter canisters.
On the plus side, the power model is compatible with three different bottles: 1-liter, 1-liter Source, and the ½ – liter source.
What comes in the box?
According to the SodaStream site, the Power model comes with the following items: SodaStream Power, 60L – co2 cylinder, 1-liter carbonating bottle with metal accent, and a power adapter. What's important to note here is the inclusion of the full sized co2 canister. Popular units, including the stellar SodaStream Source, only come with a trial sized version (you have to redeem a full-sized canister from a participating retailer).
Warranty
This unit comes with a Limited Lifetime Warranty. Although, on the SodaStream site it states that the warranty is just 2 years.
Customer Reviews
I came across many reviews from several sources for this machine. I'd say that the reviews are a mixed-bag for this one. Customers that are satisfied like that this model is so easy to use. I've come across lots of customers that point to the quality construction as a huge plus.
Not every customer was as thrilled. Some complained of damage to the unit upon arrival. I came across more than one customer that complained that there wasn't enough carbonation even when you use it on the highest carbonation setting. This doesn't seem to be the most popular or critically acclaimed SodaStream model out there. I didn't come across as many reviews for it as the more well-known Source for example. However, overall, most customers seem to be highly satisfied with this one.
Pros
Beautiful modern metallic design
Automatic carbonation at the press of a button
Snap-lock makes it easy to insert bottle
Cons
A bit more costly than the manual models
Durability complaints
SodaStream Power – Check price and availability
3. SodaStream Source Review
The SodaStream Source seems to be a very good choice. For most folks it falls into that Goldilocs zone so to speak where products are the right price, size and offer the best combination of features. This model is very popular, in fact, I've seen this unit being sold at local stores and even Costco (warehouse club).
This model is yet another designed by the innovative Yves Béhar. This one comes in 3 different colors: black, white and red. The modern design will compliment any kitchen or office setting. Weighing in at just about 7 pounds with dimensions of 4.8″w 16.6″h 9.1″d, it's sleek enough to go just about anywhere you might want it to.
What's Unique about the SodaStream Source?
A key feature of the Source is the LED fizz indicator. Some users find this feature to be really important because it allows to make soda with the same amount of carbonation every time. Others, however, find this feature to be a little unnecessary – they say that overtime you will develop an ear for knowing how much "fizz" is in the container, as certain high-pitched sounds are made depending on the fizz level.
The Source looks very similar to the Power. Unlike the Power however, the Source is made entirely of plastic. In my opinion, having seen it in person, it doesn't take away from the aesthetics machine. It looks very good and well-made.
Like the Power, you also get that super-convenient quick snap lock. Although not quite as easy to operate as the Power, you can carbonate very easily with this model. You simply press the top of the unit down. When the carbonation process is finished it will return to its original position. So, easy enough.
Get more details on the SodaStream Source
Which bottles/co2 canisters are compatible with the SodaStream Source?
According to this page, the SodaStream Source is compatible with the following bottles: 1-liter, 1-liter Source, and 1/2- liter bottles. For this unit, you will need to use the 60L co2 cylinder. You get a starter co2 canister but you will need to trade it in at one of the participating locations to get a full 60-liter cylinder.
What comes in the box?
The SodaStream Source comes with the following to get you started: SodaStream Source unit, 1-liter bottle, and a starter carbonator (you get a mail-in rebate to redeem a full-sized carbonator cylinder for free). Now, if you visit the SodaStream site directly, you will see that they actually give you a full 60-liter carbonator to start with. Just make sure that you get a price that makes sense for you.
Warranty
There is a limited lifetime warranty. Although some sources say that the warranty is just 2-years.
Customer Reviews
There are lots of customer reviews out there for this machine. Many customers seem to be very satisfied with this machine however some folks out there are less than satisfied. We'll start with the good stuff first. Folks that give the Source a thumbs up say that they really like the LED fizz indicator because it helps them to keep track of the fizz level. Others say that the Source carbonates much faster than earlier models.
Some users aren't so happy however. I've come across folks that complained that the carbonation process isn't consistent. What does that mean? Well, for example, today you might need five pushes to reach the carbonation level you desire and tomorrow it might be 8.
I've read the good and the bad and I think that this model is, overall, a good choice.
Pros
Beautiful design
Convenient LED fizz indicator
Not too expensive
Well made
Cons
Some think that the LED fizz indicator is unnecessary
Some complaints of inconsistent carbonation (see above)
SodaStream Source – Check price and availability
4. SodaStream Crystal Review
The SodaStream Crystal may be the perfect option for some. But, its price is going to turn most economically conscious shoppers in the other direction. Also, it's a bit finicky and inconsistent – some report that the bottle design isn't the best. From what I've read, I think you could do better.
The Crystal measures 6.25″w 17.2″h 10.5″, so locating it won't be a problem. Its housing is plastic and its design is, well, interesting – if a little awkward. It doesn't sport the same elegance in design that other's (Yves Béhar designed machines) offer.
What's Unique about the SodaStream Crystal?
The SodaStream Crystal is unique because it uses a glass carafe instead of those plastic bottles that you have to replace. This will give environmentally conscious users something to consider. The problem is that these things don't seem to be very durable as reported by some customers. Some say that the threads of the caps wear off and the bottle essentially becomes useless.
An upgrade to the carafe design was made recently but for folks with older bottles you won't be able to find caps to fit them. The capacity for the carafe is 620ml which is a little bit better than the ½-liter. Most SodaStream models come with a 1-liter plastic bottle.
There are a couple of practical benefits of the glass carafe. For one, it won't need to be replaced for hygienic reasons. As long as nothing is wrong with the cap you could use it indefinitely. The plastic bottles have a recommended expiration date. Also, the glass bottles are dishwasher safe.
When carbonating, the SodaStream Crystal housing completely encapsulates the bottle (carafe) which is different from how other models work.
Get more details on the SodaStream Crystal
Which bottles/co2 Canisters are Compatible with the SodaStream Crystal?
The SodaStream Crystal is compatible with the 60-liter co2 cylinders. And you can only use the glass carafe with this model. It's one of just two models that require the glass carafe.
What Comes In the Box?
When you buy the SodaStream Crystal, you get the following: The SodaStream Crystal sparkling water maker, 60-liter carbonator cylinder, and a glass carafe. Some listings I've come across offer two glass carafes. Make sure double check the listing to know exactly what you are getting.
Warranty
This unit comes with a 2-year warranty.
Customer Reviews
The customer reviews, while okay, point to some issues that would make me very uncomfortable if I were contemplating buying this unit. There are reports that the nozzle that fits inside of the carafe do not seal properly. Others have said that the locking mechanism is too tight – even for a strong person – to unlock once carbonated.
While there are folks who bought this unit specifically for the glass carafes. I don't think that the potential problems make up for the very real issues you may encounter with this machine. Add to that the fact that this unit is nearly twice as expensive (unless of course there is a sale) as units like the Source, and it makes hard to justify getting this unit.
SodaStream Crystal – check price and availability
5. SodaStream Fizzi Review
The Fizzi is one of the more basic offerings from the SodaStream line of sparkling water makers. It is made completely out of plastic. With 5.1″ w 16.9″ h 7.3″ d measurements, the dimensions are similar to other units from the line. It is offered in black or white and will look pretty good in your kitchen. Personally, I think that it looks better in black.
When compared to the Source or power, for example, this model doesn't stand out. If prices were equal, it probably wouldn't be your first choice. But given that this unit is one of the most budget friendly – it's definitely worth checking out (Be sure to check out the prices before you make a final decision).
What's Unique about the SodaStream Fizzi?
Operation is pretty basic here. You fill the accompanying bottle with water, snap the bottle in place, then hold the button (located at the top), down until it's finished carbonating. This process is easy but not as convenient as the Power or even the Source or Play. This might be a determining factor for you.
The top-front of this machine has a dimpled surface which makes it stand out a bit. Other than that, there isn't much that makes this unit stand out. The quick-snap design of the SodaStream Fizzi is another plus.
Which bottles/co2 canisters are compatible with the SodaStream Fizzi?
The SodaStream Fizzi is compatible with 1-liter, 1-liter Source, and ½-liter bottles. It is also compatible with 60-liter co2 canisters.
Get more details on the SodaStream Fizzi
What comes in the box?
The Fizzi comes with the following: The Fizzi sparkling water maker, 1-liter plastic water bottle, and a mini-co2 carbonator. Depending on where you get your unit from will determine whether or not you get a full-sized carbonator. If you do get a starter carbonator you will be able to redeem it for a full-sized cylinder at a participating location.
Warranty
This unit comes with a 2-year warranty
Customer Reviews
The Fizzi is compared favorably to earlier models according to some users. Fans of this sparkling water maker point to it being easier to use than earlier models. They like that the bottles snap into place rather than screwing into place. They also say that it is much easier to carbonate than earlier models.
That doesn't mean that all users are happy with this machine. I've come across a few people that had poor results. But I discount these reviews because there are always going to be people that have problems with a machine. The poor results don't seem to point to a chronic issue in the manufacturing chain.
Pros
Won't break the bank
Decent looking design
Customers say that it works better than older models
Customers like the quick-snap design
Cons
Basic compared to the Source and Power
SodaStream Fizzi – check price and availability
6. SodaStream Splash Play Review
You probably won't end up getting the SodaStream Splash Play because you'd have a hard time finding it online. When I came across it on the Bed Bath & Beyond site it was listed as no longer available for sale online.
With that I will leave you with a quick summation from what I've noticed about this machine. For one, when it was available, it was offered in several colors: white, black, red, and blue. It has a familiar design similar to the Play, Power, and Source. It definitely looks stylish and sleek which is important to many people when looking for a modern kitchen accessory.
The reviews aren't completely terrible but from the reviews that I came across online a lot of the negative ones did seem to have a recurring theme. And that, my friend, is inconsistent and inadequate carbonation. I've come across multiple reports of users being dissatisfied with the level carbonation that ended up in their drinks.
I don't think you're missing out on anything by not having this unit available to choose from. In all likely hood, the company simply corrected a problem in the manufacturing chain and introduced it as a new offering. This unit doesn't offer anything that you couldn't get on a different one.
Check price and availability on the Splash Play
7. SodaStream Genesis Review
I like the look and design of the SodaStream Genesis. It has an oddball look to it that could add a unique or eclectic quality to your kitchen. Especially in a world of sameness. Don't worry, although the machine looks a bit top heavy, it is well-balanced. It certainly won't topple over.
Like most of the SodaStream models there is no electricity required. It doesn't weigh much and it measures 9.2 x 5.3 x 16.4 inches. It is available in three different colors: black, white, and green.
Although this model isn't the most advanced version, it is still pretty popular. Although it might take a while for it to ship out depending on where you get it from.
What is unique about the SodaStream Genesis?
Aside from the design, there isn't much that separates the Genesis from other units. At least not in a very positive way. The Genesis doesn't have the quick-snap technology that the more gratuitous models offer. It's a lot more basic than that.
To operate you will need to press and hold down a button. This could be something to think about if you have arthritis or if you are buying this as a gift for older users that may be lacking in hand strength. So, this doesn't offer a lot in the way of convenience. At least not when compared to other models on this page.
A superficial difference that might get your interest is that this machine comes in green – a color other units aren't offered in.
Click here to get more details on the SodaStream Genesis
Which bottles/co2 canisters are compatible with the SodaStream Genesis?
The Genesis is compatible with 1-liter, 1-liter source, and 1/2-liter plastic SodaStream bottles. This unit is only compatible with 60-liter co2 cylinders.
What comes in the box?
The SodaStream Genesis comes with the Genesis sparkling water maker, a starter co2 cylinder, and a 1-liter bottle. Now, depending on where you get it from will determine what all is included. I've happened across some users that said they received two plastic bottles with the unit. Some sources might include a full 60-liter co2 cylinder.
Warranty
This unit comes with a 10-year warranty according to the SodaStream comparison chart. This is significantly longer than the Power, Source, Fountain Jet, and Crystal which carry a 2 or 3 year warranty.
Customer Reviews
Overall, many of the reviews that I came across for the SodaStream Genesis are positive in nature. Most of the positives are generic and would really apply to more than just the Genesis model or SodaStream models in general. The cost savings and convenience and ease-of-use are the most abundant compliments that I've come across for this machine.
Some complaints are from those whom say that the unit is cheaply constructed or doesn't carbonate very well. Still, after reading through the reviews, I think that this one is a good buy. Although, you might appreciate a unit that has better construction and more bells and whistles.
Pros
Affordably priced compared to some of the other models
10-year warranty
Cool look and design
Cons
You must screw in the bottle
You have to hold down the button to carbonate
SodaStream Genesis – check price and availability
8. SodaStream Fountain Jet Review
The budget friendly Fountain Jet sparkling water maker may not have all of the added sauce that you are used to from reading about the models above, but don't be so quick to write it off. What's appealing about the Fountain Jet is that it is a great choice for frugal shoppers who might be ready for the convenience of a soda maker.
I'm not a huge fan of the plastic housing or the design. Personally, I think it looks a little cheaper than most of the other models listed on this page. But, for some shoppers, this may be a non-issue.
What's unique about the SodaStream Fountain Jet?
A feature that will stand out for budget conscious shoppers is the fact that this model is compatible with both the 60-liter and 130-liter co2 cylinders. This means that you may save some money by buying the larger co2 cylinder. Most times you save money by buying in bulk.
The design is unique as well. I haven't come across another one that looks like it. It's not a bad design but it isn't exactly a head turner either. Add to that the fact that this unit should cost less than the source, power and other models, depending on where you buy it from and you've got yourself a unique value proposition.
Now, you have to remember that you are giving up some convenience here. The Fountain Jet bottle screws on to the machine. Which for some, perhaps those among us with arthritis this could pose a challenge. If you don't foresee this being an issue for you then the Jet may be a good fit for you. Also, you have to hold down the button at the top to begin the carbonation process. Again, this may not be an issue for you. Though some might find this process annoying.
Click here to get more details on the SodaStream Fountain Jet
Which bottles/co2 canisters are compatible with the SodaStream Fountain Jet?
The Fountain Jet is compatible with the 1-liter, 1-liter source bottles, and the half-liter bottles. And unlike most SodaStream models, the Fountain Jet is compatible with 60 and 130 liter co2 cylinders.
Warranty
The Fountain Jet comes with a 2 year warranty.
Customer Reviews
As far as number of reviews is concerned, the Fountain Jet has the most that I've come across. Which is an indicator of its popularity. I think that the Fountain Jet is so popular because it has an entry-level price. People recognize the value of sparkling water makers but most aren't willing to pay for features that they simply don't need.
There are many folks that are absolutely happy with their purchase of the SodaStream Fountain Jet. You will come across a lot of the generic compliments for this machine that really apply to any home sparkling water maker.
Others are satisfied with this machine for more specific reasons. They like the slim design and don't complain about the price.
Some of the complaints that are worth mentioning are that some users found that the co2 canisters make far less than the advertised amount bottles of soda. For example, the 60-liter co2 canister may only make about 40-50 bottles of carbonated water. There were some users that complained that they can never get the carbonation level they are looking for.
I came across many folks that say this machine is housed in a really cheap plastic. Which is disappointing but for me this is expected. This is an entry-level product. In fact, you will probably find this one to be much cheaper than the others listed on this page (although a sale could change that).
Pros
This unit is inexpensive
Slim design will fit most anywhere
Compatible with 60-liter and 130-liter co2 cylinders
Cons
Cheap plastic housing
Some complaints of weak carbonation
SodaStream Fountain Jet – check price and availability
More Information about SodaStream Carbonated Water Makers
Why Choose a SodaStream?
If you are looking at this page and wondering why one might be interested in this product, then continue reading. You might find that you want one of these machines. Most people that choose a SodaStream are soda lovers. Beverages like lemonade and juice are nice but then there's something about the effervescence in soda pop. A sparkling water maker and more specifically a SodaStream allows you to enjoy the bubbly, fizzing effects of soda/pop but without the high-fructose corn syrup and aspartame and excess calories.
You also don't have to worry about hauling a bunch of bottles around with you. This is very attractive to folks who live in places like Manhattan or on the 15th floor of an apartment high-rise building. Some people like the SodaStream because it saves on space. Instead of keeping twelve 2-liter bottles of soda in the cabinet, you just keep your co2 canister in the machine or easily store the small canisters in your cabinet. The bottles of flavor are really small and easily stored.
Some people, for cultural reasons, drink seltzer water very regularly.
Others like that they are able to control their level of carbonation.
According to SodaStream, their flavors are also better for you because they are naturally flavored. You can also add carbonated water to other drinks such as fruit juices and even cocktail beverages. Now, you could purchase carbonated or sparkling water from your local grocery store. But, some customers love these machines because they are convenient and they are also better for the environment. Lots of customers even find that they save money when switching to a sparkling water maker.
How SodaStream Machines Work?
These machines are very easy to operate and although they all work in the same basic way, there are some small differences (which are explained in more detail on the comparison charts and individual reviews). Some people are surprised to learn that, with the exception of the "Power" and "Revolution" units, you don't need any batteries to operate SodaStream machines.
Operation is very simple, you just fill your bottle with water (to the marked fill line), then connect the bottle to the Soda machine and fill. Once you finish carbonating your water you can then choose to add a flavor. Some people use the carbonated water for mixed alcoholic beverages, lemonade, etc. You can fill a 1-liter bottle in just 30 seconds or less.
You will need to use the bottles that accompany the machine or a compatible bottle. These bottles range in size and not all models are compatible to all bottle sizes and types. For sanitation reasons, it is important that you carbonate water only.
How long will carbonated water stay carbonated?
Based on customer responses, it seems as though a 1-liter bottle of carbonated water will remain carbonated for about 2 to 3 days. To maximize this length of time, it is best that you tighten the cap very tightly.
SodaStream Flavors
For all SodaStream models there are 60 flavors available. These flavors are free of high-fructose corn syrup and aspartame. Many people like these flavors, especially flavors like green apple cucumber and apple blossom. Other flavors like "cranberry raspberry" and "pink grapefruit" aren't the most popular. SodaStream isn't your only option for flavors. You can also use other water enhancement flavors from brands like Mio or H2Wow. Even Dasani makes water enhancers.
There is no limit to the type or kind of water enhancer or flavor syrup that you can use because you are simply carbonating water. You don't add any flavor until after you carbonate the water.
How many liters can you really make per CO2 canister?
The canisters will give you an estimate of how many liters of carbonated water you can make. However, after doing more research we found that some customers had different experiences. Some have stated that they end up filling far fewer bottles than the packaging indicated.
Admittedly, these customers like to add a lot of carbonation to their water. Ultimately, these estimates made by the company are arbitrary. It all boils down to how much carbonation you put into each bottle. I would think that a safe estimate would be between 70 to 80% of what SodaStream states (based on customer reports I came across).
Where to buy refills
I would buy refill cartridges from wherever they were being offered at the cheapest price. There is no reason to pay more for one than need be. In fact, your best bet would probably be to return the used canisters to Bed Bath and Beyond (you may even be able to use that ubiquitous 20% off coupon), Target, Staples, Wal-Mart or another retailer with a co2 exchange policy. I've read that when you opt to use the exchange policy you will you will get the refill at a discounted rate.
About the Bottles: Bottle Compatibility, Capacity, and Expiration
You must use SodaStream bottles with your SodaStream sparkling water maker. The bottles are made out of a hard plastic unlike the very pliable plastic soda bottles. Not all bottles will work with all SodaStream machines. There are several different types of bottles: ½ liter, 1-liter, 1-liter glass carafe, and PEN plastic dishwasher safe bottles.
All SodaStream bottles have the "stay-fizzi" hermetic (airtight) cap which is claimed to keep the fizz longer than store bought soda. These bottles are available in a number of colors including a stainless steel version. From what I've seen, you can save some money by purchasing a two pack. Eventually, you will need to replace these bottles again as they have an expiration date. The expiration date should be around two-years from the time you purchase it. So you will still realize the savings even though you need to replace the bottles. The exception is the glass carafe bottle but it is only compatible with "Crystal" and "Penguin" soda makers.
Another great thing about the SodaStream is that users are participating in a "green", better for the environment, activity. According to SodaStream, its users save about 550 bottles per year.
Tips to get the most out of your SodaStream investment
Carbonate cold water as cold water holds carbonation better than room temp or warm water
Only fill to the indicated fill line
Only carbonate water. Beverages like juice, kool-aid and the like may make a sticky mess. Add flavor after you carbonate the water.
Do not use a tool to connect the bottles or co2 canisters to the machine
SodaStream "hacks" – modifying your SodaStream so that it can connect to a larger 3rd party CO2 source – may void your warranty.
Summary and Recommendation
There is a lot of information on this page about SodaStream sparkling water makers. In the end it mostly boils down to personal choice. I think that most shoppers want a convenient, good quality machine that won't break the bank. If that is you, I recommend that you go with the SodaStream Source. It kind of hits that Goldilocks zone, not too expensive, has convenient features like snap in bottle and you don't have to hold down a button to carbonate.
If you don't need the extras that the Source offers then I think the Fountain Jet is a pretty good choice as well.
And if you want to add a little more sauce go with the Power which is automatic.
Other SodaStream Comparisons to Consider: