On this page, we will examine the scanpan vs. greenpan comparison.
When it comes to cooking certain foods, there is a preference for nonstick pans. But while nonstick pans are convenient, many users have valid safety concerns. The bottom line, users don't want to risk their health for convenience.
Today's contenders, the Scanpan vs. GreenPan, happen to be two of the popular non-stick cookware in the market today. And primarily due to health reasons and performance.
ScanPan – Click here to check the price
GreenPan – Click here to check the price
So, If you're unable to choose between these quality options, you're in the right place. We've researched both pans on your behalf and compiled our results to serve as a guide. In the end, you will be able to choose a pan that makes pancake flipping a breeze. And, more importantly, end your health concerns.
ScanPan vs GreenPan: Which Nonstick Ceramic Pan is Best for you?
Models and Collections
The focus of this page is to compare the nonstick pans from both brands. However, we have also included other non-stick models and collections in this section. This is important because it will help you understand the different models and be more informed.
The Scanpan has a stainless-steel line comprising many models. Those models include Impact, Coppernox, Clad 5, Accent, Commercial, CSX, and Silencio.
Its non-stick models include Professional, Classic, CTX, IQ, Pro IQ, Induction Plus, and Evolution. The CTQ model is basically the same as the CTX. The only difference is that the design of the lid and handle are different. In addition to that, Sur La Table is the exclusive retailer for the CTX.
The GreenPan line of cookware consists of only non-stick models. So you have the Lima, Paris, Rio, Diamond Clad, Padova, Stockholm, Rotterdam, Chatham, Focus, and Venice Pro.
Colors
All Scanpan cookware has a traditional black coating for its interiors. While most of them have an exterior black finish, some are silver.
The GreenPan Paris and Lima have their interiors and exteriors colored gray. The Green Pan Padova features a cream-colored interior and an exterior light-blue finish. The GreenPan Rio remains the most colorful model. Its interior features a cream-colored coating. In comparison, the exterior can be black, turquoise, or burgundy.
Construction and Coating
Conventional non-stick pans use PTFE. It's a synthetic substance that under certain chemical conditions produces the pollutant PFOA. PFOA has the potential to be carcinogenic or cancerous.
Both the Scanpan and GreenPan cookware brands are different. However, each is renowned for being eco-friendly and non-hazardous to human health. Although, I must mention that the scanpan does contain PFTE but not PFOA (read more below).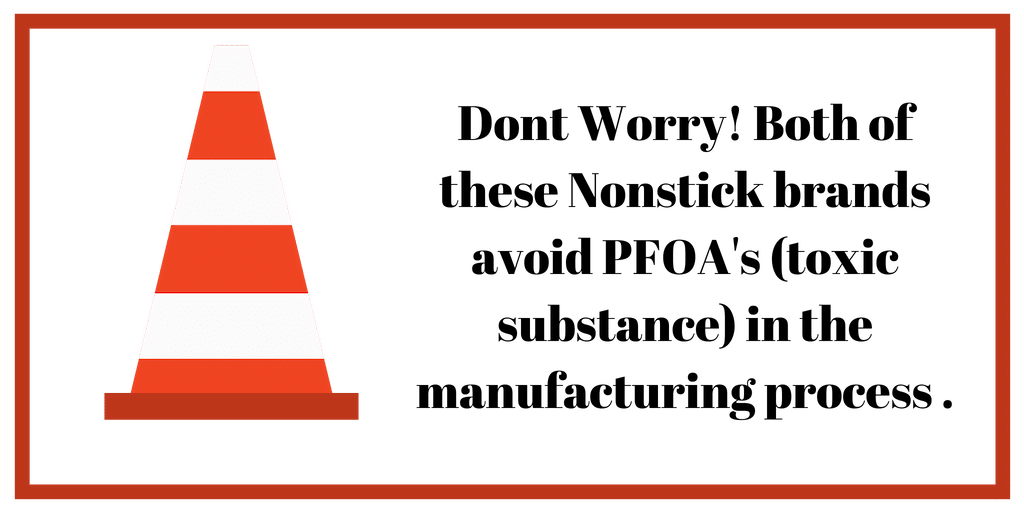 The ceramic non-stick coating of the GreenPan is free of the chemicals mentioned above. Instead, it is they are made of Thermolon. Thermolon is a patented material derived from natural minerals. Thermolon ensures durability, is resistant to scratches and abrasions, and will not rust.
Underneath this chemical-free coating, the GreenPan lines of cookware incorporate different materials. As a result, these materials are more visible in the exterior finish and ensure that the pan's surface remains scratch-resistant.
The GreenPan Lima and Paris models are made of hard-anodized aluminum. This provides them with a maximum strength scratch-resistant exterior. In addition, this aluminum construction ensures the pans do not buckle or warp over time.
Instead of hard-anodized aluminum, the GreenPan Rio is made from heavy gauge aluminum. In addition, the GreenPan Diamond Clad skillet set employs a Thermolon diamond-reinforced non-stick coating.
Other Cookware Comparisons:
Calphalon Unison vs. Signature
Calphalon Unison vs. Contemporary
Like GreenPan, Scanpan avoids the conventional toxic coating for its non-stick models. Instead, the pans are made harder with a patented ceramic titanium coating than steel. Now, the coating does contain PTFE. But, they took great care during the manufacturing process to ensure that the pans did not produce the toxic PFOA.
Induction Compatibility
Scanpan claims the coating is harder than steel. But, the coating is also scratch and abrasion-resistant. So, some users like to use metal utensils with them. But, we strongly recommend that you stick to wooden or plastic spoons.
Use plastic, silicone, or wooden utensils regardless of which pans you choose. By so doing, you'd prolong the lifespan of your non-stick cookware.
Most Scanpan models are constructed from recycled aluminum to prevent buckling and warping. This also ensures the pan exterior remains resistant to any scratch or abrasion. The Venice Pro features a stainless-steel construction.
Most non-stick models are usually not compatible with an induction top. Yet, there are some non-stick models in both lines that you can use safely on induction stoves.
For Scanpan, induction-compatible models include the CTX, IQ, Pro IQ, and Induction Plus. Non-stick Scanpan models that are not induction compatible include Classic and Professional. From its stainless steel non-stick line, CSX and Impact are induction-friendly.
GreenPan, Paris, Lima, Rio, Padova, and Rotterdam are not induction compatible. Induction-friendly models include Venice Pro and Stockholm.
Handle and Lid Design
All Scanpan cookware comes with a stainless-steel handle. In addition, some Scanpan models (e.g., Professional) have handles with a riveted design.
Unfortunately, food gets stuck around the rivets. This makes it difficult for some to clean. Other models come with a patented handle locking system. This system uses neither screws nor rivets. This design style ensures that the handle remains affixed to the pan. It also makes cleaning a whole lot easier. But, should the handle come loose, there is no way to tighten it.
ScanPan – Click here to get more information on the ScanPan CTQ
GreenPan – Click here to get more information on the GreenPan Paris
Apart from the Pro IQ with stainless-steel lids, all other Scanpan models have glass lids. This makes it possible for users to see what they're cooking.
The GreenPan Lima, Paris, Padova models have riveted stainless-steel handles. But the Rotterdam model has a stainless steel handle and comes with a removable rubber grip. This helps users carry their pans even when they're hot. The Rio comes with a handle completely made from rubber.
The GreenPan Paris pots and pans have stainless steel lids, while Lima, Rio, and Padova have glass lids.
Dishwasher and Oven Use
Both Scanpan and GreenPan have some non-stick models rated dishwasher safe. However, to increase the lifespan of the non-stick coating, don't put them in the dishwasher. Instead, we recommend simple handwashing for all non-stick pieces. Check out this article on cooks illustrated for more info about caring for your nonstick pans.
The Scanpan Classic is oven-safe up to a max temperature of 500 Fahrenheit. The GreenPan Lima is oven-safe to 420 degrees Fahrenheit. At the same time, the Paris cookware has a higher max temperature of 850° Fahrenheit.
The GreenPan Rio is a bit different. It has a shallow level of heat tolerance when compared to other GreenPan models. And unfortunately, you cannot put it in the oven for temperatures exceeding 350° Fahrenheit.
Cooking Evenness
This is simply the ability of non-stick frying pans to produce evenly browned food items. With a perfectly flat and thick base, great heat distribution, and retention, the Scanpan pans provide fast and even heating.
Though they perform excellently on a gas range, the GreenPan Paris and Rotterdam have some reports of uneven cooking for electric stoves.
Durability and Performance
Reviews from a large percentage of Scanpan users show most are satisfied with their purchase. However, it's a case of hit or miss for many: it's either durable or not.
There were some complaints. Some complained about the food burning, even at lower temperatures, with the stainless steel lines. And then there were complaints of handles that got hot too fast. Others complained of pots and pans being easily stained.
Yet, users still had none of those complaints whose pans worked just fine. So, judging customer experiences, Scanpan stainless models are slightly better than their non-stick counterparts.
For the Scanpan non-stick models, a significant number of users complained of durability. With constant use, the coating lasted for at most a year and then, after that, became quite sticky. The pans could last longer (perhaps three years).
For GreenPan, many shared a similar experience. It worked like a charm in the first year of use and then became very sticky. Also, several users complained that the GreenPan cookware chipped easily.
For both non-stick brands, there is an underlying message. Regardless of the caution and care are taken, their non-stick properties do not last forever.
Warranty
Both brands of non-stick cookware come with a limited lifetime warranty. These warranties promise users a replacement in case of manufacturer defects or damages. However, the warranty becomes void if you buy it from eBay or similar auction websites. It also does not apply to defects resulting from misuse or accidental damages.
Pros and Cons of Scanpan
Pros
Eco-friendly
Not harmful to user health
Better at cooking food evenly
Rarely deforms or warps
Cons
Non-stick properties do not last forever
Pros and Cons of GreenPan
Pros
Eco-friendly
Toxic-free coating
Rarely deforms or warps
Cons
Non-stick properties do not last forever
Fragile
ScanPan vs GreenPan Summary
Both brands of cookware have models belonging to the same price range. Therefore, choosing between these two non-stick pans becomes a matter of personal tastes and preferences.
They are both great at first but will lose their nonstick properties over time, with the GreenPan degrading faster than Scanpan (according to customers). Plus, the Scanpan models reportedly brown foods better and more evenly.
We've used our share of nonstick pans over the years, and our experiences align with those of these two brands; over time, the nonstick coating wears out. But, if we had to pick, it would have to be the Scanpan.
ScanPan – Click here to check the price
GreenPan – Click here to check the price