The Philips hd9220 vs. hd9230 comparison features two excellent air fryers. Air fryers are interesting small kitchen appliances. Air fryers are gaining popularity thanks to infomercials and product demonstrations. I mean, who doesn't want to enjoy guilt-free fried chicken?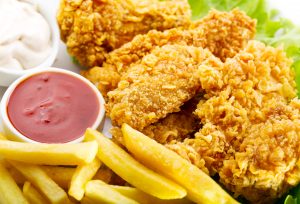 Click here to see price for the Philips hd9220
Click here to see price for the Philips hd9230
These air fryer models are very similar, but some key differences may help you make a decision. Below, you will find all the information you need to make the best choice in the Philips hd9220 vs. hd9230 air fryer comparison.
Philips HD9220 VS HD9230: Which Air Fryer Should You Choose?
Recipes you can reheat in an air fryer:
Are Air Fryers Useful?
Fried foods are the guilty pleasure I indulge in most regularly. And no offense to the big brand fried-food joints, but they don't compare to the deliciousness of homemade fried foods.
Air fryers are definitely intriguing machines. They offer a way to enjoy fried food without all of those added empty calories. These Philips models claim to reduce the fat in fries by up to 70%. In this test, they used canola oil. These results are according to actual laboratory tests! The Philips brand is definitely the leader in the air fryer market.
How Do They Work?
Air fryers are small convection ovens. They work by circulating hot air over the food rapidly to crisp up the food. Really no different than your oven's convection oven feature. This makes them excellent cooking food that you want to have a crispy exterior, and they work great for reheating. However, while they are useful, they are certainly not a replacement for deep-fat-fried foods.
Size and Appearance
I like the look and design of both machines. In a world of basic, unattractive machines, they offer an alternative. Both machines are pod-shaped. This shape might sound awkward and clunky, but it works somehow. It has a very ambiguous look. At the same time, other deep fryers look like "deep fryers." These units are more inconspicuous.
There are some differences in the look of these two machines. The tops of the machines are slightly different, but that difference is subtle. The most obvious difference you'll notice is the interface. The hd9230 has a digital interface, while the hd9220 has an analog dial to control the timer and temperature. With the digital interface, the hd9230 is the more modern-looking air fryer.
Both machines measure 15.4 x 15.4 x 14.9 inches.
Click here to see price for the Philips hd9220/26
Click here to see price for the Philips hd9230
Performance
You will enjoy equal performance regardless of the model you select. Both use rapid air technology, which basically means the air is circulated with speed and accuracy. This helps the food cook fast.
Neither machine is designed to cook fried foods, although that's probably the main reason you want to buy one. However, both are capable of baking, roasting, and even grilling. Both air fryers can reach a maximum temperature of 390-degrees. The hd9220 has a max timer of 30 minutes, while the hd9230 has a 60-minute max timer.
The cooking baskets for both machines have a 1.8-pound capacity.
Warranty
Both of these Philips air fryers come with a 12-month warranty. This is pretty much standard for a lot of consumer electronics.
Ease of Use
The Philips hd9230/26 has a digital control panel that makes it easier and more convenient to use than the hd9220/26. With the digital control, you can make presets for your favorite foods. In addition, both models have dishwasher-safe parts, which makes cleanup really simple.
Accessories
Both machines come with everything that you need to get started. You get the cooking basket, the same cookbook, and access to the Philips air fryer app. The app gives you access to guides and even support.
Click here to get more details on the Philips HD9220
Click here to get more details on the Philips HD9230
Philips HD9220 VS HD9230: Customer Reviews
Although these machines sound impressive, it would mean nothing if the results weren't backed up by customer experience. Fortunately, there is a lot of customer feedback to suggest that both are high-quality machines.
Customers have very similar experiences when using either machine. The tone of most reviews seems to be a surprise. Many customers were surprised at the cooking results. They love how easy it is to clean. Some even share some of the healthy foods they've prepared using the air fryer.
Some of the cons that customers pointed out were that you couldn't make large batches of food at once. The more cynical reviewers draw air-fryer comparisons to convection ovens and suggest that you might better spend your money elsewhere. Still, many customers were pleased and appreciate the value of either machine.
The difference really is in the digital controls.
Summary & Recommendation
Hopefully, you've gained enough knowledge about the differences between the air fryers in the Philips hd9220 vs. hd9230 comparison to make a decision. Both have the same rapid air and other technologies. These air fryers are nearly identical except for the temp and timer controls. The hd9220 has the old analog dial controls.
On the other hand, the hd9230 has digital controls. These controls allow more convenience. For example, you can save the timer and temp settings for your favorite foods. If I were choosing between these two machines, I'd go with the Philips HD9230/26. I think that the convenience of the digital controls is worth the added cost.
Click here to buy the Philips HD9230