The Ninja bl773co vs bl820 features two very good blender kitchen systems from the popular Ninja brand. These machines are very convenient and feature rich. They are very similar in design and performance.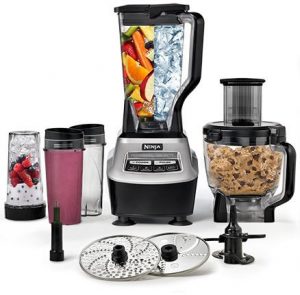 More and more, companies are making "kitchen systems", which are typically blender/food processor combos.
Below, I've outlined and compared the features of both of these moderately priced machines. There are certainly a lot of common features between these two machines, but the differences might sway you in one direction over the other
Click here to see price for the Ninja bl773co
Click here to see price for the Ninja bl820
Size and Appearance
I've had issues retrieving the correct dimensions for Ninja brand and other blenders. For example, on Amazon the bl773co is listed as having a 20" inch width. That is simply impossible. I've never come across a blender that was 20 inches wide.
The good thing is that blenders take up relatively little horizontal space. However, if you wish store the blender in the most convenient way, on the counter and underneath the cabinet, then you need to make sure that the height of the blender is less than 20 inches. According to the information I found both of these blenders are under 20 inches tall.
There are a lot of accessories that come with these machines, you will need to make sure that you have a convenient location to store all of the accoutrement.
Neither of these machines are particularly good looking. They aren't eye sores but they certainly won't be winning any design awards. They are both colored gray and black.
Power
The two blenders in this comparison are behemoths with lots of features and power. One blender is more powerful: the bl820. Sure, the Ninja bl773co has 1500-watts which translates to about 2-peak horsepower. It's a very powerful machine. But the bl820 has the same wattage but it is more powerful with 3 horsepower. That is quite a gap in power. You would definitely notice a difference in performance between these two machines. But you won't be disappointed with the performance of either machine.
Both of these machines are designed to power through about two pounds of dough in seconds.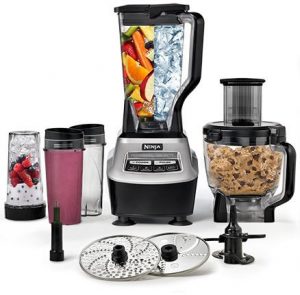 Warranty
Neither of the warranties are very special. The Ninja bl773co comes with a paltry one-year warranty. However, the Ninja bl820 doesn't have a very long warranty either; it's only two years.
Click here to see price for the Ninja BL773CO
Click here to see price for the Ninja BL820
The Multi-Taskers…
The great thing about both of these products is that they aren't just blenders. They are complete kitchen systems. Both come with the food processing ability as well. The pitcher, food processor bowl, and single serve cups are the same capacity.
Control Panel
The control panels are made a little differently for each machine. On the bl773c0, the buttons are flat. The controls for the bl820 include turn dials and switches. I prefer the bl820 controls. I think that they will be more durable and hold up better over time.
Click here to get more details on the Ninja BL773CO
Click here to get more details on the Ninja BL820
Customer Reviews: Ninja Bl773co vs bl820
Many customers of both of these kitchen systems are happy with their purchase. The similarities between these machines are very apparent and there are also similarities in the customer experiences as well.
Both the Ninja bl773co and the bl820 have customers that are more than satisfied with the speed and power of either Ninja machine. They are both reported to be able to power through leafy greens and hard vegetables with no problem.
There weren't any issues that were alarming but there were issues that stood out more than others. For example, some customers complained about how loud these machines were. Well, when you're dealing with two and three horsepower machines, this is to be expected.
Both machines had several customers state that they felt that the blades were flimsy. Others complained about the size of these machines. Still, considering everything, I'd say that these machines are pretty good quality overall.
Other Kitchen Systems to Consider
VS Ninja BL771
The Bl771 is another blender system offering from the popular Ninja brand. The two-horsepower machine packs a punch with 1500-watts of power which is comparable to the other blenders on this page. It comes with an extra-large 72-ounce capacity pitcher and an 8-cup work bowl. Both sizes should be just fine for most families of four or five and maybe more. You also get two ninja cups.
Click here to see price and other details
Summary & Recommendation
Both blender/food processor kitchen systems in the Ninja bl773co vs bl820 are great machines. The performance will be good and consistent. Both of these machines share similar dimensions, looks, and performance.
The biggest difference between these two machines is power. The bl820 is 50% more powerful. So which one do you choose? From what I've read in the customer reviews, you probably won't miss the added power of the bl820. I think that the most practical and best choice is the Ninja bl773co but the added power of the bl820 is certainly attractive. I don't think you'll be disappointed with either choice.
Ninja BL773CO – Click here to check price
Ninja BL820 – Click here to check price