The Ninja BL773CO Mega Kitchen System 1500 is a food processor/blender combo. It measures 16 x 12 x 17 inches and weighs 19.5 pounds. Ninja, a most recognizable brand, makes the 1500-watt (about two horsepower) powerhouse in blenders.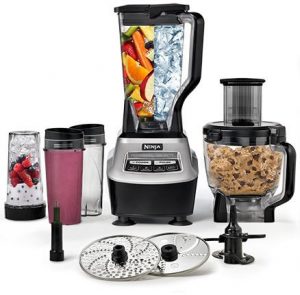 The popular Ninja BL773CO comes with a lot of stuff. It is a decent-looking machine and considering everything that you get. Its price is very affordable. I am a big fan of small kitchen appliances that have many functions. Below, find out if this is the right Ninja kitchen system for you.
NINJA BL773CO: ALL IN ONE KITCHEN SYSTEM
Other Food Processors to Consider:
The Ninja BL773CO has an extra-large plastic 72-ounce capacity pitcher. It also comes with three personal-sized "to go" cups with lids. This is perfect if you want to experiment with different ingredients or if you want to prepare all of your smoothies for the day and take them with you on the go.
The food processor work bowl has an 8-cup capacity. It comes with several blades to grate, chop, slice, and shred. There is also a dough blade.
Leafy Greens, Soup, Dough etc
The ability to pulverize leafy greens is the litmus test for high-end blenders. Unfortunately, I've read mixed reports about Ninja blender's ability to do this. Many of the customers I've come across online and offline claim that their Ninja blender does a great job of easily pulverizing spinach and kale.
The measure of a food processor lies not only in its ability to cut vegetables but also in pedestrians. A real test will involve dense foods like almonds. An excellent food processor should help you make stuff like chicken/tuna salad, nut butter, and grated cheese, but especially dough. This one can make two pounds of dough in just 30 seconds.
Easy to use. Easy to clean.
The Ninja BL773CO is an easy-to-use small appliance. It has just a few buttons for operation: All of the removable parts are BPA-free and dishwasher safe. Wipe down the rest of the machine to finish cleaning.
Convenient Features
Some very thoughtful features went into the Ninja BL773CO. For example, the suction cups on the bottom will prevent your machine from "dancing" around when in use. In addition, the lid lock-down mechanism prevents your contents from spewing everywhere.
Missing features?
I've seen the Auto-IQ feature listed on many Ninja machines in stores and online, but that signage is missing from the BL773CO. The auto-IQ is a feature for the impatient or hectic among us, who'd like to walk away from the blender while it is in use. It isn't a necessary feature, but some found it very useful. It shouldn't be a deal-breaker, though. Smoothies take just a few minutes to make, not hours.
Surprised It Works So Well
I've come across several customers that thought that the machine worked much better than they expected. I think that this pleasant surprise results from the relatively low price and perhaps the gimmicky nature of the advertisements. Sure the 'Ninja' name is clever, but it's at least a little bit cheesy.
Compares Favorably to Vitamix and Blendtec
After researching many different blenders and food processors, I've come across several people claiming that the Ninja brand compares favorably to the blender world titans, Vitamix and Blendtec. As a Vitamix owner, I find this just a little bit hard to believe (or maybe I don't want to accept it).
However, even consumer reports confirm this. In fact, I've read several reports that the Ninja blenders can do things that the Vitamix struggles with, i.e., turn ice into snow.
Juicing Capabilities?
A few customers complained about its lack of juicing capability. Apparently, some advertisements claim the Ninja BL773CO has the ability to juice, but it does a poor job at it. But there is a lot that goes into juicing. You probably want to buy a juicer if you really want that feature. So check this out if you want to learn more about juicing.
Size and Looks
Unlike the Behemoth that is the Vitamix 6300, the Ninja Mega Kitchen System BL773CO is small enough to fit out-of-the-way on the counter underneath your cabinets in your kitchen. But what about all of those accessories? Well, as far as I can tell, there isn't a way around it. You will have to make space to store it in a cabinet. However, the blades and disc will fit inside of the pitcher and/or food processor containers while not in use.
Click here to see more details
Features and Specs.
Measures 16 x 12 x 17 inches and weighs 19.5 pounds
BPA-free plastics (that come in contact with food)
1500-watts/2-hp of power
72-ounce pitcher
3 personal sized to-go cups
8-cup capacity food processor work-bowl
Instruction book/Quick start guide
1-year limited warranty
Ninja BL773CO Mega Kitchen System 1500 Food Processor Blender: What Do The Customers Think?
Many customers are generally impressed with the power and performance of the bl773co. According to customers, it is a very sturdy machine. Some customers even go overboard in their review of the machine. Even to the point of claiming that one can use it in an industrial/commercial environment. Of course, that is just hyperbole. The bl773co is only applicable for home use.
I'm not so sure about the long-term durability of this machine, however. Based on what I found out about other Ninja blenders, there seem to be mixed reviews about how long these machines actually last. The limited warranty is one year and comes with some conditions, i.e., it doesn't cover the pitcher. There is a 5-year VIP warranty available if you purchase directly from Ninja.
Summary
The Ninja Mega Kitchen System 1500 Food Processor Blender BL773CO is a product offering from the well-branded titan. There is definitely some substance behind the clever and unavoidable marketing; the Ninja blender name is everywhere.
The initial cost, while not the highest, could be prohibitive to some shoppers. It ain't cheap. But given its apparent ability, it's a considerable value. This machine can do plenty. It has convenient features, i.e., suction cups on the bottom. However, I'm not thrilled about the warranty. Still, I think that this is a quality machine worthy of your consideration.
Ninja BL773CO – Check price now.