We started to look into food dehydrators when we inherited a garden from our home's previous owners. It's great to have a garden, but if yours is anything like ours, you will soon be overloaded with more fruits and veggies than you know what to do with.
Over the course of our research, we came across the Nesco FD-1040. The American-made Nesco FD-1040 is a 1000-watt food dehydrator. It's a powerful, entry-level device that helps lots of people create delicious homemade healthy snacks.
This is perfect if you have finicky eaters or are looking for a convenient way to get your kids to eat more fruits and veggies. What attracted us to the Nesco FD-1040 was the price, timer, user reviews, and size.
A food dehydrator is a good way to cut down on your kitchen food waste and make healthy and tasty snacks. For example, you can make delicious fruit leather (tell those store-bought fruit roll-ups to take a hike), fruit and veggie chips, and of course, jerky.
You can also use it to dry herbs and nuts (refer to your manual for nut preparation). We did the research. Below, read our Nesco FD-1040 Gardenmaster food dehydrator review.
1000-WATT SUPER DRYING MACHINE
Other Food Dehydrators to Consider:
1000 watts means that you can create more delicious and healthful snacks at a faster rate. In addition, the Nesco FD-1040 is efficient. Instead of days to make your favorite fried foods, the Nesco FD-1040 takes just hours.
A 2400-rpm motor powers a 4.5-inch fan. Not all dehydrators have a fan. This added feature results in drying times up to 4 times faster than dehydrators that don't have a fan. Yes, there are cheaper dehydrators that don't even come with a fan. The fan is top-mounted. Cheaper food dehydrators have bottom-mounted fans. The problem with bottom-mounted fans is that when your food sweats as it's drying, the liquid will fall onto the fan, potentially damaging it.
Power is but one part of what makes this a good food dehydrator. There are, in fact, several attributes, all designed to give you an advantage in dehydrating your food. For example, the unit's exterior (called Vita-Save) blocks the light that can cause a loss of vital nutrients in the drying process.
Nesco has a patent for their drying process with this machine. It's called Converge-Flow. It works by forcing the heated air down the exterior pressurized chamber, then individually across each tray. The air then "converges," hence the name, in the center. The result is a fast, even drying process. Converge-Flow eliminates the need to rotate trays. It also eliminates potential flavor mixing.
Features and Specs.
Digital programmable timer that shuts off when finished
1000-watts of power
2400-rpm motor powers the fan
Converga-Flow technology can dry up to 20 trays at a time
Temperature Control ranges from 90-160 degrees F
Digial LCD display
Comes with 4-BPA free trays , easy-to-read lcd display
Detailed 52-page manual with recipes
Will it Fit on Your Counter?
Counter space is always a big concern for my household. We have a small kitchen, so every new appliance has to justify its place. The 4-tray Nesco FD-1040's dimensions are 15.5 x 15.5 x 9.5 inches and 9 pounds. That's not small, but there are larger units out there like the Excalibur 9 tray dehydrator.
With the value that it will bring you, you can easily justify its position on your countertop. The Nesco FD-1040 can dry up to 20 trays at once, thanks to the unique patented processes. The settings automatically adjust according to the number of trays you have.
Programmable Digital Timer
Just like with a slow cooker or rice cooker, your food dehydrator should come with a timer. It's an essential feature. This provides you with a true set it and forget it experience. So instead of running back and forth checking on your snacks, you can rest easy knowing that your dehydrator is busy at work and will shut off before your food burns. You can program the timer to up to 48 hours.
This is a feature available in the higher-end units, like the Excalibur. It's not available in cheaper units like the Presto 06300 Food dehydrator. Quality notwithstanding, the Excalibur brand sells food dehydrators for a lot more without a timer.
Cleaning the Nesco FD-1040
So, just how easy is it for you to clean the Nesco FD-1040? Owners of the Nesco FD-1040 note that it is relatively easy to clean. Though in searching for an answer to this question, we happened upon an interesting tidbit. A few customers stated that the food trays are very delicate, so special care will need to be taken to ensure that the trays do no break.
In fact, a few more customers confirmed that concern. The trays are made of thin plastic, so do not use too much pressure when scrubbing. Customers said these trays could go into the dishwasher without any problems and not use the heat cycle. Other respondents said that because of the size, they will not fit completely inside a standard sink. Soaking, of course, makes cleaning much easier.
Accessories
The Nesco FD-1040 comes with several accessories that make your time easier when using your dehydrator. For example, the "No-spill" fruit roll sheet is used to dry semi-liquid foodstuff: fruit rolls and sauces. In addition, the flexible "Clean-A-Screen" allows for easy, convenient drying of herbs and spices. It also comes with a jerky spice packet and cure mixture. More accessories are available for purchase:
you can use the Add-A-Tray accessory to add more capacity so that your dehydrator can dry more food faster.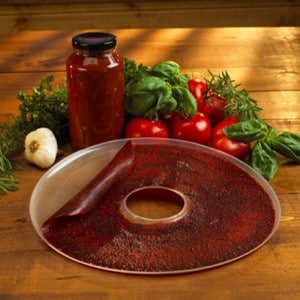 Roll-up no-spill sheets hold up to 3 cups of liquid or puree. Alternatively, you can use parchment paper as well.
If you got "hooked" on the jerky spice packet that came with your purchase, you could always get more.
Make ground meat jerky with this. Just load it up with your meat mixture and spread it onto the tray.
Nesco FD-1040 Manual
After reading through the manual, I thought it had a wealth of information. I mean…it covers a ton of stuff. I learned a few things that I had no idea about: did you know that you can dehydrate canned fruit when fresh fruit is unavailable? Unlike some user manuals, they use bright colors, and the content is broken up with spaces making it easy to read.
The manual provides lots of information about prep work. For example, you should soak fruits that brown easily (apples, for example) in ascorbic acid before dehydrating. You can use orange, lemon, or pineapple juice. It tells you the amount of time needed to dry different food items. For example, apples require 4-10 hours. There are recipes (gives you examples of how to use dried foods in your recipes), instructions for drying herbs, etc.
We've purchased small appliances before with incomplete boring manuals that left us with more questions than answers. This is a good manual.
Warranty Durability and Customer Service
The plastic construction of the trays isn't of the highest quality. Metal exterior construction would be more desirable, especially considering this unit gets hot and could cause the plastic to warp.
The warranty is just 1 year, which is standard fare at this price point. More expensive food dehydrators offer longer warranties, but with it, you pay much more. In addition, I came across some reviews that claimed that customer service was poor.
A few users that received his dehydrator without accompanying trays claimed that customer service would not cover the shipping cost of the new trays. It was a result, I've been cheaper for them to purchase new ones.
Other customers claimed the complete opposite, stating that their issue was resolved easily when they called. They even claimed to reach a live person instead of menu prompts.
The customer service number is 1-800-288-4545.
What Do Customers Think About the Nesco FD-1040?
There is a lot of customer feedback available for this machine. Of the reviews, there is a variety of people who have had different experiences—However, many customers are satisfied with their purchase.
Click here to read reviews on Amazon
The Good
Many customers are satisfied with their purchases. In addition, many reviewers are new to dehydrating and are excited about their new purchase.
A few customers bought the Nesco GardenMaster after discovering how bad some store-bought doggie treats are. So they used their new toy to create natural healthy treats for their pups.
After purchasing 2 Ronco brand food dehydrators (that lasted for 15 years) and after considering an Excalibur dehydrator, other customers decided to go for the Nesco FD-1040. Surprisingly, they did not mention price as the deciding factor. Instead, they decided to go for the Nesco model because it would take less space on their counter.
Actually, the small footprint (space it takes up) has been a huge advantage that several customers have mentioned.
The top mounting of the fan seems to be a very welcome upgrade over the prior models. Maybe that is why there hasn't been a lot of resistance to the price. Savvy consumers seem to understand the value they get with this machine.
Compared to less expensive models, customers say that the Nesco Gardenmaster wins hands down. But, surprisingly, it has been rated favorably over more expensive models by some seasoned consumers.
The timer isn't just useful to have. It's a deal-breaker for some customers, as it would certainly be for me. I mean, unless you plan on keeping an eye on your dehydrator for hours, you must have a timer.
Experienced users recognize the value in a timer with shut-off.
While some have suggested that this is a "lightweight" food dehydrator incapable of handling a lot of use, others are putting it to daily use, making as much as 5 pounds of jerky at a time. Proof positive that this is a good choice for occasional and regular food drying.
A Few Concerns
I looked at the poor ratings, too, to get a feel for what might be some underlying chronic issues. I'm usually not too concerned with one-off issues, as there will always be defective units that make it into the consumer home.
There were a few complaints about the Nesco FD-1040 not working after just a few uses. Some reviewers claimed that the Nesco dehydrator "quit working after the 4th use", other customers claimed that their unit worked 2-times, then no heat. These could be defective units or the result of damage during shipping. There is also the possibility of user error or even accidental abuse. In any case, these are issues that the warranty should cover.
Other complaints were that the dehydration process takes too long. Some reviewers said that "sometimes it's like a 24 hours process to get the fruit to dry completely". Other customers stated that it did not fully dry kale chips. If these customers did not receive a faulty unit, perhaps the user did not follow the directions completely.
Do yourself a favor. If you buy this food dehydrator or any other, you must follow the directions in the manual. If you overload the trays or ignore the drying times, then you might end up disappointed.
Some of the complaints are worth consideration. A few users were disappointed with the number of trays included (four) with the dehydrator. Others say that the trays could be described as a bit flimsy. The trays are made out of fragile plastic. There is no doubt that these trays could be made a lot better. Certainly, Nesco benefits from customers needing to purchase additional or replacement trays.
Nesco FD-1040 Review Summary
Overall, the most American-made Nesco FD-1040 Gardenmaster food dehydrator is a quality machine. While it's not the most expensive or high-end food dehydrator, it is certainly a good machine. In addition, the manual is very in-depth and very easy to read and understand.
The top-mounted fan, Converge-Flow technology, and Timer are premium features in an entry-level food dehydrator. There are a few concerns like noise, tray construction, and the number of trays included with the dehydrator. However, given the overall value, the Gardenmaster by Nesco is a great buy, in my opinion.