The KitchenAid KMC4241CA cooker is a multi-cooker capable of cooking using 10 different methods. It measures 12.2 x 14.8 x 11.9 inches and weighs 11 pounds. It has an oddball look to it. At first glance, you might think it is a tea kettle perhaps. You probably wouldn't guess that it is a multi-cooker.
For this review, we've conducted a lot of research on this and other multi-cookers, like this one or this one. There are a lot of multi-cookers on the market and certainly many more to come. More and more, the consumer wants an appliance that can perform more than just one or two task.
One Kitchen Appliance To Replace Many
KitchenAid is well known for making high quality durable kitchen appliances; especially stand mixers. This multi-cooker should definitely have high quality and performance.
It is currently available in the color red. The candy apple red color, is said to be understated via photograph. To get a real feel for just how red it is you need to see it in person. It's look has even been compared to a new-age Ferrari. That's quite the compliment.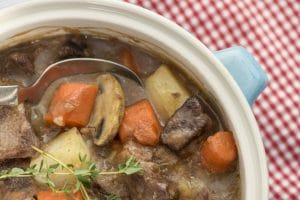 The good qualities don't stop at the look, feel and design of this multi-cooker. It is a very useful product. If you aren't familiar with the emerging multi-cooker market, then prepare to be amazed. Basically, a multi-cooker is an appliance that allows you to cook using several different cooking methods with just one machine.
It replaces several smaller appliances and saves you money, time, and space in your kitchen. Not all multi-cookers are the same though. For example, the Cozyna Air Fryer and multi-cooker functions first as an Air Fryer, while the GoWise multi-cookers' (seen here) main fuction is a pressure cooker. The KitchenAid KMC4241CA can act as an oven, slow cooker, and even a stovetop and pot, roaster, rice cooker and more. To sum it up neatly, if you can think it – you can cook it.
Capacity
The capacity for this machine is 4-quarts. That is perfect for most families of 3 to 5. The pots have pour spouts to conveniently transfer your food from cooking pans to storing or serving pans without spilling. The soft grip handle of the lid is ergonomic (comfortable). The glass is tempered and clear.
The digital display shows you the current temperature. It also shows you step-by-step instructions. This allows you to easily use your machine with your desired settings without having to constantly check the manual.
Click here to get more details
Features/Spec.
Cook with 10 different cooking methods
Measures 12.2 x 14.8 x 11.9 inches and 11 pounds
Even heat distribution throughout
Step-by-step instructions on digital display
Timer & temperature display
4-quart capacity
Steam basket and roasting rack
KitchenAid KMC4241CA Compared to Other Multi-Cookers
The KitchenAid KMC4241CA is a multi cooker with amazing features. It replaces many different small appliances. It is backed by a company that has been around the block a time or two. KitchenAid is noted for its great quality and durable products. Howeveryou might still want to check out what the competition has to offer before you plunk down your hard-earned cash. For that reason, we've taken a closer look at the competition. Check it out below.
VS Cuisinart MSC-400 3-In-1 Cook Central 4-Quart Multi-Cooker
The Cuisinart MSC-400 is a multi-cooker available in 4 or 6 quart capacities. It is a steamer, slow cooker, and sauté/browner. Unlike the KitchenAid model featured on this page, the Cuisinart looks like a slow cooker or multi-cooker. The Cuisinart isn't available in the bright and vibrant cooler of the KitchenAid multi-cooker. It comes in stainless steel/black. It also comes with a steaming rack and instruction booklet.
The cool touch lid handle protects you from getting burned. Like the KitchenAid, the Cuisinart has a large easy-to-read digital display. Both machines have their share of supporters. There are many customers who think that each of these machines perform well and are a great value. But the KitchenAid has more and better features in my opinion. The KitchenAid also looks cooler, to me.
Take a look at the Cuisinart MSC-400
Summary
If you decide to give the KitchenAid KMC4241CA a try, I don't think you will be disappointed. It has a 4-quart capacity, which is perfect for small and medium sized families. It is striking red, which can be a nice accent to your kitchen. If you are not satisfied with this option than the Cuisinart multi-cooker listed above might be a better option.