The KitchenAid k45ss Classic vs KitchenAid Artisan mixer comparison is important to consider before you purchase your KitchenAid mixer. The KitchenAid brand is recognized most of all for its iconic line of stand mixers.
It's very exciting to get a new KitchenAid mixer. Sarah's Mom recently let us borrow her old KitchenAid classic mixer. We were very happy to use it. It's a very impressive machine. She's had it for 15 years without any problems.
Click here to see price for KitchenAid K45SS
Click here to see price the KitchenAid Artisan
Below, we'll help you make a choice in the KitchenAid k45ss vs KitchenAid Artisan debate.
WHICH ONE SHOULD YOU BUY…?
There's actually quite a bit that separates these two mixers. I can let you know right now that the KitchenAid Artisan is a much more feature rich mixer. So this comparison isn't really apples to apples. It's more like Chevys' to Cadillacs. The KitchenAid Artisan is an upgrade; each feature is either the same or better. But, are those extras worth the additional cost; I'll help you decide.
Size
Your KitchenAid mixer is going to take up a fair bit of countertop real estate. There's just no way around it. The KitchenAid k45ss measures 14 x 8.8 x 14 inches and weighs 22 pounds. The Artisan is a little bigger at 16.4 x 16.3 x 11.2 inches, but not by much.
Power and Performance
The KitchenAid K45ss comes with a powerful 275-watt motor. That's significantly lower than the 325-watt motor of the Artisan. More power means better performance. It means you'll finish some mixing jobs faster with the Artisan.
Depending on how often and what you use your mixer for, you might not need the most powerful motor. Heavy users, who anticipate making dozens of bagels a week or something, might need even more power; like the 575-watt KitchenAid Professional.
Both machines have 59-point planetary mixing action. That means both machines have 59 touchpoints per rotation. Your ingredients will be mixed very thoroughly with either machine. Both machines work with the available attachments.
Click here to see more details on the KitchenAid Classic mixer
Click here to see more details on the KitchenAid Artisan mixer
X-factor
I am willing to pay a little more for convenience. The KitchenAid Artisan has 2 very convenient features; pouring shield, and mixing bowl handle. It might not sound like much, but those two accessories could come in handy if you bake a lot or want to avoid a mess. I drip stuff all the time when pouring from one bowl to another, so this is definitely a bonus.
Also, the head locks in the up or down position which will make it more convenient when you add ingredients to the mixing bowl.
The Cost of Beauty
The KitchenAid mixer is iconic. The Artisan series is available in 40 different colors, and some of those colors are wild, like watermelon and French blue. While the classic is available in just two pedestrian colors; white and onyx (black).
Work Bowl
At first the difference in capacity seems minor; 4.5 versus 5 quarts. To put it another way, you can make 9 dozens of cookies in one batch using the 5-quart Artisan compared to just 6.75 for the classic. This can be significant, again, depending on your usage. If you are a baker, or make tons of mashed potatoes at once, then you might be better off getting the Artisan over the Classic (k45ss).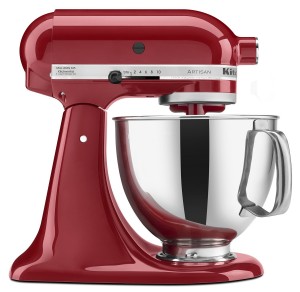 There's another aesthetic issue. Not only is the bowl of the Artisan bigger, but it's also shinier. The Artisan comes with polished stainless steel bowl compared to brushed steel for the classic. Some may prefer the low-key brushed steel look.
The biggest difference is the addition of the work bowl handle on the Artisan model. This simple feature provides added stability when pouring.
Click here to see price on the KitchenAid Classic mixer
Click here to see price on the KitchenAid Artisan mixer
Comparison Chart
| | | |
| --- | --- | --- |
| Available Colors: | White/Black | Over 40 different colors. |
| Wattage: | 275-watts | 325-watts |
| Warranty: | 1-year | 1-year |
| Number of Speeds: | 10 | 10 |
| Work Bowl Capacity: | 4.5 quarts | 5 quarts |
| Accessories: | dough hook, nylon-coated flat beater, stainless steel wire whip | coated flat beater, coated dough hook, 6-wire whip and 1-piece pouring shield |
| Planetary Mixing Action: | 59-point | 59-point |
Customer Reviews
There are many satisfied customers for both of these KitchenAid mixer models. Many customers say stuff like, its' great at any job. Others (over the top customers) say stuff like it'll change your life. They report a wide range of jobs that these mixers excel at; such as making pizza dough, bagels, cookies, cakes, etc. After decades of making mixers, they know what they are doing.
These machines last a long time. Many customers report using these mixers for decades without any issues. There are some customers that report problems, but these issues seem to be more or less one-off defects rather than chronic issues that multiple customers have. Even still, it wouldn't hurt to read some customer reviews for yourself.
Summary
Either choice is a good one in the KitchenAid k45ss vs Artisan comparison. It comes down to a personal choice. With the Artisan, you get more power and convenient features? Do you foresee using this machine for business? Will you be baking for fundraisers? Do you want a premium color like tangerine, or is basic white/black okay with you?
Based on my research, I don't think you'll have a problem with performance with either machine, but you might want the upgraded features. It I were choosing, I'd probably go with the KitchenAid Artisan.
Click here to buy the KitchenAid Classic mixer