Vacuum sealers, like the pair in this FoodSaver v3860 vs v3880 comparison, represent great options for the residential market (although there are much more expensive vacuum sealers out there). But these machines are so similar, which one should you choose? They both represent a great way to save money and help with your budget.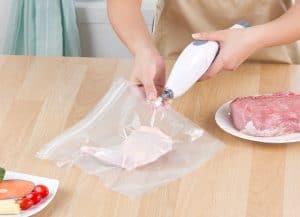 In fact, I can think of no better way to have a more efficient kitchen than using a vacuum sealer. You will instantly realize the savings when you don't have to throw out uneaten food on the regular.
Below, you should have all of the details that you need to be able to choose between the two.
Click here to see price for FoodSaver V3860
Click here to see price for FoodSaver V3880
Appearance and Size
If you are used to seeing other FoodSavers out there, like the v2240, then you may be a little surprised when you see that these FoodSavers are shaped a bit differently. These models are uprights. FoodSavers, like these two, have built-in roll storage and cutter which makes life a little easier for you.
You won't have to worry about locating your roll and holding it properly for cutting. But with this added convenience you have to deal with the fact that these machines are going to orientate differently and have added heft.
Both units are durably constructed with stainless steel exteriors making them shiny, good-looking, but can be a pain in the neck to keep clean.
The dimensions are pretty similar for each unit, about 17" wide x 11" tall x 6" thick. They aren't the largest small kitchen appliance, but they are definitely going to take up a nice share of space.
Performance
These two models are about the same in performance with some minor differences. In fact after researching, I came to the conclusion that these vacuum sealers are pretty much the same, however it is the 3880 that is the newer model.
Companies will often times make minor changes to the design or something internal to update and replace an older model. Other times they will make a slightly different model for sale at a different retailer. This seems to be the case here. There are some differences, namely the accessories and orientation of the buttons.
Automatic Bag Detection
One of the most wanted and, at the same time, complained about features for both of these machines is the automatic bag detection feature. This feature is convenient because it allows you to just slip the bag into the opening and the air removal process begins on its own. You won't need to hit a button or lock the bag down in place like you have to do in older models.
Moist/Dry Sealing
Another convenient feature is that you can choose if the food that you vacuum seal is moist or dry. This comes in handy because dry foods like cereal, chips, and cookies are more delicate and thus require that less air is removed from the sealer bags in order to prevent crushing the food stuff.
Get more details on the FoodSaver V3860
Get more details on the FoodSaver V3880
Marinating and Accessory Hose
Marinating requires that you use a hose to remove air from the canister. Both of these vacuums come with a retractable hose to remove just the right amount of air from your canister so that your food can marinate quickly.
You will find a marinating/canister mode on both machines. To use the mode you will need a canister or jar, but only the v3860 comes with an 8" x 8" marinating canister to get you started although you can buy one separately.
On the 3880, the newer model, the button you would use to operate the hose is labeled as an accessory, while it is labeled canister on the v3860.
Pulse Vac
Pulse vac isn't a feature new to this series of sealers but it is incredibly convenient and useful. It gives you a way to remove just the right amount of air from your food instead of relying on the machine's program to remove the air for you.
Seal Button
Both the v3860 and v3880 have a seal button that allows you to, at any time, stop the vacuuming process and seal the bag. There is a difference in the location and design of the sealer buttons but the functionality is the same.
The seal button is located in the center of the control panel on the 3880 and on the right side (if facing the front of the machine) of the 3860. On each machine, there is a set of LED indicator lights that allow you to keep track of the sealing progress.
Accessories
Both machines come with their fair share of accessories. But as you will see just below, the 3860 comes with a lot more different kinds of accessories. On the other hand, the 3880 has a lot more bags.
FoodSaver V3860
1 – 11″ x 10′ FoodSaver Roll
1 – 8″ x 22′ FoodSaver Roll
5 – Gallon Size FoodSaver Bags
5 – Quart Size FoodSaver Bags
1 – Lunch & Leftover Container
1 – Sandwich & Snack Container
1 – 2.5 Qt Quick Marinator
1 – 1.5 Quart Rectangular Canister with Cheese Grater
FoodSaver V3880
1 – 11″ x 18′ FoodSaver Roll
12 – Quart Size FoodSaver Bags
Clean Up
Clean up is easy for either of these machines. Both include a drip tray so all you have to do is empty it. The area around the drip has little nooks and crannies that you'll have to pay closer attention to. But other than that you just use a non-abrasive rag to wipe down the surface.
Summary
Both of the options in the FoodSaver v3860 vs v3880 are great choices in my opinion but there is a clear winner here and that is the 3860. It is basically the same machine as the 3880 but with a larger variety of accessories.
You may find that the best decision for you is to go for whichever machine is the least expensive at the time of purchase.
FoodSaver V3860 – Check Price
FoodSaver V3880 – Check Price