There are many food vacuum sealers, but the two models in the FoodSaver FM2000 vs. FM2100 comparison offer a unique value proposition. They are budget-friendly models with modest features. Still, for most people, they are all that you need.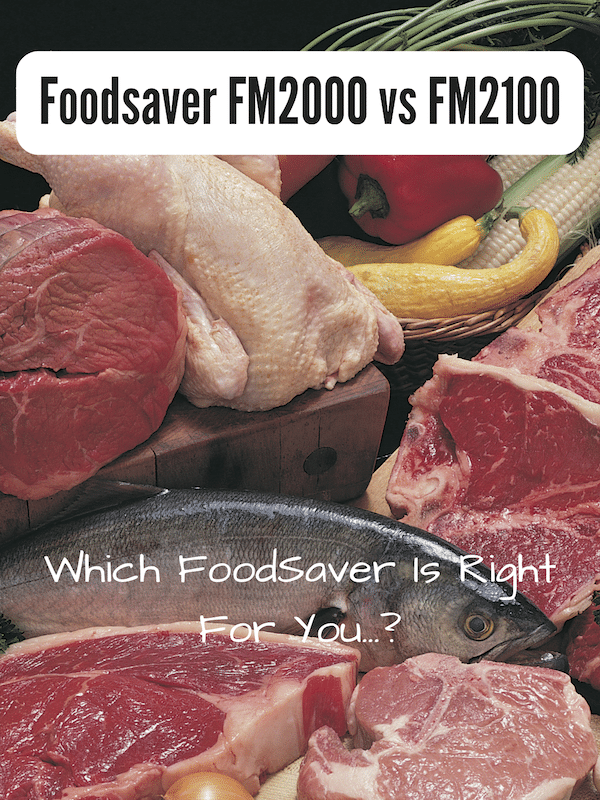 Now that we have one, our sealer is an indispensable part of our kitchen. In fact, it may be the most useful small kitchen appliance that we own. We have realized many benefits of using one. For example, our food spoilage is as close to nil as I think (there will always be some wasted food), and our refrigerator and freezer are a lot more organized.
Below, you will discover all of the benefits that these two machines offer and the similarities and differences between them.
Click here to see the price for the fm2000
Click here to see the price for the fm2100
FoodSaver fm2000 vs fm2100: Which of these Budget Friendly Vacuum Sealers is Right for you?
Other Foodavers to Consider:
Appearance and Size
When you first take a look at these vacuum sealers, there may be some confusion at first. With a low profile and black color, these FoodSavers are nearly indistinguishable. So no, you're not losing your mind, and no, these machines aren't the same machine with different model numbers.
A closer examination reveals some minor differences, but they are limited to slight differences in color/hue, and the fm2100 has more depth than the fm2000.
These are the old-school models. For either, there is a gray lever that is attached to the right side of the machine. This is the mechanism used to lock the sealer bag into place while the vacuuming takes place.
The vacuum sealer that we own is much larger than this one and thus has a larger countertop footprint. A benefit of these models is that they have a much smaller footprint. Both of them are small and low profile.
Performance
For the most part, performance will be the same for both of these machines. The operation works in much the same way. You have to first fill a bag with the contents that you wish to vacuum seal. Then you will need to insert the open end into the slot of the FoodSaver, then pull the latch down to lock the bag into place.
Note: Neither model has a pulse button, but you can use the seal button at any time as kind of a substitute.
Moist/Dry Vacuuming
Choosing between moist and dry foods is important because moist foods require a different seal level than dry. The most foods setting uses more time on the seal so that it is completely sealed. Only the fm2100 comes with a moist/dry setting.
Less Bag Waste
If you do a little research for these kinds of machines, you will see that many folks have made complaints about the amount of bag waste they encountered. This is common. On the product description pages for both of these machines, you will see something along the lines of "40%" bag waste.
Well, that means that these machines are supposed to waste less bag material prior FoodSaver models. Even so, you might still be disappointed in the amount of bag waste you experience. We have a more advanced model, and we are still a bit disappointed in the amount of bag waste.
Get more details on the FoodSaver fm2000
Get more details on the FoodSaver fm2100
No Automatic Bag Detection
Unlike newer models, the vacuuming process does not start automatically, which can be good in some cases. However, with the vacuum sealer that we own, the operation is automatic. As soon as you place the bag into the slot, the vacuuming process begins automatically.
But sometimes, it is problematic when you only wish to seal the bag instead of vacuuming and sealing. Also, when doing tons of research for different vacuum sealers, I came across many folks who claimed that the bag was not detected automatically for some of the so-called more advanced sealers.
Bag Storage and Cutter
You may notice that the fm2100 is a bit longer than the fm2000. Well, that's because it has that built-in bag storage and cutter. Trust me. This is a very convenient feature. You won't have to go around looking for your bags and a pair of scissors, then hold the bag in the right way to cut it. The bag storage allows you to roll out the length of the bag that you need and cut it in a few simple steps.
Hose
Both of these sets include an accessory hose. This allows you to use different available containers to marinate foods.
Accessories
Both of these machines come with bags and accessory hoses to get you started. The fm2000 includes 3-Quart Bags, 2-Gallon Bags, 1-11″ x 10′ Roll & Accessory Hose, and the fm2100 comes with the same.
Cleanup
Cleanup is actually quite easy with our vacuum sealer, so I'm sure it will be with these models as well. The drip tray removes very easily, and that's the only part that would need to be cleaned. And that would only be an issue if you were sealing moist foods.
Warranty
I really appreciate that both the fm2000 and 2100 come with 5-year warranties. Longer warranties, in my opinion, are a sign of a company that really believes in its product.
Summary
In short, both of these machines, FoodSaver fm2000 vs. fm2100, are great options for you if you are looking for a quality food saver at an economical price. But there is an obvious choice here, and that my friend is the fm2100 – it's simply the best choice.
The fm2100 has that wonderful moist/dry selection feature, and it also comes with built-in bag storage. To me, those features are critical because they make operation much easier.
FoodSaver fm2000 – Check Price
FoodSaver fm2100 – Check Price