The EdgeStar CWBV8026 is a wine and beverage cooler. This unit is actually two refrigerators in one: An 80 can beverage cooler (CBR901SG) and a 26 wine bottle cooler (CWR262DZ).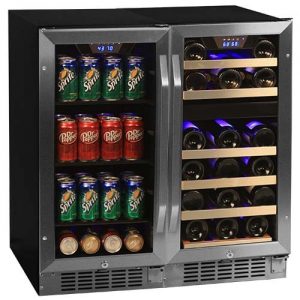 It has dimensions of H 32″ x W 30″ x D 23 1/2″. The shipping weight is 180 pounds. This refrigerator is perfect to be built-in or free standing. This refrigerator is quite a bit of an investment, but it is made by EdgeStar, a company that has a track record of making great products.
A SLEEK COOLER WITH THOUGHTFUL FEATURES
The EdgeStar CWBV8026 will definitely look good in your kitchen. It is stainless steel and black which complement the décor of your kitchen or basement or bar. It's a classy looking appliance. The interior is illuminated with blue LED lights.
The door glass is tinted which will protect your beverages from potentially harmful UV rays. The total capacity of 106 beverages will prepare you for any entertaining event.
There are a lot of features on this EdgeStar cooler. The touch temperature display is large enough, easy to use and understand. The temperature range for the 80 can beverage refrigerator is 38 to 50 degrees F. The temperature for the wine cooler varies by zone: The top zone has a temperature range of 54-65 degrees F, the bottom zone has a temperature range of 40 to 54 degrees F.
The large and powerful fans circulate the air so well that you won't have to worry about have any "hot spots". Hot spots are areas in your refrigerator that don't get as cold as others.
The units will ship to you right hinged. This means that both of the coolers will open on the same side. The cool thing about the EdgeStar CWBV8026 is that you can reverse the door swing orientation so that the door swings open the way you want it. Most people prefer to adjust their coolers so that you can enjoy the French doors look. The instructions to change the door swing are in the manual.
There are some very thoughtful features that went into this machine. For example the ventilation is located on the top front of this cooler. This gives you more flexibility when deciding where to locate your beverage refrigerator. If the ventilation was in the back then you would have to make accommodations for ventilation.
This could end up costing you more money in necessary modifications for installation. If you are worried about keeping your drinks safe. Perhaps out of the hands of teenagers or young children you have a lock and key.
Click here to get more details
Features/Specs.
Measures H 32″ x W 30″ x D 23 1/2″; 180 pounds
80 can capacity; 26 wine bottle capacity
Sleek stainless steel look
​Counter Depth: 23.5 inches
Reversible door hinges
Built in or stand alone
1-year limited warranty
vs Other Wine and Beverage Coolers
The Edgestar CWBV8026 could be the right beverage cooler for you. But if you're anything like me, you like to consider you're options before making a final decision. We decided to compare the competition for 2 reasons: to help you make a more informed decision, and to provide you with different size options. Take a look at the competition below.
vs Danby DBC514BLS 5.3 Cu. Ft. Silhouette Beverage Center
The Black/Silver Danby DBC514BLS is a 5.3 cubic foot beverage center. It has the capacity to fit 112 canned beverages and 11 wine bottles. Unlike its EdgeStar counterpart, the Danby model is just one unit. This caused me to question whether or not canned beverages and wine bottles can be stored optimally in the same refrigerator. By comparison, the Edgestar has different temperature ranges for wine bottles and cans.
There is a lot of room in the Danby model, perfect for storing hors d'oeuvres while you wait for guest to arrive. Both the Danby and the EdgeStar have digital temperature displays, and both look good. After going through some feedback for the Danby DBC514BLS, I wasn't too impressed, not was I exactly confident in its long-term durability
After considering both of these machines I think that the EdgeStar makes the better product. If I were in the market for a new wine/beverage cooler the difference, without budget restrictions, I would not go with the Danby model.
Get a closer look at the Danby DBC514BLS beverage center
Summary
The EdgeStar CWBV8026 is a high end appliance. It looks good, and it is backed by a trusted brand. It is a bit of an investment but a quality wine cooler/beverage cooler combo isn't cheap. It is a sort of specialty item that doesn't get purchased by the masses. You can certainly search for a cheaper cooler combo, however, based on what I've found in my research, I think this one is a good option.