The Cuisinart gr-150 vs gr-4n griddle comparison features two very good "griddlers" from the Cuisinart brand.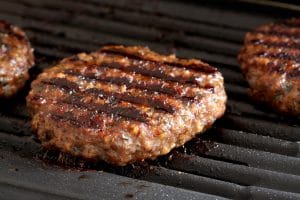 These models are very similar, but there are some key differences that could help make your decision a little easier.
Take a closer look at the Cuisinart gr-150
Take a closer look at the Cuisinart gr-4n
Below, you will find all of the information that you need to choose the best griddle. If you're in a hurry, you can use the table of contents below to skip to the comparison chart and summary.
Size and Appearance
The griddles in the Cuisinart gr-150 vs gr-4n comparison are around the same size. The Cuisinart gr-150 measures 14.6 x 15.7 x 7.6 inches and the gr-4n measures 7.12 inches x 11.5 inches x 13.5 inches. That will take up a nice amount of space.
If you plan on just using it once or twice a week, then you can just store it in a cabinet. If you plan on using it a lot (4 or more times per week), then you will probably want to leave it on your countertop. You won't be embarrassed to have either griddle sitting on your countertop.
Both are brushed stainless steel and should match your décor. With the Cuisinart gr-4n, you can choose to have black or red dials.
Performance
The performance for both these griddles will be similar. However, the gr-150 will perform a bit better. For instance, the gr-150 has about 1800-watts of power, translating to a maximum temperature of 500 degrees. On the other hand, the 1500-watts of power for the Cuisinart gr-4n will give you a max temp of 450 degrees.
You can sear with either machine, but the Cuisinart gr-150 has a "sear blast" feature which can hit that maximum 500-degree temperature for two minutes.
The surface area for both machines is over 200 square inches. The gr-150 has more cooking surface with 240 square inches. This means that you can cook up to six burgers or twelve pancakes at one time. Perfect if you have a large family or entertain often.
Ease Of Use
Griddles are probably one of the easy to use small kitchen appliances you can buy. You simply put on the desired plate(s), and turn the dial. The cover floats to accommodate the height of any sandwich, steak, burger, etc.
The plates are dishwasher safe. They both come with scrapers, and integrated drip trays that easily detach and are also dishwasher safe.
Click here to get more details on the Cuisinart gr-150
Click here to get more details on the Cuisinart gr-4n
Many Grilling Options
I'm a huge fan of stuff that does more than one thing (a good example of this is the multi-functional instant pot ip-duo60, it does a lot). It's one of the most important qualities that I check for before making purchase decisions. Multi-functional devices save you space and money.
Both grills in this comparison are capable of performing multiple functions. The gr-150 is a 5-in-1 machine, while the gr-4n is a 6-in-1 machine.
The Cuisinart gr-150 works as a contact grill, panini press, full griddle, full grill, half grill, half griddle, and top melt. On the other hand, the Cuisinart gr-4n can function as a contact grill, panini press, full grill, full griddle and half grill/half griddle.
With the Cuisinart gr4n you can also purchase waffle plates separately, but after checking around, it doesn't appear to be an option for the gr150.
Warranty
Both come with a 3-year limited warranty.
Click here to see price for the Cuisinart gr-150
Click here to see price for the Cuisinart gr-4n
Comparison Chart
| | | |
| --- | --- | --- |
| Dimensions: | 14.6 x 15.7 x 7.6 inches | 7.12 x 11.5 x 13.5 inches |
| Color: | Brushed stainless steel | Brushed stainless steel |
| Grilling Options: | 6, see above | 5, see above |
| Wattage: | 1800-watts | 1500-watts |
| Maximum Temp: | 500-degrees | 450-degrees |
| Warranty: | 3-year limited | 3-year limited |
| Cooking Space: | 240 sq. in. | 200 sq. in. |
| Sear: | yes | yes |
Customer Reviews
Gr-4n
The gr-4n gets praise for its versatility, its quality construction, and performance among other things. Customers use their griddler to make a wide variety of meals including paninis and burgers. The interchangeable dishwasher safe griddle plates get thumbs up and so does the sear feature. Overall, this appears to be a high quality machine, but it certainly isn't perfect.
There were some complaints. Some of those complaints included: nonstick peeling of griddle plates, plastic parts melting, and one side of griddle getting hotter than the other.
But keep in mind that there are many customers that are satisfied with the Cuisinart gr-4n. No matter how perfect a product might seem, there is no such thing. Keep that in mind when researching any product.
Based on everything that I read I still think that this is a quality machine. You should some of the reviews for yourself to make sure that you are comfortable.
GR-150
The GR-150 gets points for being easy to use and that includes cleanup (dishwasher safe plates). Its large size and sturdy construction are given high praise as well.
Some customers reported that the warmup time is quick and that the heat holds steady throughout the cooking process. But there were some complaints as well.
Some customers complained that the unit was expensive given the features. Some complained that the teflon coating eventually rubs off. Even with the complaints, there are a lot of customers that absolutely love the performance of this griddle.
Summary
First of all, you can't really go wrong with either choice in the Cuisinart gr-150 vs gr-4n griddle comparison. But there are some differences that could influence your decision.
For example, the gr150 has a larger cooking area; 240 square inches compared to 200 square inches. It is also more powerful, with a max temp of 500 degrees (sear blast), compared to 450 degrees. I can also perform an additional function, top melt.
I had a hard time trying to deciding which one I would choose if were in the market.
In this case, I'd go with the smaller Cuisinart gr-4n. Sure the gr-150 comes with some premium features, but I probably wouldn't need them. What you give up in performance, you probably won't miss much. I also like that you can buy waffle plates for the less expensive Cuisinart gr-4n while they.
Click here to buy the Cuisinart GR-150