We were happy to get our new dinnerware set. It's been a long time coming. Until recently, our dish sets have been function over fashion. Which means we got them on clearance somewhere strictly to serve a single purpose, and that purpose was not to look good.
This next set of plates would be different though, we would decide what we liked. We wanted, no, we needed durable, so that was still a major factor, but equally we wanted something that looked good, and yes price was an issue too.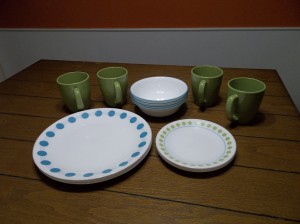 Our old set of dinnerware were used and abused, etched and scratched and chipped. The paint was worn away by heavy scrubbing and drying. They lasted us for years, and we definitely got our money's worth.
The Hunt for Square Dinnerware
Initially, we wanted square dinnerware. We wanted to try something different. We wanted to try something fun. We searched store after store, but couldn't find a set we liked in our price range. We checked out dinnerware sets at target, bed bath and beyond, and online. No luck. We couldn't find an affordable square dinnerware set that looked good.
So instead of being set on just square dinnerware, we expanded our search, and decided that we wanted to have bright fun colors, but we would settle on traditional round dinnerware. With our criteria changed, we went back to Amazon and found some sets by Corelle that we both really liked.
A Very Popular Dishware
The bonus was that most people who bought the set liked it too; it has a ton of reviews with a lot of positive feedback. The set we chose was the South Beach Corelle Livingware 16-Piece Dinnerware Set.
The set is made with Vitrelle, which is a blend of raw materials that make the glass dishes break and chip resistant. This was a point that was very important for us. We needed durable dishes.
The plates, bowls and saucers are lightweight. The colors are light blue, green and white. It was bright and cheerful; exactly what we wanted. My wife and I knew we would both really love our new dinnerware set because we agreed on it immediately. It's a much needed upgrade, and it didn't break our little bank. We didn't have to have that overspending guilt, and the subsequent "we deserve it" conversation, to justify our overspending.
A Little Advice
When shopping for new dinnerware, be sure to set a budget first. We are so guilty of not doing this, and in the past, it's lead to us making purchase decisions that we were not happy with. Sometimes, we ended up finding out we could have got that same item cheaper elsewhere. It's best to spend the extra time looking around for the best deals.
A simple Google or Amazon search can give you all the information you need before you head out to the store. Sometimes it is better to see the dishes in person; this gives you a better idea of how it will look in your kitchen.
Read reviews on the dinnerware set. Most people are honest, and leave objective reviews to help out other shoppers. Others are biased and leave reviews that don't reflect the quality of the product. For example, we've read some reviews from buyers that left a poor review of certain dinnerware sets because they arrived damaged. That is most likely an isolated event and not an accurate measure of quality.
Update:
As of August 2015, we've had our Corelle Livingware set for close to a year now. And our new dinnerware set still looks good. There are no scratches or etching.
These plates are durable too. At least twice, these plates slipped out of our hands and hit our granite countertop. They didn't break. We don't have any chips or any other damage.
We really like that this line of Corelle dinnerware has so many different colors and designs. Ours looks really good in our kitchen. We have the green mugs on hooks underneath the cabinet. It adds a nice splash of color. Obviously, I still recommend this dinnerware set.