By the end of this writing, you will be confident in making the right decision (for you) in the Breville je98xl vs bje200xl comparison.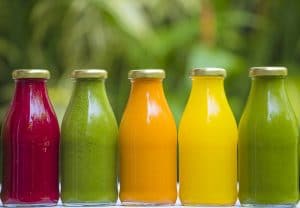 Breville makes a beautiful small kitchen appliance. They are a trusted brand and have a history of making durable products. Both juicers in this debate are of high quality. So, luckily, you're choosing between two very capable machines. You can't go wrong.
Take a closer look at the Breville je98xl
Take a closer look at the Breville bje200xl
For some, a juicer is an essential kitchen appliance. It is a convenient way to get the vital nutrients in your diet without having to eat all the fiber. It is a significant investment, so it is vital to do the proper research before a purchase. Below, you will find all of the information you need to make the right choice.
Different Types of Juicers
When researching juicers, you might happen across the different types of juicers. You will certainly come across centrifugal juicers which are the most common, like the juicers on this page. Centrifugal juicers have high RPMs, i.e. 14,000rpm.
Then you will encounter masticating juicers. There are more detailed explanations out there, but the biggest difference is that masticating juicers operate at very low rotations per minute, like 80. Slow juicers reduce oxidation and produce juice that last longer in the fridge.
Size
The Breville je98xl measures 9-1/2 by 8-3/4 by 16 inches. The bje200xl is 13.2 x 16.5 x 18.2 inches. Both juicers are small compared to others in the line, but the Breville bje200xl is compact. That is a significant difference in size. This could be important if you have very limited counter space.
Body Construction
The Breville je98xl is more durable, the body is made of a heavy grade polymer, while the bje200xl is made of simple plastic.
Appearance
I can go on and on about my appreciation for the Breville brand. In fact, I do all the time, for example, here and here. They make durable yet beautiful products, and their juicers are no exception. The more expensive juicers in their line like the bje510xl are clad in stainless steel. Both juicers have plastic bodies (the je98xl is made of more durable plastic) but the je98xl resembles stainless steel.
The compact bje200xl is oddly shaped. It kind of looks like an upside down pear. Still, it doesn't look bad. The je98xl looks better though.
Click here to see more details on the Breville je98xl
Click here to see more details on the Breville bje200xl
Power and Performance
The single speed 700-watt Breville bje200xl operates at 14,000rpm, which is more than the je98xl. But the 850-watt Breville je98xl has two speeds: low and high. The lower speed is good for softer fruits and vegetables like cantaloupe and spinach. Although the bje200xl operates at higher rpm, it is less powerful than the je98xl.
Both of these machines are reported to do well with leafy greens. This is a feat some juicing enthusiast consider a litmus test for a quality juicer.
The je98xl is also the better juicer if you want to make a lot of juice at one time. Its more powerful motor means that it can operate longer without overheating.
Cutting Disc
The Breville je98xl juicer boast a titanium cutting disc while the bje200xl has a stainless steel disc. Titanium is lighter weight, just as strong as steel but more resistant to corrosion.
Pulp Container and juice container
There is a big difference in how these machines handle pulp. The je98xl's pulp container is outside the machine. The bje200xl has a pulp container that requires you to disassemble the machine to empty. I can picture that being annoying if you plan on juicing a lot at once.
Both of these juicers have convenient juice collector containers. The risk of a spill is low with either machine. However, the je98xl has a spout that connects to the container which means that you won't have to worry about juice spilling.
Warranty
Both of these centrifugal juicers have the Breville standard one-year warranty.
Click here to see price on the Breville je98xl
Click here to see price on the Breville bje200xl
Comparison Chart
| | | |
| --- | --- | --- |
| Dimensions: | 9-1/2 by 8-3/4 by 16 inches | 13.2 x 16.5 x 18.2 inches |
| Color: | Silver | Silver |
| Juicer Type: | Centrifugal | Centrifugal |
| Wattage: | 850-watts | 700-watts |
| Warranty: | 1-year limited | 1-year limited |
| RPM's: | 12,000 | 14,000 |
| Quiet Operation: | No | No |
| Feed Chute: | 3-inch | 3-inch |
| Number of Speeds: | 2 | 1 |
Customer Reviews
Breville JE98XL
Some customers of the JE98XL say that it is much better than the juicer that they had previously. Others say that it is the best juicer that they've ever used. Some customers report that they are impressed with the amount of juice that the machine extracts. On the flip side, there are some customers that voice their gripes
There are some reports of the juicer ceasing to work after a short period of time. Others share their concern about this product's long-term durability. Remember that there is no perfect product, some complaints have to do with random and rare defects more so than a real underlying issue.
Breville BJE200XL
The BJE200XL gets praised for its ease of use. It is reported to be easy to use and clean, even without a dishwasher. I was also very happy to come across reviews from people whom have had this machine for years and use it regularly.
That is impressive. But not every customer was impressed with this juicer. Some customers reported that this juicer waste too much produce. Others report that juice and food bits get stuck in hard-to-reach spots. Despite some issues I believe that this is a quality machine.
Summary
Both of the machines in the Breville je98xl vs bje200xl are good products. It's hard to choose between two good products. Especially when there are features one product has that other doesn't.
This is the case with the Breville je98xl vs bje200xl juicer comparison. I'd probably go with the the more premium Breville je98xl. It is more powerful, better looking and a bit more durable than the Breville bje200xl compact juicer.
Click here to buy the Breville je98xl