The Breville bgr820xl Smart Grill vs Cuisinart gr-300ws Griddler comparison features two high quality electric grills. So rest assured, you've narrowed your choices down to two very good options.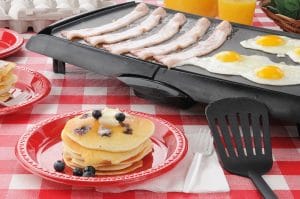 These products are similar, but, especially because they are manufactured by different companies, there are going to be some stark differences. We've compared all of the specs, looks, and other features to help make your choice easier.
Below, you will find all of the information that you need to make the best choice.
Click here to see price for the Breville Smart Grill
Click here to see price for the Cuisinart GR-300WS
Breville BGR820XL Smart Grill vs Cuisinart GR-300WS Griddler: Which One Should You Choose?
Other reviews you may be interested in:
Appearance
Both of these grills, clad in stainless steel, look good (You can see some other good looking Cuisinart griddlers here). If you plan on using your grill a lot, you won't be embarrassed to have either sitting on your countertop. I'm usually a big fan of the appearance of Breville products, but in this case, I think that the Cuisinart gr-300 is more attractive. I think that the lcd screen on the Cuisinart grill is more modern looking. The light blue backlight makes the screen standout more.
Power and Performance
Both Grills in the Breville bgr820xl Smart Grill vs Cuisinart gr-300ws Griddler comparison are powerful. The Cuisinart gr-300 can reach a maximum temperature (for searing) of 500 degrees at 1800 watts. The Breville bgr820xl can reach 450 degrees at 1800 watts. On each machine, the top has 6 adjustable height settings and locking mechanism for convenient storage.
The Cuisinart is more versatile, it has what's called "dual-zone" temperature control. It means that on one half you can cook eggs and on the other, you can grill steak. I can see this feature coming in handy all the time.
Grill Plates
With other griddles, the plates sit on top of the heating element. Both of these machines have the heating element embedded into the plates. Because of this, you will lose less heat during operation. Also, the plates will get hotter quicker. The Cuisinart has reversible plates. The Breville has one ribbed grill plate and one flat plate. So, you would need to purchase additional plates if you want to make proper Paninis or if you want to use the flat surface/ribbed grilling surface to capacity.
I do like that the Breville model has big obvious buttons that are labeled "plate release". The buttons are there for the Cuisinart too, but not as obvious. It's easy to remove and attach the plates for either machine.
The grill plates for both machines are nonstick coated and dishwasher safe. But in my opinion, it's best to hand wash nonstick items. This warning is also seen from several customers in the question and answer section. If you do decide to put them in the dish washer, then place them on the top shelf.
Temperature Dials
The Cuisinart has a separate temperature dial for both plates. On both devices, there is an audible beep that alerts you when the temperature is reached and when the timer is finished. The breville has a feature known as Element IQ. It works by detecting changes in the surface temperature. The grill plate surface temperature is lowered when you add cold food. The Breville bgr820xl is different from other grills because it automatically starts to heat back up to the desired temperature.
Click here to get more details on the Breville BGR820XL
Click here to get more details on the Cuisinart GR-300ws
Customer Reviews
There are a variety of reviews for both machines. Both machines have a lot of satisfied customers. Both are reported to be very easy to use. Customers are impressed with the consistent performance and results obtained with either grill.
Both products have a share of complaints as well, but nothing to suggest underlying issues. They were mostly one-off complaints such as the grill arriving D.O.A. Based on everything I've come across, I think that the chances of you encountering an issue like that is pretty low.
Summary & Recommendation
Both of the electric grills in the Breville bgr820xl Smart Grill vs Cuisinart gr-300ws Griddler are good products. And at first, it would seem that it is hard to choose between these two electric indoor grills. However, a closer examination, leaves you with a pretty easy choice. If your goal is to purchase a quality griddle with exceptional performance that won't break the bank, then you have to go with the Cuisinart gr-300ws.
But the Cuisinart Griddler is simply the better choice. It has a higher sear temperature, 500 degrees versus 450 degrees. It comes with reversible grill plates while the Breville comes with two one-sided plates; flat and ribbed. With the Breville, if you wish to maximize the cooking surface for the flat griddle surface or the wavy grill surface, you would need to purchase additional plates.
The Cuisinart gr-300 also has dual-zone temperature controls. This would allow you to, for example, cook pancakes and eggs at the same time. This is a really convenient feature. You can also purchase waffle plates for the Cuisinart – they aren't even available with the Breville bgr820xl.
On top of all of that, the Cuisinart has the much longer warranty; three years compared to one. In my opinion, this is a no-brainer, enjoy more features and a better warranty. Go with the Cuisinart gr-300ws.
Breville BGR820XL – Click here to check price
Cuisinart GR-300 – Click here to check price
If you'd like to check out other griddle options, see the cuisinart gr-150 vs gr-4n comparison.