The Breville 800jexl vs bje820xl comparison features two very good centrifugal juicers. For some people, a juicer is an essential small kitchen appliance. That's because of the numerous health benefits to drinking raw juice, such as improved digestive function and improved energy.
Below, I've outlined all of the details to help you make the best decision for your household. These juicers are actually very similar in their look and design, but there are differences that could sway in one direction over the other. Be sure to pay close attention to these differences.
Also, if you're in a hurry, you can use the table of contents just below to jump ahead to the comparison chart and/or summary.
Take a closer look at the Breville bje820xl
Take a closer look at the Breville 800jexl
Appearance and Size
While both products look very much similar in appearance, having a heavy grade die-cast metal body, the difference lies in their size.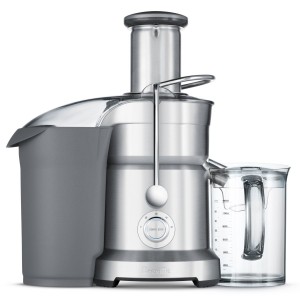 They are both shiny and attractive in appearance and might very well be mistaken for the other. The 800jexl measures 17 x 11 x 20 inches and the other is 8.5 x 13.5 x 17 inches in size.
Power and Performance
The 800jexl model is a 1000-watt juicer with a high and low speed control of 13,000 RPM and 6,500 RPM respectively. While the bje820xl is about 1200 watts with 5 different speeds that range from 6,500rpm to 13,000 RPM. In this category the bje820xl offers a better and more powerful performance.
Both of the juicers have a 3″ circular feed tube that can process whole fruits, adding to their ease of use. They also have a centered dual knife blade and a stabilizing knife. The bje820xl also has a second cutting disc that works well to make smoothies and purees.
Both models are equipped with patented Breville "Nutridisc", this ensures that very little heat is transferred during the juicing process. This is very important as heat degrades nutrients.
Click here for more details on the Breville 800jexl
Click here for more details on the Breville bje820xl
Usability
Both products are easy to use based on the customer reviews. They are also comparatively quiet, unlike the loud whirring juicers we have often seen. They also come with a retractable cord that can be wrapped back in and clips into position at the base.
Cutting Disc
Both of the models are made of stainless steel micromesh filter and a titanium-plated cutting disk. The bje820xl model also has a stainless steel puree disc.
Since both the cutting discs are the same, their durability is also the same.
Mesh Filter
The mesh filter in both juicers can be easily cleaned and no residue is left at the end.
Pulp
The 800jexl model and the bje820xl models both have a pulp container. Some customers complain that the vegetables or fruits are not squeezed properly so the pulp is mostly fruits and vegetables looking neatly sliced. But it is no hassle to eject the container and clean it.
Accessories
Each comes with a juicing pitcher, a separate pulp container and a manual as well recipe book is also included. All parts are dishwasher safe and the best part is that all parts fit together rather than through screws and nuts so can be easily separated and washed.
Warranty
The warranty for both juicers in the Breville 800jexl vs bje820xl comparison is Breville's standard one-year warranty. The warranty starts the day of purchase.
Click here to see price on the Breville 800jexl
Click here to see price on the Brevill bje820xl
Comparison Chart
| | | |
| --- | --- | --- |
| Dimensions: | 17 x 11 x 20 inches | 8.5 x 13.5 x 17 inches |
| Color: | Brushed stainless steel | Stainless steel |
| Juicer Type: | Centrifugal | Centrifugal |
| Wattage: | 1000-watts | 1200-watts |
| Blade: | Titanium plated stainless steel | Titanium plated stainless steel |
| Warranty: | 1-year limited | 1-year limited |
| Body Material: | Die-cast | Stainless steel |
| Number of speeds: | 2 | 5 |
Customer Reviews
Breville 80JEXL
I noticed that there a lot of customers that compare this juicer favorably to their previous juicer. Well, that makes sense, first time juicers don't usually invest in the highest quality juicer. Some customers really expressed their satisfaction with the performance of this little centrifugal juicer, it seems to be able to handle all sorts of fruits and vegetables with few issues, according to customer reports.
There seemed to be an appreciation for the large feed chute, you don't have to chop your produce into little bits. It also appears to be easy to use and clean. The quality of the construction gets high marks as well. But it isn't all good with this machine (or any other for that matter). Some complaints that stood out to me included: messy, inefficient, noisy. Well, you can expect any machine to have its share of complaints. Still, there are many satisfied customers who love this juicer.
Breville BJE820XL
The Breville BJE820XL gets praise for its power. The 1200-watt motor gets the respect that it deserves. It is reported to pulverize anything that is put in it. It also gets compliments for its looks. A number of customers report that cleanup, including drying, and disassembly takes just a few minutes. The extra-large 3.5-inch chute is appreciated as well (larger than the 800jexl).
As to be expected, some customers reported problems, however. Of the complaints, one of the more serious ones seems to be the efficiency or, as reported by some customers, the lack thereof. Other complaints include that it is too large, but that is relative to the amount of space that you have available in your kitchen. Despite some concerns, I still believe that this is a quality machine.
Summary
In the Breville 800jexl vs bje820xl, there is a clear winner, in my opinion. The bje820xl is the better buy. It is more powerful with 1200-watts, compared to 1000-watts for the 800jexl. It has 5 speeds which give you a wider range of flexibility when juicing. In the looks department, it's dead even in my opinion. Both have the same 1-year warranty. Either way, you go, you can't really make a "wrong" choice here.
Click here to buy the Breville 800jexl