Best thin waffle maker – you landed on this page because you are looking for the best way to make those crispy, thin, yet somehow fluffy waffles. The ones that are perfect for drenching in butter and syrup, right?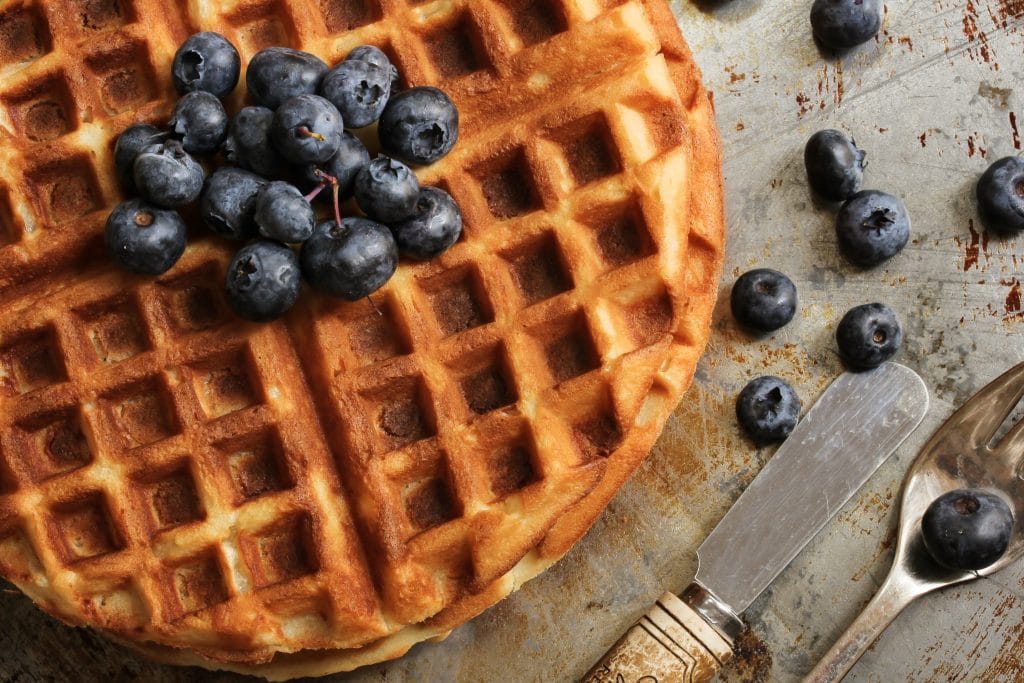 We get you! We were looking for the same thing, and after A LOT of research, we settled on the budget-friendly Cuisinart WMR-CA. It was the best choice for us after we looked at many other machines. Below are our findings.
Jump to:
Versatility of Waffles
Waffles are a delicious culinary creation, and in fact, one of our preferred breakfast confections. And Waffles are versatile.
So versatile, in fact, that you can make savory waffles as well as dessert waffles. Actually, some places specialize in waffle desserts.
Heck, we even made a red velvet waffle dessert here.
Now, most everyone is familiar with waffle makers, but when it comes to finding one that makes thin waffles, surprisingly, you might need a little more help.
I mean, we've done a lot of research on waffle makers, and there are many more Belgian waffle makers out there than their thin American counterparts. But we managed to hunt them down for you!
So without further ado, below, you will find all of the information you need to make the best choice in your hunt for the best thin waffle maker. Good luck!
Which Waffle Maker Is Best For You?
The best thin waffle maker for you may not be the best for Todd or Suzie. For example, you may like round waffles, while Todd may like square waffles.
Suzie may have a $100 budget while you only want to spend $30. So, as you can see, there is no true universal best thin waffle maker out there but rather a best one for you.
Other Comparisons you might be interested in:
Cuisinart Round Classic Waffle Maker Review
This thin waffle maker is the one we bought, and we think it is the best! Why? Because it works excellent for our needs. That is when we have a hankering for thin American-style waffles. It is small, lightweight, consistent, and predictable.
Every time we use it, we get delicious waffles—every single time.
It is also very budget-friendly and proves that you don't have to spend an arm and a leg for a quality waffle maker.
On top of that, Cuisinart is a brand that we trust for many kitchen appliances like toaster ovens and ice cream makers (many units have excellent warranties).
This pick isn't necessarily the best, but it is one of the best for the money, given its price and features.
Appearance
Despite the stainless steel, there's nothing extraordinary in the looks department for this "little waffle maker" that could. It has a basic round design, but it certainly won't look bad on your counter.
It's not a very large machine as it will occupy about as much area as a dinner plate on your counter or inside your cabinet.
Brown Control
There are five brown settings, from light to deep brown. Cuisinart recommends that you operate the machine on the number 3 setting for this model. We do too.
But whatever your waffle preference, this feature gives you total control over the texture and appearance of your waffle (appearance is essential, we eat with our eyes).
Indicator Lights
If you've ever used an older thin waffle maker, then you know that there can be a little guesswork involved.
You must determine when the waffle maker is heated up and warm enough for another waffle.
This unit solves that problem with indicator lights.
There are two indicator lights. One tells you when the unit is heated up, while the other lets you know when the waffle is done cooking.
Weighted Lid
A weighted lid means that it won't lift as the batter expands during cooking.
Cuisinart WMR-CA – Click here for more details.
Other Convenient Features
The rubber feet will protect your counter from getting little scratches or nicks. They also help to keep the machine in place, so that it doesn't move when you add batter or remove a waffle.
There is a convenient cord storage that allows you to tuck the cord out of sight when not in use. You'd be surprised at how many modern appliances don't come with a cord storage. Although, on this model, the cord storage is located on the bottom, so you may forget that it's there.
Cleanup is incredibly easy with this waffle maker. First of all, there will be very little batter if any left on the plates as long you cook according to the indicator lights. However, if there is any excess oil or crumbs, all you have to do is wipe the surface off when you finish. Just make sure that you let the unit cool all the way down before you try to clean it.
This machine sits on its side for a better storage option.
Note: For evenly filled waffles, it's recommended that you use ½ cup of batter, but I think that this is a little arbitrary.
The thickness of the batter will also influence your results. Some users reported having to "play" around with the batter to get desired results.
Warranty
Long 3-year warranty.
Pros
Its low cost makes it a budget-friendly option for everyone
5 brown options give you complete control over the texture and color of your waffle
Weighted Lid
Teflon nonstick coating
Compact storage option – the unit can stand on its side
Nice warranty
Easy to clean
Cons
Some complaints about cheap construction. Temperature switch is made out of a cheap plastic and there are some complaints about the button breaking off. Although, haven't encountered this issue personally.
You may have to do a little trial and error to find out how much batter to use.
There are some complaints of uneven cooking. Again, we haven't encountered this issue after exstensive use.
Cuisinart WMR-CA – Click here to see the price.
All-Clad Classic Round Waffle Maker Review
The All-Clad classic round waffle maker is this page's best quality waffle machine.
All-clad is a brand known for both beauty and quality. But functionality is at the core of their products.
Although some customers may experience sticker shock – it is costly compared to the others on this list.
But you know how it is. Unfortunately, the best is usually the most expensive, which may exclude it as an option for many potential customers.
Appearance
This thin waffle maker is the best in appearance. It will certainly get attention, and you'd be proud to have it sitting on your countertop.
If you decide to keep it around on your countertop, it won't take up much more space than the Cuisinart, but it is a little heavier.
Some users say that the unit is on the heavy side, and I can tell by the pictures that it has a little more heft than your ordinary waffle maker.
While you may prefer lighter in weight appliances over their heavier counterparts, sometimes a heavier unit indicates quality.
Brown Control
If you want precision control over your waffle's color and texture, you're in luck. This All-Clad unit has seven brown control options compared to five for the Cuisinart above.
Advanced Heating Technology
The perfect waffle will be slightly crispy on the outside and soft and fluffy inside. This machine is much more advanced than the others on the list to ensure baking and browning.
It even has an advanced steam release component that prevents the build-up of condensation, which can make your waffles too moist and soggy.
All-Clad 99012GT – Click here for more details.
Indicators
Like the Cuisinart above, the All-Clad has indicators that let you know when the machine is ready. For example, when it finishes preheating, it will beep.
When the waffle is finished baking and ready to eat, you will hear a beep and see a green light.
Easy to Clean
The Teflon nonstick coating makes this waffle maker very easy to clean. You simply wipe it down.
Warranty
The All-Clad 99012GT comes with a 2-year warranty.
Pros
Very well made with brushed stainless steel.
Very good looking machine
7 brown controls
Bakes a waffle fast according to users
Many customers are happy with the even and consistent results
Cons
This unit is on the expensive side
The plates can't be removed
Would be nice if the warranty were longer given the price
All-Clad 99012GT – Click here to see the price.
BLACK+DECKER Waffle Maker & Griddle Review
Although the Black and Decker G48TD 3-in 1 Waffle Maker is not the best thin waffle maker out there, it makes our shortlist because it is a very versatile small kitchen appliance with the waffle making option.
I love multi-cookers, small kitchen appliances that can perform more than one cooking function because they save you money, space, and sometimes even time.
Appearance
This machine isn't a beauty, that's for sure. Unlike the two waffle makers above, it is boxy and produces square waffles. The outer shell is a chrome plating. The plastic handles, control interface, and dials are all plastic.
It's a basic, if cheap-looking, machine. And as for size, it's going to take up more space than the other two machines on this page.
But Black and Decker isn't a company known for designing the most aesthetically pleasing machines.
Instead, their focus is on providing affordable products for their millions of customers.
Brown Control
Unlike the models listed above, this one does not have 5 or 7 individual browning settings, but instead, there is a dial marked low to high.
And because waffle making isn't the only function, you will notice that the portion of the dial that controls the waffle maker is relatively small (this probably won't influence results, however). Also, the waffle control is at the bottom of the dial.
The whole dial has temperature ranges from low to high. But according to reports, the high setting produces the best results, a golden crispy on the outside waffle with a fluffy center.
Black & Decker G48TD – Click here for more details
Multiple Functions
Unlike the machines listed above, this one has more functions than just the waffle maker. You can use it as a grill, panini press, or griddle. This feature makes it a great piece of equipment to make complete meals.
Removable Plates
A vital feature of this unit is that the plates are removable. That means that you can take them out and flip them around when you want to use a different cooking function.
The plates are nonstick, but not Teflon. A cool feature of the removable plates is a channel that directs oil to a hole to drain excess fat.
Note: Be careful not to use abrasive utensils to clean your griddle. You will damage the nonstick coating, and tiny black specks will come off of it and into your food.
Warranty
2-year warranty.
Pros
This unit isn't very expensive
This machine has multiple functions
Adequate performance given the price
Customer reports of being happy with how fast it makes a waffle
Cons
No beep sound to indicate when the waffle is finished cooking (although there is a light indicator), so you have to keep an eye on it while it's cooking
There are some complaints about the quality – one of the more serious complaints is that the clips holding the plates in place are flimsy.
Some say it has a cheap feel to it
Black & Decker G48TD – Click here to see the price
So, Which One Will You Choose?
This page's best thin waffle maker is undoubtedly the All-Clad Classic round waffle maker.
Shrouded in stainless steel, it is both heavy-duty and elegant. It is a beautiful machine that is worthy of your consideration.
But, the All-Clad model here is expensive and might be well outside of your budget.
If that's the case, I recommend that you go with the Cuisinart classic round waffle maker. Although not in the same class as the All-Clad, it is a great, budget-friendly option.
And, if, after reading this page, you decide that you would rather have an inexpensive, versatile griddle with a thin waffle maker option, then the Black and Decker G48TD could be best for you.
Other Things to Consider
Regardless of which thin waffle maker model you choose, you will want to make sure that you consider the essential features. Below, you will find a list of different features that may interest you.
Non-stick
I'm not the biggest fan of non-stick. You have to be very careful of which utensils you use with it because once you damage the surface, it's finished. So unless I have no choice, I usually go with non-nonstick pans and inserts for appliances.
Waffle makers are an exception to my rule.
Here's why: unlike frying pans, waffle makers do not require the use of a utensil to cook a waffle (except for tongs to remove the waffle). Instead, you pour in the batter, and the waffle maker does the rest of the work for you.
Cleaning is effortless. You wipe it down, so you won't have to worry about scrubbing the surface with an abrasive. Also, the non-stick surface makes it easier to lift the waffle out of the iron or plate.
Waffle Maker Use and Care Tips
You can do some things to ensure that you have the best possible experience when it comes to making your waffles.
When you first start using your new waffle maker, make sure that you follow the directions that are specific to your model, the parts about oil and heat are most important, but be sure to also check out the cleaning and maintenance sections as well.
If the model you end up choosing has a nonstick plate, make sure that metal or abrasive utensils never come in contact with it as this could cause irreversible damage to the nonstick coating.
Accessories for your Waffle Maker
A few tools can help you make the waffles and remove them from the pan.
The Norpro 1975 Grip-EZ Grab and Lift Silicone Tongs make lifting the waffle out very easy, and it ensures that you won't accidentally scratch the waffle plate. It's a simple solution that doesn't cost very much.
A batter dispenser is another handy tool. We use one when making our cupcakes, muffins, pancakes, and waffles. Not only does it cut down on the mess, but it also allows you to measure out how much batter you use, which means that you can make uniform waffles every time.
The best thin waffle maker doesn't mean much without good recipes. The Will it Waffle book is a fun cookbook for waffle enthusiasts. There are sweet and savory recipes and ideas that will take your love for waffles to the next level. Check it out!