The best juicer for leafy greens and hard vegetables is a great investment. Once again, it turns out that mommy was right. Leafy greens, especially kale, are the most nutrient rich foods in the world.
Like a cruel joke, the stuff that most people think taste gross, is best for you. Personally, I've never had a problem eating leafy greens, and no, not just the wonderfully flavored southern styled mixed greens; I actually enjoy the taste of fresh kale.
Sarah and I love kale so much that we dedicated the majority of our garden to it. It's amazing to be able to go right outside our back door and pick fresh kale from our organic garden. Kale chips are great, but blending or juicing is even better for nutrient absorption.
We don't juice yet, we make smoothies to add more produce to our diet. We know that there are definitely benefits to both though. When you juice, it is said that you can extract up to 70% of the nutrients, and those nutrients enter the blood stream in under 30 minutes. On the other hand, smoothies have the fiber benefits. And nutrient absorption takes place more evenly so you don't get sugar spikes.
The best juicer for leafy greens isn't going to be cheap. That is, if you want to invest in one of the best on the market. Sure, you could buy one of those cheap juicers, but you'll get tired of it. It isn't efficient for leafy greens. You either pay now or pay more later.
There are many different types of juicers on the market. Most of the juicers that you would come across are centrifugal or masticating juicers. Centrifugal juicers grate fruits and vegetables into a pulp then spin the juice out. Masticating juicers use a screw-like auger to chew the juice out of the produce.
Centrifugal juicers spin at high speeds while masticating juicers work much more slowly. For leafy greens, slower is better. You can read all about the differences between juicers here, but I can tell you right now that the best juicer for leafy greens is a masticating, press, or triturating one.
Below, I've identified what I think are the 3 best juicers for kale and other leafy greens.
OMEGA J8006 Review
Omega is to juicers what Chevy is to trucks; an American made work horse. It is the least expensive juicer on this list. It measures 14-1/2 by 6-1/2 by 15-1/2, and comes with a 15-year warranty.
That is a very impressive warranty that even puts Vitamix and Blendtec blenders to shame (7 and 8-year warranties respectively). It operates at a super low speeds of just 80 rpms. This slow process lends itself to an auxiliary benefit; quiet operation.
Performance
The GE Ultem auger is 8X stronger than most other plastics, making it very durable. The reduction gear is the equivalent of 2-horsepower. The dual stage juicing process works by first crushing or chewing greens (or other produce) extracting juice, then squeezing the pulp removing even more. Your pulp will be dry which means that you've removed as much juice as possible.
This is a "slow" masticating juicer. The 'slow' part is not to be mistaken as inefficient. Juices made using this J8006 are nutrient dense. The low rpms are essential to nutrient extraction without oxidation. Which translates to your juice lasting up to 72 hours in the refrigerator degradation. Unlike speedier juicers, you can actually make more juice in one day and store it. This juicer is a testament to efficiency.
You won't have to worry about frequent stops with the Omega J8006 as pulp ejection is automatic. Although juicing is the primary function, the J8006 is a nutrition center, it does much more than juice. You can make pasta, baby food, nut butter, process food, and even grind coffee.
What Do the Customers Think?
The are lots of customers that are happy with the j8006. There sheer number of reviews is quite impressive. No, I didn't read all of the review, but I did check out some of the negative ones to see if there any bad patterns. I found two: bad customer service, and faulty auger.
First we'll start with the faulty auger. There were a number of customers that found scratches on it. Which could mean that little bits of plastic could get into your juice. That kind of nulls the idea of healthy juice. Then, once you find the problem you'll want to report it to the company, but some customers couldn't get a response from customer service. Honestly, this would make me a little apprehensive, but, as I stated above; most of the reviews were overwhelmingly positive. I think this is still a good juicer and belongs on the list.
TWIN GEAR TRIBEST GSE-5000 GREEN STAR JUICER REVIEW
Your hunt for the best juicer for leafy greens continues with the Tribest Greenstar Juicer GSE-5000 – a triturating juicer. Triturating juicers work with two augers or gears which increases juice yield.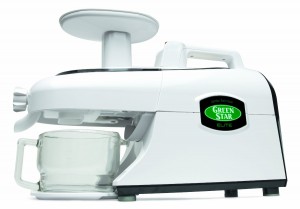 It measures 6.5 x 19 x 12.5 inches and weighs 24 pounds. It can juice fruit, vegetables, herbs, greens, and even pine needles. The pulp is automatically ejected. Cleanup is easy and the warranty is 12 years.
Performance
The Greenstar juicer isn't nearly as popular as the "Amazon King" above, but that doesn't really matter. Most "experts" rate it higher. And the price is certainly a reflection of that perceived value: it cost almost twice as much as the Omega J8006. But why?
The answer: mastication vs complete mastication. Well, apparently there are degrees of mastication. Juicers like the Omega J8006 are masticating juicers, sure, but they miss critical steps in the masticating process.
The Tribest Greenstar GSE-5000 product description page does a great job of explaining this difference. Other masticating juicers work by crushing foods with an auger, but this is the equivalent of chewing with just your molars.
The twin gears have recesses and cutting points which is essential for extracting juice from leafy greens. The system works to mimic the chewing process of a human mouth which results in more juice extraction.
As different types of produce require different levels of pressure, there is an adjustable pressure mechanism.
Then there is the exclusive "magnetic and bioceramic" technology. There's this lengthy technical explanation about how it works here. Essentially, it's an exclusive process that helps to extract more nutrients. Although the Tribest Green Star was designed for greens, it is still versatile enough to handle other produce. It can also mill and grind foods.
Click here to get more details
What Do the Customers Think?
The Greenstar has a decent amount of reviews. These reviews vary from poor to stellar, however most customers indicate a product that is good. Customers seem to like the Omega J8006 a little more, but probably not significantly enough to let it influence your decision.
There were some complaints about durability and consistency, but I think that these complaints were rare occurrences – and some could've been the result of user error. I did not see anything that indicated a chronic issue. Even the best products will have instances of reported defects.
Despite a few concerns, and a relative few reviews (compare to Omega J8006), I think this is a good option. Depending on your budget, this could be the best juicer for leafy greens.
SUPER ANGEL STAINLESS STEEL TWIN GEAR JUICER REVIEW
Like the Green Star, the Super Angel stainless premium deluxe stainless steel juicer is a triturating one. It measures 19.5 x 7.8 x 10.5 inches and weighs around 25 pounds. It operates at 82rpms. The exterior is .304 stainless steel, and it comes with a 10-year motors and gears warranty and a 5-year wear and tear warranty. It is also quite expensive by most standards.
The Super Angel won't be an "angel" to your wallet. If the jump in price from the Omega to the Tribest scared you, then the price for the Super Angel will give you a heart palpitations. It is costly. But this super-juicer is probably the best on this list, and could very well be the very best juicer for leafy greens.
Performance
The Super Angel deluxe replaces the previous iterations. It's a better machine. They've improved this machine top to bottom by overhauling the major components.
The motor, gear box, cooling systems, safety sensors, main control panel are newly upgraded and reinforced. This is what you should expect from a machine that cost a small fortune.
This new design improves the performance too. This super-juicer produces 3-horsepower of grinding force. This results that is much more juice is yielded than the completion. The three filter screen process produces a juice that is smoother than others.
Operation is simple, cleanup is simple, and it's built to last.
Click here to get more details
What Do the Customers Think?
Because the price proves to be prohibitive to the average juicer, you probably won't come across many customer reviews. Certainly not as many as the less-expensive juicers listed above. For what it's worth, most of the reviews for this machine seem to be positive so far. A few customers even said that this was the best juicer out there. Until there are many reviews out there, customer opinion doesn't hold much weight yet.
Which Juicer Should You Buy?
In reality, your budget is going to dictate your "best juicer for leafy greens". The truth is that all of these blenders are good options for juicing greens. They have different benefits. But you can't go wrong.
The more budget-friendly Omega J8006 could be best for you if the price is your major concern. It's also a really good all-around juicer. Also, while the twin gear juicers do a better job at squeezing the juice out of leafy greens, they aren't the best when it comes to citrus fruits.
The twin gear Tribest Green Star is a good option if you want a dual gear juicer without breaking the bank. And if you can afford the very expensive Super Angel, well, you lucky person you.